Hold the phone, girls! If you've been sifting through a maze of resort packages and yawn-worthy spa deals, you're in for a treat. It's time to toss aside those 'family-friendly' brochures and make room for some sultry, sassy, and all-around sensational all-inclusive girlfriend getaways.
1. Sultry Spas: Where Happy Meets Relaxation in Sedona Arizona
So, you're looking for all-inclusive girlfriend spa getaways, right? Well, why settle for the ordinary? Imagine mud wraps that shimmer, massage oils that tease the senses, and steam rooms where the gossip gets as hot as the temperature! Check out The Wilde Resort and Spa in Sedona, Arizona, for the magic.
Top Pick: Affordable weekend spa getaways for girlfriends are popping up all over, but for the ultimate luxury, sneak a peek at those top-tier girlfriend spa getaway packages in the USA. You'll be dripping in luxury (and maybe a bit of detoxifying seaweed).
Other Pick
Enchantment Resort and Mii amo Spa
Picture this: nestled in the breathtaking Boynton Canyon, the Enchantment Resort provides the perfect backdrop for some serious R&R. It's like stepping into a serene oasis, away from the chaos of everyday life. And don't even get me started on the Mii amo Spa. This place is not messing around. It's world-renowned, people. We're talking about a destination spa that knows how to recharge your batteries and bring you back to life.
So what can you expect at Mii amo? Well, my fearless ladies, you're in for a treat. From massages to facials and energy balancing sessions, this spa is all about holistic well-being. They've got treatments inspired by Native American traditions, so you know you're in for some seriously badass experiences. And the best part? They've got outdoor spa treatment rooms with views of those stunning red rocks.
Highlights: This resort knows how to spoil you. They often offer all-inclusive packages that include spa treatments, fitness classes, and meals. Yep, you heard me right. You can get your sweat on in some kickass fitness classes, indulge in those rejuvenating treatments, and enjoy delicious meals, all in one convenient package.
2. Beach Babes' Paradise: Sand, Sun, and Sips
Now, regarding beach getaways, all-inclusive is the game's name. Say goodbye to the fuss of separate bills and say hello to endless cocktails, cabana boys, and crystal-clear waters.
Top Picks: For those with a penchant for spicy salsa and margaritas, the best all-inclusive resorts for girlfriend getaways in the Caribbean are calling your name! Check out Saint Francis & Marina in Exuma for an amazing stay!
Other Pick
Sandals Resorts
Now, picture this: luxurious accommodations, gourmet dining options that will make your taste buds dance with joy, unlimited premium drinks to keep the party going, and a whole array of water and land sports to burn off those cocktail calories. Oh, did I mention the entertainment?
Highlights
Sure, Sandals Resorts are known for their romantic ambiance. But hold up, don't let that stop you from having a fantastic girls' trip. These places are more versatile than you think. Water aerobics, beach parties, private cabanas—sounds like the perfect recipe for a girls' getaway, don't you think?
And here's a little tip for you fierce ladies: keep an eye out for those specific deals and promotions that cater to groups or girls' getaways. Because who wouldn't want to score an even better deal on top of the already luxurious experience?
3. Exclusive Adults-Only Extravaganzas
Why let kiddos ruin the party when you can indulge in adults-only resorts for girlfriend getaways? Think topless sunbathing, cocktails with more than just a hint of alcohol, and nighttime entertainment that's strictly PG-21.
Top Pick: If you're scouting for the best all-inclusive resorts for ladies' trips, consider Hedonism II in Jamaica and others that promise no screeching kids, no disapproving glances, just pure, unadulterated fun.
Alright, my fierce and adventurous ladies, let's talk about Hedonism II. Raise those eyebrows and get ready for a wild ride. This resort is all about shedding inhibitions and immersing yourself in a free-spirited, clothing-optional experience. Get ready to experience vacation in a whole new way!
Hedonism II caters to adult couples and singles who are seeking a lively and adventurous time. If you're down for some unapologetic fun, this might just be the place for you. And when I say "uninhibited," I mean it. Clothing-optional policy, baby!
Rooms
Hedonism II offers a range of options, from beachfront to garden view rooms. But here's the kicker: you have a choice between the "nude" and "prude" sides of the resort. Yep, you heard me right. Whether you want an ambiance that's all about embracing your birthday suit or prefer to keep it more covered, you can choose what suits your comfort level.
And let's not forget about the entertainment, my fearless ladies. Hedonism II knows how to turn up the heat. Themed parties, live music, and nightly shows? Check, check, and check! Plus, they've got nude beach and pool areas for those who are ready to fully embrace the clothing-optional atmosphere.
Hedonism II has a spa offering various treatments to help you relax and rejuvenate. And if you're looking to get a little active, fear not. They've got a range of water and land-based activities, including water sports, tennis, and fitness facilities.
The resort is known for its vibrant and open atmosphere, attracting individuals and groups looking for a liberating and social vacation experience.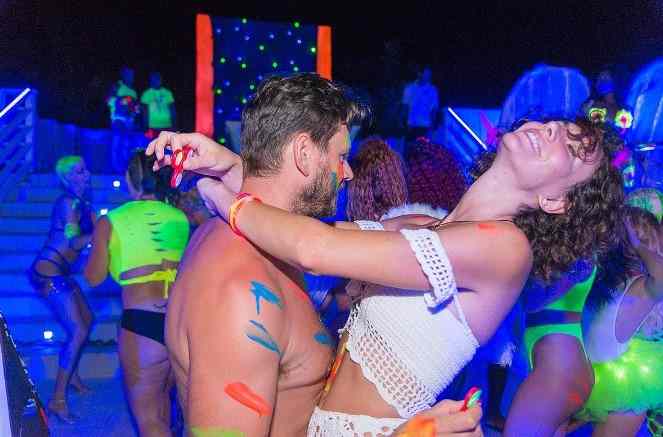 4. Domestic Diva Destinations
Who says you must fly to a faraway land for a rip-roaring good time? Some of the juiciest all-inclusive girlfriend getaways in 2023 can be found in the USA. From vineyard visits to city escapes, there's something for every wild heart. Check out Hotel Effie Sandestin for the ultimate luxury in Florida.
Top Pick: Scour the offers for all-inclusive girlfriend getaways in the USA. Whether it's the glitz of Vegas or the beaches of Florida, you're set for an irresistible treat.
Rooms
Alright, my adventurous ladies, let's talk about Hotel Effie. This place is the epitome of upscale accommodations. We're talking high-class rooms with modern amenities and stylish decor. Get ready to feel like a queen in every inch of this place, from the moment you step foot in the door.
Dining
And let's not forget about the dining options at Hotel Effie. They've got it all, from fine dining experiences that will make your taste buds dance to casual eateries where you can kick back and enjoy a good meal without any snooty vibes.
Now, we all know that relaxation and enjoyment are top priorities on any vacation. And do they deliver at Hotel Effie? Oh, hell yeah. Multiple swimming pools for you to dip your toes in and kick back with a fruity drink in hand. Plus, if you're in need of some serious R&R, they might just have a spa facility to help you find your inner zen and rejuvenate your soul.
Hotel Effie is nestled within the larger Sandestin Golf and Beach Resort community. Translation? You've got access to the stunning beaches of the Gulf of Mexico right at your fingertips. Sink your toes into that soft sand, soak up the sun, and feel that salty breeze in your hair.
Sandestin is known for its golf courses, and guests at Hotel Effie may have access to these courses for recreational purposes.
5. All-Inclusive Lavish and Luxurious Spa Vacations
For those willing to splurge a little (or, let's face it, a lot), the best spa vacations for girlfriends are just around the corner. We're talking private villas, personal masseuses, and pampering that makes you feel like the queen you are. Check out the Mountain View Grand Resort and Spa in New Hampshire.
Mountain View Grand in the White Mountains of New Hampshire. Get ready for some serious picturesque scenery, ladies. You're going to be surrounded by mountains and countryside views that will make your Instagram followers green with envy.
Rooms
Prepare yourself for a blend of modern amenities and historic charm. Think cozy guest rooms, luxurious suites, and even individual cottages for that ultimate privacy and seclusion. Whether you're in the mood for a stay that's chic and contemporary or a little taste of the past.
Dining
But let's not forget about the most important thing: food. And boy, does the Mountain View Grand deliver. They've got diverse dining options that will make your taste buds dance with joy. We're talking fine dining restaurants where you can sip on fancy cocktails, casual eateries for those laid-back vibes, and bars to keep the party going all night long.
The Mountain View Grand knows how to take care of your mind, body, and soul. Treat yourself to a variety of treatments that will melt away your stresses and leave you feeling rejuvenated.
The Mountain View Grand offers a range of recreational activities that will satisfy both your chill and adventurous sides. Channel your inner pro golfer, hike like a badass in those picturesque mountains, and get ready for some seasonal outdoor activities that will have you feeling like a fearless explorer.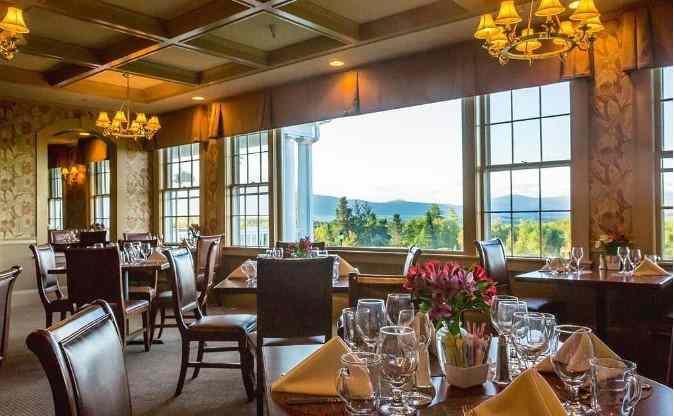 Top Pick: Dive into those deluxe girlfriend spa getaway packages that make you question, "Is this too much?" (Spoiler alert: It's never too much on a girls' trip!)
Unleashing More Secrets of All-Inclusive Girl Getaways: Dive Deeper into Diva Destinations!
Alright, lasses, brace yourself if you think we've spilt all the beans on the sizzling spots for girl's trips. Here's the extended, unfiltered scoop on the crème de la crème of getaways where memories (and perhaps a little mischief) are made.
6. Exotic Exploration: Wanderlust Wonders
The best all-inclusive resorts for girl's trips aren't just about lounging. Oh no! They're about embracing the spirit of adventure—diving with dolphins, shimmying in salsa classes, or ziplining over lush landscapes. Check out The Springs Resort and Spa in Costa Rica!
Top Pick: Look out for resorts that offer a blend of relaxation and thrill. A morning spa session, followed by an afternoon of water skiing? Sign us up!
7. Gourmet Gals: A Culinary Cruise
Remember those diet plans? Toss them out the window! Your trip is complete with indulging in tantalizing treats. Some resorts pride themselves on their gourmet adventures, from chocolate sommeliers to wine tastings and mixology classes. Check out the Halekulani Okinawa, in Japan resort for amazing accommodations and cuisine.
Top Pick: Watch for resorts boasting multiple specialty restaurants for the ultimate foodie indulgence. A journey from Italy to Japan, all while staying in your bikini? Yes, please!
8. Night Owls' Nirvana: Party 'til Dawn
When the sun goes down, it's time to let your inner diva shine even brighter. Dance the night away at beach parties, elegant clubs, or even aboard a moonlit cruise.
Top Pick: If nightlife is your jam, find resorts known for their happening club scenes or those hosting renowned DJs. And hey, you never know who you might bump into on the dance floor!
9. Retail Therapy: Shop 'til You Drop
Between pool sessions and spa treatments, squeeze in some time for shopping. Many all-inclusive spots are nestled near local markets or high-end boutiques, perfect for snagging souvenirs or that must-have designer bag.
Top Pick: Locations close to town center's or with on-site shopping plazas. Bonus if they have exclusive deals for resort guests!
10. Cultural Cues: More than Just a Resort
Step outside the luxurious cocoon of your resort and drench yourself in local culture. Many all-inclusive packages include excursions to nearby attractions, historic sites, or local festivals.
Top Pick: Dive into resorts near cultural hubs or those offering unique local experiences. Why visit a place when you can live in it?
11. Wellness Warriors: Beyond the Spa
While massages and facials are divine, the wellness journey extends beyond that. Think yoga on the beach at sunrise, meditation under the stars, or even detox retreats to rejuvenate the mind, body, and soul. Try something like The Farm in San Benito, in the Philippines, out for size. You won't be disappointed.
Top Pick: opt for resorts that blend relaxation with wellness. Nothing beats greeting the day with tai chi followed by a hearty brunch
12. Water-Babies' Wonderland: Dive, Swim, Repeat
While pool lounging is excellent, the real fun lies in the deep blue for some. Snorkeling, scuba diving, or even paddleboarding – the water is where the action is!
Top Pick: All-inclusive spots near coral reefs or those offering a range of water activities. You might discover a hidden talent or two! And a few nights at the Four Seasons in Bora Bora never killed anyone! 😉
Let's Wrap up!
In wrapping up, ladies, gone are the days of settling for dull vacations. With this guide, you're ready to embark on the all-inclusive adventure of a lifetime. Whether it's toasting to freedom in the Caribbean, salsa dancing in Costa Rica, or lounging like royalty at a spa in the Philippines, the world is your playground.
So, lace up those sexy sandals, throw on that scandalous swimsuit, and prepare to make memories (and perhaps a few questionable decisions). After all, isn't that what a girls' trip is about? Cheers to the wild side! My sassy sirens, a girls' trip isn't just a break from the humdrum; it's a rite of passage. And with this guide, the world is your oyster, ready to be explored, celebrated, and conquered.
So, gather your girlfriends and pack those slinky dresses, sun hats, and dancing shoes because an epic journey awaits. One filled with laughter, escapades, maybe some spilled wine, and countless stories that'll be whispered, giggled about, and cherished for years. Dive in and live it large, and no matter what, always remember to Travel Till You Drop!
Book Your Trip : Check Out My Resources for Your Travel Needs
Use Skyscanner to find a cheap flight.  This is my very first stop when I'm looking for my next trip. It's a fast, easy-to-use search engine that is perfect for finding an affordable flight, a perfect hotel, and the right rental car for you in locations around the globe.
Book Your Accommodation
If you are looking for a super budget friendly location and are open to a hostel stay, make sure you book your hostel with Hostelworld. It offers the broadest range of quality hostels around the world. 
If you'd prefer a hotel or a guesthouse for stays less than 28 days, drop on over to Booking.com It's perfect for providing excellent options, a ton of user reviews, and prices to fit every budget.
For stays over 28 days, AirBnB still remains my #1 choice. User reviews and monthly pricing allow for some incredible deals all around the world.
Don't Forget Travel Insurance
Travel insurance is but a small up-front investment that you won't want to leave home without. After just one experience of having to delay or cancel your trip or having your luggage stolen, you'll wish you would have made that investment.  I've hated my life a few times when the moment arose, and I decided to skip out.  Let's just say, I've changed my ways and recommend each of the following companies to protect your ass-ets.
My favorite companies are:         
Want to Travel for Free?
Travel credit cards allow you to earn points that can be redeemed for free flights and accommodation — all without any extra spending. Check out my guide to getting free flights to get started.
Ready to Book Your Trip?
Check out my Resource Page for the best companies to help you book your travel at reduced rates!  This list will help you get to where you're going.  I know-I use them ALL the time!