When travel is a priority in your life, it impacts your decisions. Whether it is to do with budgeting, life goals, or the destinations on your bucket list, travel becomes an intrinsic part of your being. The interesting thing about experiencing new destinations is losing yourself in the culture of the people.
" I need a vacation of 6 months. Twice a year. " This would suit me perfectly!
Have you and your girlfriends decided to spend quality time together to escape the stress of daily living? If you have considered planning a girl's weekend getaway vacation or if you have never planned a spa vacation before with friends, then keep reading on. Here we provide the Best Guide To Girls Weekend Getaway vacation for your girlfriends.
 "Travel makes a wise man better, and a fool worse." (Thomas Fuller). "Going on a Girls Weekend Getaway Spa. I need about 4 outfits. I've packed 35 just to be safe." 
1. DISCUSS THE BUDGET, EVERYONE.
The most important part of planning a girls weekend getaway is to ensure you and your friends are on the same page. Everyone may not have the same amount of cash for the trip budget, so discuss the amount required for the trip beforehand; in this way, everyone contributes evenly, and the friend who does has the immediate money to go to a Spa has enough time to save up.
Make sure your plans don't spill over the budget. If you are looking for Las Vegas but airfare is out of reach for some, consider closer places for your Girl's getaway. A bonus tip is to plan your trip to the Spa during the off-season because some car rentals, hotel rooms, and even resorts have discounts.
"When preparing to travel, lay out all your clothes and all your money. Then take the half clothes and twice the money." (Susan Heller)
This is the best travel advice. Despite this, many of us still take too many clothes and not enough money.
Do you know: How to Get Free Flights for Life: Travel Hacking Tips for Beginners
Bob Hope says. I always like to go to Washington D.C. "It gives me a chance to visit my money."
2. KNOW WHO LITERALLY WANTS TO GO WITH YOU.
Don't book your reservation at the Spa. Firstly, you should know who literally wants to go with you. It will help you avoid cancellation fees. Here is the tip don't consider "maybes" as those who will be at your party. Only choose people who firmly want to go with you. And the travel lovers be like: "It's bad manners to keep a vacation waiting."
3. SELECT THE RIGHT DESTINATION
Selecting the correct destination for your Girls Weekend Getaway to the Spa can be challenging because some girls love shopping. They will prefer to go to Las Vegas for lots of fun and shopping. Some girls are relaxation type, and they will consider Brazil, where they enjoy all outdoor activities at the Spa. Some girls who are fond of history, culture, and food will want to go to London, but as the organizer, you should discuss the destination with them and decide where to go.
Don't give them options when you open it up for further discussion. There's a good chance it will cause a clash between them. Find a large house with multiple bedrooms instead of a posh hotel with various hotel rooms. Finding a big home on Airbnb is very doable, and you will get access to more space for games and a kitchen for cooking.
"I told my doctor I broke my leg in two places. He told me to quit going to those places. "
4. MUST PROTECT YOUR GIRLS WEEKEND GETAWAY WITH TRAVEL INSURANCE.
If you have to cancel the girls getaway to the Spa for some reason; travel insurance can help you avoid losing your entire spa investment. An annual travel insurance plan such as All Trips Prime can be the most affordable way to protect your girl's getaway to the Spa. Allianz Global Assistance offers a range of travel insurance plans for every budget. You must need travel insurance for trip deposit/ Airbnb booking/activities on your credit card. If one of the friends has insurance with trip cancelation benefits, her insurance can reimburse her for the cost of the canceled trip.
5. I PREFER TO LIVE TOGETHER.
It will be more helpful if all group members share a single room. The best accommodation for a girls weekend getaway includes heart-to-heart conversations and lait night group gossip. And the best thing is the large house will have a kitchen, a deck, and a big living room.
6. MAKE THE GOALS FOR YOUR ENJOYMENT.
Take pictures of each other, create a Pinterest board, and pin your images on it. You will see awesome pics from your entire spa trip through this creativity. After all that planning, you deserve the most enjoyable time. Just leave the hesitation behind and enjoy every moment with your best friends.
"Take a deep breath. Inhale peace. Exhale happiness"
7. KEEP EQUALITY AMONG YOUR GIRLFRIENDS.
Keeping equality among your friends during girls weekend getaway is a tough job. As a tour planner, you should have the ability to maintain equality among your friends. If friend A is uncomfortable after Friend B claims the master suite, think of ways to keep equality among them by taking A for dinner.
The easiest way to keep fairness is to set some house rules. Such as, anything in the fridge is communal property unless labeled. Misunderstanding can be avoided by taking small steps in the house. Keep in mind girls come for enjoyment, not come to fight with each other, so keep equality among them.
I've got 99 problems, but I'm ignoring them on vacation."
8. TRY MAKING FOOD AT HOME.
If you want to manage your budget during girls weekend getaway, try making food at home. Eating out adds up to your funding fast. Tip: Everyone can take turns cooking or find a friend in the group who loves to cook and wants to show her skills to everyone for aspiration. If you plan to eat in, you can save even more with these tips written below:
TAKE ADVANTAGE OF BULK.
Most wholesale clubs have discounted booze and beer, so buy your libations there. Check what menu is available in bulk and save up to 40%.
LOOK AT DEAL SITES.
Deal sites will often have discounts. Slickdeals.net is a deal site; Bondage says it has many deals on platforms like Grubhub for food deliveries.
FIND INEXPENSIVE PLACES TO VISIT.
To manage your budget go for inexpensive places for tours to the Spa. Most of the cities will have affordable places to visit. You can see a local museum, or visit a park. You might find lots of other valuable things to do there. You can also visit local shops and see many fun things there.
"Feeling as cool as a cucumber."
9. INTRODUCE SOMETHING NEW IN GIRL'S GETAWAY.
It's crucial to introduce something extraordinary to every Girls Weekend Getaway. Don't repeat the same place for your next Girl's get-together. If you usually sit around talking and watching old movies, try going out one night instead of ordering wine. Try something new to make your every year's getaway unique and memorable. Don't repeat the same activities you have done on your previous trip.
"Keep calm and make a self-care plan."
10. THINGS TO DO FOR ENJOYMENT.
Watch the show you all promised to watch together, and make popcorn. Bring at-home makeup kits and give each other stunning looks with makeovers. Play lots of games, make a frozen pizza, and work on the puzzle.
"Do something today that your future self will thank you for."
11. SIMPLE, EXCITING IDEAS FOR SPA PARTY GAMES.
Besides so many activities during a spa party, games can be a smart way to pass some time. Simple games are the ideal way to convert one significant activity to other.
The following five games are for any type of spa party and can be adjusted at any time for players. Such games require six or more people to yield the craziest results. Note: explain each game in detail before play begins.Award silly prizes for a few of the games.
TWO PLUS ONE.
It is 500 years old actual ancient game. In this game, everyone takes a small note card and writes two truth and one lie statement about themselves. They should not be allowed to put their names on the cards and deposit them into a box. Each card is pulled from the crate, and the host reads all three statements aloud. Everyone has to guess who wrote the statement and identify the false information.
SILLY STAREDOWN.
This is a tried-and-true game for all ages and abilities. Guests are paired up and must stand about two inches apart with their noses. They can't laugh but just look at each other until one laughs. However, each is allowed to make funny faces. Laughers are eliminated, and a playoff system ends with just two 'finalists" going nose to nose until a winner is declared.
REVERSE SPELLING BEE.
The host searched some longest and oldest words in the English language before the event night. The terms are called out one by one in standard spelling bee fashion. The first person to spell one correctly is the winner.
ADD A WORD.
Sitting in a circle, the first player says a word. Each player adds a word but must repeat ALL the last words; whoever makes a mistake is eliminated. If you are having a special occasion like a Birthday party, you can make the word be about the occasion.
ANIMAL GOT TALENT.
This game is made for all ages. Guests who want to participate in the game stand before the group and imitate any animal they wish. Everyone else rates the imitations on a one to ten scale. Scores are tailed to see who the best "animal limitation" is.
12. FUN THINGS TO DO ON GIRLS WEEKEND GETAWAY TO SPA.
"Dance enables you to find yourself and lose yourself at the same time."
 Here are a few places to keep you excited if you want a night of dancing.
"Women have to find their own personality, their own style and what suits them the best" (Francios Nars)
PUERTO RICO.
"No matter what side of the Island you're on, there's always a place to go dancing, enjoy a drink, and experience the sparkling nightlife of Puerto Rico."
Suppose you or one of the people of your Girl's gang loves to dance the night away on the trip to the Spa with a couple of good drinks, swaying to Latino music. In that case, San Juan introduces a plethora of nightclubs to you and your girlfriends where you can enjoy and experience the vibrant nightlife of Puerto Rico. The club offers everything from classic Salsa Nights to hip-hop-themed nightclubs. It's gonna be your best trip ever because Hip hop, techno, rock, house, whatever you're in the mood for, you'll find a place around San Juan that's playing your time.
Don't forget to pack your dancing shoes when traveling to Puerto Rico.
 Best Clubs for crazy nights in Puerto Rico:
 La Respuesta in San Juan is one of the most popular club in Puerto Rico. It offers a place to enjoy the night with fantastic music-rock, salsa,bomba-you name it and they have it all. Comedians also entertain people with their creative skills.
Adress:1600 Ave Ferandez Juncos,San Jaun,00909, Puerto Rico
Timing varies, so please check out their website before visiting.
Note: The area outside the La Respuesta is not a very safe space, so be wary before parking cars there.
NASHVILLE 
POPULAR THINGS TO DO FOR NASHVILLE GIRLS WEEKEND GETAWAY:
"We steer your beer!" This is one of the unique pontoon tours that everyone in your group will love. Your group will board the pontoon for 3 hours. You will experience beer pong and fun water activities like floating party pads, and if you want to make this trip special, you can bring along decorations to celebrate your Girls Weekend Getaway.
A Girls Getaway to the Spa is incomplete beyond having a burst of great laughter and entertainment, so you must take a ride in Big Drag Bus. Each tour is 90 minutes of laughs, performances, and games.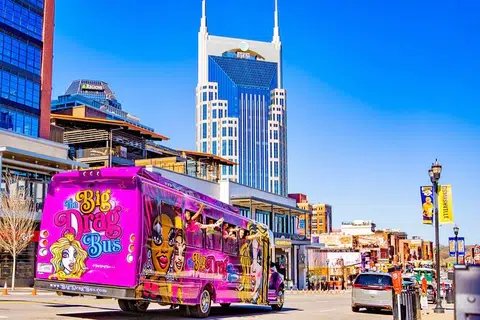 IBIZA (SPAIN)
Ibiza is a wild party destination where you can dance all night and sleep until noon. Its guaranteed Spa on this beautiful island will be an unforgettable adventure for you and your girlfriends. Flowing drinks, world-class nightclubs shaking dance floors, and beach clubs are waiting for you, so pack your bags and explore the adventurous city of Ibiza.
The island's main boat parties (Lost in Ibiza, Oceanbeat, Pukka Up Cirque de la Nuit) offer a slightly different, upbeat atmosphere, with swimming stops, bars, and a variety of themed activities to keep you joyful. Ibiza's best DJs spinning beats from upper decks of luxury yachts and catamarans. No doubt these booze-filled events are fast gaining notoriety as one of summertime Ibiza's quintessential activities.
USHUAIA IBIZA BEACH CLUB
Dance till dawn at the Ushuaia Ibiza Beach will be a wonderful experience if you plan Girls Weekend Getaway at this exciting place. With fresh smoothies and tasty Mediterranean meals on offer during the day, world-class DJs pumping out tunes until the wee hours of the morning, and its stunning location on Play den Bossa, made Ushuaia ranked as one of the world's best clubs by DJ magazine. Dance lovers are like, "Sorry I missed your call. I was dancing to the ringtone."
OTHER ADVENTURES TO DO DURING A GIRLS WEEKEND GETAWAY TO THE SPA:
"Jobs fill your pockets. Adventures fill your soul."
SURF SCHOOL
Kai Sallas Surf School in Oahu, Hawaii, is proud of its legacy. This retreat is for the women who want to experience the magic of hanging ten on their board for the first time. Your inner surface girl will love the trifecta of surfing: surf, yoga, and massage. You and your girlfriends at this Spa can expect a highly personalized experience because the owner, Laura McHugh, brings her 30 years in corporate customer service to the beach. She further says, "Your only worry is sand in your surf wax."
Incredible Factor: The retreats are timed for when the waves are gentle enough for beginners.
PRIESTESS RETREAT IN BIG SUR, CALIFORNIA.
If you are fed up of tuff routine life and want some change, then take a plane to visit Priestess Retreat Spa with your girlfriends. If you or your girlfriends feel an urgent need to gather the forces of change, this retreat is a beautiful place to start.
"A revolutionary call to soul sisters, trailblazers, thought leaders, booty shakers, change agents, magic makers, and wise women of all ages."
GLAMPING SPA-CATIONS 
Glamping is like pushing someone out of their comfort zone to connect with the world. This transformational style of travel leaves an impression that lasts much longer than the journey itself. Glamping is all about excitement and outdoor adventure but without stress.
If you and your friends are planning a Spa, remember that not everyone is a party girl. Suppose the thought of popping bottles in a club or attending a music-filled party is enough for your getaway. In that case, you think wrong because a glamping getaway is a chic, relaxing, and unique alternative. After a day outdoors, you'll find no better place to unwind and catch up than while seated around a campfire with your girlfriends at night and with delicious cocktails in your hands.
If you and your girlfriends want to fully embrace nature, head to Big Sur, California, and spend the night in safari-style tents surrounded by towering redwoods.
TOUR BY ATV IN LAS VEGAS:
"When life gets complicated, just go Riding."
Las Vegas is a stunning place for Girls Weekend Getaway. ATV tours are based on age, interest, and skill levels. If you and your girlfriends are adventurous, then you must plan a time to head to Las Vegas to enjoy an ATV tour.
 Note: Some safety measures are required if you and the girls have decided to go there. For your safety and comfort, wear closed-toed shoes and long pants. Also, bring your camera as the views are spectacular.
"Ride it Like you Stole it."
 "If you and your group are short on time and want to schedule the most fun in your Las Vegas Spa, this is the best tour for all of you."
All-train vehicle tour is the best active way to discover the Las Vegas Dunes. Pick from several departure times, meet your shuttle on the strip, and set off with just a small group. You'll be transported to the departure point for an orientation and safety demonstration. Then, explore the dunes on your ATV.
"The time you just want to say…Let's Do It!"
BENEFITS OF ATV TOUR.
This small-group tour is capped at 10. It will give you a personal experience.
You will discover the new side of the city when you visit the Las Vegas
Enjoy a lovely, active way to explore when you zip along on an
CONVENIENCE INCLUDES:
Experts provide guidelines for ATV tours in Las Vegas
All necessary equipment and safety
All taxes 
Rounded trip transportation from a designated pickup
Photo provided
RETURNING DETAILS
This activity will end right where it started.
Note: If you want to cancel your booking, you must cancel within 24 hours.
This activity requires good weather. You'll be offered a different date or a full refund if it is canceled due to poor weather.
Activity is not recommended for heart problems or other severe medical conditions.
BEST GIRLS WEEKEND GETAWAY DESTINATION AROUND THE WORLD.
The best Girls Weekend Getaway destinations offer unique experiences and activities that, as a group, you will never forget. A world tour provides plenty of relaxation opportunities so everyone in your group can find something to love about the destination.
1. LAS VEGAS, NEVADA
Las Vegas is a beautiful destination for a girl's trip because of its wild and crazy nightlife!  Get ready for a trip of a lifetime! 
There's so much to do in Las Vegas: gambling in the casino, dancing the night away at the club, o  driving supercars in Vegas.
There are fantastic stores on The Strip. If you are fond of shopping, you're in the right place.
WHERE TO STAY?
Hotels are categorized into three sections. It's up to you where to stay. If you have a handsome budget, go for a Luxury Hotel or vice versa.
Best Mid-Range Hotel: Paris Las Vegas
BEST MALE REVUES IN LAS VEGAS
If you and your friends are ready to dive into lots of fun and spice things up, you must watch a male revue show during your Girl's getaway in Vegas.
Note: I prefer to go to male strip clubs instead of a hotel theater for male revue shows because the shows produced by the male strip clubs in Las Vegas typically offer you a better experience than a standard ticked male revue show in the hotel theater. You may already hear of some of the big shows in male revues from your girlfriends back home: Black Magic, Men of Sapphire, Chippendales, Australia's Thunder from Down Under, etc.
DIFFERENCE BETWEEN THE MALE REVUE STRIP CLUB AND MALE REVUE:
It's good to know about the differences between the Male Revue Club and the Male Revue before you think about purchasing tickets or reserving limo pickup. Reservations of Male Revue in Vegas. If you and your girlfriends decide to go for a male revue show, simply go online, purchase tickets, and show up at will call for your seats when you arrive that night. These shows run 4 days per week (Th-Sun), twice a night, and last for an hour and a half. You'll have to plan your activities for an early show for the nightclub.
RESERVATION OF MALE STRIP CLUB SHOW IN VEGAS
When you and your Girls head to a male Strip club, it's totally up to you what time you consider for enjoyment, as all male strip clubs provide free limo transportation to the club, who knew?  Male strip shows provide flexible scheduling before or after the show. Shows run continuously with different acts every hour; it's the best thing for enjoyment. You'll give a window typically from 9:30 pm to 12:30 am, and its time will be 10 pm-1 am for available pickup and transportation to the club. The clubs are generally paid at the door with cash or a credit card.
STRIP CLUB IN VEGAS OFFERS LESS COST
Strip clubs are less expensive and offer extra perks than the male revue shows. In Las Vegas, Men of Sapphire, one of the most popular male strip clubs, offers a deal at $40 per lady with a VIP table in front of the stage.
HERE'S A LOOK AT KINGS OF HUSTLER, LAS VEGAS MALE REVUE DEALS:
Price per lady:$44
It includes VIP Admission to Kings of Hustler, VIP Lemo pickup at your hotel and Dropoff, Two complimentary drinks each, and a VIP Table for your group.
King of Hustler: Friday, Saturday, Sunday, 8 pm – 2 am. (The first available pickup 8 pm).
LAS VEGAS MALE REVUES:
If you and your friends want a relaxing night of fun, you won't be disappointed when you and your Girls spend an evening with a group of physically perfect male dancers. Here's a list of some male revue shows:
If you and your girlfriends decide on a getaway, then an evening spent with the Men of Sapphire is the best option for enjoyment. This professionally choreographed male revue show features thrilling performances and private lap dances. This show is performed every Friday and Saturday at the Sapphire Gentlemen's Club.
Are you and your friends looking for a night full of lights, dancing, and singing? Then pack your bags and just hit the Chippendales. It is one of the most recognized male revue shows. In 75 minute show,12 charming men will make your night super excited because their mission is to get the women in the audience on the edge of their seats. Chippendales perform nightly at the RIO All-Suite Hotel and Casino.
BLACK MAGIC
Black magic features 60 minutes of full-scale entertainment. You and your friends must plan a weekend for Black Magic because Black Magic live is one of the hottest shows. The all-black show is based on Vivica's Black Magic from the lifetime channel.
1. VENICE, ITLAY
One of the most stunning and visited cities is Venice, Itlay.
The girls fond of architecture, history, and fantastic food must visit this Venice. It is hard to find a city rich in history and culture as incredibly beautiful as Venice. It's guaranteed to have a fantastic girl's tour in Venice because there are few things you and your friends simply must do. First, take a walk around St. Mark's Square and see the beautiful Basilica. The attractive Rialto Bridge is waiting for you to shop, and the Grand Canal has unforgettable views.
WHERE TO STAY?
Here is a list of three Hotels below. It's up to you in which hotel you want to stay.
Best Luxury Hotel: Aman Venice
Best Mid-Range Hotel: Hotel Orologio
Best Budget Hotel: Arcadia Boutique Hotel
CHEAP EATS IN VENICE:
If you and your besties are planning a Girls Weekend Getaway spa, here are some tips: Plan a trip in winter when it's relatively tourist-free, stay in the best hotel you can afford, like "Grand Canal," and eat In the cheapest.
Venetians like to eat, and they want all that is particularly refined. Among the good things not to be missed in Venice, let us talk about Pasta.
WHERE TO FIND CHEAP PASTA?
"Laughter is brightest where food is best."
 Venice, Itlay is no stranger to Pasta, an Italian cuisine staple worldwide. For your foody girls in your group, some places are mentioned below to enjoy the past according to your budget.
Antico Gatoleto: Antico Gatoleto offers a pasta dish of the day at an affordable price. It is located in a quiet area.
Osteria Alla Staffa: This restaurant is ideal for relaxing and enjoying traditional Italian cuisine. Alla Staffa offers a wide range of Pasta, including ricotta or lasagna.
La Zucca: This is the most enjoyable place for guests. La Zucca boasts a menu full of fresh vegetables to pair with different types of Pasta.
Note: To avoid any surprise, always ask about the "Coperto" charge (most restaurants have a service charge. This is called coperto) before ordering the found. And also, pay attention to any other additional costs.
2. PARIS, FRANCE
Paris is known as the most romantic place on Earth. It makes an excellent destination for a Girls Weekend Getaway. You all have a great day touring Montmartre. If you want to go shopping then move to Champs-Elysees and if you want to visit the museum just go to Musee d'Orsay. There are many things to do in a day in pairs with your girlfriends. You can explore the city's famous places, eat at traditional cafes, and go to wine tasting.
WHERE TO STAY?
Best hotels options according to your budget:
Best Luxury Hotel: Four Seasons Hotel George V Paris
Best Mid-Range Hotel: Best Western Plus Hotel Sydney Opera
Best Budget Hotel: Hotel De Fleurie
Conclusion:
If you and your girlfriends are planning a new tour to the Spa, then schedule a few things to keep in mind. Start by deciding where you want to go. Once you've decided on a destination, start planning your itinerary. 
Book your flights and hotels as soon as possible to get the best deals. 
Pack your bags and get ready to explore the world. Please don't pack the bag like, "Normal life: Wears the same top every day for a week. Packing for 3-day vacation: probably change a few times a day, so take 21 tops". I prefer to take half the clothes and twice the money for your trip to the Spa and all the other fun stuff that Vegas has in store.  
For the Top 10 places to have a girls' trip in the US, make sure you check this out!
Just remember, no matter where you go to Travel Till You Drop!
female solo travel blog, Female Travel Blogs, Best Places for Solo, Solo Female Travel Destinations Female Travel, dark tourism, dark tourist, budget travel, budget travel tips, budget travel hacks jill charpia