TRAVEL HACKING TIPS FOR BEGINNERS
Ok, ok.. so you wonder how I travel like I do. Well, I'm definitely not rich (far from it). I'm not that smart (educated..yes, smart.. well, that's questionable?? Lol). But what I have found is that I'm determined. Determined to find a way to figure out the little details that make the world go 'round. To prove one of the smallest and easiest ways to earn travel points, I will show how to get free flights for life or a significantly longer vacation than you originally expected.
It's not a quick fix, nor one you don't have to pay attention to the details, but it does add to your possible options to have a nice vacation or even have a house for a month if the situation gets a little hectic. The one thing you need to have is GOOD Credit. So, if that's not part of your current situation, we'll work on that! I'll help you figure that out a little later. If you do have good credit and want a paid vacation, look no further. Travel hacking tips can be your thing!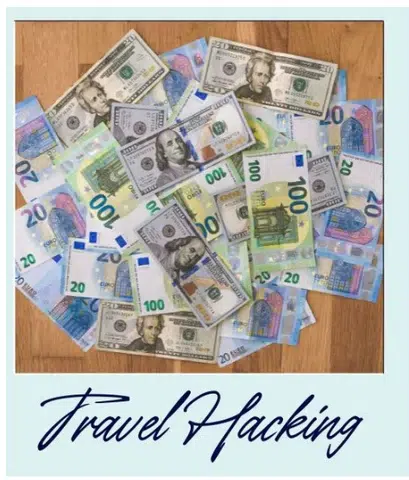 HOW TO GET FREE FLIGHTS FOR LIFE?
Let's know some important and effective things that will help to get a free flight for travel.
Today I will show you what acquiring a Citi Premier card can provide. I signed up for this card about 2 months ago. From there, I was required to spend $4,000. Did I spend it on anything that I wasn't otherwise planning on… Nope! I paid for my housing, I paid for the blogging expenses of what you clicked into and are reading on right now, groceries, and daily living expenses, even my phone bill.
Nothing exceptional, nothing out of the ordinary, but spending $4k in 3 months isn't really the hardest thing in the world to do. Since you're going to spend this money anyway, you can reap the benefits of the signup bonuses. Always look for the best bonuses out there that could meet your needs. Here, my focus was to make sure I had enough points for my flight home from wherever in the world I ended up or to cover my housing for a period of time.
Do you know: 7 Essential Tips for First-Time Flyers | Expert Advice
What You Can Get for 80,000 points
Ok, ok, so you now want me to shut up and tell you what can you get with those points. Well, the Citi Premier card offers 80,000 points for a $4k spend in 3 months and pay a $95 annual fee.
So here we go:
AirBnB: Eight $100 gift cards from AirBnB.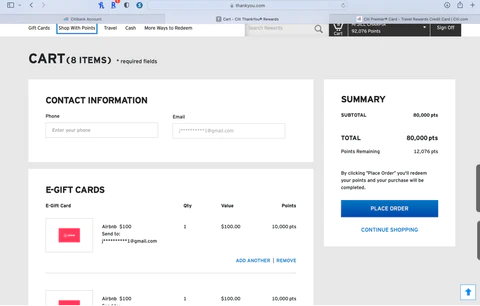 Or the same with Hotels.com. $100 gift card for 10,000 points. So, 80,000 points, $800 in gift cards.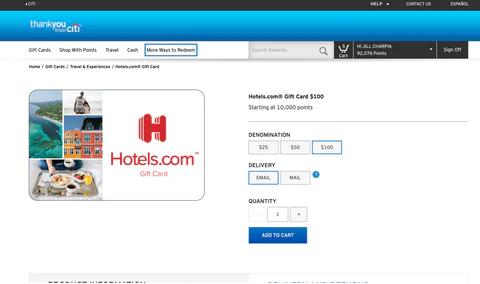 A round trip flight from New York to Paris. 
Or 2 round trip tickets to Cancun 
You can also easily transfer to air travel partners such as AeroMexico, Emirates, Etihad, Avianca, Air France, Jet Blue, Qatar Airways and the big one Singapore Airlines, all at a 1 to 1 ratio.

You can get a week long rental car in Scotland for a fraction of those earned points. 21K points for a week and you still have almost 60K points to play with. 
Or, if you can't find a deal that will make you feel super great on their websites, you can always book your own deal and then redeem you points for a credit on your own card. $800 to use on your own vacation just for signing up and using their credit card. That's it. Nothing more, nothing less.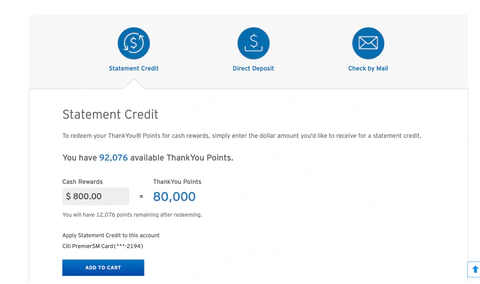 Make sure to keep your card open for at least 1 year so you don't hurt your credit or damage your relationship with you the company that credit cards such as Chase Bank or Citibank, and wa-la. A significant chunk is taken out of your vacation! It's a give-and-take. You get free flights for life, travel, or whatever perk they are offering, and they get their annual fee and your business, which may lead to you not paying interest on the bill you don't completely pay off every week.
It's not illegal, it's not unethical, it's what do they want, what do you want, and how does everyone benefit from the situation. Just ensure that you are careful. Do your research. Pay attention to your credit card bills, work on your credit score, do what's right and all parties can benefit.
Conclusion
While the Citi Premier card is one of the possible cards, there are a number of others that you can possibly acquire for the same purpose. Again, just make sure you do your research and always pay your credit cards in full. I'm providing a solution to acquiring a cheaper or even a free vacation. In life, remember, nothing is free, so make sure you don't abuse this privilege of earning points for free flights for life or not paying your bills but use this as a tool that can help you enjoy your life!
Research and Planning: The Key to Successful Travel Hacking
When it comes to travel hacking, research and planning are essential for maximizing your rewards and getting the most out of your travel experiences. Here are some tips on how to effectively research and plan your travel hacking strategy:
Start with Credit Card Offers: One of the primary ways to earn travel rewards is through credit card sign-up bonuses. Research and compare different credit card offers to find the ones with the most lucrative sign-up bonuses and rewards programs for travel. Look for cards that align with your travel goals and spending habits.
Consider Annual Fees and Benefits: Keep in mind that many travel rewards credit cards come with annual fees. Evaluate whether the benefits, such as bonus points, airport lounge access, or travel credits, outweigh the fees. Ensure that the benefits you'll receive from the card outweigh the cost before applying.
Research Loyalty Programs: Look into various loyalty programs offered by airlines, hotels, and other travel providers. Compare the earning rates, redemption options, and partner networks of different programs to find the ones that offer the most value for your travel needs.
Track Limited-Time Offers and Promotions: Stay updated on limited-time offers and promotions from credit card issuers and travel providers. These offers often provide bonus points or discounted fares, allowing you to maximize your rewards. Sign up for newsletters, follow relevant social media accounts, and join travel hacking communities to stay informed.
Leverage Online resources: Utilize online tools and resources to assist your research and planning efforts. Websites and blogs dedicated to travel hacking provide valuable information on the latest credit card offers, loyalty program updates, and strategies for maximizing rewards. These resources can guide you in making informed decisions.
Create a Spreadsheet or Tracker: Stay organized by creating a spreadsheet or using a tracker specifically for your travel hacking endeavors. Keep track of the credit cards you've applied for, the minimum spending requirements, annual fees, and due dates. Also, track your loyalty program memberships, status levels, and points balances. Regularly update and review the spreadsheet to ensure you're on top of your progress and opportunities.
Be Mindful of Timing: Timing is crucial in travel hacking. Plan your credit card applications strategically to ensure you can meet the minimum spending requirements within the specified time frame. Additionally, consider peak travel seasons and try to redeem your rewards during off-peak periods for better value.
Remember, successful travel hacking requires patience, dedication, and attention to detail. Conducting thorough research and planning your strategies will set you up for a more rewarding travel experience with free flights, discounted accommodations, and other perks that travel hacking can offer.
Best Travel Hacking Tips For You
If you don't know how to get free flights for life, i recommend to you that you need to do more research about travel hacking. So, as you can see, traveling the world or even just having a Disney vacation is not something in a land far, far away. It's achievable, but you have to learn the strategies. It's like figuring out how to use coupons in the most efficient manner or finding the best sales on holidays, learning when to buy a car based upon the time frame that dealerships have inventory that needs to disappear.
Overall, this is just another strategy that can help you to live your life in a more efficient way. So, if you'd like to learn how to pay for a month of rent in so many places, inclusive of France, Thailand, or heck Texas or Florida, for $95, listen up and learn a thing or two.
To learn more about Travel Hacking, make sure you click here.
To determine a variety of tips that will help you get where you're going, check this out!
Now, determining which place to go… hit this button, and the choices are endless.
No matter where you go or when- just always remember to Travel Till You Drop!
female solo travel blog, Female Travel Blogs, Best Places for Solo, Solo Female Travel Destinations Female Travel, dark tourism, dark tourist, budget travel, budget travel tips, budget travel hacks jill charpia