Singapore's Enthralling Tapestry of Attractions
Singapore, a melting pot of history, culture, and modernity, stands proudly as one of the world's most captivating tourist destinations. Drawing millions of visitors each year, whether for business, work, or education, it's a place where history meets the future. As a US citizen, you can explore this wonderland visa-free for up to 90 days, making it a must-visit on your travel checklist. Check here for your Singapore tourist Visa requirements.
Transportation here is a breeze with an exceptional public system. Beyond that, Singapore boasts impeccable amenities, thrilling attractions, and breathtaking sights that start the moment you land, with vibrant flowers lining the roads leading to the bustling downtown.
So, fasten your seatbelts and embark on a journey to discover the Best Places To Visit in Singapore:
1. Gardens by the Bay: Where Nature Meets Futuristic Design
Gardens by the Bay is a horticultural marvel that transports you to a futuristic wonderland. The meticulous design of this green space merges cutting-edge architecture with the serenity of nature. As you explore, you'll encounter a diverse array of plant species, each more captivating than the last. The real showstopper here is the Supertree Grove, a collection of towering, otherworldly structures designed to perform eco-friendly functions. Don't forget to venture into the mesmerizing Cloud Forest Dome, where you'll stand in awe of the world's tallest indoor waterfall. Gardens by the Bay is a symphony of nature and innovation that promises a sensory journey like no other.
2. Singapore Zoo: Where Wildlife Roams Free
The Singapore Zoo, is the Best Place To Visit in Singapore. fondly known as Mandai Zoo, is a testament to Singapore's commitment to wildlife conservation. Unlike conventional zoos, animals here roam freely in environments mirroring their natural habitats. From charismatic orangutans to curious meerkats, the zoo offers an up-close encounter with the world's most fascinating creatures. Immerse yourself further by exploring the Night Safari, where nocturnal animals come alive in the moonlit darkness. For an unforgettable experience, indulge in the Singapore Zoo Breakfast with Orangutans, where you'll share a meal with these magnificent primates. It's a paradise for animal lovers and a testament to Singapore's dedication to preserving the natural world.
3. Singapore Flyer: A Sky-High Adventure
The Singapore Flyer is your ticket to a bird's-eye view of the Lion City. As one of the world's largest observation wheels, it offers an unparalleled perspective of Singapore's skyline. Step into one of the 28 air-conditioned capsules, each promising breathtaking vistas from a height equivalent to a 45-story building. The Flyer beckons you to choose from an array of packages, some of which include access to the multimedia Journey of Dreams exhibit. This exhibit not only enriches your understanding of Singapore's history but also delves into the fascinating story of the Flyer's creation. It's not just a ride; it's a captivating journey through time and space.
4. Chinatown: A Glimpse of Vibrant China
Singapore's Chinatown is a vibrant tapestry of lights, colors, and flavors. Step into this bustling enclave, and you'll find yourself transported to the heart of China. It's a sensory adventure where narrow streets pulse with energy, inviting you to explore every corner. Beyond the street stalls and aromatic food vendors, the Buddha Tooth Relic Temple stands as a cultural gem. This five-story marvel houses the left canine tooth of Lord Buddha and is a spiritual sanctuary. As you meander through Chinatown's historic streets, you'll unravel tales of the past and gain a profound appreciation for its significance in Singapore's rich tapestry.
5. Botanic Gardens: A UNESCO World Heritage Gem
Singapore's Botanic Gardens is a living testament to the island's commitment to preserving its natural heritage. Honored as a UNESCO World Heritage site, it's a sanctuary for nature enthusiasts and wildlife lovers. Within this lush haven, you'll discover the National Orchid Garden, a sprawling three-hectare oasis boasting over 2,000 orchid hybrids representing more than 1,000 species. Each step in the garden is a journey through botanical wonder, where colors and fragrances collide to create a symphony of beauty. The Botanic Gardens is a haven for those seeking solace in nature's embrace. This is one of the best places to visit while in Singapore.
6. S.E.A. Aquarium: Dive into the Deep Blue
The S.E.A. Aquarium is an underwater paradise that immerses you in the mesmerizing world of marine life. With over 1,000 species of marine creatures, it's a top-rated attraction that showcases Singapore's commitment to marine conservation. Here, you'll come face to face with the graceful ballet of hammerhead sharks, the elegance of stingrays, and the playful antics of bottlenose dolphins. With 48 meticulously curated habitats and over 100,000 marine animals, it's a mesmerizing journey into the depths of the ocean. For a truly immersive experience, interact with starfish under professional supervision, or take the plunge with diving and sea walking adventures. S.E.A. Aquarium is not just an aquarium; it's a portal to a world beneath the waves.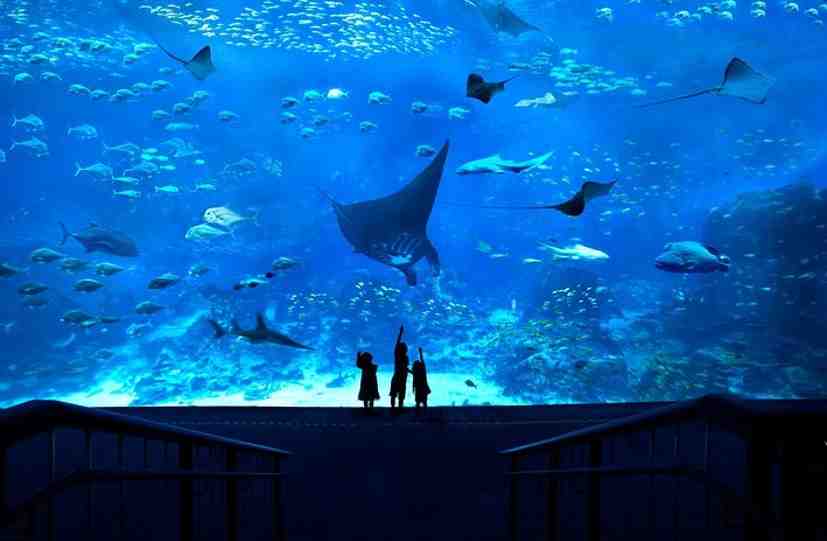 7. MacRitchie Reservoir: Best Place To Visit in Singapore
MacRitchie Reservoir is a nature lover's haven tucked away in the heart of Singapore. Beyond its picturesque beauty, this reservoir serves a crucial purpose in the island's water catchment system, harvesting rainwater to sustain the city. It's a dual-purpose oasis that beckons both nature enthusiasts and water sports seekers. While the peaceful walks along its shores offer a chance to reconnect with nature, the real highlight is the tree-top walk. This towering bridge invites you to traverse the thriving forest reserve from a vantage point like no other. MacRitchie Reservoir is where you can truly immerse yourself in the splendor of nature.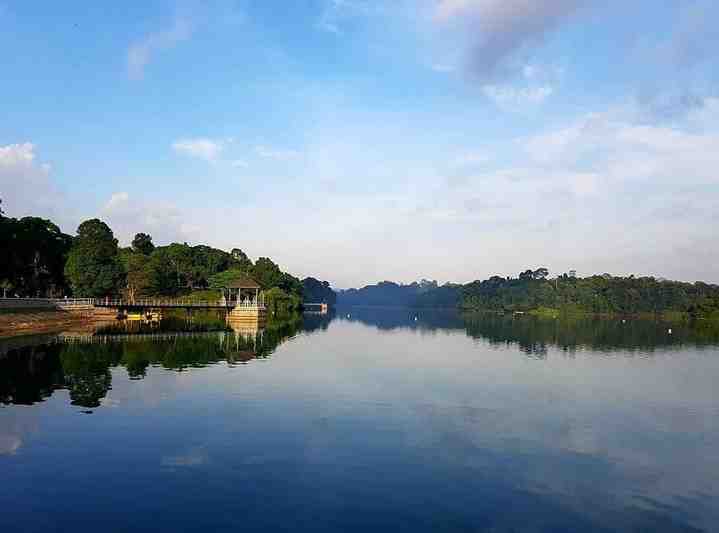 8. Sentosa Island: A Wonderland of Entertainment
Sentosa Island is a treasure trove of entertainment that promises a multitude of experiences under one azure sky. Whether you crave water adventures like kayaking and skimboarding or desire thrilling encounters with dolphins at the Underwater World aquarium, Sentosa has it all. The iconic Merlion statue, a mythical fusion of a lion's head and a fish's body towers at a staggering height of 8.6 meters and weighs a colossal 70 tonnes. Ascend to the top via the escalator, and you'll be rewarded with panoramic views of the surrounding island. Sentosa Island is a realm where adventure, relaxation, and wonder converge.
9. Siloso Beach: Fun in the Sun
Nestled on Sentosa Island, Siloso Beach is the Best Place To Visit in Singapore, and it offers the quintessential beach experience. Here, the sun, sand, and crystalline waters create the perfect backdrop for a day of relaxation and adventure. The sun-kissed shores beckon beach sports enthusiasts and sunbathers alike. Groovy bars and delicious restaurants line the beach, offering a delectable range of cuisines and cocktails. As the sun sets, Siloso Beach comes alive with vibrant parties hosted at the nearby resorts. It's a haven where you can soak in the tropical vibes
Conclusion:
Singapore, where history, culture, and innovation converge, unveils a world of unforgettable experiences. From the futuristic marvels of Gardens by the Bay to the Singapore Zoo's wildlife encounters, each destination paints a unique facet of this vibrant city-state. The Singapore Flyer offers a breathtaking perspective of the skyline, while Chinatown immerses you in rich culture and flavors. The UNESCO-listed Botanic Gardens houses botanical treasures, and the S.E.A. Aquarium unveils the mesmerizing world beneath the waves. MacRitchie Reservoir and Sentosa Island cater to nature lovers and thrill-seekers alike, and Siloso Beach is a sun-soaked haven. Singapore's seamless blend of modernity and nature promises a diverse tapestry of experiences that will leave an indelible mark on your travel memories.
Book Your Trip : Check Out My Resources for Your Travel Needs
Use Skyscanner to find a cheap flight.  This is my very first stop when I'm looking for my next trip. It's a fast, easy-to-use search engine that is perfect for finding an affordable flight, a perfect hotel, and the right rental car for you in locations around the globe.
Book Your Accommodation
If you are looking for a super budget friendly location and are open to a hostel stay, make sure you book your hostel with Hostelworld. It offers the broadest range of quality hostels around the world. 
If you'd prefer a hotel or a guesthouse for stays less than 28 days, drop on over to Booking.com It's perfect for providing excellent options, a ton of user reviews, and prices to fit every budget.
For stays over 28 days, AirBnB still remains my #1 choice. User reviews and monthly pricing allow for some incredible deals all around the world.
Don't Forget Travel Insurance
Travel insurance is but a small up-front investment that you won't want to leave home without. After just one experience of having to delay or cancel your trip or having your luggage stolen, you'll wish you would have made that investment.  I've hated my life a few times when the moment arose, and I decided to skip out.  Let's just say, I've changed my ways and recommend each of the following companies to protect your ass-ets.
My favorite companies are:         
Want to Travel for Free?
Travel credit cards allow you to earn points that can be redeemed for free flights and accommodation — all without any extra spending. Check out my guide to getting free flights to get started.
Ready to Book Your Trip?
Check out my Resource Page for the best companies to help you book your travel at reduced rates!  This list will help you get to where you're going.  I know-I use them ALL the time!