Whether you're a badass solo traveler, a daring group of friends, or a couple ready for some beachside bliss, this blog post is for you. We're about to embark on a coastal journey so, get ready to dive into the sun, sand, and unforgettable adventures that await you. We're talking hidden gems, epic beach activities, and the absolute freedom that comes with exploring on your own terms. So, pack your beach gear, lather on that SPF like it's your job, and get ready for a beach getaway that will blow your mind! Let's dive in and discover the top beach destinations that'll make your vacation an absolute blast!
Ocean City, Maryland
Who it appeals: to Adventure-seeking families ready to make memories.
Notable Attractions
Ocean City Boardwalk

– a classic East Coast boardwalk with amusement parks, souvenir shops, and plenty of people watching.

Trimper's Rides and Amusement Park

– an Ocean City staple with classic carnival rides loved by kids and adults alike.

Assateague Island National Seashore

– a nearby protected island with wild horses, camping, and stunning sunsets.
Ocean City, Maryland – the ultimate vaca for the fam bam! This place has "family-friendly" written all over it, from the sandy shores to the amusement parks and everything in between. Picture this: you, your energetic kiddos, and a day full of sandcastle building, flying kites, and collecting seashells. But wait, there's more! Get your adrenaline pumping on the thrilling waterslides, or challenge your family to a go-kart race. Don't forget to indulge in some classic boardwalk treats – funnel cakes, anyone? Ocean City, Maryland, is the perfect playground for adventure-loving families. So, pack your beach towels, grab the sunscreen, and get ready to create memories that will have your kids begging for a repeat next year!
Solana Beach, California
Who it appeals to: Chill-seeking lone wolves and nature enthusiasts.
Notable Attractions
Fletcher Cove Park

– a cozy beach park with picnic areas and stunning sunset views.

Cedros Design District

– a street full of boutique shops, art galleries, and cafes featuring local artists.

Del Mar Racetrack

– a summertime destination for horse racing enthusiasts and anyone who loves people-watching.
Solana Beach in California is a hidden oasis of tranquility that's perfect for solo travelers seeking peace and solitude. This beach boasts pristine golden sands and breathtaking sunsets that will have you feeling all zen. Take a leisurely walk along the shoreline, collect seashells, or simply sit back and enjoy the view. Solana is also a surfer's paradise, so if you're feeling adventurous, grab a board and ride those waves like a true badass. And when hunger strikes, indulge in the local seafood scene. Solana Beach is all about slowing down, reconnecting with nature, and finding your inner serenity.
Cannon Beach, Oregon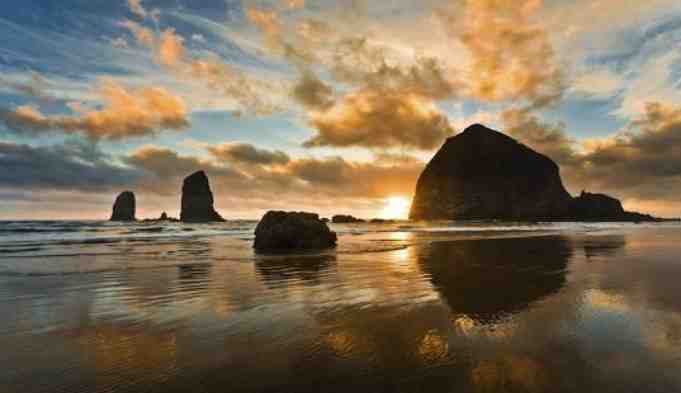 Who it appeals to: Adventurous explorers with a love for stunning landscapes.
Notable Attractions
Haystack Rock

– a giant, iconic rock formation rising from the ocean that's perfect for scenic walks and bird-watching.

Ecola State Park

– a sprawling natural park offering hiking trails and stunning views of the Pacific Ocean.

Hug Point State Park

– a hidden gem with dynamic tide pools, sea caves, and a waterfall, perfect for adventurous solo explorers
Oregon is a coastal gem that will leave you in awe of its natural beauty. Prepare to meet majestic sea stacks rising from the ocean and iconic views that will make your Instagram followers green with envy. Lace up your hiking boots and embark on breathtaking trails like Ecola State Park, or take iconic photos at the famous Haystack Rock. Cannon Beach also offers a charming downtown area filled with unique shops and art galleries. Get ready to immerse yourself in the rugged coastal wonders of Cannon Beach and create memories that'll last a lifetime.
Cheap Beach Vacations USA: Sanibel and Captiva Islands, Florida
Who it appeals to: Romantics seeking a picture-perfect getaway.
Notable Attractions
J.N. "Ding" Darling National Wildlife Refuge

– a great spot to rent a bike, explore the mangroves, and spot some of Florida's unique wildlife.

Bowman's Beach

– crystal clear water, amazing shelling, and a laid-back vibe will make you never want to leave.

Captiva Island Historical Society

– a small but informative museum showcasing the rich history of these beautiful islands.
Picture this: palm trees swaying in the breeze, pristine white sand, and turquoise waters as far as the eye can see. That's what awaits you on Sanibel and Captiva Islands in Florida. This destination is not just for lovebirds; solo travelers looking for a serene, idyllic escape will find their bliss here. Sanibel Island is known as the Shell Capital of the world. Explore the islands on a bike, lounge on the beaches, or simply surrender to the laid-back ambiance. Don't forget to treat yourself to fresh seafood at one of the local eateries and indulge in the colorful sunsets that paint the sky. Sanibel and Captiva Islands are the perfect paradise for solo dreamers and hopeless romantics alike.
Newport, Rhode Island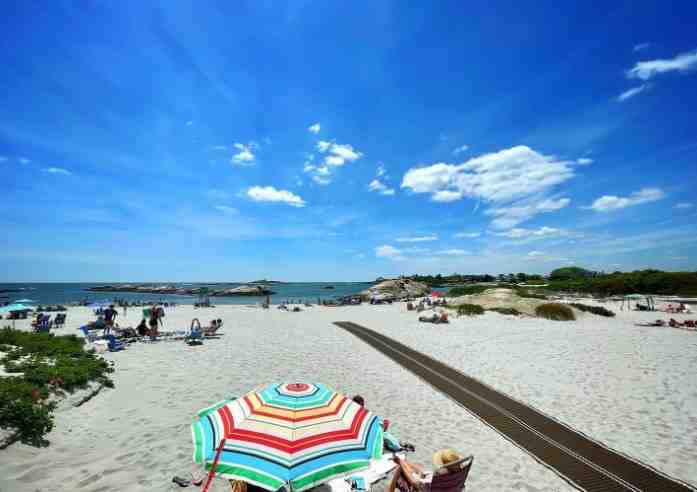 Who it appeals to: History buffs with a taste for coastal charm.
Notable Attractions
Cliff Walk

– a famed coastal trail that offers stunning views of mansions and the rocky shoreline.

Newport Mansions

– historic homes of America's elite in the 19th and early 20th centuries that offer tours and a glimpse into a bygone era.

Castle Hill Lighthouse

– a picturesque lighthouse with stunning views of the ocean that's perfect for an empowering solo photo shoot.
Welcome to Newport, Rhode Island, where beautiful beaches meet quirky local history. This charming New England gem offers the perfect mix of sandy shores and intriguing sites to explore. Take a leisurely stroll along the 3½-mile Cliff Walk, where you can marvel at stunning coastline vistas and even spot a mansion or two. Don't forget to indulge in the local seafood scene – chowder, anyone? Newport's antique shops and quaint boutiques are perfect for the shopaholic in you. So grab your sailor hat and prepare to set sail for a beach adventure like no other!
Hilton Head Island, South Carolina
Who it appeals to: Active adventurers who crave a dash of luxury.
Notable Attractions
Harbor Town Lighthouse

– climb to the top of the iconic lighthouse for amazing views of the island and harbor.

Coligny Beach Park

– with various activities, shops, and restaurants nearby.

Pinckney Island National Wildlife Refuge

– a perfect destination for a peaceful wildlife adventure with plenty of solo trails to explore.
Calling all thrill-seekers and fitness fanatics! Hilton Head Island in South Carolina is your go-to destination for an action-packed beach vacation. This little island paradise may be small, but it packs a serious punch in terms of activities. Tee off at one of the world-class golf courses, perfect your swing on the tennis courts, or rent a bike and explore the island's picturesque trails. After a day of adventure, treat yourself to some fresh seafood at one of the fine dining establishments. Hilton Head Island is all about embracing an active lifestyle while indulging in a touch of luxury. It's time to unleash your inner athlete and bask in the coastal glory!
Virginia Beach
Who it appeals to: Fun-loving beach enthusiasts and people-watching aficionados.
Notable Attractions
Virginia Aquarium & Marine Science Center

– a fascinating exploration of marine life that's great for solo education and inspiration.

First Landing State Park

– a perfect spot for nature lovers featuring a variety of trails and habitats to explore.

Ocean Front Promenade

– a lively walkway featuring restaurants, shops, and attractions with a scenic ocean view.
Be fearless, ladies, because Virginia guarantees you a damn good time! With its legendary boardwalk and lively atmosphere, this beach destination is perfect for those who crave beachside entertainment. Play a game of beach volleyball, join a basketball court showdown, or simply take in some live music while soaking up the sun. And let's not forget the prime people-watching opportunities – there's never a dull moment on the bustling boardwalk! When the day turns into night, unleash your inner party animal in the vibrant nightlife scene.
Myrtle Beach, South Carolina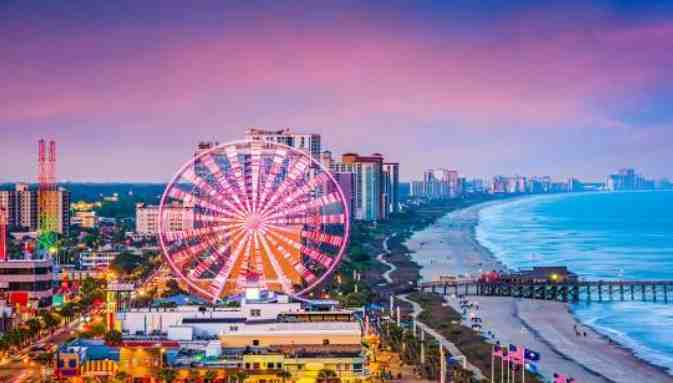 Who it appeals to: Adrenaline junkies and nightlife enthusiasts, and families.
Notable Attractions
Broadway – A hub of entertainment featuring restaurants, shops, and attractions like the Ripley's Aquarium.
Myrtle Beach Boardwalk

– a lively walkway featuring amusement parks, arcades, and great people-watching opportunities.

Brookgreen Gardens

– a tranquil spot with stunning sculptures and botanical gardens, perfect for a solo nature escape.
Ladies, get ready for Myrtle Beach in South Carolina, where the sun, sand, and non-stop entertainment combine for an unforgettable experience. This destination is not for the faint of heart – it's for those who crave thrills and excitement. Soar through the sky on a parasailing adventure, seek out some friendly sharks, or experience the adrenaline rush of a high-speed jet ski ride. And when the sun sets, get your groove on in the buzzing nightlife scene, where clubs and bars will keep you dancing until the early hours. Myrtle Beach is all about breaking free from the ordinary and embracing the wild side. But with 20 million tourists visiting each year, this is also a great place to take the family for the weekend.
Cape Cod, Massachusetts
Who it appeals to: Classic beach lovers with a touch of New England charm.
Notable Attractions
Cape Cod Rail Trail

– a popular bike trail that offers a great way to explore the scenic beauty of Cape Cod.

Provincetown

– a colorful and vibrant town full of galleries, restaurants, and quirky gift shops.

Cape Cod National Seashore

– a sprawling national park featuring stunning beaches, historic lighthouses, and endless adventures.
Ah, Cape Cod, Massachusetts – the quintessential East Coast beach destination. It's all about charming lighthouses, picturesque landscapes, and fresh lobster rolls. Take a leisurely bike ride along the Cape Cod Rail Trail, explore the quaint streets of Provincetown, or simply lose yourself in the sandy shores of the Cape Cod National Seashore. This place is like stepping into the pages of a Nicholas Sparks novel, minus the melodramatic love triangles. Cape Cod is perfect for those seeking a laid-back experience with a side of New England charm. So grab your clam chowder and prepare for a coastal adventure that oozes classic beach vibes!
Siesta Key, Florida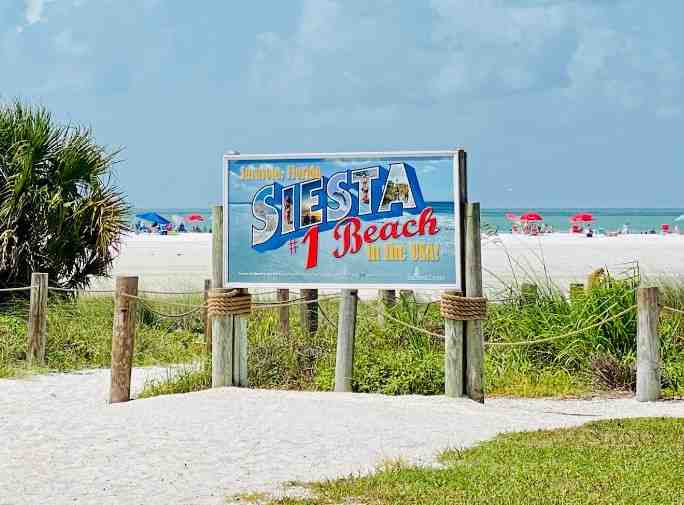 Who it appeals to: Sun seekers who love a good dose of tropical paradise.
Notable Attractions
Crescent Beach

– a stunning beach featuring soft, white sand and clear turquoise water, perfect for sunbathing or swimming.

Siesta Key Village

– a small downtown area featuring plenty of shops, boutiques, and restaurants for a lively solo adventure.

Point of Rocks

– a hidden gem, perfect for snorkeling or diving into the fascinating underwater world of Siesta Key.
Last but certainly not least, we have Siesta Key, Florida – the mother of all cheap beach vacations USA destinations in the Sunshine State. This place is like a Pina Colada on steroids, with its powdery white sand and crystal-clear turquoise waters. Siesta Key Beach consistently ranks as one of the best beaches in the US, and it's not hard to see why. Soak up the sun, build sandcastles, or take a dip in the refreshing ocean. And when you're ready for some action, indulge in water sports like paddleboarding or kayaking. After all that adventure, treat yourself to a refreshing cocktail at one of the beach bars. Siesta Key is all about embracing the tropical paradise vibes, so grab your sun hat and get ready to be blown away by this beach utopia.
No matter your beach style or preference, we've got you covered. These destinations offer the perfect blend of sun, sand, and unique experiences that will make your solo adventures truly unforgettable. So, my fearless friends, it's time to pack your bags, grab your sunscreens, and embrace the spirit of solo female travel. Whether you're looking for relaxation, adventure, partying, or a touch of luxury – these beaches are waiting for you to conquer them on your own terms. And as always, Travel Till You Drop!
Book Your Trip : Check Out My Resources for Your Travel Needs
Use Skyscanner to find a cheap flight.  This is my very first stop when I'm looking for my next trip. It's a fast, easy-to-use search engine that is perfect for finding an affordable flight, a perfect hotel, and the right rental car for you in locations around the globe.
Book Your Accommodation
If you are looking for a super budget friendly location and are open to a hostel stay, make sure you book your hostel with Hostelworld. It offers the broadest range of quality hostels around the world. 
If you'd prefer a hotel or a guesthouse for stays less than 28 days, drop on over to Booking.com It's perfect for providing excellent options, a ton of user reviews, and prices to fit every budget.
For stays over 28 days, AirBnB still remains my #1 choice. User reviews and monthly pricing allow for some incredible deals all around the world.
Don't Forget Travel Insurance
Travel insurance is but a small up-front investment that you won't want to leave home without. After just one experience of having to delay or cancel your trip or having your luggage stolen, you'll wish you would have made that investment.  I've hated my life a few times when the moment arose, and I decided to skip out.  Let's just say, I've changed my ways and recommend each of the following companies to protect your ass-ets.
My favorite companies are:         
Want to Travel for Free?
Travel credit cards allow you to earn points that can be redeemed for free flights and accommodation — all without any extra spending. Check out my guide to getting free flights to get started.
Ready to Book Your Trip?
Check out my Resource Page for the best companies to help you book your travel at reduced rates!  This list will help you get to where you're going.  I know-I use them ALL the time!