Looking for a getaway that's as unforgettable as it is hilarious? Well, look no further because we've got the inside scoop on the 35 Best Places for Girl Weekend Michigan! In a state that's no stranger to visitors, with 5.8 million folks flocking in from far and wide in 2019, it's clear that Michigan knows how to show a good time.
And if that's not convincing enough, even the Upper Peninsula National Park had over a million visitors in 2020—talk about a wild party in the woods! So, grab your besties, pack your bags, and get ready for a girl's weekend you'll be giggling about for years to come.
Here is an idea for a Sample Itinerary for Ann Arbor
Afternoon Arrival
Ah, the anticipation of a weekend getaway! Arrive in Ann Arbor and check yourself into a stylish boutique hotel – because ordinary just won't cut it. The Graduate Ann Arbor or The Kensington Hotel are the chic options that will have you feeling like the classiest lady in town.
Welcome Dinner at Zingerman's Roadhouse
Let's get this weekend started with a bang, shall we? Kick off the festivities with a welcome dinner at Zingerman's Roadhouse. Get ready to indulge in some farm-to-table goodness, surrounded by a cozy atmosphere that will make you feel right at home.
Evening Stroll in Kerrytown
Now that you've nourished your soul with a delicious meal, it's time for an evening stroll through Kerrytown. This charming neighborhood is brimming with unique shops and boutiques that are just begging to be explored. Soak in the vibrant atmosphere and make sure to swing by the Kerrytown Market & Shops, because who knows what hidden gems you might stumble upon?
Saturday: Outdoor Adventure and Culinary Delights
Morning Yoga in Nichols Arboretum
Rise and shine, my adventurous friend! It's time to kickstart your day with a blissful outdoor yoga session in Nichols Arboretum. Picture yourself surrounded by nature, finding your zen in this beautiful setting. Many local instructors offer classes, so you can downward dog your way to enlightenment while enjoying the fresh air.
Brunch at Sava's
Once you've stretched your body and aligned your chakras, it's time to refuel with a delightful brunch at Sava's. This place is all about the chic vibes and diverse menu options that will satisfy even the most discerning palate. So sit back, relax, and let the deliciousness wash over you.
Biking in Gallup Park
Let's kick things up a notch and get those legs pumping! Rent some bikes and embark on a scenic ride through Gallup Park along the picturesque Huron River. Pack a picnic to enjoy by the water or make a pit stop at a local bakery for some delectable snacks. Feel the wind in your hair as you pedal your way through this idyllic setting – it's a moment of pure freedom and adventure.
Afternoon Spa Retreat at The Graduate Spa
Alright, time to pamper yourself, because hey, you deserve it! Treat yourself to a spa retreat at The Graduate Spa. Choose from a range of massages, facials, and wellness services that will leave you feeling like a freaking goddess. Relax, unwind, and let the expert hands work their magic.
Dinner at Logan
Let's take things up a notch in the culinary department, shall we? Experience a gourmet dinner at Logan, where inventive and seasonally inspired dishes reign supreme. Get ready to have your taste buds blown away by the creativity and flavors that'll make you say, "Damn, this is some next-level dining!"
Evening Jazz at Blue Llama Jazz Club
After a day of adventure and exquisite dining, it's time to unwind with some live jazz music at the Blue Llama Jazz Club. Sip on craft cocktails, let the smooth tunes wash over you, and bask in the sophisticated atmosphere. This is your time to let loose, feel the music in your soul, and dance like nobody's watching (or heck, if you want to dance like everyone's watching, go for it!).
Sunday: Cultural Exploration and Farewell Brunch
Morning Visit to University of Michigan Museum of Art (UMMA)
It's your last day in Ann Arbor, but that doesn't mean the adventure is over! Begin your morning with a visit to the University of Michigan Museum of Art (UMMA) and immerse yourself in an array of artistic expressions. Let the beauty and creativity of the exhibits inspire you and awaken your sense of wonder.
Coffee and Book Browsing at Literati Bookstore
Spend your morning leisurely at Literati Bookstore, because who doesn't love a good combination of reading material and caffeine? Sip your coffee, browse through the extensive collection, and let the literary world sweep you off your feet. It's a moment of relaxation and intellectual stimulation – the perfect way to savor the last moments of your Ann Arbor escapade.
Brunch at The Broken Egg
Oh, the grand finale of your weekend adventure has arrived – brunch at The Broken Egg. Conclude your Ann Arbor journey with a mouthwatering meal at this cozy spot. The ambiance is warm, the menu is diverse, and the farewell vibes are oh so bittersweet.
Botanical Gardens Exploration
If time allows, take a leisurely stroll through the Matthaei Botanical Gardens for a serene nature experience. Let the peaceful surroundings and the beauty of the botanical wonders leave you in awe. It's a moment of tranquility and connection with the natural world – the perfect setting to reflect on your epic weekend and say your farewells.
Farewell and Departure
It's time to bid adieu to Ann Arbor, my fearless explorer. Pack your bags, embrace the memories you've made, and depart for your respective destinations with a heart full of fondness. You've conquered an incredible weekend filled with outdoor adventures, cultural exploration, culinary delights, and relaxation. Ann Arbor won't forget you, and you won't forget the magic of this girls' getaway.
1. Traverse City
Traverse City is the perfect place to sip wine, eat cherries, and pretend we're connoisseurs of all things fruity. Plus, who can resist those cherry-themed boutiques?
2. Mackinac Island
Mackinac Island struts its stuff at number two on our list because it's basically the ultimate time machine to Victorian vibes. Forget cars; it's all about horse-drawn carriages and bicycles here, making you feel like you've stepped right into a Jane Austen novel. Grab your hotel at the Island House for an idyllic vacation and a view of the harbor!
Oh, and did we mention the fudge? It's not just any getaway; it's a sweet, horse-drawn, bicycle-riding escape fit for modern-day princesses with a taste for time travel and cocoa cravings!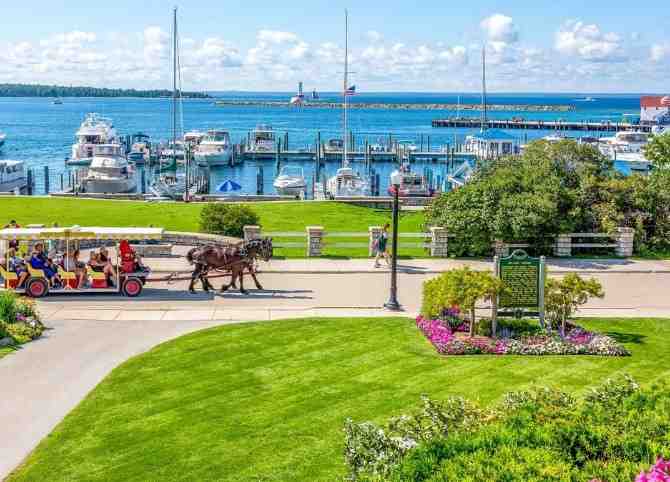 3. Ann Arbor
Ann Arbor is where brains and brunch meet. Here, you can discuss Shakespeare over avocado toast, stroll through the art fair, and pretend to understand quantum physics while sipping lattes. Pop on over for a food tour and tantalize your tastebuds.
4. Detroit
Girls' weekend in Detroit? Absolutely! It's Motown, Foodie, and History Town all rolled into one. You can dance to the rhythm of Motown hits, indulge in Coney dogs, and explore hidden speakeasies! Hop on The HandleBar Pedal Pub® and sip and pedal your way around the city.
5. Grand Rapids
Grand Rapids is a great place for beer lovers. Here, your squad can tour craft breweries, sip IPAs, and prove that you can tell the difference between a stout and a porter. Book the JW Marriott to enjoy getting ready in style before you head out.
6. Holland
Holland, Michigan, has earned its spot in the top 10 of the best places for girl weekend in Michigan for a reason, and it's not just because they've got wooden shoes and tulips (although those are quite a draw!). This charming town is like a spa day for your soul, with its adorable shops, delightful dining, and beautiful beaches. It's where relaxation and retail therapy collide – the ultimate girls' weekend formula! So, don't be surprised if you leave with a new pair of clogs and a heart full of joy, and a belly full of brew. Don't forget to check out one of the many breweries Holland has to offer.
7. Saugatuck
Saugatuck is where relaxation meets art; your group will be Picasso-level relaxed. You can unwind on the beach, visit art galleries, and pretend to be art critics while sipping wine.
8. Frankenmuth – best places for girl weekend Michigan
Frankenmuth can be your excuse to wear dirndls and eat giant pretzels. You can embrace your inner Bavarians, feast at German restaurants, and visit the world's largest Christmas store.
9. Petoskey
Searching for some "rock"-solid fun? Petoskey is the place! You can comb the beaches for those famous Petoskey stones and then pretend they're rare gems. Or, stop by Petoskey Farms for a wine-tasting kind of afternoon.
10. Kalamazoo
Kalamazoo, where you can solve the age-old mystery of why it's so fun to say "Kalamazoo" repeatedly. The bonus of visiting Kalamazoo? You can craft beer and live music galore! Head on over the Hilton Downtown to stay central to it all.
11. Mackinaw City
Mackinaw City for fudge, forts, and ferries is a must-visit. Here, you can spend some quality time by building sandcastles by day and raid the fudge shops by night. Stop on over and take a sunset cruise of Lake Michigan on a one-hour tour from Mackinaw City.
12. Grand Haven
Grand Haven is another name for beach time! You can soak up the sun, ride the musical fountain waves, and try to outdo the seagulls in the squawking competition. Pop on over for a bike and brew tour and take in the sights while you are there.
13. South Haven
South Haven is going to be your fruity escape! Blueberries, peaches, and sandy beaches – grab all snacks like it's a competitive sport, and rent an ATV for an adventurous afternoon out and about.
14. Lansing
Lansing is your state capital and home to some seriously epic selfies with statues. Enjoy a fantastic time and see who can take the most creative photos with the politicians! Book a stay at the Hyatt Place for beautiful views to get ready for a super fun girls trip.
15. Upper Peninsula
Up for an adventure? The Upper Peninsula is where you can become wilderness explorers. Hiking, waterfalls, and camping -oh heck, do a little white water rafting while you're there so you can make s'more memories!
16. Charlevoix
Charlevoix is where you can unleash your inner mariners. From sailing and fishing to pretending to spot mermaids – be the sailors, not scientists! It's also a great place to check out the mushroom houses 😉
17. Traverse Wine Coast
Need wine because adulting is hard? Traverse Wine Coast is your grape escape. You can swirl, sniff, sip, and discuss wine with the best.
18. Bay City
The city where your groups will stroll along the riverfront, eat seafood, and pretend to be experts on the history of shipwrecks. Titanic, who, right?
19. Marquette
At Marquette, your squad can conquer cliffs, explore lighthouses, and see if your balance is as impressive as you claim. Talk a walk through Lakeland Sculpture Park. A super cool spot in the woods offering a ton of junkyard art to tickle your funny bone. It's worth the trip to the top.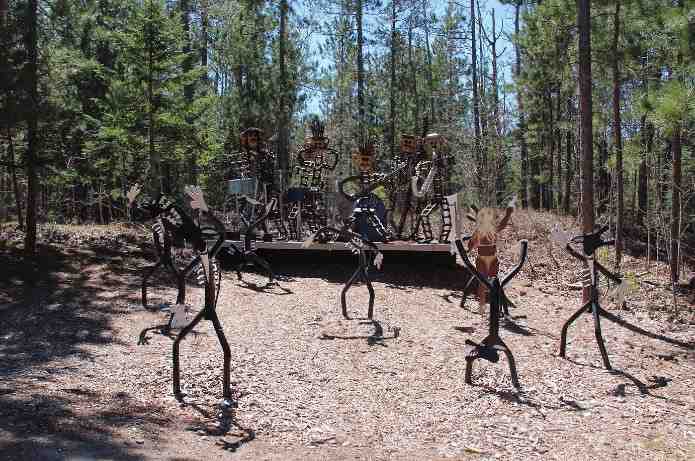 20. Mackinac Island State Park
Remember, your mission on Mackinac Island State Park is to find the best scenic overlooks for group selfies. Yup, we're talking epic backgrounds and coordinated poses! Stay at the Grand Hotel while you are there! It'll be worth it!
21. St. Joseph
St. Joseph – where you will enjoy beachfront picnics, build sandcastles with moats, and pretend the seagulls are your loyal minions with your girl gang.
22. Ludington
At Ludington, you can enjoy sunsets that could rival any romantic movie. Grab your popcorn, ladies – Mother Nature's putting on a show!
23. Alpena
In Alpena, you will experience fossil hunting and pretend you are all archeologists discovering ancient sea creatures. It's like Jurassic Park but with fewer velociraptors.
24. Saginaw
This place lets you have a history tour and convince everyone to be the experts on the Industrial Revolution. No, seriously, it's fascinating!
25. Sault Ste. Marie:
Thinking of crossing borders, eating poutine, and imagining you're secret agents while watching massive ships navigate locks this weekend? This is the perfect spot! It's all about adventure and laughter in this quirky international town! Make sure you hop on the Agawa Canyon Tour Train while you're there. It's a beautiful ride through paradise.
26. Mount Pleasant
Embrace your inner scholars at Mount Pleasant, where your gang can hit the or head on over to the Soaring Eagle Casino to try your luck!
27. Muskegon
Go kiteboarding and attempt acrobatics that would make the birds jealous. You can also call it "extreme bird-watching." There are also plenty of historical sites to enlighten your mind before heading out to dinner on the water.
28. Rochester
Visit Rochester for its charming downtown and secretly plot to steal all the adorable shops and cafes!
29. Tecumseh
Next on our list of 35 Best Places for Girls Weekend in Michigan is the town of Tecumseh — a place of hidden gems and antique shops! So, compete to find the weirdest, most beautiful vintage treasure and have a healthy trip!
30. Fennville
In Fennville, you can try Creamery's delicious cheese. Drink some great cider at Virtue Cider, or head on over to Fern Valley Vineyards for a tasting. You'll wake your inner foodies up and go on a farm-to-table eating spree, pretending you can taste every ingredient. Bon appétit!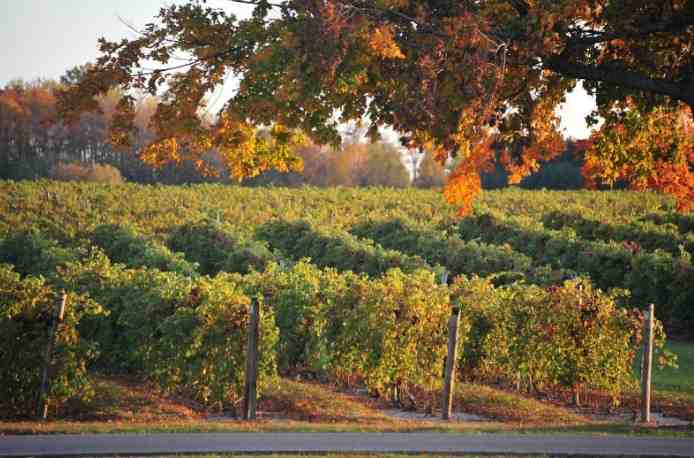 31. Empire
Empire is a village on Lake Michigan, where you will conquer Sleeping Bear Dunes and, of course, the inevitable sand-in-your-shoes challenge for a memorable, fun time!
32. Tawas City
Ready to hit the waves? Tawas City is where your squad can build sandcastles that defy gravity and pretend you are expert sandcastle engineers.
33. Manistee
Take a scenic river cruise and pretend that you are starring in your own adventure film, complete with dramatic poses and monologues.
34. Owosso
Owosso is the place where you can visit the historic steam train museum and become the conductor you've always secretly wanted to be. "All aboard the Fun Express!" Head over and take a tour of Curwood Castle or drop into one of the many bakeries to take care of your sweet tooth before venturing into the wilderness.
35. Grand Ledge
Unleash your inner daredevils and rock climb like pros – or at least give it a valiant effort before retiring to the nearest ice cream parlor.
FAQs
Q: Are there any spa resorts or wellness retreats suitable for a girl's weekend in Michigan?
A: Yes, Michigan offers several spa resorts and wellness retreats ideal for a girl's weekend. Consider places like The Inn at Bay Harbor, Crystal Mountain, and The Homestead for a rejuvenating experience.
Q: What outdoor activities can we enjoy during a girl's weekend in Michigan?
A: You can enjoy outdoor activities such as hiking in the Porcupine Mountains, kayaking on the Au Sable River, exploring Pictured Rocks National Lakeshore, and relaxing on the beaches of the Great Lakes.
Q: Which cities in Michigan are known for their vibrant nightlife and entertainment options for a girl's weekend?
A: Ann Arbor, Grand Rapids, and Traverse City are known for their vibrant nightlife and entertainment options. You can find lively bars, restaurants, and live music venues to enjoy during your girl's weekend.
Final Words
Remember, girls' weekend is about making memories, laughing until your cheeks hurt, and creating inside jokes that will last a lifetime.
So, let's pack your bags, unleash your inner adventurers, and set on a Michigan journey by keeping these 35 best places for girls weekend in Michigan in mind! No matter where you go, always remember to Travel Till You Drop!
Book Your Trip : Check Out My Resources for Your Travel Needs
Use Skyscanner to find a cheap flight.  This is my very first stop when I'm looking for my next trip. It's a fast, easy-to-use search engine that is perfect for finding an affordable flight, a perfect hotel, and the right rental car for you in locations around the globe.
Book Your Accommodation
If you are looking for a super budget friendly location and are open to a hostel stay, make sure you book your hostel with Hostelworld. It offers the broadest range of quality hostels around the world. 
If you'd prefer a hotel or a guesthouse for stays less than 28 days, drop on over to Booking.com It's perfect for providing excellent options, a ton of user reviews, and prices to fit every budget.
For stays over 28 days, AirBnB still remains my #1 choice. User reviews and monthly pricing allow for some incredible deals all around the world.
Don't Forget Travel Insurance
Travel insurance is but a small up-front investment that you won't want to leave home without. After just one experience of having to delay or cancel your trip or having your luggage stolen, you'll wish you would have made that investment.  I've hated my life a few times when the moment arose, and I decided to skip out.  Let's just say, I've changed my ways and recommend each of the following companies to protect your ass-ets.
My favorite companies are:         
Want to Travel for Free?
Travel credit cards allow you to earn points that can be redeemed for free flights and accommodation — all without any extra spending. Check out my guide to getting free flights to get started.
Ready to Book Your Trip?
Check out my Resource Page for the best companies to help you book your travel at reduced rates!  This list will help you get to where you're going.  I know-I use them ALL the time!