If you're planning a trip to Thailand, you might wonder why tipping can be quite different in Thailand compared to your home country. Don't worry because in this guide I want to go over the ins and outs of tipping in Thailand, including how much to tip in various situations.
Tipping at Restaurants
Dining in Thailand can be an adventure in itself. With a diverse range of options, whether they are bustling street food stalls or upscale restaurants, you should know the appropriate tipping range for any scenario. Tipping the staff well at restaurants in Thailand will ensure that you leave a positive impression and show your respect to the locals.
| Type of Service | Tipping Guidelines |
| --- | --- |
| Tipping at Restaurants |   |
| Street Food Stalls | Not common; rounding up the bill or expressing gratitude is appreciated. |
| Local Eateries | 10-20 baht per person, optional. |
| Midrange to Upscale Restaurants | 10-15% of the bill, check for service charge and VAT before tipping. |
| Tipping Tour Guides and Taxi Drivers |   |
| Taxi Drivers | 10% of the total fare for short trips; 100-300 baht for longer trips, plus additional for extra services. |
| Tour Guides | 200-500 baht per day, depending on tour length and satisfaction. Be more generous for exceptional service. |
| Hotel and Accommodation Staff |   |
| Bellhops | 20-50 baht per bag, more for bulky or heavy items. |
| Housekeeping | 20-100 baht per day, leave on the table before heading out. |
| Concierge | 100-200 baht for valuable assistance. |
| Spa and Massage Services |   |
| Spa Services | 10-20% of the total cost, adjust for exceptional service; be aware of service charges. |
| Massage Services | 10-30% of the service cost, tip directly to the masseuse for personalized service. |
Street Food Stalls
These can vary from the small stalls on the side of the street or in the busy markets. Tipping here is usually not that common or expected. In some cases, it's fine to round up the bill or just tell them no thank you when waiting for change; for example, if you paid with two 20-baht bills and the total was 35. Thai street vendors work long, hard hours, and most do not make a wealthy life, so your gratitude is always welcome.
Local Eateries in Thailand
In more casual local restaurants, for example, Thai noodles, small Thai restaurants with reasonable prices giving a small tip of 10 to 20 baht per person is generous. It might not seem like much, but in Thailand, it can go a long way in showing your appreciation. Keep in mind tips are not expected here as well, so it is still optional.
Midrange to Upscale Restaurants
As the name applies, fancier establishments you might want to consider tipping a bit more when visiting Thailand. Something similar would be to what you pay back home, around 10-15% of the bill. I have found at these types of restaurants, the wait staff is much more professional and helpful, and quite likely, they are more dependent upon tips. However, always check the bill first as many restaurants charge a service charge and VAT, and, in these cases, tipping might not be necessary.
Remember, tipping is just a way to express how you feel about good service and show gratitude. If you feel the service wasn't great, then don't feel bad if you do not want to tip. Leaving a tip will make someone's day, and you'll probably receive better service on your next visit.
Tipping Tour Guides and Taxi Drivers
While in Thailand, it may be a daily occurrence where you will need to rely on taxis. Whether you are taking a car service such as Grab or Bolt, or utilizing the local taxi drivers, you may find yourself questioning how much to tip. Tipping these individuals is not a customary practice but a way to acknowledge their expertise and helpfulness, especially if they are friendly, on time, and courteous.
Taxi Drivers
This really all depends on the length of your trip in a taxi. If you took a few-hour trip from Bangkok to Pattaya / Hua Hin, or a similar destination, you want to acknowledge their safety and convenience and the cleanliness of their car. It's not uncommon to tip 100-300 baht for the driver ($3-$8). If your driver made a lot of stops on the way for you or helped with luggage or anything additional, feel free to tip additionally. For smaller trips of less than 30 minutes, I use a general rule of thumb to tip around 10% of what the total fare.
Tour Guides
Tour guides are very important, especially when you head out on an all-day tour!  If you feel they are professional and knowledgeable, don't hesitate to leave a tip. Depending on the tour length, I would suggest tipping anywhere from 200-500 baht (approx. $6-$15) per day. If you feel that your guide went above and beyond your expectations, don't hesitate to be more generous. They made your experience amazing, so reflect that in your gratitude.  
Overall, remember that these are just guidelines! While tipping isn't mandatory, I definitely recommend that if you feel that a driver or guide was friendly and gave great service, hook it up. I have made friends with various taxi drivers over the years and forged friendships because they are people who know of almost any type of location you might be interested in, and when I travel back to a location, I know who to call when I get there!
Hotel and Accommodation Staff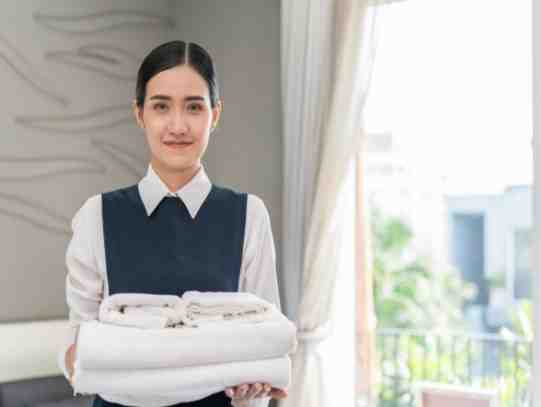 Your stay wouldn't be complete without understanding how to tip when it comes to hotel staff. These individuals work tirelessly to ensure you have a comfortable stay while in Thailand. A well-placed tip can go a long way in showing your appreciation.
Bellhops
In some of the more upscale hotels, you will often find bellhops to help you unload and bring your luggage to the room. Generally, around 20-50 baht per bag is customary. If you have bulky or heavy items that you need to be transported, feel free to increase the tip.
Housekeeping
There's nothing like going out in the morning and coming back with a newly made-up room. These unsung heroes who keep your room clean and comfortable deserve recognition. The greatest part about leaving tips for maids is you can just leave it on the table before you head out. It is standard to tip anywhere from 20-100 baht per day it all comes down to how much you appreciate your room being cleaned.
Concierge
If the concierge provides you with valuable information, makes reservations, or helps you arrange tours, I recommend a one-time tip of around 100-200 baht. It's a polite way to show your gratitude, and really, it's only a few bucks, so why not?
How Much To Tip Spa and Massage Services In Thailand
As most of y'all know (and if you didn't, I'm telling you now), Thailand is well known for its world-class spa and massage services, and it's but a fraction of the cost.  I spent the last 4 months in Thailand, and my hour-long massages were around $4 each.  Ah, heaven! Needless to say, I went in for a massage 3-4 times a week, and it didn't hurt my feelings at all!  Talk about amazing: a 1-hour foot massage, a 1-hour oil massage, and a 1-hour facial, and I went home happy, and I knew it!  *sigh* I'm so ready to go back!
Spa Services
For treatments like facials, body wraps, and other non-massage services, consider tipping similar to what you would tip in a decent restaurant, which would be 10-20% of the total cost. Exceptional service would probably deserve a more generous tip! These ladies work hard for their money, I don't know how their fingers didn't fall off! 
Service Change: Keep in mind some high-end spas; usually, these are part of the hotel that you are staying with it's common to have a service charge attached to your bill. Always check this so you don't over-tip.  Personally, I head to the local spots where the massages are just as amazing, but the price tag isn't.
Massage Services
I separated massage and spa specifically because, in a lot of cases, they can be quite different as far as pricing goes. You can get a good Thai massage or hour-long foot massage for as cheap as 150 baht, but more commonly 200-300 baht.
Massage Therapists: For traditional Thai massages, oil massages, or any other type of massage, tipping between 10-30% of the cost of the service is the most common. Again, if you received excellent service, then a larger tip can be given.  Overall, it is not uncommon for massage therapists to receive a 100-baht tip for a 300-baht massage. Remember to always give the tip directly to the masseuse who gave you the massage to ensure the individual who deserved it gets it rather than the business owner.
Final Thoughts 
This sums up the different scenarios where tipping is optional or customary. Keep in mind that the average Thai monthly income as of 2023 is only 15400 baht a month, which equals around $400, so receiving a small tip will go a long way. So, tip respectfully, share smiles, and savor every moment of your Thai adventure!So, no matter where you travel to, always remember to Travel Till You Drop!  Also, if you're looking for a way to meet people other than your taxi driver while abroad, you may also enjoy our blog post on Solo Female Travelers: Best Dating Abroad 2023!
Book Your Trip : Check Out My Resources for Your Travel Needs
Use Skyscanner to find a cheap flight.  This is my very first stop when I'm looking for my next trip. It's a fast, easy-to-use search engine that is perfect for finding an affordable flight, a perfect hotel, and the right rental car for you in locations around the globe.
Book Your Accommodation
If you are looking for a super budget friendly location and are open to a hostel stay, make sure you book your hostel with Hostelworld. It offers the broadest range of quality hostels around the world. 
If you'd prefer a hotel or a guesthouse for stays less than 28 days, drop on over to Booking.com It's perfect for providing excellent options, a ton of user reviews, and prices to fit every budget.
For stays over 28 days, AirBnB still remains my #1 choice. User reviews and monthly pricing allow for some incredible deals all around the world.
Don't Forget Travel Insurance
Travel insurance is but a small up-front investment that you won't want to leave home without. After just one experience of having to delay or cancel your trip or having your luggage stolen, you'll wish you would have made that investment.  I've hated my life a few times when the moment arose, and I decided to skip out.  Let's just say, I've changed my ways and recommend each of the following companies to protect your ass-ets.
My favorite companies are:         
Want to Travel for Free?
Travel credit cards allow you to earn points that can be redeemed for free flights and accommodation — all without any extra spending. Check out my guide to getting free flights to get started.
Ready to Book Your Trip?
Check out my Resource Page for the best companies to help you book your travel at reduced rates!  This list will help you get to where you're going.  I know-I use them ALL the time!