Imagine a life where you can work from a beachside cafe one day and then explore ancient temples or sit on a beach the next. Welcome to the world of Digital nomadism, where your job working online and your nights blend in together. In this post, I want to go over some of the Best Cities for Digital Nomads. These are places that not only cater to digital nomads but also provide an ideal work environment, vibrant communities, and memorable experiences.
Each of the cities we'll explore provides a unique blend of work and leisure. Whether you're seeking bustling urban environments, beautiful beaches, or historical cities, these destinations can provide a perfect backdrop for your remote work. It truly depends on your style and the environment you are most comfortable in. So, sit back, grab your coffee, and get ready for a journey into being a digital nomad.
Top Cities to Work as a Digital Nomad
It's time to redefine your workspace, embrace cultural diversity, and let the world become your office. Let's embark on this virtual adventure and find the Best Cities for Digital Nomads hotspots.
Chiang Mai, Thailand
Chiang Mai is a good option for Digital Nomads of all backgrounds. It doesn't matter if you are a seasoned remote worker, a freelancer seeking new horizons, or an entrepreneur looking for some adventure, you will feel welcomed in Chiang Mai. 
Cost of Living
One of the biggest benefits of Chiang Mai is its affordability. The city offers a high quality of life without spending a ton of money. For accommodations, you can get anything from a budget-friendly hostel to a luxurious condo starting on average around 8000 baht a month (\$222/month), and hostels can be as cheap as 100 hundred baht (\$3) per day. 
Read our other content while in Thailand – 9 Must See Places in Thailand: Your Ultimate Travel Guide
Food is also quite cheap because of the availability of street vendors dishing up delectable Thai dishes and international foods readily available. Groceries are inexpensive, and transportation costs are quite affordable as well. In Chiang Mai, expenses don't have to be at the forefront of your mind, allowing you to focus on exploring the city and getting your work done. Or if you are on a tight budget, you could also just eat Mama Noodles for about 10 baht (27 cents) a cup (LOL).
Read More: digital nomad visa
Internet in Chiang Mai
The internet in Chiang Mai now has a 5g Network which you can get a data plan on various carriers such as DTAC, AIS, or TrueMove (I despise TrueMove, to be honest) for as little as 20baht per day for unlimited data if you purchase a longer plan. For hard-wired internet, I am also impressed with the speeds in Thailand, which can range from anywhere from 10MB/s up to 500mb/s, but when sharing the internet, it will probably end up somewhere in between.
Co-Working Spaces in Chiang Mai
Chiang Mai has a reputation as a haven for digital nomads. For this reason, there are many well-designed, productive environments to get your remote work done. Here are some of the best coworking spaces that Chiang Mai has to offer:
Punspace: Where Productivity Meets Comfort
Locations: Punspace Tha Phae Gate and Punspace Wiang Kaew
Punspace is a pioneer in the Chiang Mai coworking scene. They have two prime locations catering to the needs of digital nomads. Both locations are strategically located in the historic heart of the city. What stands out for Punspace is the exceptional design, convenient locations, private workspaces, and unlimited free coffee. You can expect to use fast, reliable internet, tranquil workspaces, and 24/7 access Monday to Friday. They offer daily passes or monthly packages starting at around 4,000 baht ($111).
CAMP
Location: Maya Mall
CAMP is located atop the Maya Mall, which offers a unique atmosphere for freelancers and students alike. The space is known for attracting Thai students and a few foreign freelancers. For this reason, you may often find yourself receiving attention from students. While entry is free, access to the internet requires a minimum purchase of 50 baht after the first hour. CAMP encourages a quiet environment and strongly advises using headphones.
Alt_ChiangMai
Location: Intrawarorot Road
Alt_ChiangMai is more than just a coworking space; it's a coliving community. Located on Intrawarorot Road, this space offers a range of options, from hot and cold desks to private offices. Additionally, you'll find amenities like conference rooms, phone booths, quiet zones, and communal areas for networking and collaboration. Alt_ChiangMai offers a vibrant community of like-minded individuals, making it ideal for Digital Nomads to connect and engage. Monthly prices will vary, starting at 2,790 THB ($90) for hot desks and going up to 13,000 THB ($420) for exclusive private offices.
Wake Up: Your 24/7 Coffee Shop Office
Locations: Two in Riverside and one on Mahidol Road
Wake Up is not your typical coworking space; it's a 24-hour coffee shop with a strong internet connection and spacious work areas. Whether you're a night owl or an early bird like me, Wake Up welcomes you with great coffee. It's best to arrive early if you plan on spending the day working, as the prime work spots are located upstairs. Additionally, the first floor primarily functions as a restaurant serving food. Prices start at around 50 Baht ($1.60), which includes extended internet access.
Cafes
If you're on a budget or simply want a change of scenery, Chiang Mai's cafes are perfect for remote work. It's a common sight to see people on their laptops at these spots, as the city hosts many digital nomads. Consider visiting cafes like Analog Cafe, Artisan Wua Lai, The Barn, The Lab, and Heartwork. These establishments offer reliable WIFI, ample power outlets, and considerate staff and patrons.
Pros of being a digital nomad in Chiang Mai
Quality of life

Friendly and diverse community

Many activities to do (hiking, waterfalls, yoga, swimming)

Getting around is super easy

Cheap cost of living

The weather

Safe

Coworking options

Female friendly
Cons
Startup can be difficult.

Traffic is a headache.

Nightlife is not as great as in other Thai cities. 

Language Barrier

Getting a long-term visa is a pain in the ass

Poor Air Quality during the burning season 

Dual Pricing (foreigner vs locals)
Bali, Indonesia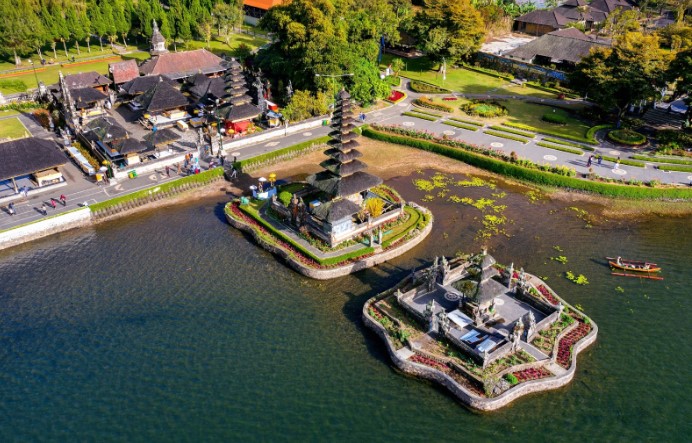 Bali, the enchanting Indonesian island, isn't just a vacation destination; it's also great those seeking a blend of work and play. From vibrant culture and stunning natural landscapes to a burgeoning community of remote workers. Let's explore what makes Bali stand out for digital nomads, and a glimpse into accommodation options.
What Sets Bali Apart for Digital Nomads?
The Island of the Gods, as Bali is often referred to, has several unique features that make it a magnet for digital nomads.
Inspiring Natural Beauty: Bali's beautiful landscapes, with rice terraces, beaches, and volcanic mountains, provide the perfect backdrop for work and relaxation. Whether you're seeking solitude, massages all day, every day, or vibrant culture, Bali offers it all.
Cost of Living: Bali remains an affordable option for Digital Nomads. While not as cheap as Thailand, the average cost might be about double compared to Chiang Mai. From accommodation to dining, you can enjoy a comfortable lifestyle without feeling poor.
Vibrant Nomad Community: Bali has a thriving digital nomadlist community. You'll find coworking spaces, networking events, and like-minded individuals eager to share experiences and collaborate.
Best Places to Work in Bali
Bali boasts a variety of coworking spaces that cater to different preferences and work styles.
Kinship Studio
Location: Berawa, Canggu
Check out Kinship Studio Bali if you're a digital nomadlist looking for a chill spot to get your work done. They have communal desks, private workstations, and even a photo studio. It's super quiet, so you can really focus. Monthly passes start at around USD 153, or you can do an hourly rate with a minimum of 50 hours for $2.24 an hour.
Overall, Kinship Studio is more than just a workspace. It hosts various events like yoga, art classes, and meditation sessions, which fosters connections among remote workers. Plus, there's a ceramics studio for your creative side.
Outpost Bali Coworking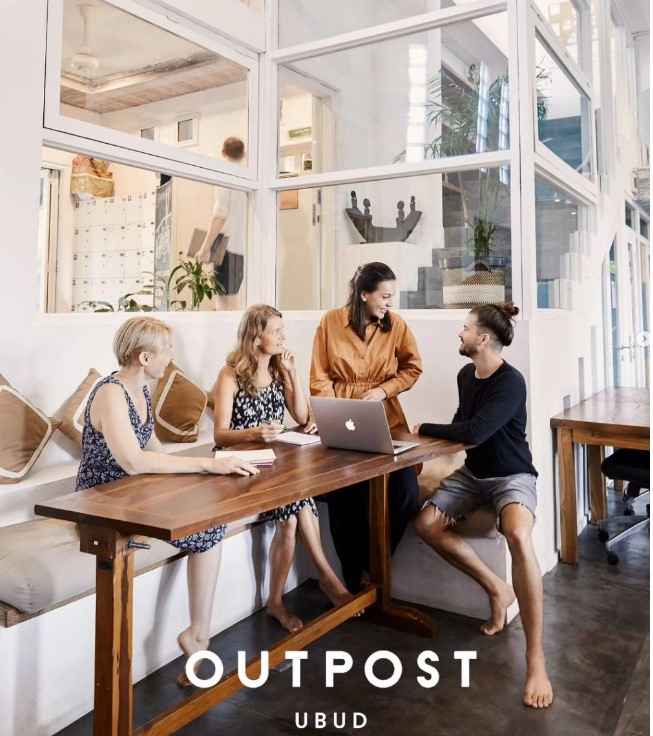 Locations: Ubud & Canggu
Ubud is a coworking space that blends productivity with Bali's charm. Set amid rice fields, Outpost offers reliable internet, dedicated workstations, meeting rooms, and a pool. It's an ideal place to focus on your projects while enjoying the serenity of Ubud. Monthly memberships start at approximately 1,900,000 IDR (USD 135).
Biliq Coworking Space
Location: Seminyak
Biliq Coworking Space, located in lively Seminyak, Bali, marries work with the allure of paradise. Situated near the beach, it offers an environment where the soothing sounds of waves and the vibrant beach scene complement your work routine. With high-speed internet and options for communal desks or private offices, this space provides an ideal setting for productivity. Pricing starts at 150,000IDR (USD 10) and 1,900,000IDR (USD 123) for unlimited monthly access.
Accommodation in Bali
Finding accommodation in Bali is quite easy as there are many options ranging from budget-friendly hostels, and co-living spaces to luxurious villas.
Hostels: Bali has numerous hostels catering to budget travelers. Prices can start as low as 100,000 IDR (USD 8) per night.
Guesthouses: Guesthouses offer a comfortable middle-ground option, with prices typically ranging from 350,000 to 800,000 IDR (USD 24 to USD 55) per night.
Villas: For those seeking luxury, Bali boasts stunning private villas with amenities such as private pools and lush gardens. Prices vary widely but can start at approximately 1,500,000 IDR (USD 107) per night.
Long-Term Rentals: Many digital nomads opt for monthly rentals, which can make more sense on long-term stays, which can be as low as 5,000,000 to 10,000,000 IDR (USD 355 to USD 710) for a villa or apartment.
Pros of Being a Digital Nomadlist in Bali
Living in Paradise

Great Community and the locals are super friendly

Decent Quality of Life

Second Home Visa for 5 years

Beaches, waterfalls, mountains, watersports

Diverse options for Food

Great Nightlife Options

Many Free Wi-Fi Options

Female Friendly 

Many workplace options
Cons of Being a Digital Nomad in Bali
Traffic is a shitshow

Poor Air Quality

Poor food safety guidelines

Healthcare Limitations

English is not well-spoken here

Compared to the SEA region, Indonesia is behind others for internet speed.
Remember, as a digital nomad in Indonesia, you might find yourself torn between your laptop and the allure of stunning beaches and vibrant markets. It's a tough job, but someone's got to do it!
Read More: 10 best digital nomad jobs for beginners
Lisbon, Portugal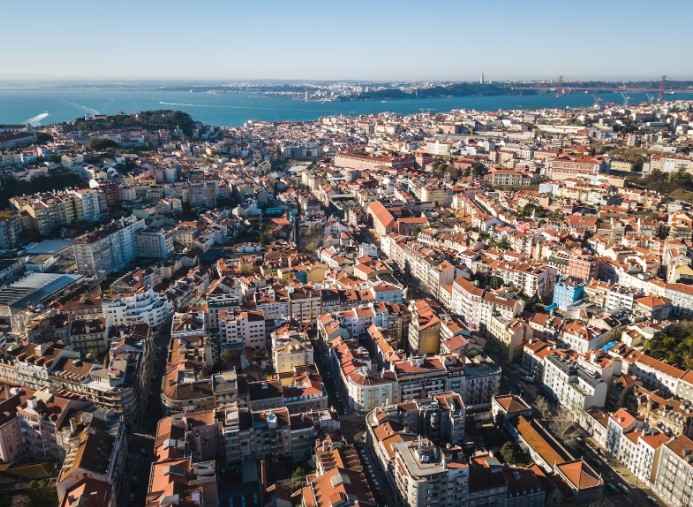 Located on the shores of the Atlantic Ocean, Lisbon, Portugal, is a captivating city ideal for those looking for a blend of old-world charm and modern amenities. This city combines centuries-old architecture, cobblestone streets, and picturesque neighborhoods with a thriving digital nomadlist community and an emerging tech scene.
What Stands Out for Nomads in Lisbon
Lisbon's enchanting ambiance provides the perfect backdrop for remote work. With its mild Mediterranean climate, you can work from charming outdoor cafes or take your laptop to the inviting beaches when it's time to unwind. The cost of living is affordable, but not nearly as cheap as the previous cities we mentioned.
Best Places to Work in Lisbon
There are tons of spaces to work in Lisbon, each with a unique atmosphere and amenities for everyone's preferences. These are just a few of the more popular co-working spaces I will go over.
The Base Cowork Space
Location: Lisbon
The Base Cowork Space is where Lisbon's historic soul meets contemporary productivity. Set in the heart of the city, this co-working space provides a quiet atmosphere for your work endeavors. With high-speed internet connectivity, private workstations, and comfortable communal areas, it blends convenience and comfort. The Base Cowork Space has you covered. Prices start at 159 euros a month for a hot desk, and 249 euros for a dedicated desk, and suites are also available for pricier options.
Resvés Cowork Space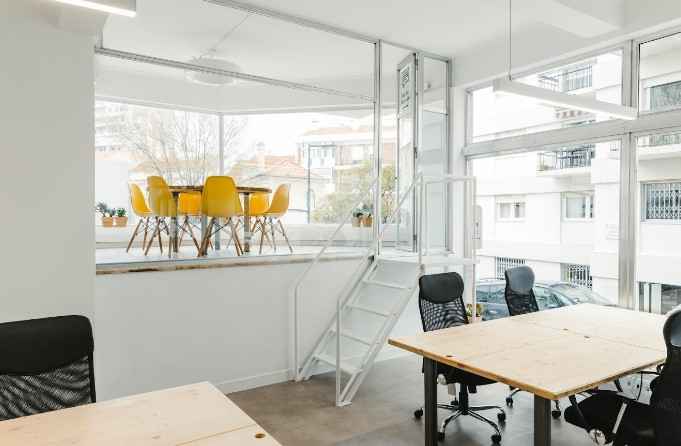 Location: Lisbon
Located in Lisbon's city center, Resvés Cowork Space offers a modern design and professional excellence. This co-working space offers a sophisticated environment suited for those who demand the best. With state-of-the-art facilities and a variety of membership options, Resvés caters to the unique needs of remote workers.
Here, you'll discover:
Resvés Cowork Space offers a thoughtfully designed environment that fosters productivity, balancing aesthetics, and functionality. It's the choice of dedicated professionals who value quality and efficiency, providing a platform to work alongside like-minded individuals. 
Membership flexibility has options ranging from dedicated desks to private offices or occasional access, allowing you to tailor your experience to your work style and preferences. Prices start at just 22 Euros per day or 260 Euros per month.
Second Home Lisbon
Located in Cais do Sodré, Second Home Lisboa offers an innovative workspace within the bustling Time Out Market. Spanning 1000 square meters, it harmonizes greenery and architecture, fostering creativity and connections. Positioned above Mercado Da Ribeira, it's a hidden gem in Lisbon's heart. Second Home Lisboa, from London, also in LA, provides global access for fixed desk members, with Studio memberships for larger teams. It's known for its unique introductions to a vast network and proximity to Lisbon's "Pink Street." Beyond work, enjoy activities like surfing and yoga. Pricing starts at 250 Euros per month, and 340 Euros for a permanent desk per month.
Accommodations for Digital Nomads in Lisbon
Lisbon offers a wide range of accommodation options to suit the preferences and budgets of digital nomads. Here are some common choices:
Airbnb: For digital nomads looking for short-term rentals, Airbnb is a popular option. Numerous flats, apartments, and even shared rooms are available. Prices vary based on the area and kind of lodging, but you may frequently find alternatives that are reasonably priced.
Lisbon is home to an increasing number of co-living places designed exclusively for digital nomads. These spots encourage a sense of community and frequently feature coworking spaces. Selina's Secret Garden and Outside Lisbon are two examples.
Hostels: Several hostels in Lisbon serve budget-conscious digital nomads as well as backpackers. Many hostels have individual rooms as well as common areas where guests may gather to work and socialize.
Serviced Apartments: If you prefer more space, consider renting a serviced apartment. These come fully furnished and often include cleaning services. They are suitable for longer stays and offer a home-away-from-home experience.
Long-term Rentals: If you plan to stay in Lisbon for an extended period, you can explore long-term rental options. This could involve renting an apartment or even a house. It's a good option if you want a stable and comfortable living arrangement.
Hostels: We Hate F Tourists. I can personally recommend this one. I had a great experience while I was there.  A perfect spot to commune with others, book tours with the hostel and their sister property, and have a beautiful area to work upstairs.  I couldn't have asked for a better hostel stay! 
Pros of Being a Digital Nomad in Lisbon
Great Weather year-round

Excellent Nomadlsit community

Safety and Crime is very low

Affordable Cost compared to other European cities

Many things to do and See.

Delicious Food

Friendly people and a Welcoming culture
Cons of Being a Digital Nomadlist in Lisbon
Spring and Summer can be crowded because of tourists.

Because of the laid-back atmosphere, you will find many shops closed on odd days.

Wintertime can be quite rainy.

If you do a lot of walking, expect to have big thighs by the time you leave, the hills here are crazy!

Because it is a tourist destination, expect to pay those types of prices in some areas.
Lisbon stands out as a great location for remote work. Lisbon is the perfect location for you to unleash your creativity and productivity, whether you want a modern coworking space or a quaint cafe to work in. And while you're here, don't forget to savor a pastel de nata and soak in the vibrant culture—because in Lisbon, work and play blend seamlessly in the city of light.
Buenos Aires, Argentina
Buenos Aires, the "Paris of South America," offers digital nomads an enticing fusion of European elegance and Latin American warmth. This vibrant city boasts an array of co-working spaces, creating an inspiring backdrop for remote work. As recently as of 2022 the city's digital nomad visa allows a 180-day stay (renewable for another 180 days) with no fixed income requirement.
What Stands Out for Digital Nomads
Buenos Aires' unique blend of culture, from sultry tango performances to world-class cuisine, creates a backdrop for remote work. The city's affordability, lively street life, fast internet, new digital nomad visa, and rich history make it a haven for digital nomads seeking adventure and connection.
Best Places to Work in Buenos Aires for Digital Nomads
La Maquinita Coworking
La Maquinita Buenos Aires has totally blown up – they've got eight locations now! Can you believe that just a few years ago, they only had two?  You can find inspiration, collaboration, and a great place to get stuff done all over Buenos Aires with La Maquinita. Prices for fixed desks start at around $200 a month, but you should hit up their website to get the latest details on pricing.
Workey Buenos Aires
Workey is a coworking space in the heart of Buenos Aires that blends creativity, historical charm, and community. This unique workspace offers a modern design within a historic building, creating an inspiring environment for remote work. Workey provides high-speed internet, comfortable workstations, and a vibrant community of innovative professionals.
It offers networking opportunities with a community of forward-thinking professionals. Key amenities include private workstations for focus, cozy communal areas for relaxation and collaboration, and abundant natural light enhancing the workspace's atmosphere. Pricing is not published on their site, but looking at reviews I see it starts around USD 10 per day.
Manawa Coworking Creativo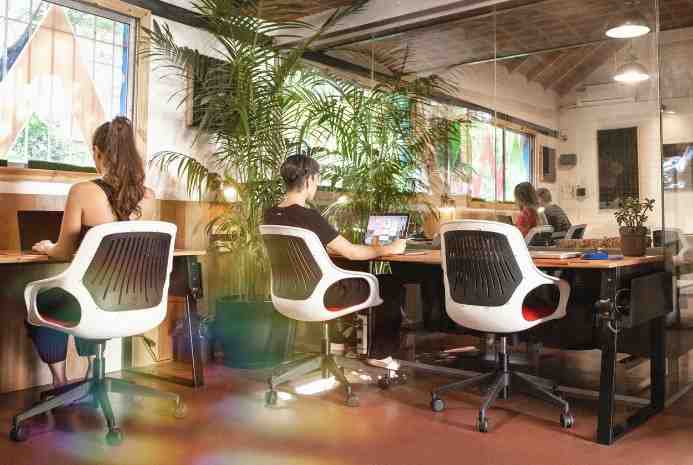 Manawa Coworking Creativo in Buenos Aires provides a great community for remote work. Located in the neighborhoods of Palermo Soho and Palermo Hollywood, Manawa offers flexible workspaces that encourage productivity. The coworking space provides a welcoming community with professionals from diverse sectors. With offerings like free coffee, lockers, and indoor and outdoor workspaces, Manawa is ideal for those who are looking for a dynamic and creative workspace in the heart of Buenos Aires. Pricing starts around $2 per day or $60 per month for a serviced office.
Accommodations in Buenos Aires, Argentina
Like the other cities mentioned, Buenos Aires has a wide range of accommodation options catering to various preferences and budgets. Doesn't matter if you're a budget-conscious traveler or seeking upscale comfort, the city has something to offer. The average cost of living is probably around $1,120 per month.
Budget-Friendly Stays:
For those looking to make the most of their travel budget, Buenos Aires has numerous budget-friendly hostels and guesthouses. These are great options for meeting fellow travelers.
Boutique and Upscale Hotels
If you prefer a more refined stay, Buenos Aires features charming boutique hotels and upscale accommodations. These hotels offer elegance and comfort, often reflecting the city's unique blend of European sophistication and Latin American charm.
While you are planning a trip or plan to come work in Argentina, don't forget to check out Argentina Tours: Best Time to Visit Argentina
Booking.com Rentals
Many digital nomads opt for rentals on booking.com, which provides the flexibility of extended stays and the comfort of a home away from home. You can find a wide selection of apartments and houses across various neighborhoods in the city. You can find a wide range of prices on rooms some of the cheapest I saw was around $20 and up per night, which is quite cheap.
Popular Neighborhoods
Palermo and Recoleta are two central neighborhoods favored by digital nomads. Palermo, known for its trendy vibe, offers a myriad of cafes, restaurants, and cultural attractions. Recoleta, on the other hand, boasts historical significance, elegant architecture, and access to some of the city's finest amenities. Both neighborhoods offer convenience and easy access to co-working spaces, making them popular choices for remote workers.
Buenos Aires, the sultry "Paris of South America," has become a magnetic hub for digital nomads seeking to tango with their work and explore a city that pulsates with both rhythm and creativity. From co-working spaces that harmonize productivity with pizzazz to sipping mate in a local café before embarking on a whirlwind of cultural adventures, this city has the power to ignite your remote work journey like no other.
Pros of Being a Digital Nomad in Buenos Aires
Lovely and rich culture

Excellent digital nomad community

Beautiful country

Pleasant weather

Good nightlife

Cheap healthcare

Quality of life

Transportation is much better than in previous cities

Very Affordable and cheap cost of living

Nomad Visa now available (6 months)
Cons of Being a Digital Nomad in Buenos Aires
Exchange rates fluctuate often, and inflation/economy.

Traffic is a headache. 

Noise Pollution

Language barrier

Internet is improving, but download speeds can be slow at times.

Punctuality from locals? Forget about a schedule because they never are on time.
Other Notable Best Cities for Digital Nomads
Azores, Portugal – There is a new program that is supposed to launch in 2023 called DNA Azores, aimed at attracting digital nomads here.
Zagreb, Croatia – Around 10,000 digital nomads work in Croatia with the majority of them living in Zagreb. They offer a digital nomadlist visa that lasts up to a year. 
Timisoara, Romania – There are many places in the city for coworking spaces. You are exempt from paying taxes as long as you are in the country less than 183 days a year.
Seoul, South Korea – Say hello to the country with one of the fastest in the world, they rank just behind UAE in this regard. Keep an eye on Seoul, as it is fast gaining as a very popular place to work as a digital nomad.
Conclusion
So, my fellow readers, which destination has piqued your curiosity? Or do you have other suggestions? Drop a comment and let us know your next nomadic stop – we're all ears! Safe travels and happy remote working!  But no matter where you go, always remember to Travel Till You Drop! 
Book Your Trip : Check Out My Resources for Your Travel Needs
Use Skyscanner to find a cheap flight.  This is my very first stop when I'm looking for my next trip. It's a fast, easy-to-use search engine that is perfect for finding an affordable flight, a perfect hotel, and the right rental car for you in locations around the globe.
Book Your Accommodation
If you are looking for a super budget friendly location and are open to a hostel stay, make sure you book your hostel with Hostelworld. It offers the broadest range of quality hostels around the world. 
If you'd prefer a hotel or a guesthouse for stays less than 28 days, drop on over to Booking.com It's perfect for providing excellent options, a ton of user reviews, and prices to fit every budget.
For stays over 28 days, AirBnB still remains my #1 choice. User reviews and monthly pricing allow for some incredible deals all around the world.
Don't Forget Travel Insurance
Travel insurance is but a small up-front investment that you won't want to leave home without. After just one experience of having to delay or cancel your trip or having your luggage stolen, you'll wish you would have made that investment.  I've hated my life a few times when the moment arose, and I decided to skip out.  Let's just say, I've changed my ways and recommend each of the following companies to protect your ass-ets.
My favorite companies are:         
Want to Travel for Free?
Travel credit cards allow you to earn points that can be redeemed for free flights and accommodation — all without any extra spending. Check out my guide to getting free flights to get started.
Ready to Book Your Trip?
Check out my Resource Page for the best companies to help you book your travel at reduced rates!  This list will help you get to where you're going.  I know-I use them ALL the time!