Cannes, renowned for its glamour and opulence, may seem like a destination reserved for the well-heeled traveler. However, this enchanting French Riviera city also offers an array of captivating experiences that won't cost you a dime. From scenic strolls along the iconic La Croisette to discovering artistic treasures scattered throughout the city, here's a guide to the top free things to do in Cannes that will make your visit truly memorable.
1. La Croisette: A Seaside Gem
No visit to Cannes would be complete without a leisurely jaunt along La Croisette. What began as a humble dirt road nestled amidst sand dunes in the 19th century has evolved into a picturesque promenade. Lined with upscale boutiques and luxurious hotels, including the world-famous InterContinental Carlton Cannes and Hôtel Barrière Le Majestic, La Croisette exudes timeless elegance. It also boasts sun-kissed beaches that stretch as far as the eye can see.
As you amble along this vibrant promenade, you'll be treated to breathtaking vistas of the Mediterranean Sea, high-end shopping temptations, and the captivating spectacle of people from around the world. Keep in mind that during peak seasons, the beaches can become quite crowded, so plan your visit accordingly. La Croisette is a testament to Cannes' enduring allure, offering a taste of its rich history and contemporary charm.
2. Marché Forville: The Oldest Market in Cannes
Nestled near Rue Meynadier, Marché Forville is a treasure trove for those seeking an authentic local experience. As the oldest market in Cannes, it enchants visitors with stalls brimming with fresh vegetables, fragrant flowers, and Mediterranean seafood. If you're lucky, you might even spot one of the area's top chefs picking up ingredients for their culinary creations.
Reviews from past visitors sing praises of the market's top-quality produce and the wide range of options catering to various tastes. Whether you're hunting for the freshest ingredients for a picnic or seeking unique souvenirs like jarred sauces, Marché Forville is the place to be. It's a vibrant and lively slice of Cannes that's bound to leave a lasting impression.
3. Casino Barrière Les Princes: Roll the Dice in Style
Cannes is not just famous for its film festival; it's also a haven for those who want to try their luck at the casino. In fact, Cannes boasts the unique distinction of hosting three casinos in one city. If you're feeling adventurous, pay a visit to Casino Barrière Les Princes. This compact yet inviting casino offers 21 table games, along with a restaurant and two bars. However, do remember to dress elegantly, as there's a strict dress code in place – no shorts, tank tops, or swimsuits allowed.
Visitors to Casino Barrière Les Princes rave about the warm and welcoming ambiance, as well as the friendly staff. It's a chic spot where you can test your gambling prowess while soaking up the glamorous atmosphere that Cannes is known for.
4. Les Murs Peints: A Cinematic Canvas
Cannes isn't just about the silver screen; it also celebrates its love for cinema through art. Explore the city's streets to discover the Painted Walls of Cannes, a unique tribute to the film industry. These murals, scattered throughout the city, showcase stunning depictions of legendary actors, actresses, and iconic movie scenes. You'll encounter familiar faces like Marilyn Monroe, Buster Keaton, and James Dean brought to life on building facades.
For a seamless experience locating these captivating murals, the Cannes Tourist Office provides a handy brochure with a comprehensive list of addresses. Recent visitors find these murals to be a delightful and entertaining addition to the cityscape, a testament to Cannes' enduring cinematic spirit since 2004.
5. Rue d'Antibes: Retail Therapy and Architectural Splendor
For a dose of retail therapy that doesn't break the bank, make your way to Rue d'Antibes. This bustling thoroughfare, running parallel to La Croisette but a few blocks inland, is a shopping haven. Here, you'll find stores catering to moderately priced brands like Zara and Mango. Additionally, you can admire the 19th-century architecture, complete with intricate ironwork and sculptures by Pellegrini.
Even if shopping isn't your primary objective, Rue d'Antibes offers an enchanting atmosphere for a leisurely stroll and some excellent people-watching. Keep in mind that each store operates on its own schedule, so you can visit this shopping district whenever the mood strikes.
6. Le Suquet: Explore the Old Town's Charm
Cannes' historic heart, Le Suquet, is a captivating destination that beckons you to step back in time. This old town, perched on a hill overlooking the city, is a delightful maze of winding cobbled streets and colorful buildings. Stroll through its enchanting alleys and you'll discover quaint squares, charming cafes, and local artisan shops. The highlight of your visit should be the climb to the Tour du Suquet, a medieval tower that rewards you with panoramic views of Cannes, the sea, and the surrounding area—all for free. Le Suquet offers a taste of Cannes' rich history and a serene escape from the hustle and bustle of the city below.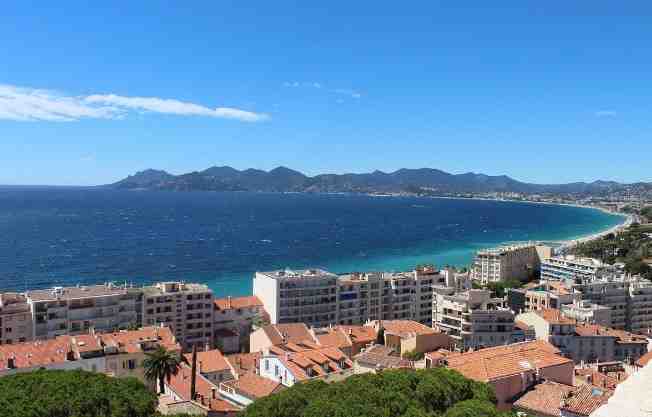 7. Cannes' Public Beaches: Sun, Sea, and Sand
While the private beaches in Cannes can be quite pricey, the city also offers several public beaches where you can enjoy the sun, sea, and sand without spending a cent. Plage de la Bocca and Plage de la Casino are some of the free public beach options available. You can sunbathe, swim in the azure waters of the Mediterranean, or simply relax and take in the stunning coastal views. These beaches are perfect for a budget-friendly day of seaside enjoyment, complete with the iconic backdrop of the Esterel Mountains.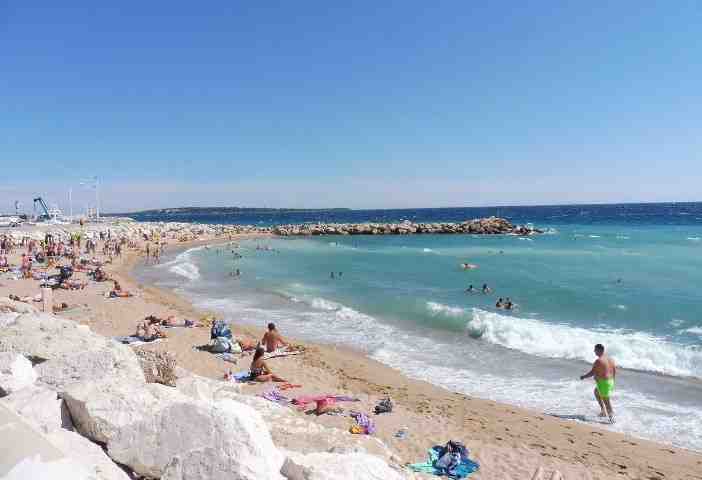 8. Le Jardin Albert 1er: A Green Oasis
Escape the urban hustle for a moment and head to Le Jardin Albert 1er, a tranquil green oasis in the heart of Cannes. This public park is a peaceful retreat, offering a respite from the vibrant city streets. Stroll through beautifully landscaped gardens, admire the statues and fountains, or find a quiet bench to read a book or enjoy a picnic. The park often hosts free cultural events and performances, making it a versatile and enriching destination. Le Jardin Albert 1er provides a serene space to unwind and appreciate the natural beauty that complements Cannes' glitzy reputation.
Cannes offers an array of free attractions that allow you to savor the essence of this glamorous city without breaking the bank. From the glittering La Croisette to the charming Marché Forville, the city's unique character and rich history await your exploration. So, whether you're a film enthusiast, a shopper, or simply a traveler seeking captivating experiences, Cannes has something to offer everyone without costing a penny. No matter where you choose or where you go, always remember to Travel Till You Drop!
Book Your Trip : Check Out My Resources for Your Travel Needs
Use Skyscanner to find a cheap flight.  This is my very first stop when I'm looking for my next trip. It's a fast, easy-to-use search engine that is perfect for finding an affordable flight, a perfect hotel, and the right rental car for you in locations around the globe.
Book Your Accommodation
If you are looking for a super budget friendly location and are open to a hostel stay, make sure you book your hostel with Hostelworld. It offers the broadest range of quality hostels around the world. 
If you'd prefer a hotel or a guesthouse for stays less than 28 days, drop on over to Booking.com It's perfect for providing excellent options, a ton of user reviews, and prices to fit every budget.
For stays over 28 days, AirBnB still remains my #1 choice. User reviews and monthly pricing allow for some incredible deals all around the world.
Don't Forget Travel Insurance
Travel insurance is but a small up-front investment that you won't want to leave home without. After just one experience of having to delay or cancel your trip or having your luggage stolen, you'll wish you would have made that investment.  I've hated my life a few times when the moment arose, and I decided to skip out.  Let's just say, I've changed my ways and recommend each of the following companies to protect your ass-ets.
My favorite companies are:         
Want to Travel for Free?
Travel credit cards allow you to earn points that can be redeemed for free flights and accommodation — all without any extra spending. Check out my guide to getting free flights to get started.
Ready to Book Your Trip?
Check out my Resource Page for the best companies to help you book your travel at reduced rates!  This list will help you get to where you're going.  I know-I use them ALL the time!