Discover the secrets to luxury travel on a budget, from solo female travel to luxury hotels, on our blog. Start planning your affordable luxury vacation today!

Unlock the Secrets to Luxury Travel on a Budget
Get Ready to Plan Your Luxury Trip
Luxury travel and budgeting might seem like two opposing ideas, but with a little bit of planning and research, you can have the vacation of your dreams without breaking the bank. Single? Divorced? No problem! Solo travel can be an illuminating and empowering experience. I know I deserve to treat myself to a luxurious getaway whenever I can; I'm sure you're no different. I'm here to show you how.
Traveling solo doesn't mean you have to compromise on comfort. In fact, traveling alone can actually enhance the experience. With no one to please but yourself, you have the freedom to choose exactly what you want to do, where you want to go, and when you want to do it. Fancy a spa treatment or eating at a Michelin-starred restaurant? The options for indulgence are endless.
Before you plan to travel around the world, you should know about my favorite credit cards, which are widely accepted in the world. 
So buckle up, grab your passport, and let's start planning the luxury trip of your dreams.
Jump to your favorite section:
Use a travel agent or plan your own itinerary?

Choose the right destination

Take advantage of off-season deals

Be flexible with your dates

How to find the cheapest flights

Utilize loyalty programs

How to find luxury accommodation for less

Reap the benefits of credit card points

Booking an example vacation – Paris, here we come!

Final thoughts
1. Use a travel agent or plan your own itinerary?
When it comes to luxury travel, many people often wonder if they should hire a travel expert or plan their own itinerary. Both options have their pros and cons, so it ultimately comes down to personal preference.
Using a travel agent can save you time and stress, as they'll handle all the details and arrangements for you. Plus, they often have insider knowledge and connections that can help you get the best deals and upgrades. So although agents typically charge a fee for their services, you may find that the deals they can hunt down may end up saving you in the long run.
Finding a luxury travel advisor who can help plan your vacation is easier than you might think. Here are a few places you can start your search:
Online travel agencies – Many online travel agencies have travel advisors who specialize in high-end travel. They can help you plan your itinerary, find the best deals, and book your trip.
Travel magazines and websites – Travel magazines and websites often have articles and features on luxurious travel. You can find reviews and recommendations from other travelers and make an informed decision.
Social media – Social media platforms like Facebook and Instagram have many travel accounts that can help you plan your trip. You can also follow bloggers and influencers for inspiration and advice. Keep in mind, though, that not all influencers are truly independent or objective. There's big money in online recommendations, so make sure you back up anything you see on a travel blog or influencer account with your own research.
Travel forums – Travel forums are a great place to ask for recommendations from other travelers. You can find information on the best luxury travel advisors and get an idea of what other travelers have experienced.
Remember, it's important to do your own research and choose a travel advisor who you feel comfortable working with. Ask for references and read reviews to ensure you're making the best choice.
I have plenty of friends who love to plan their own travel itineraries and believe me when I say if some of my friends can do it, then so can you! It's true to say that to organize your own vacation you'll have to put in the time, so a lot of it will come down to a personal choice.
2. Choose the Right Destination
Alright, folks! It's time to put on your thinking cap and start exploring the world of exotic destinations. With so many options, choosing the right destination for your trip can be a bit overwhelming, but read on and we'll find you some affordable indulgence!
First things first, let's get to know yourself a little better. What kind of traveler are you? Do you dream of lounging on a pristine beach, sipping a tropical drink, and soaking up the sun? Or maybe you're a culture vulture eager to explore new cities, try new foods, and immerse yourself in local customs. (I tick all those boxes!).
Knowing your travel style is crucial when choosing the right destination for your trip on a budget. And let me tell you, the options are endless! From five-star resorts at tropical paradises to opulent hotels in the world's best cities, there's a destination out there that's perfect for you.
And don't forget, this is your trip, so you get to make the rules! Do you want to travel during peak season when the crowds are at their biggest, or do you prefer to travel during the off-season for a more relaxed experience? The choice is yours!
Safety is also a top priority, especially for female travelers. So, make sure to choose a destination that's safe, friendly, and welcoming to solo travelers. With a little bit of research, you'll be able to find the trip of a lifetime! By the way, to see the latest travel safety guidance from the US Government on every possible destination, click here for their website.
When it comes to planning a trip, it's well worth remembering that the costs of luxury travel can vary greatly depending on where you go. For example, did you know that top hotels in some parts of Asia can be significantly cheaper than in many parts of the United States and Europe? That's right, my friends! You can make luxurious travel much more affordable just by choosing the right destination.
Let's take a look at some considerations in different parts of the world.
The Americas
This part of the world has a lot to offer for travelers on a budget.
First, let's talk about the costs. In the United States, luxury travel can be expensive, especially in cities like New York, San Francisco, and Los Angeles. However, there are still plenty of opportunities to enjoy a luxurious experience without spending a fortune. For example, you can stay in budget-friendly luxury hotels or take advantage of off-peak season discounts. We'll talk more about finding affordable luxury hotels later.
Canada, on the other hand, offers a more affordable luxury travel experience, with cities like Toronto and Vancouver being great options for those looking to splurge. Mexico, too, has a range of luxurious options, from pristine beaches to historic cities, with costs that are often more budget-friendly than in the United States.
The pros of traveling in the Americas are endless. You'll get to experience diverse cultures, savor delicious cuisine, and see some of the world's most famous landmarks and attractions. And, of course, you'll have the chance to indulge in a bit of luxury along the way. If you're based in the US, you'll also have the advantage of a relatively modest airfare to pay compared to some long-haul destinations.
Europe
Prepare to embark on a journey through Europe! From the rolling hills of the UK to the sun-kissed beaches of Greece, this continent has a lot to offer for luxury travelers on a budget.
In terms of costs, Europe can be a bit pricier compared to other parts of the world. However, with a little bit of planning, you can still enjoy a luxurious experience without needing a loan! For example, consider traveling during the off-peak season (October-April) when you can generally enjoy luxury travel for less; this really is one of the best ways to keep the cost down.
One of the biggest pros of traveling in Europe is the abundance of historical and cultural sites. I just find the whole history thing fascinating! If you've never been to Rome, you absolutely must!
The food is another big draw for me. From the seafood of the Mediterranean to the fine dining experiences of France, Europe is a culinary paradise not to be missed.
And while it's not strictly a business class experience, it is possible to bag some really amazing airfares within Europe on the many low-cost carriers like Ryanair, Easyjet, and Wizz. This makes it possible to experience 2 or 3 different luxury travel destinations on the same vacation; you could even combine a relatively expensive city like London with a more affordable luxury destination such as Krakow, Poland, to bring the average cost down.
If you can travel light, it's perfectly possible to grab an airfare within Europe for as little as $30-$40 return. I say travel light because these airlines charge a lot more for taking checked baggage on the plane with you. Maybe try basing yourself in one city, grab an overnight bag, and travel light for a couple of days. You know you want to! 
Asia
Asia offers endless places to visit for luxury travel on a budget!
One of the biggest draws of Asia is the incredibly affordable price of luxury. For example, the cost of a five-star hotel in Thailand or Vietnam is a fraction of what you would pay in other parts of the world. Additionally, many of the high-end restaurants and shops in Asia offer incredible value for money, making it possible to indulge in the finer things without guilt!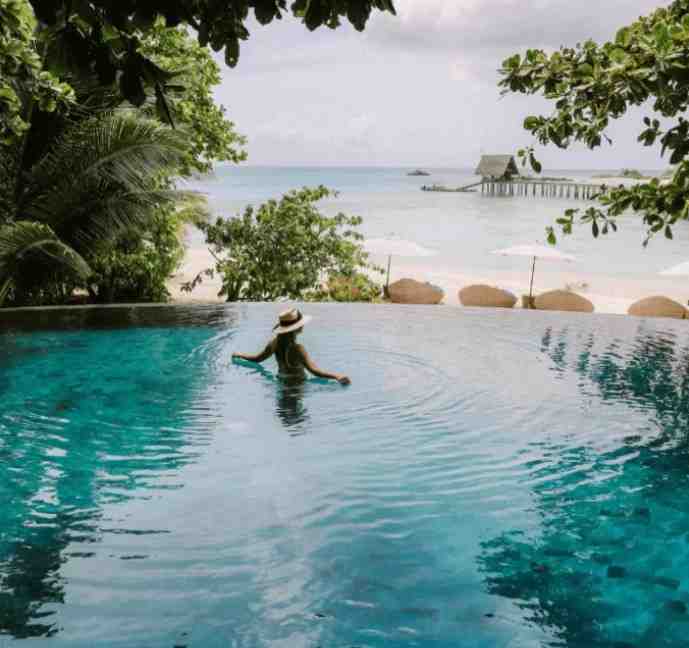 In Bangkok, for example, it's possible to book a few nights at a spa hotel for a bargain price. The thing is, in most parts of Asia, your money will be worth so much more due to the exchange rate and the general cost of living. So, while your plane ticket may cost a little more, your daily budget can be way lower.
I always find the people in Asia so welcoming, they are always smiling and happy to see you. Don't be surprised if some locals want to grab a selfie with you! I know it sounds strange, but it happens a lot!
Africa
Africa is packed full of incredible experiences, and just like Asia, one of the best things about Africa is the low cost of luxury. While you can certainly splurge on top-end accommodations and experiences if you choose, you can also find many incredible deals and discounts.
Another big draw of Africa is its incredible natural beauty. The mountains of Morocco in the north contrast with the rolling hills of South Africa; it's an incredible place like no other. 
For solo travelers, Africa can be a bit more challenging than other destinations. While there are certainly many safe and welcoming areas, it's also important to be aware of the risks associated with traveling to this part of the world. That being said, with a little research and preparation, you can have an incredible experience that's both safe and memorable. 
3. Take Advantage of Off-Season Deals
Who doesn't love a good bargain? When it comes to luxury travel, off-season deals can be a game-changer! But, with so many destinations and so many different travel seasons, how do you know when the best time to travel is?
First, let's start with a little bit of background. Off-season travel typically refers to the time of year when a destination has fewer tourists. This can be due to a variety of factors, including weather, holidays, or school schedules. However, it's also the time of year when you can often find the best travel deals.
So, how do you find these off-season deals? Here are a few tips to get you started:
Do your research: Before you start booking, do a little bit of research on your destination. Look at average weather patterns, holiday schedules, and peak tourism times. This will give you a good idea of when the off-season might be.
Be flexible: If you're not tied to specific dates, consider traveling during the off-season. You might find that your favorite luxury hotel is significantly cheaper during the low season.
Use travel agents: Travel agents are a great resource for finding the most affordable destinations. They have access to a variety of different packages and promotions that you might not be able to find on your own.
Check travel websites: Travel websites like Expedia, Orbitz, and Priceline often offer great deals during the off-season. These sites also allow you to compare prices across different destinations and hotels.
Be spontaneous: Sometimes, the best deals come from last-minute bookings. If you're feeling spontaneous, consider booking a trip during the off-season on a whim. You might be surprised at what you can find!
4. Be Flexible with Your Dates
When it comes to luxury travel, being flexible with your dates can make all the difference. With a little bit of flexibility, you can save money and avoid crowds. Winner!
First, let's talk about cost. Traveling during peak season can be expensive, but traveling during the off-season can save you a significant amount of money. This is especially true when it comes to luxury travel, where high-end hotels and resorts often offer great deals to attract travelers during the slow season.
Second, avoiding crowds can enhance your luxury travel experience. When you're not fighting for space on the beach or waiting in line for attractions, you can relax and enjoy your surroundings to the fullest.
Finally, being flexible with your dates can allow you to experience a destination in a new and exciting way. For example, traveling to Europe during the winter months can give you a chance to see the Christmas markets or go Skiing.
So, how do you find the best travel deals by being flexible with your dates? Here are a couple of tips to get you started:
Consider traveling during the shoulder season: The shoulder season is the time of year when the weather is transitioning from one season to another. This is often a good time to find great deals, as there are fewer tourists and lower prices.
Be open to different destinations: If you're not tied to a specific destination, consider traveling to a different part of the world during the off-season. You might be surprised at how much you can save.
5. How to find the cheapest flights
When it comes to traveling on a budget, finding the cheapest flights can be a challenge. But, with a little bit of patience, you can save a lot of money and still enjoy your luxury getaway.
Here are some tips to help you find the cheapest flights for your next trip:
Book in advance: Booking your flights well in advance can save you a lot of money. Airlines often offer early bird discounts for travelers who book several months before their trip. (Having said that, don't forget what I said about last-minute bookings too!)
Be flexible with your dates: traveling on a weekday instead of a weekend can often result in a lower ticket price.
Compare prices: Use online travel booking sites like Kayak, Expedia, and Orbitz to compare prices and find the best deals.
Use a flight aggregator: Flight aggregators like Skyscanner and Google Flights can help you find the cheapest flights by searching multiple airlines and travel booking sites. Remember to keep your filters to a minimum; being picky about departure and layover times will reduce your chances of a low fare.
Sign up for price alerts. This will notify you when the price of your desired flight drops, allowing you to book at the best possible price.
Booking directly with the airline can save you money on booking fees and commissions that you might incur if you book through a third-party travel site.
If you're traveling to a far-off destination, consider booking a connecting flight instead of a direct flight. Connecting flights can often be cheaper, and they can also give you a chance to explore two different destinations on your trip.
6. Utilize Loyalty Programs
Maximize your savings on luxury travel by utilizing loyalty programs offered by airlines, hotels, and car rental companies. By signing up for these programs, you can earn points and rewards that can be redeemed for discounts or free travel.
Here's how:
Sign up for multiple programs: The more programs you join, the more points and rewards you can earn.
Use your loyalty card whenever you travel, including flights, hotels, and car rentals.
Some programs offer better benefits like upgrades, free breakfast, or free nights. Choose those that offer what you value most.
Redeem rewards wisely: Consider redeeming rewards for premium upgrades or free nights at luxury hotels for your luxury trip.
Loyalty programs offer sign-up bonuses or milestone bonuses, so make sure to take advantage of them.
7. How to Find Luxury Accommodation for Less
Staying in a 5-star hotel doesn't have to cost the Earth. Here are some tips for finding luxury accommodation for less.
Consider Smaller Boutique Hotels
These hotels often offer more personalized service, unique architecture and design, and a more intimate atmosphere compared to large chains. Plus, since they are not as well known, they may be priced lower. Some of the best hotels I've stayed in have been smaller, independent boutiques and this is definitely one of the best ways to make your travel experience more memorable.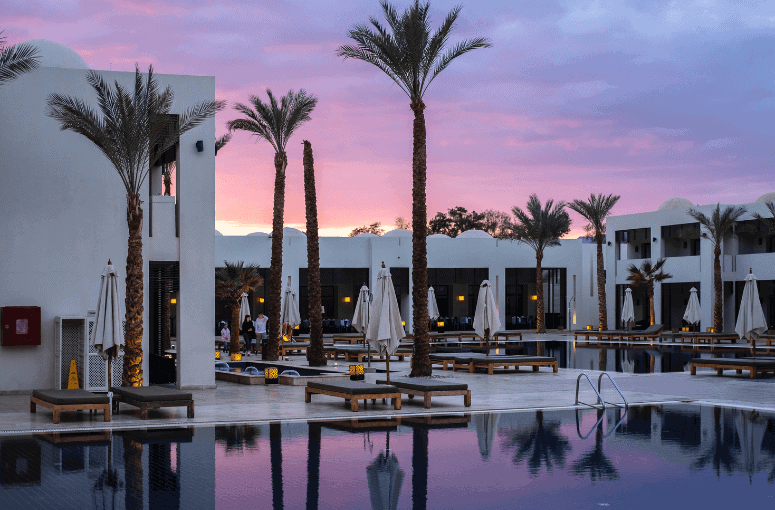 Look for newly opened hotels & all-inclusive deals
Newly opened hotels are often eager to attract customers, so they may offer special promotions, discounts, or packages. Plus, they are usually well-equipped and likely to go the extra mile to establish a great reputation.
All-inclusive packages can be a great way to save money on your luxury vacation. With an all-inclusive package, you typically pay one upfront price that includes all of your meals, drinks, activities, and sometimes even transportation. This can simplify your trip planning and help you stay within your budget, as you'll know exactly how much you're spending upfront. All-inclusive resorts often offer high-end amenities and experiences that you may not otherwise be able to afford. 
Make the most of AirBnb
Airbnb can be a great option if you're looking for a more authentic and local experience. While traditional hotels may offer all the amenities and services you're looking for, they can often come at a premium price. With Airbnb, you'll typically have an entire place to yourself, giving a more secluded, private feel to a vacation. A lot of AirBnb's are renovated to a great standard, too; hiring a luxury vacation rental is often cheaper than the equivalent hotel because you're not paying for all the overheads a hotel incurs.
8. Reap the Benefits of Credit Card Points
If you travel a lot like I do, credit card rewards programs are a great way to save money on luxury travel. Using a credit card that earns rewards points, you can accumulate points for every purchase you make, which you can redeem for flights and hotels. Some cards offer additional travel-related perks like lounge access and travel insurance. Can any trip be truly luxurious without starting in the airport lounge? Make sure to put as many of your day-to-day expenses, like gas and groceries, on your card and pay in full every month.
9. Booking an Example Vacation – Paris Here We Come!
As a seasoned traveler, I've learned that the key to a successful luxury trip on a budget is all in the planning. And what better way to put my tips and tricks to the test than by booking a vacation to one of my favorite cities, Paris! In this section, I'll show you two examples of how you can plan your Parisian getaway, picking a starting point of Dallas, Texas.
The cheaper alternative If you're like me and always on the lookout for a good deal, you'll want to consider alternative options to get the most out of your trip. For this example, let's look at booking a trip to Paris during the shoulder season (spring or fall) and using connecting flights instead of direct ones. We should find that you save money on flights, but you may also find that hotel prices are more reasonable during these times. And who doesn't love a little extra adventure with a connecting flight?
Paris in the summer
The first thing I'd do to kick things off is head over to Skyscanner to find some flights. I'll select Dallas Fort-Worth as my departure airport and Paris Charles de Gaulle as the destination. Remember to click the "direct flights only" option and plug in my dates. I've chosen Saturday, August 5, 2023 – Wednesday, August 16, 2023 at random.
Within about 10-15 seconds, the website has returned me several direct flight options on those days. Let's go with the cheapest, which is a Finnair ticket (although this is a code-share on an American Airlines aircraft). It's an overnight flight, departing at 5.10pm and arriving into Paris at 9.25am the following morning. I'm actually pretty pleased with this option, as it means I can grab some sleep on the plane and be ready to hit the sights when I arrive. It also saves me a night in a hotel so that's money back in my pocket! The cost for this flight is $1534.
Now, let's find a hotel. Nothing too basic, mind you, we're looking for the finer things in life, after all! I'll head to Hotels.com for this. I prefer this site as they offer a loyalty scheme, meaning that for every 10 nights I book through them, I get a credit on my account to the value of the average of those 10 stays. Think of it as a points or miles type of program. This quickly mounts up if you travel even 2-3 times a year and put more money back in my pocket by giving me a decent discount on my next stay.
I'll put my dates into the system (remember, we only need to check in on August 6 as we have an overnight flight). I'm only interested in 5-star hotels, so I'll tick that box, I'm only looking to experience the best, so I'll select the option only to see properties rated at least 9 out of 10 by guests. Then, I will sort the results by distance to downtown, nearest to furthest (I want to stay in the heart of everything for this trip).
There's a really wide range of prices coming out of the search. The most expensive place is over $20k for the stay! I definitely want luxury, but I need to afford to eat, and I certainly don't want to sell my internal organs when I get home. I'll pick something a little more sensibly priced – La Clef Louvre Paris by The Crest Collection. This ticks all my boxes, it's close to the city center, has a luxurious-looking bathroom, and the listing says it has premium bedding. Just what I'll need after 25,000 steps seeing the sights. I'll pick a mid-range room, the 'executive suite'. This comes in at $5928. Ouch.
With my hotel and flights booked, those are the biggest expenses out of the way. I'll do a basic Google search to find a driver to take me from the airport to my hotel (nothing less than a Mercedes will do!), which adds another $120 return to the bill.
Total cost for my summer break in Paris? $7582. (Before cocktails, food, and attractions).
Paris in fall
Okay, let's try to save ourselves some money here. We've got $7582 to beat. To keep things fair, I'll book a trip of the same length, 11 nights. I'll avoid weekends to see if I can shave a little more off the price too. Let's choose Monday, November 6, 2023 – Friday November 17, 2023.
I'm sticking with Skyscanner as it puts everything in one place for me to compare prices easily. But this time, I won't tick the "direct flights" box, so let's see what comes up.
Finnair comes out on top again. This time, their price is $714. Less than half price. It's the same flight time too, the overnight flight we had in the summer, and it's a direct flight too. Winner!
Let's have a look for a place to stay. I'm willing to be a little more flexible in terms of location here. If I'm willing to stay a little out of the center, I may be able to save some money. I'll also check Airbnb for this one rather than Hotels.com.
I still want something fancy, though! So I'll check all the amenities boxes such as Wifi, washing machine, and most certainly the "entire place" option as I need my own space. I've also chosen the "Airbnb Plus" option, which means that it will only show places that are designed with the finer things in life in mind.
The results give me a huge range of places to choose from, with some super expensive options ($41k?!), but I've found a great-looking loft apartment, Mini loft lumineux en plein cœur de la capitale, for much less money. The reviews look great, with guests praising the location, and they also say the decor is fabulous! The price? $2119.
In terms of getting to and from the airport, I'll go back to basics and use an Uber. They're generally safe and reliable, and for 45 minutes in a car, I don't need anything too flashy. The average cost of an Uber from the airport to the center is around $50. I'd rather spend my money on champagne when I arrive at my apartment!
Adding all this up, the cost of my luxurious fall break to Paris comes in at $2883 for 11 nights. That's a saving of $4699 over the summer vacation. 
Now, to cut that even further, take a look at the other ways to travel hack and you could get either your flight, hotel, or both for free, cutting your trip down to the bare minimum. 
10. Final Thoughts
And there you have it folks, my insider tips and tricks on how to plan a luxury trip on a budget! From finding the right destination to utilizing loyalty programs and credit card points, there are so many ways to save on your next adventure. As you've seen from the trip to Paris we looked at, the main ways you can squeeze the most out of your budget include traveling out of season and being creative with your accommodation search.
Just remember, a little bit of planning and flexibility can go a long way in securing that 5-star experience without burning a hole in your pocket. So pack your bags and get ready to have a trip of a lifetime, and always remember to Travel Till You Drop!