Best Hotel Spas
Imagine yourself lying in a pool of warm water, surrounded by flickering candles and the sound of a gentle waterfall. You're bathed in the soft light of a skylight, and the world outside seems a million miles away. If this sounds like the perfect way to relax, you need to check out one of the best hotel spas in the world. These havens of luxury offer the ultimate pampering experience, with exquisite treatments that will leave you feeling relaxed and refreshed. In this post, we'll introduce you to some of the most luxurious hotel spas in the world.
If you're looking for the best spa experience in the world, look no further than Aman Spa at Amangiri. This award-winning spa is located in the heart of Canyon Point, Utah, and it's a true sanctuary for the senses. The Aman Spa philosophy is all about restoring balance, and that's what you'll experience from the minute you walk through the door. There are no televisions or phones to distract you here; it's all about quiet contemplation and enjoying the simple pleasures of life.
The treatment rooms are set against a backdrop of dramatic cliffs and soaring mountains, and they offer panoramic views of the surrounding landscape. You can choose from a range of treatments, including massages, wraps, facials, and body treatments. And don't forget to visit the spa's fitness center, sauna, and hammam for an additional dose of relaxation.
Aman Spa at Amangiri is more than just a spa; it's a transformative experience that immerses you in the beauty of the natural world while rejuvenating your body and soul.
If you're looking for a luxurious spa experience, look no further than Spa de la Mer at the Baccarat Hotel in New York City. This spa is absolutely stunning, with its sleek, modern decor and tranquil atmosphere. The treatment menu includes a wide variety of massages, facials, and body treatments, all of which are performed by skilled and experienced therapists. And if you're feeling hungry after your treatment, the spa's own Baccarat restaurant offers delicious French cuisine.
The signature treatment at Spa de la Mer is the "Miracle Broth Facial," which uses La Mer's renowned skincare products to hydrate and rejuvenate your skin. This treatment is known for its incredible results and is a favorite among celebrities.
Spa de la Mer is not just any little Spa; it's a place to escape the hustle and bustle of the city and immerse yourself in a world of relaxation and beauty.
If you're looking to spoil yourself rotten, T Spa at Grand Hotel Tremezzo is the place to go. With its lakeside location and spectacular views, it's easy to see why this spa is one of the best in the world. The treatments here are top-notch, and range from massages and facials to hydrotherapy and detox wraps. So whether you're looking to relax after a long day of sightseeing or you want to indulge in a bit of luxury, T Spa is definitely worth a visit.
One of the unique features of T Spa is its infinity pool, which seems to merge seamlessly with Lake Como. Relaxing in the pool while gazing at the stunning surroundings is an experience you won't soon forget.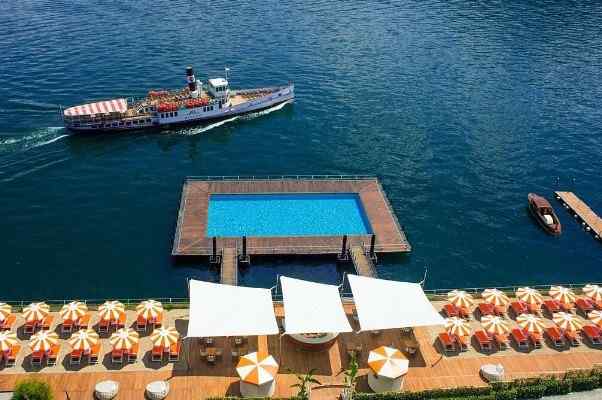 If you're looking for a luxurious spa experience, the Valmont Spa at the Château de la Messardière is definitely worth checking out. It's one of the best hotel spas in the world, and it offers a wide range of treatments that will make you feel like royalty. The spa is set in an amazing location, right on the Mediterranean Sea. And the facilities are top-notch, with heated pools, a sauna, and a steam room. Plus, the staff is super friendly and knowledgeable about all of the treatments.
One of the standout treatments at Valmont Spa is the "L'Elixir des Glaciers," which is a luxurious facial that uses Valmont's signature skincare products. It's a treatment fit for royalty and will leave your skin looking and feeling amazing.
Valmont Spa is not just any spa; it's a destination for those seeking the epitome of luxury and relaxation.
If you're looking to experience true luxury, look no further than the Chablé Spa at Chablé Yucatán. This hotel spa is located in a restored hacienda in the heart of the Yucatan jungle, and it's home to some of the most indulgent treatments you'll ever find. The spa offers a range of services, from traditional massages and facials to more exotic treatments like the Mayan Temazcal Ritual.
The Mayan Temazcal Ritual is a unique experience that begins with a traditional Mayan steam bath, where you'll be enveloped in herbal-infused steam. This is followed by a massage using oils infused with aromatherapy essences. The setting is beautiful and serene, with lush jungle surroundings and ancient Mayan ruins nearby.
Chablé Spa is a place where you can disconnect from the outside world and reconnect with yourself in a peaceful and rejuvenating environment.
Located on the private island of Félicité in the Seychelles, the Six Senses Spa Zil Pasyon offers a truly unique and luxurious spa experience. The spa is nestled amidst the island's lush vegetation and granite boulders, providing a natural and serene setting for relaxation and rejuvenation.
One of the standout features of this spa is its rock treatment rooms, which are built into the natural granite formations of the island. These treatment rooms offer stunning views of the ocean and provide a sense of being at one with nature while enjoying your spa treatments.
The spa menu at Six Senses Spa Zil Pasyon includes a wide range of holistic treatments, from massages and facials to wellness programs that focus on holistic well-being. The spa also offers personalized wellness consultations to tailor your experience to your specific needs.
After your treatment, you can unwind in the relaxation pavilions or take a dip in the crystal-clear waters of the Indian Ocean.
The Ritz-Carlton Spa in Bali is a masterpiece of luxury and tranquility. Located on the southern tip of Bali in Nusa Dua, it offers a truly immersive experience into the island's rich culture and natural beauty. The spa is nestled amidst lush tropical gardens and features private villas with open-air baths, providing an intimate and serene atmosphere for guests. Traditional Balinese healing techniques and rituals, such as the Balinese Massage and Mandi Lulur, are offered, and the use of locally sourced ingredients in treatments enhances the authentic Balinese experience. The spa's design incorporates Balinese aesthetics, with intricate woodwork, stone carvings, and traditional Balinese textiles, creating a sense of place and culture.
Beyond the treatments, The Ritz-Carlton Spa, Bali offers wellness programs that include yoga, meditation, and fitness activities, all designed to promote physical and mental well-being. The breathtaking ocean views and the sound of the waves crashing against the cliffs add to the overall serenity of the experience. This hotel spa truly encapsulates the essence of Bali's beauty and spirituality.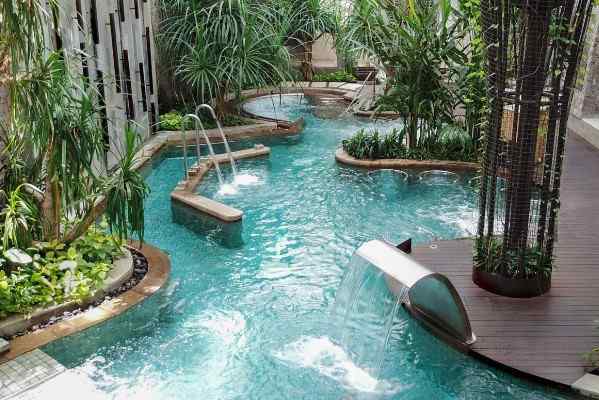 Set against the backdrop of the Swiss Alps, The Chedi Andermatt is a haven for those seeking both relaxation and adventure in an Alpine setting. The spa seamlessly blends Asian influences with the traditional Alpine charm of Andermatt. The use of natural materials such as wood and stone in the spa's design creates a warm and inviting ambiance.
One of the highlights of this spa is its hydrothermal baths, which provide a unique wellness experience with various hot and cold pools, saunas, and steam rooms. After a day of skiing or hiking, guests can unwind in these therapeutic waters while gazing at the surrounding mountains. The spa also offers a range of massages and treatments, many of which incorporate local Alpine herbs and ingredients.
The Chedi Andermatt is renowned for its exceptional service, making guests feel like they are in a luxurious Alpine retreat. Whether it's unwinding in the spa, savoring gourmet cuisine, or exploring the breathtaking landscape, The Chedi Andermatt provides a holistic Alpine experience.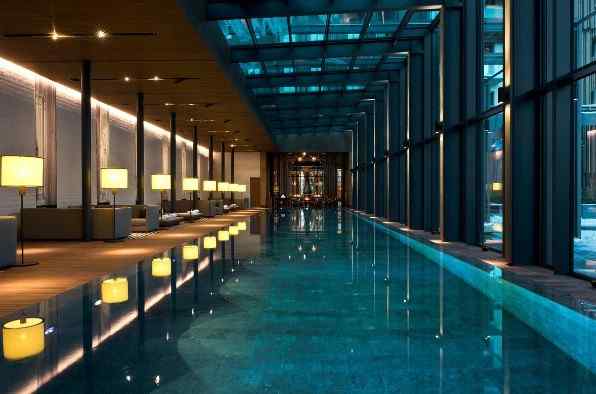 The Bulgari Hotel London Spa is a sanctuary of refinement and luxury in the heart of one of the world's most vibrant cities. Located in Knightsbridge, this spa offers a seamless blend of modern design and timeless elegance, reflecting the brand's Italian heritage. The spa is renowned for its extensive range of treatments, which draw inspiration from both Eastern and Western traditions, ensuring that guests can find the perfect therapy to suit their needs.
One of the standout features of this spa is its stunning 25-meter swimming pool, adorned with Italian mosaic tiling. The pool area exudes a sense of opulence and serenity, making it a favorite spot for relaxation and rejuvenation. Additionally, the use of exquisite Bulgari products in the treatments adds a touch of luxury to every spa experience.
Being in the heart of London, guests at The Bulgari Hotel can easily explore the city's cultural attractions, high-end shopping districts, and world-class dining. This spa provides a perfect balance of urban sophistication and relaxation, making it an ideal choice for travelers seeking a cosmopolitan spa experience.
Each of these spas offers a unique and memorable experience, catering to different preferences and desires. Whether you're drawn to the exotic beauty of Bali, the serene Alpine landscapes of Switzerland, or the cosmopolitan allure of London, these are just some of the best spas in the world that excel in providing world-class treatments and impeccable service, ensuring that guests leave feeling pampered and refreshed, making them among the finest spas in the world.
No matter where you go or which amazing spa you choose, always remember to Travel Till You Drop!
Book Your Trip : Check Out My Resources for Your Travel Needs
Use Skyscanner to find a cheap flight.  This is my very first stop when I'm looking for my next trip. It's a fast, easy-to-use search engine that is perfect for finding an affordable flight, a perfect hotel, and the right rental car for you in locations around the globe.
Book Your Accommodation
If you are looking for a super budget friendly location and are open to a hostel stay, make sure you book your hostel with Hostelworld. It offers the broadest range of quality hostels around the world. 
If you'd prefer a hotel or a guesthouse for stays less than 28 days, drop on over to Booking.com It's perfect for providing excellent options, a ton of user reviews, and prices to fit every budget.
For stays over 28 days, AirBnB still remains my #1 choice. User reviews and monthly pricing allow for some incredible deals all around the world.
Don't Forget Travel Insurance
Travel insurance is but a small up-front investment that you won't want to leave home without. After just one experience of having to delay or cancel your trip or having your luggage stolen, you'll wish you would have made that investment.  I've hated my life a few times when the moment arose, and I decided to skip out.  Let's just say, I've changed my ways and recommend each of the following companies to protect your ass-ets.
My favorite companies are:         
Want to Travel for Free?
Travel credit cards allow you to earn points that can be redeemed for free flights and accommodation — all without any extra spending. Check out my guide to getting free flights to get started.
Ready to Book Your Trip?
Check out my Resource Page for the best companies to help you book your travel at reduced rates!  This list will help you get to where you're going.  I know-I use them ALL the time!