Introduction
Picture a world where the water glistens with the enchanting blues and greens that only the tropics can provide. Imagine a place where small, lush islands emerge like jewels in the vast expanse of the sea. Welcome to the beauty of Koh Samui, a little island paradise off the coast of Thailand. In this article, we embark on a journey to explore the wonders of this captivating destination. A place where breathtaking views meet the warmth of Thai hospitality, Koh Samui Thailand is a hidden gem waiting to be discovered.
Arrival and Transportation
Our adventure begins as we touch down at the Samui Airport (USM). This quaint and open-air airport immediately transports us into the relaxed ambiance of the island. Unlike the bustling and impersonal terminals of many large cities, airports like this remind us of the charm of simplicity. Navigating through such airports is a breeze, making travelers feel welcome and at ease from the moment they land.
Upon arrival, I was pleasantly surprised to find that a driver, thoughtfully arranged by the homeowner, awaited me at the airport entrance. For a mere $15 USD, I embarked on a picturesque 20-minute journey to my accommodation. The ease of transportation on Koh Samui thailand adds to the overall appeal of this island paradise.
Where to Stay: Kim's Honeymoon Beach House
While Koh Samui offers a variety of accommodations to suit different budgets, this time, I decided to indulge a bit. My choice was Kim's Honeymoon Beach House, a place that truly exceeded my expectations. At $110 per night, it might not be as opulent as a stay at the Four Seasons, but it's certainly a significant step up from my usual travel accommodations.
One of the most remarkable aspects of Kim's Honeymoon Beach House is its proximity to the beach. I could walk out of my back door and find myself standing on the soft, powdery sands of the beach. The views from this vantage point were simply stunning, with only a few fellow travelers strolling by. For those who value privacy and serenity, this is paradise found.
Moreover, the house is strategically located, tucked away from the main road, yet conveniently close to a 7-11, an outdoor market, and a variety of restaurants. Nestled in one of the quieter areas of Koh Samui, it offers an ideal blend of tranquility and accessibility. While some road noise is inevitable when sitting outside on the beach, it remains tolerable, especially when weighed against the numerous creature comforts at your doorstep.
If you'd prefer a different type of experience, check out The Privilege Ezra Beach Club. Right on the beach, beautiful rooms next to the pool and room/pool service that rivals none other. Stunning and on the water, it offers a different type of luxury experience. Both are amazing, it really just depends on what you are looking for!
Koh Samui, Thailand, with its enchanting beaches and vibrant culture, offers a plethora of activities for travelers seeking adventure, relaxation, and cultural immersion. Here, we've categorized the things to do on the island into various subheadings to help you plan your itinerary:
Koh Samui is synonymous with pristine beaches and crystal-clear waters. Spend your days lounging on the soft sands, basking in the tropical sun, and taking in the breathtaking views. For those seeking more excitement, the island offers a range of water sports, including:
Snorkeling and Scuba Diving

: Explore the vibrant marine life and coral reefs in the warm waters surrounding the island. Koh Samui thailand boasts several dive sites suitable for both beginners and experienced divers.

Kayaking

: Rent a kayak and paddle along the coastline, discovering hidden coves and secret beaches.

Jet Skiing

: Satisfy your need for speed by jet skiing on the azure waters, with rental options available at many beaches.

Stand-Up Paddleboarding (SUP)

: Experience tranquility as you glide on a paddleboard, taking in the scenic beauty while getting a core workout.

Parasailing

: Get a bird's-eye view of Koh Samui by trying parasailing, an exhilarating adventure sport that lets you soar above the ocean.
Koh Samui's rich cultural heritage is best experienced through its temples, festivals, and local traditions. Take time to immerse yourself in the island's unique culture:
Wat Phra Yai (Big Buddha Temple)

: Visit this iconic temple featuring a 12-meter-tall golden Buddha statue. The temple grounds offer picturesque views and a sense of spiritual serenity.

Buddhist Festivals

: If your visit coincides with Buddhist festivals like Songkran (Thai New Year) or Loy Krathong, don't miss the vibrant celebrations, which include parades, traditional performances, and colorful lantern releases.

Muay Thai Boxing: Witness a live Muay Thai boxing match, a popular Thai sport known for its intensity and skill. Many local arenas host these exciting events.
Koh Samui's lush interior and tropical jungles provide ample opportunities for nature lovers and adventure seekers:
Hiking and Trekking

: Explore the island's verdant landscapes by embarking on hiking trails that lead to viewpoints and hidden waterfalls. The Na Muang Waterfalls and Jungle Club Samui are popular choices.

Ziplining

: Experience an adrenaline rush by soaring through the treetops on a zipline adventure. It's a unique way to see the island's natural beauty.

Elephant Sanctuaries

: Visit ethical elephant sanctuaries where you can interact with these gentle giants, feed them, and even bathe them in the river.
Thailand is renowned for its delectable cuisine, and Koh Samui thailand is no exception. Savor the flavors of the island with these culinary experiences:
Street Food

: Wander through local markets and beachfront stalls to sample authentic Thai street food. Try pad Thai, green curry, mango sticky rice, and fresh seafood.

Cooking Classes

: Enhance your culinary skills by taking a Thai cooking class. Learn to prepare traditional dishes and take the flavors of Thailand back home with you.

Beachside Dining

: Enjoy romantic beachfront dinners with your toes in the sand, accompanied by the sound of the waves. Many resorts offer exquisite dining experiences by the shore.
As the sun sets, Koh Samui, Thailand, transforms into a vibrant nightlife hub. Explore the island's lively entertainment options:
Beach Parties

: Join beachfront parties featuring fire dancers, live music, and DJs. Venues like Ark Bar Beach Club are renowned for their energetic nightlife scene.

Cabaret Shows

: Witness captivating cabaret performances featuring glamorous ladyboys, elaborate costumes, and entertaining acts.

Bars and Nightclubs

: Koh Samui boasts an array of bars and nightclubs where you can dance the night away and enjoy a variety of cocktails.
Koh Samui is an ideal destination for relaxation and rejuvenation. Take advantage of the island's wellness offerings:
Spa Retreats

: Pamper yourself with traditional Thai massages, spa treatments, and holistic therapies at one of the many world-class spa resorts.

Yoga and Meditation

: Join yoga and meditation classes held at beachfront studios and retreat centers, providing a serene environment for inner peace.

Detox and Wellness Retreats

: Koh Samui offers detox programs and wellness retreats that focus on holistic health, mindfulness, and rejuvenation.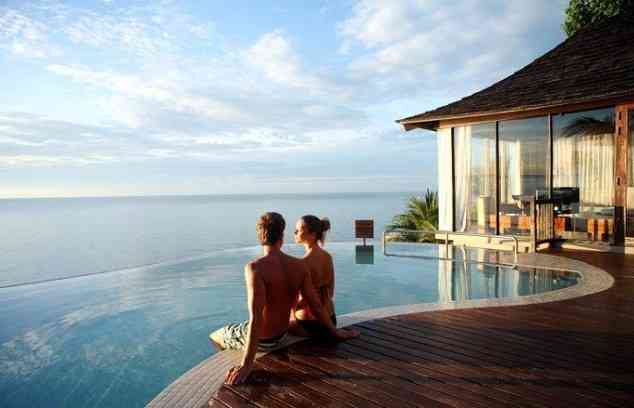 Conclusion
In conclusion, Koh Samui, Thailand, is an island paradise that invites travelers to experience the best of Thailand without breaking the bank. From stunning natural beauty to affordable luxury accommodations, this small but charming destination has it all. Whether you seek relaxation on pristine beaches, cultural exploration in local markets, or simply a tranquil escape from the hustle and bustle of everyday life, Koh Samui Thailand delivers.
As I sit on the beach, watching the waves kiss the shore, I can't help but reflect on the timeless beauty of this place. The memories made here are priceless, and the sense of serenity it offers is a true gift. So, if you're in search of a romantic getaway that won't leave a dent in your wallet, look no further than Kim's Honeymoon Beach House or the Privilege Hotel and the idyllic shores of Koh Samui, Thailand. These hidden gems are waiting to enchant you, just as they did for me. No matter where you go, always remember to Travel Till You Drop!
Book Your Trip : Check Out My Resources for Your Travel Needs
Use Skyscanner to find a cheap flight.  This is my very first stop when I'm looking for my next trip. It's a fast, easy-to-use search engine that is perfect for finding an affordable flight, a perfect hotel, and the right rental car for you in locations around the globe.
Book Your Accommodation
If you are looking for a super budget friendly location and are open to a hostel stay, make sure you book your hostel with Hostelworld. It offers the broadest range of quality hostels around the world. 
If you'd prefer a hotel or a guesthouse for stays less than 28 days, drop on over to Booking.com It's perfect for providing excellent options, a ton of user reviews, and prices to fit every budget.
For stays over 28 days, AirBnB still remains my #1 choice. User reviews and monthly pricing allow for some incredible deals all around the world.
Don't Forget Travel Insurance
Travel insurance is but a small up-front investment that you won't want to leave home without. After just one experience of having to delay or cancel your trip or having your luggage stolen, you'll wish you would have made that investment.  I've hated my life a few times when the moment arose, and I decided to skip out.  Let's just say, I've changed my ways and recommend each of the following companies to protect your ass-ets.
My favorite companies are:         
Want to Travel for Free?
Travel credit cards allow you to earn points that can be redeemed for free flights and accommodation — all without any extra spending. Check out my guide to getting free flights to get started.
Ready to Book Your Trip?
Check out my Resource Page for the best companies to help you book your travel at reduced rates!  This list will help you get to where you're going.  I know-I use them ALL the time!