Thailand, which is known for its stunning scenery and beach, vibrant culture, offers travelers a variety of experiences and activities by the seaside. Among these, topless sunbathing has gained some attention from some visitors, but it is important to cover all aspects of beach culture in Thailand and be respectful of the country's laws.  My aim is to provide you with insights, suggestions, and recommendations for enjoying your time on the nude Beaches in Thailand, especially if you like to avoid tan lines 😉
Topless Beaches in Thailand – A Local Perspective
When it comes to topless sunbathing or Nude Beaches in Thailand in general, it's essential to understand the local perspective. Thailand's beautiful beaches are not just about relaxation; they reflect the way of life and values of its people. You will often find many Thais visiting the beaches with their families for rest and relaxation. Nude Beaches in Thailand and topless sunbathing are almost unknown to the locals, but this is something that is practiced and found a niche among some tourists.
To truly appreciate sunbathing on nude Beaches in Thailand, it's important to consider a balance between your own preferences and the cultural norms. While attitudes may vary, it is crucial to remember that Thailand is a predominantly conservative country. The majority of Thai people may not be accustomed to or comfortable with topless people on their beaches.
Topless-Friendly & Nude Beaches in Thailand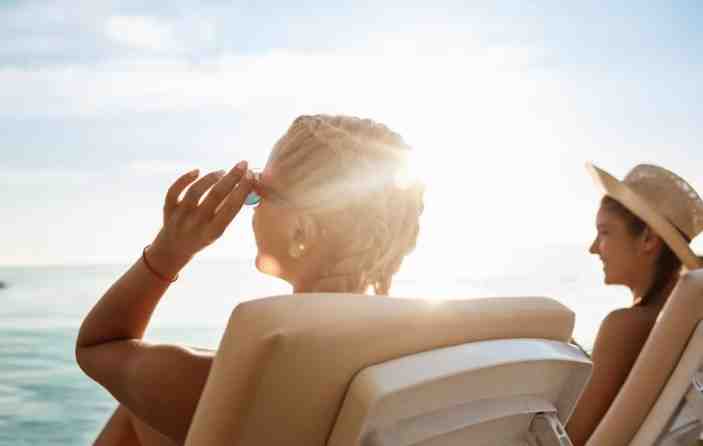 In our aim to find the best topless sunbathing spots and nude beaches in Thailand, we have come up with some of the more topless-friendly beaches and nudist-friendly beaches that are more widely accepted. While Thailand generally adheres to conservative values, there are still many beaches where nudity is more common and less likely to raise eyebrows. 
Topless Friendly Beaches:
Patong Beach, Phuket
Patong Beach in Phuket, which is well-known for its energetic nightlife, is comparatively accepting of topless tanning. The variety of visitors from different countries helps to create a more liberal environment. There are places where toplessness is more prevalent.
Kata Noi Beach, Phuket
Phuket's Kata Noi Beach is located just south of Patong and offers a calmer and more serene atmosphere. Although still mostly conservative, you could see some people here sunbathing topless, particularly on the northern edge.
Koh Samui
This island destination has a more relaxed vibe compared to some other parts of Thailand. Beaches like Chaweng and Lamai on Koh Samui may see a few topless sunbathers, but it's essential to be discreet and respectful.
Phi Phi Islands
The Phi Phi Islands are well-known for both their scenic beauty and lively nightlife. Even while it's not legal to sunbathe without a top, you may often see some people doing it in less-crowded areas.
Remember that even on these topless-friendly beaches, it's important to be respectful of local customs and other beachgoers. Always exercise discretion and avoid causing discomfort to others.
You may also be interested in Solo Female Travelers: Best Dating Abroad 2023
Nude Friendly Beaches
Mai Khao Beach, Phuket
While there are not a ton of nude beaches in Thailand, there are still a few areas where being completely nude might be more accepting. Mai Khao is one of the less well-known beaches in Phuket, it is located on the island's northwest coast. 
Beautiful and Uncrowded – Compared to many of the other busy beaches you can find in Phuket, like Patong and Karon, this beach offers a bit of peace and quiet. It's a great spot to go when you are just looking to unwind and enjoy solitude.
Nearby Attractions – You can find some attractions close by, including the Sirinat National Park, where you can explore the local wildlife. Additionally, The Mai Khao Marine Turtle Foundation is involved in conservation efforts, and you can witness the release of rehabilitated turtles back into the sea.
Accommodations: There are a few high-end resorts and hotels located along Mai Khao Beach, which makes it a great choice for travelers seeking high-end accommodations with easy access to the Nude Beaches in Thailand. These resorts usually have private beachfront areas where you can enjoy privacy while sitting outside.
Nui Beach, Phuket
At Nui Nude Beaches in Thailand, you can find turquoise waters and white powdery sands surrounded by a lush jungle environment. Now add to that a sense of tranquility and privacy that's hard to find on Phuket's more popular beaches. Nui Beach is located between Kata Beach and Nai Harn Beach.
Secluded Serenity – The only downside to Nui Nude Beaches in Thailand is that it is not very easy to reach, and that's precisely what makes it so special. To get there, you can either hop on a boat or embark on a short hike through the jungle to get there. The effort, in the end, will be worth it when you're rewarded with what feels like your own private beach.
Sunbathing Oasis – The deal with Nui Beach is that it is one of those rare spots in Phuket where not only can you sunbathe nude or topless, but it's also embraced. This laid-back and intimate vibe makes it the perfect place to soak up the rays without the hassle. Just remember to give others space and respect their privacy.
Back to Basics – Nui Nude Beaches in Thailand have simple pleasures, so you won't find massive resorts or bustling beach bars here. Instead, you will find a few rustic-looking beachfront shacks that serve some local food and drinks. This is the type of place where you can enjoy a fresh coconut.
Nui Beach's remote location and pristine nature inspire a sense of responsibility. Leave no trace, respect the environment, and follow eco-friendly practices. It's our duty as travelers to protect these hidden gems.
Related Content – 9 Must-See Places in Thailand: Your Ultimate Travel Guide
Leela Beach, Koh Phangan: Unwind in Bliss
It is an out-of-the-way Nude Beaches in Thailand where time just seems to disappear when visiting. Leela Beach is on the island of Koh Phangan, located in the furthest area west of the island, and you can get there via a boat or taxi.
Seclusion – Nestled away in the western part of the island, away from the hustle and bustle, Leela Beach is accessible by a short hike or taxi. Here, you will find golden sands, swaying palm trees, and blue seas.
Nude & Topless Bathing Retreat – Leela Nude Beaches in Thailand is one of those rare spots in Koh Phangan where topless sunbathing and nudity are more than accepted. The relaxed atmosphere will let you soak up the sun's full body without a care in the world. Remember, though, always be discreet and considerate of others in the area.
Snorkeling and Coral Reefs – When seeing the clear water and coral reefs below the waves, you will just want to go for a swim or even snorkeling. Beneath the surface is a thriving underwater world vibrant with colorful fish and coral reefs. 
Beautiful Sunsets – As the day comes to an end, Leela Nude Beaches in Thailand treats you to one of Koh Phangan's most beautiful sunsets. This is the perfect time to have your mobile phone handy and have memories that you will always cherish.
Local Regulations and Considerations
Now that we have gone over the areas where you can find nude and topless Nude Beaches in Thailand. it's important to touch upon the local regulations and considerations. As mentioned before, some beaches are more accepting of sunbathing nude or topless, so always use your best judgment and respect local customs. 
Thailand is well known for its rich cultural heritage and conservative values. While a lot of these places are topless and nude-friendly, there are many areas where it is frowned upon. Please exercise discretion, be mindful of the environment, and, most of all, respect other beachgoers.
Also, remember that every Nude Beaches in Thailand has its own unique charm and character. Whether you choose the lively shores of Patong or the serene seclusion of Nui Beach, go ahead and bask in the sun and savor the uniqueness of each beach, and always remember to Travel Till You Drop!
Book Your Trip : Check Out My Resources for Your Travel Needs
Use Skyscanner to find a cheap flight.  This is my very first stop when I'm looking for my next trip. It's a fast, easy-to-use search engine that is perfect for finding an affordable flight, a perfect hotel, and the right rental car for you in locations around the globe.
Book Your Accommodation
If you are looking for a super budget friendly location and are open to a hostel stay, make sure you book your hostel with Hostelworld. It offers the broadest range of quality hostels around the world. 
If you'd prefer a hotel or a guesthouse for stays less than 28 days, drop on over to Booking.com It's perfect for providing excellent options, a ton of user reviews, and prices to fit every budget.
For stays over 28 days, AirBnB still remains my #1 choice. User reviews and monthly pricing allow for some incredible deals all around the world.
Don't Forget Travel Insurance
Travel insurance is but a small up-front investment that you won't want to leave home without. After just one experience of having to delay or cancel your trip or having your luggage stolen, you'll wish you would have made that investment.  I've hated my life a few times when the moment arose, and I decided to skip out.  Let's just say, I've changed my ways and recommend each of the following companies to protect your ass-ets.
My favorite companies are:         
Want to Travel for Free?
Travel credit cards allow you to earn points that can be redeemed for free flights and accommodation — all without any extra spending. Check out my guide to getting free flights to get started.
Ready to Book Your Trip?
Check out my Resource Page for the best companies to help you book your travel at reduced rates!  This list will help you get to where you're going.  I know-I use them ALL the time!