Introduction
Discover 10 practical flight-booking hacks that will help you save significantly on airfare and make your travel dreams come true. These tips are designed to be informative and effective.
Are you tired of fluctuating flight prices and the hassle of finding the best deals? Worry not, adventurous traveler, as we've compiled a list of clever hacks that will help you navigate the complexities of booking flights and save money along the way. Let's dive into these money-saving strategies.
1. The "Trip Price Function" Strategy
Google Flights' Trip Price Function allows you to fine-tune your flight search. After entering your departure and arrival airports, you can select a range of dates to explore. The tool then displays a calendar with price estimates for each day within that range. This feature is especially useful for travelers with flexible schedules, as it lets you pinpoint the most cost-effective travel dates.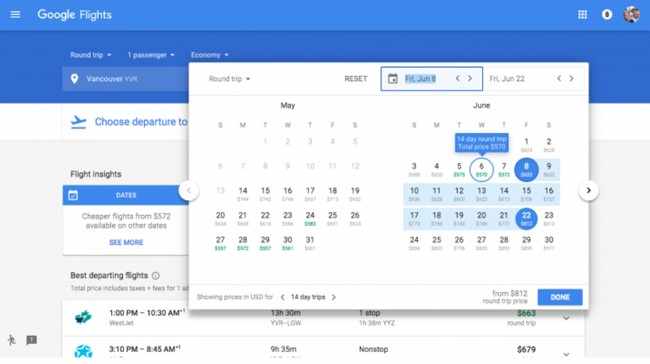 Q&A: Is this Trip Price Function available for all destinations?
Yes, the Trip Price Function works for various destinations, making it a fantastic tool for finding the best deals regardless of where you're headed.
2. "Search One-Ways First" Approach
When searching for flights, consider looking for one-way tickets for your departure and return journeys separately. Airlines often price one-way tickets differently, and this approach can sometimes yield cost savings. Be sure to compare the total cost of one-way tickets with round-trip options to ensure you're getting the best deal.
Booking one-way tickets can offer some serious flexibility in your travel plans. Think about it, you can mix and match airlines for your outbound and return journeys, opening up a world of possibilities to find the best deals for each leg.
By playing airlines against each other, you can become the ultimate travel deal hunter. One airline might have an irresistible offer for your outbound flight, while another could save you major bucks on your return journey.
And let's not forget about those complex pricing algorithms airlines use. They're like mystical creatures, taking into account everything from demand to competition and routing. But fear not! By separately optimizing each leg of your journey, you might just uncover some hidden cost savings.
Considerations
Now, there are a few things to keep in mind when booking these separate one-way tickets with different airlines. Baggage fees and policies can be a bit of a buzzkill, so do yourself a favor and read the fine print. Some budget airlines have stricter rules, and you don't want to end up paying an arm and a leg to check in your luggage separately for each leg of your trip.
Another thing to consider is the not-so-fun part of travel – delays and cancellations. Ugh, we've all been there. If you book one-way tickets with different carriers, managing those curveballs thrown by the travel gods could be a bit trickier. You see, each airline tends to take care of rebooking you on their own flights in case of a hiccup. Coordinating between different airlines? Well, let's just say it can be a bit of a hassle.
If you're booking separate one-way tickets for connecting flights, please, for the love of adventure, give yourself enough time between flights. Trust me, it's safer to leave a buffer to account for potential delays. You don't want to be sprinting through an airport like you're in some cheesy rom-com.
Q&A: Can this one-way trick be used for international flights too?
Absolutely! Whether you're flying domestically or internationally, the one-way search technique is a versatile way to save.
3. Utilize Meta Search Engines – Best Hacks
Meta search engines like Kayak, Expedia, and Google Flights offer a range of filters to enhance your flight search experience. These filters allow you to specify preferences such as the number of layovers, airlines, and flight durations. By using these filters effectively, you can quickly narrow down your options and find flights that align with your travel needs.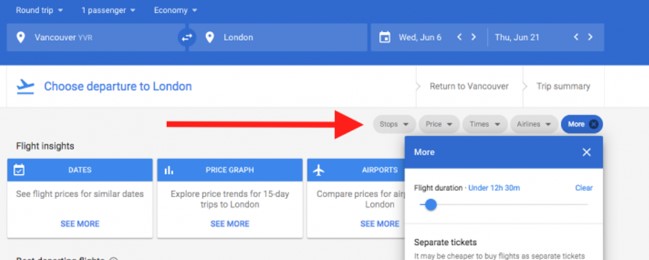 First things first, be open to some flexibility in your plans. Yeah, I know, it's not always easy, especially when you have a meticulously organized itinerary. But trust me, a slight adjustment in your travel dates, airports, or even the time of day you're willing to fly can result in some major savings. So let go of that rigid mindset and embrace the possibilities.
Now, you've scoured those fare comparison sites and found a suitable flight. But hold up, don't hit that "book now" button just yet. Consider this… booking directly with the airline might just be your golden ticket to some exclusive deals or perks. Yeah, that's right. The airlines like to keep a little something up their sleeves for those who go straight to the source.
When you're comparing prices, don't just focus on that flashy initial fare. Oh no, there's more to the story. Take into account the additional fees, baggage costs, and any other sneaky hidden charges that may apply. That super cheap fare might not be so economical when you factor in all the expenses.
And once you've selected the flight that tickles your fancy, do yourself a favor and double-check all the details on the airline's official website. Yeah, I know, it sounds like a no-brainer, but trust me, discrepancies happen more often than you'd think. Make sure everything lines up before you make that reservation.
Q&A: Can I use meta filters to find flights with extra legroom?
While meta filters mainly focus on factors like departure times, stops, and flight duration, you can always check airline-specific options for those plush seats!
4. The "Search Engine Shuffle" Technique
Expanding your search to multiple flight search engines can uncover hidden deals and savings. Different platforms may have unique partnerships with airlines or access to exclusive promotions. Popular flight comparison websites like Skyscanner and Momondo can help you cast a wider net and discover the best offers available.
Q&A: How do I avoid booking the same flight twice on different websites?
Double-check your flight details before hitting that "Book" button. Ensure the flight numbers, dates, and times match to avoid any accidental double bookings.
5. Use Deal Trackers
Deal trackers such as Skyscanner, FareCompare, and Airfarewatchdog are like personal travel assistants, constantly monitoring flight prices. Signing up for fare alerts with these services enables you to receive notifications when fares drop for your chosen routes. This proactive approach ensures you don't miss out on significant savings.
Q&A: Do deal trackers only find deals for economy class?
Deal trackers often cover a range of fare classes, including premium cabins. So, if you're up for some luxury laughs, keep an eye out for those too!
6. Clear Your Browser Cache
Browser cookies can influence the prices you see when searching for flights. To prevent inflated prices based on your browsing history, it's advisable to clear your browser cache or use private browsing mode when conducting flight searches. This simple step ensures that you're viewing the most accurate and unbiased fares.
Q&A: How often should I clear my cache when searching for flights?
You should clear your cache each time you start a new flight search to ensure you're getting the most up-to-date prices.
7. Check Price Trends
Many flight booking websites provide price trend charts based on historical data. These charts offer insights into when flights for specific routes tend to be more affordable. While price trends are generally reliable for advance bookings, they may be less accurate for last-minute travel. However, they can still serve as a valuable reference point. Tools like FareDetective can give you insights into when flights are at their comically cheapest.
Setting Price Alerts
Price alerts are like your very own personal flight cost watchdog. They keep you in the loop about any fluctuations in the prices of your desired flights. That means you stay informed about potential price drops, giving you the power to book when fares are most favorable.
This is where price alerts can really shine. They give you the opportunity to wait for that oh-so-perfect booking window, where you can swoop in and snatch those cost-effective fares like the savvy traveler you are. Patience is a virtue, my friend, and it pays off in cold, hard cash.
Price alerts aren't just some generic notification that floods your inbox with useless stuff. Oh no, we're all about efficiency here. Set those alerts for specific routes that matter to you. This targeted approach ensures that you're only getting notified about the flights that actually pique your interest.
Look for reputable platforms that offer reliable alert features. We're talking about the big players here—Skyscanner, Google Flights, Kayak, you name it. Trustworthy sources that won't let you down. Because the last thing we want is to get your hopes up with a false alarm.
Q&A: Are price trends accurate for last-minute bookings?
Price trends are most reliable when booking in advance. Last-minute bookings can be unpredictable, but checking trends can still provide valuable insights.
8. Google Flight Insights
Google Flights' "Flight Insights" section offers data-driven advice and suggestions to optimize your booking decisions. It may recommend alternate airports, flexible date options, or even nearby destinations with lower fares. By exploring these insights, you can make informed choices that lead to substantial savings.
Q&A: Are the flight insights based on user reviews or data analysis?
Google Flight Insights is data-driven, providing insights based on pricing trends and historical data.
9. Maximize Credit Card Rewards
Credit card rewards programs vary widely, so it's essential to choose a card that aligns with your travel preferences. Look for cards with sign-up bonuses, generous rewards for travel spending, and flexible redemption options. Always manage your credit card responsibly to avoid interest charges and maximize the benefits.
Here's the deal. Some credit cards are co-branded with specific airlines, and that's where the magic happens. By swiping that little piece of plastic, you might unlock additional benefits like priority boarding, lounge access, or even discounted in-flight purchases.
Look for those expenses that earn you the most points or miles. Some cards offer bonus points for specific categories like travel, dining, or even your grocery shopping spree. That's right, your guilty pleasure of stress-buying chocolate bars might just earn you some sweet travel rewards.
Keep your eyes peeled for promotions and bonus offers. We're talking about opportunities here, my fearless explorer. Airlines and credit card companies often dangle these juicy carrots in front of us. It could be extra miles for certain purchases, sign-up bonuses for new credit cards, or even bonus miles for hitting those spending thresholds.
Q&A: Are there any risks involved in credit card hacking?
Credit card hacking can affect your credit score if you're not careful. Always make sure you can meet the spending requirements without overspending.
10. Be Mindful of Baggage Fees
Baggage fees can significantly impact your travel expenses. Before booking your flight, review the baggage policies of the airline you plan to fly with. Take note of the fees for checked bags, carry-ons, and excess baggage. To save money, consider packing light or paying for baggage online in advance, as this is often cheaper than paying at the airport.
Q&A: Can I sneak in extra items as personal items to avoid fees?
Airlines have strict rules about personal items and carry-ons. It's best to adhere to their policies to avoid surprises at the gate.
In conclusion, booking flights doesn't have to be a daunting task. By implementing these practical tips, you can save money on airfare and make your travel dreams a reality. Bon voyage, and happy travels, and as always, Travel Till You Drop!
Book Your Trip : Check Out My Resources for Your Travel Needs
Use Skyscanner to find a cheap flight.  This is my very first stop when I'm looking for my next trip. It's a fast, easy-to-use search engine that is perfect for finding an affordable flight, a perfect hotel, and the right rental car for you in locations around the globe.
Book Your Accommodation
If you are looking for a super budget friendly location and are open to a hostel stay, make sure you book your hostel with Hostelworld. It offers the broadest range of quality hostels around the world. 
If you'd prefer a hotel or a guesthouse for stays less than 28 days, drop on over to Booking.com It's perfect for providing excellent options, a ton of user reviews, and prices to fit every budget.
For stays over 28 days, AirBnB still remains my #1 choice. User reviews and monthly pricing allow for some incredible deals all around the world.
Don't Forget Travel Insurance
Travel insurance is but a small up-front investment that you won't want to leave home without. After just one experience of having to delay or cancel your trip or having your luggage stolen, you'll wish you would have made that investment.  I've hated my life a few times when the moment arose, and I decided to skip out.  Let's just say, I've changed my ways and recommend each of the following companies to protect your ass-ets.
My favorite companies are:         
Want to Travel for Free?
Travel credit cards allow you to earn points that can be redeemed for free flights and accommodation — all without any extra spending. Check out my guide to getting free flights to get started.
Ready to Book Your Trip?
Check out my Resource Page for the best companies to help you book your travel at reduced rates!  This list will help you get to where you're going.  I know-I use them ALL the time!