Overview
Fight Nation MMA Gym is fantastic, to say the least.  It takes a lot for me to give a place all the stars, they are all well-deserved.  Owned and operated by a Brit and a Dane, Fight Nation provides Muay Thai, Western Boxing, and JuJitsu training sessions.  Fight Nation offers classes for kids to adults hosted throughout the day.  You can train both Muay Thai and Western Boxing on the same day if your body allows it.  They split the day in such a way that you can if you want to. 
Let's just say, I started the first week thinking I could do 2-a-days, and let's just say, I was wrong! Now, depending on your fitness levels, you may find this isn't a big deal at all, but wow, the sessions are intense, but that's exactly what it's meant to be. 
How Fit Do You Need to Be
Well, the more fit you are, the easier the sessions will be (but not by much).  You may be able to breathe a bit better and get through the movements, but the intensity level will increase substantially.  You can be a beginner with a basic level of fitness but know you're going to work.  So, if you can't get through a typical hour-long workout in a gym, you're going to want to work on that before you pop in here.  A good test ahead of time: jump rope for 3 solid minutes and see if you can make it at a good place without taking a break.  Who knew how hard that simple task could be?    
Women / Sparring
In case you're wondering whether women work out here, I will tell you that there are a few of us.  It is a male-dominated sport, and there were many days in my month and a half when I was only training with men, so if that's a concern, shake it off.  The guys, thankfully, went a little easier on me.  I'm "old-er" and just starting with a new sport where they warn you on day one that you're going to get hit in the face.  I think that's what most of us ladies were concerned with on the first day. 
You're going to what??  Hit… My face?  Really?  I wasn't in the mindset that I would be sparring in the first few weeks.  It hadn't even crossed my mind.  I've only trained in the typical fitness type of sessions where you beat on a bag and subsequently hit the pads of your trainer.  Let's just say the first conversation I had with Eddy (one of the owners) opened my eyes quickly about what I was about to get myself into.  This is not a fitness gym. Lol.  Here, you will get the real deal, whether you are prepared for it or not.  Since I've never been in a fight in my life, this was a new experience for me. Fight Nation definitely taught me a thing or two about myself.
Fight Nation Facilities / Trainers
Fight Nation is an open-air gym with the basics of weight training equipment that you can use on your own when you aren't training in one of the arts.  Fight Nation's equipment and facilities are modern, and the trainers are highly skilled professionals from Thailand, Spain, Russia, Sweden, and Brazil.  Don't be afraid if you are a beginner; the trainers will work to your skill level.  You can also opt for private lessons if you choose to.  I did have my own lesson for a few days, and I will tell you the sessions are worth it.  I learned a ton in those one-on-ones, and the trainers worked at my pace.  This at least allowed me to understand combinations a bit better and slow it down to be able to process the technique in my mind.
The trainers are all highly skilled and super patient (so thankful for that) as they worked with many of us beginners. They work with anyone from beginners to professionals, and several of our guys fought at the pro level while I was there.  Seeing the level of intensity and how they train to be able to make it into the ring is so inspiring and motivating.  You can see how much effort it would take to fight, and, wow, it's a lot!  The sheer stamina these guys have and how hard they hit is scary as hell! 
How Long to Train Before a Fight
 If you're a beginner and going to train in a new sport, whichever version it may be, plan on training 4-5 times a week for a least a year.  This was at least what I found online about how long it would take to learn the basic skills and get into a basic level of conditioning to do so.  So, if you think you're heading in to train for 2 months and head to fight, that answer is no, not a chance.
My Training Experience / Hotel
 As today was my very last day of training in Thailand (1.5 months with Fight Nation), I am sad to leave.  My time here was focused and intense.  I walked in a scaredy cat with little to no experience and a pretty crappy level of fitness, and 20 pounds overweight from traveling throughout Europe for a year. Today I walked out a much more confident individual, not nearly as scared to get smacked in the face, all while gaining a significant improvement in my fitness level.
All-Inclusive Package
I chose the all-inclusive package, where I could train in as many classes as my body would allow, including a scooter and the hotel.  The package cost 39,900 baht or around $1,138 for the month.  The original hotel included in the package was the UR Private Hua Hin Hotel.  It's nice for a hotel and is located within a mile of the gym.  It's quiet, very pretty, and has a really tasty restaurant next door called the Yellow Bus. 
One of my dislikes here was that you had no cleaning supplies in the room, and the only way they would come to tidy the room was to add an additional 500 baht charge every time they did. Considering an hour Thai massage was 150 baht, the cleaning fee was very high. Additionally, the washer was not in the room, and there was no kitchen, microwave, or even a hot pot.  If you don't mind those things or can work around them, it was a beautiful property, quiet and close to the gym.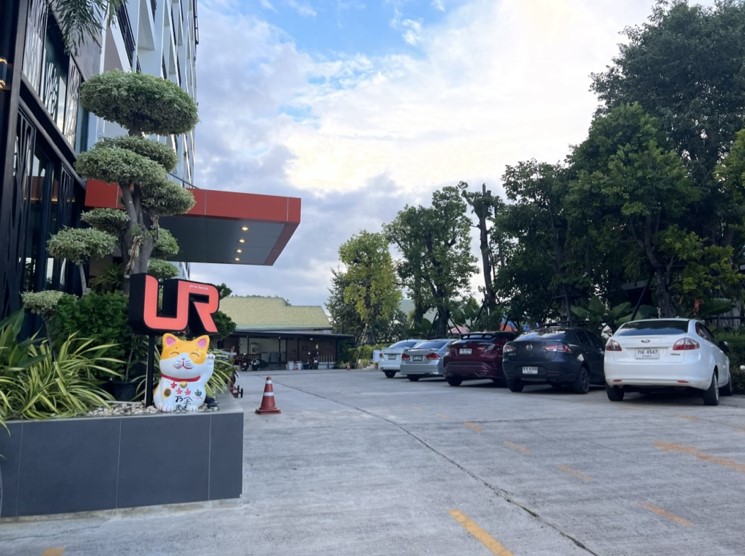 So, after the first month, I moved to La Casita, which took me out of the package price for the gym but was well worth the extra fee.  La Casita condos are beautiful, and the pool is ridiculous.  Nothing like a very modern 1-bedroom, with everything you could need, a washer and kitchen in the unit (not a norm for many places in Thailand), and a few blocks from the beach for $700/month. 
While you can get a standard hotel room for around $400/month, it was just so nice to have everything I could need right there in addition to a really nice, air-conditioned gym and 24-hour security.  There were a lot of expats here, and I even found randomly that a number of the guys from the gym also lived here!  Since many of the guys lived there long-term, seeing all the familiar faces is awesome.
Getting There
 To head to Fight Nation, you'll typically fly into Bangkok and take a Grab (Thailand's Uber) for around 3-4 hours, depending on traffic.  If you pay cash, it will cost around 2000 baht or $57 USD through the Grab app. You could also possibly take a flight from Bangkok to Hua Hin.
This flight may make a stop off in Chang Mai, which is an hour in the wrong direction to get back up the next flight to head down, but if you like flying versus the cab, it's up to you. If you choose to pay Grab via credit card, you will end up with a charge of around 2300 baht.  Other possible options that are cheaper include the train or taking a van. Check Rome II Rio for those specifics.
My Training Experience / Diet
So, after 1.5 months total of training in Muay Thai/Western Boxing, and a little Jujitsu, I can tell you, I've barely scratched the surface.  I wish I would have started training when I was 5, like some of these other little minions.  They are certainly impressive for their age, and well, I don't know any better to be afraid. Watching them soak it all in and learn is so much fun.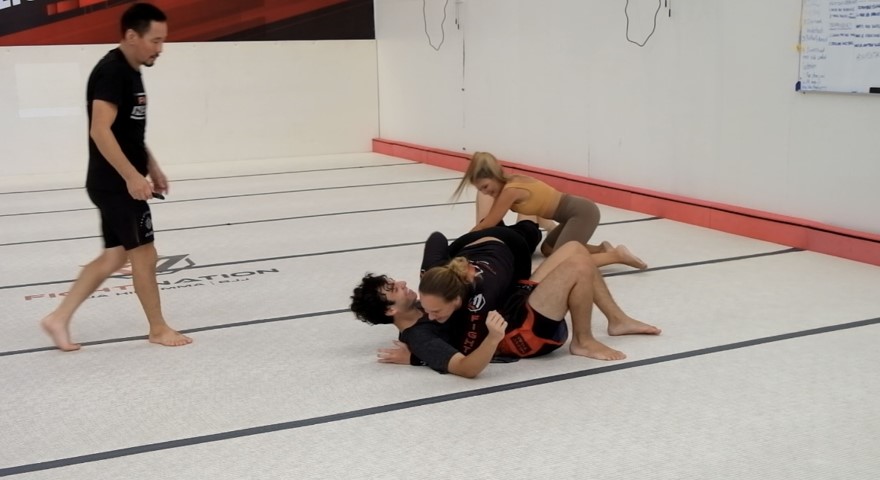 While at Fight Nation, I trained 6 days a week for an hour to an hour and a half a day. I cut all alcohol and attempted to keep a clean diet.  If I had tried to drink while in training, there's just no way.  However, there are plenty of places around Hua Hin if that's what you desire. I attempted to add in a run in the evening, but my body wasn't having it. Ah, I love being over 40!
I will also tell you that 1 hour of training in Muay Thai or Western boxing was enough for the day.  It took a few weeks before I wasn't sitting in my shower, letting the water hit me for 15 minutes afterward because I could no longer move. 
That was at least the first few weeks, and then again towards the end. The training increased in intensity, and the skills that we learned just kept stepping up.  Breathing was still optional. ;-). By the end of my time here, the guys really got to the point where they weren't striking with the kid gloves, and a few of those suckers left a mark.  Mommy!  But as I head home, I'm ready to head into a different phase of training to really build muscle and hit my cardiovascular system hard; then, when I make it back in a year, I'll tackle these guys!
Also, the package includes 10 sessions at the nearby Onsen, which was quite nice and just around the corner.  Perfect for ice baths and steam for recovery.
Meal Prep
That's one area I wish the gym would offer (I'll have to mention that). 😉  But, to have a recommendation or a place that would meal prep to your macro needs to meet your body weight goals (if that's one of your intentions).
Read More:  Best Way to Lose Weight in 5 Weeks in Phuket
The Attitude
My trainers were all amazing, and I loved working out with people from all over the world.  I would say in the class of trainees that very few actually spoke extensive English. It didn't matter much, as it's a bit like dancing. You see, you do, mess it up, and do it again. We all smiled our way through as we turned into puddles on the floor.  The greatest thing about this place was the attitude.  Everyone was so positive and helpful, from the trainers to the trainees, to the ladies working up front. 
The ladies who handled our scheduling, shake-making, photo-taking, and every other aspect of taking care of us, were awesome.  They were bright shining faces that would greet us as we approached the gym. They truly stood out as the face of the gym, and their kindness and support throughout the sometimes painful days were so appreciated!
Final Thoughts
During my last day with Fight Nation, I trained in Muay Thai for the very last time and sparred with my Russian comrade after our trainers whooped up on us.  Let's just say I'm surprised I don't have a fat lip right about now, as I dropped my hands way too many times, and bam, there it went. Lol.  He may have beaten my tail today, but I got a few licks in as well.  This is what it's all about. When you stop being as scared and realize you learned a thing or two, it makes it fun, to say the least!  
So, if you ever wondered what to do on your next trip/vacation, I highly recommend that you head on over to Thailand for a few months and sign up with Fight Nation in Hua Hin!  It's a pretty kick-ass MMA gym with a lot of amazing people to help you attain your fitness goals.   
But wherever you choose to go for your training needs, always remember to Travel Till You Drop!
Book Your Trip : Check Out My Resources for Your Travel Needs
Use Skyscanner to find a cheap flight.  This is my very first stop when I'm looking for my next trip. It's a fast, easy-to-use search engine that is perfect for finding an affordable flight, a perfect hotel, and the right rental car for you in locations around the globe.
Book Your Accommodation
If you are looking for a super budget friendly location and are open to a hostel stay, make sure you book your hostel with Hostelworld. It offers the broadest range of quality hostels around the world. 
If you'd prefer a hotel or a guesthouse for stays less than 28 days, drop on over to Booking.com It's perfect for providing excellent options, a ton of user reviews, and prices to fit every budget.
For stays over 28 days, AirBnB still remains my #1 choice. User reviews and monthly pricing allow for some incredible deals all around the world.
Don't Forget Travel Insurance
Travel insurance is but a small up-front investment that you won't want to leave home without. After just one experience of having to delay or cancel your trip or having your luggage stolen, you'll wish you would have made that investment.  I've hated my life a few times when the moment arose, and I decided to skip out.  Let's just say, I've changed my ways and recommend each of the following companies to protect your ass-ets.
My favorite companies are:         
Want to Travel for Free?
Travel credit cards allow you to earn points that can be redeemed for free flights and accommodation — all without any extra spending. Check out my guide to getting free flights to get started.
Ready to Book Your Trip?
Check out my Resource Page for the best companies to help you book your travel at reduced rates!  This list will help you get to where you're going.  I know-I use them ALL the time!