Iceland, with its breathtaking landscapes, geothermal wonders, and unique culture, has become an increasingly popular destination for travelers seeking an extraordinary experience. For those who desire to explore this stunning country in style and comfort, Iceland Luxury Tours offers a remarkable way to immerse yourself in the beauty and magic. In this article, we will tell you essential travel tips for those embarking on Iceland luxury tours.
Choosing the Right Iceland Luxury Tours Package:
When you want to Iceland luxury Tours, take the time to research and select a package that aligns with your interests and preferences. Look for tours that offer personalized experiences, exclusive accommodations, and private guides who possess in-depth knowledge of Iceland's history, geography, and culture.
Opt for Seasonal Travel: 
Iceland's beauty evolves with the changing seasons. Whether you're captivated by the ethereal Northern Lights or the Midnight Sun's golden glow, selecting the right time to visit can greatly enhance your luxury travel experience. Consider traveling during the shoulder seasons of spring and fall for fewer crowds and captivating natural phenomena.
Read More: Solo Travel To Iceland Trip Cost And Details
Embrace Geothermal Splendors: 
Iceland's geothermal activity has blessed the country with soothing hot springs, rejuvenating spas, and stunning geysers. Luxury tours often include visits to renowned geothermal destinations like the Blue Lagoon. Immerse yourself in the mineral-rich waters for an unparalleled relaxation experience.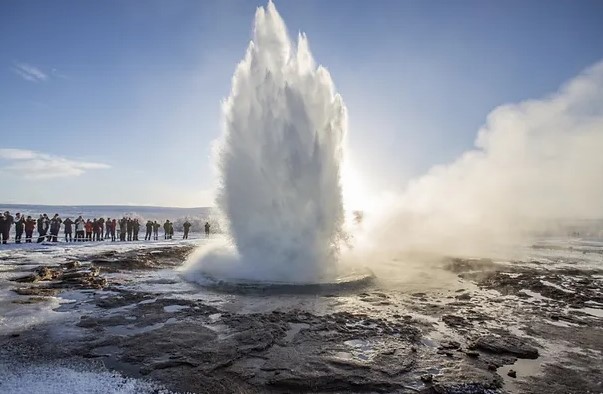 Delight in Culinary Excellence: 
Iceland's culinary scene has evolved into a haven for food enthusiasts. Indulge in a gastronomic adventure by savoring delectable Icelandic cuisine made from fresh, local ingredients. Many luxury tours offer visits to acclaimed restaurants where you can relish both traditional dishes and modern culinary creations.
Discover Unique Landscapes: 
The diverse Icelandic landscape boasts glaciers, waterfalls, volcanoes, and black sand beaches. Your luxury tour should include visits to iconic sites like the mesmerizing Jökulsárlón Glacier Lagoon and the powerful Gullfoss waterfall. Expert guides will provide insights into the geological wonders that shape the country.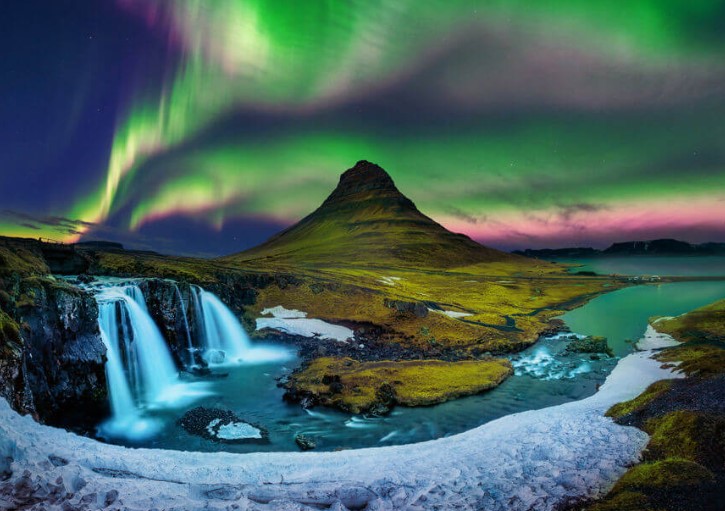 Experience Exclusive Accommodations:
Luxury tours grant access to some of Iceland's most exclusive accommodations. From luxurious boutique hotels to remote lodges with breathtaking views, your stay will be as remarkable as the sights you explore. The Northern Lights dancing above a secluded lodge is an experience that will remain etched in your memory.
Related Post: Dark Tourism in Iceland: Must-Visit Dark Tourist Destinations
Prioritize Sustainability: 
Responsible travel is essential to preserving Iceland's pristine environment. Choose Luxury Tour Operators that prioritize sustainability and respect for nature. Participate in eco-friendly activities that leave minimal impact on fragile ecosystems.
Common Iceland Tours
Iceland is known for its stunning natural landscapes, including waterfalls, geysers, glaciers, and geothermal springs. There are various tours available to explore these wonders. Here are some common types of Iceland tours and what's typically included
Golden Circle Tour
Highlights: Þingvellir National Park, Geysir geothermal area, Gullfoss waterfall.
Inclusions: Transportation, guide, and often visits to other attractions like Faxi waterfall.

Blue Lagoon Tour:

Highlights: The famous Blue Lagoon geothermal spa.
Inclusions: Transportation to and from Reykjavik, entrance to the Blue Lagoon, and often guided commentary.

South Coast Tour:

Highlights: Seljalandsfoss and Skogafoss waterfalls, black sand beaches at Reynisfjara, Vatnajökull National Park.
Inclusions: Transportation, guide, and sometimes visits to additional sights like the Fjaðrárgljúfur canyon.

Glacier Hiking Tour:

Highlights: Exploring a glacier, often in Vatnajökull National Park.
Inclusions: Equipment (crampons, ice axes, etc.), guided glacier hike, and sometimes transportation to the glacier.

Northern Lights Tour:

Highlights: Chasing the Northern Lights (Aurora Borealis).
Inclusions: Transportation, knowledgeable guide, and the opportunity to see the Northern Lights (weather-dependent).

Ice Cave Tour:

Highlights: Exploring natural ice caves within glaciers.
Inclusions: Transportation to the ice cave, guided tour, and necessary equipment.

Whale Watching Tour:

Highlights: Spotting various species of whales and dolphins.
Inclusions: Boat trip, expert guides, and warm clothing if needed.

Landmannalaugar Tour:

Highlights: The colorful rhyolite mountains and natural hot springs in the Highlands.
Inclusions: Transportation, guided tour, and often a dip in the hot springs.

Reykjavik City Tour:

Highlights: Exploring the capital city's landmarks, including Hallgrímskirkja and Harpa Concert Hall.
Inclusions: Transportation, guided tour, and entrance to the attractions visited.
Immerse in Local Culture: 
Icelandic culture is rich with history and traditions. Engage with locals to gain deeper insights into their way of life. Consider attending cultural events and music festivals, and interact with artisans to appreciate the authenticity of the Icelandic experience.
Conclusion:
Embarking on Iceland luxury tours is an extraordinary way to explore this land of fire and ice in unparalleled comfort and style. By selecting the right tour package, embracing seasonal wonders, enjoying culinary delights, and immersing in the local culture, you'll create memories that will last a lifetime.
Remember, the key to a truly unforgettable journey lies in balancing luxury with respect for nature and culture, ensuring that Iceland's beauty remains intact for generations to come, and always remember to Travel Till You Drop!
Book Your Trip : Check Out My Resources for Your Travel Needs
Use Skyscanner to find a cheap flight.  This is my very first stop when I'm looking for my next trip. It's a fast, easy-to-use search engine that is perfect for finding an affordable flight, a perfect hotel, and the right rental car for you in locations around the globe.
Book Your Accommodation
If you are looking for a super budget friendly location and are open to a hostel stay, make sure you book your hostel with Hostelworld. It offers the broadest range of quality hostels around the world. 
If you'd prefer a hotel or a guesthouse for stays less than 28 days, drop on over to Booking.com It's perfect for providing excellent options, a ton of user reviews, and prices to fit every budget.
For stays over 28 days, AirBnB still remains my #1 choice. User reviews and monthly pricing allow for some incredible deals all around the world.
Don't Forget Travel Insurance
Travel insurance is but a small up-front investment that you won't want to leave home without. After just one experience of having to delay or cancel your trip or having your luggage stolen, you'll wish you would have made that investment.  I've hated my life a few times when the moment arose, and I decided to skip out.  Let's just say, I've changed my ways and recommend each of the following companies to protect your ass-ets.
My favorite companies are:         
Want to Travel for Free?
Travel credit cards allow you to earn points that can be redeemed for free flights and accommodation — all without any extra spending. Check out my guide to getting free flights to get started.
Ready to Book Your Trip?
Check out my Resource Page for the best companies to help you book your travel at reduced rates!  This list will help you get to where you're going.  I know-I use them ALL the time!