Introduction:
Iceland, the land of fire and ice, has long been renowned for its breathtaking landscapes, stunning waterfalls, and majestic glaciers. But did you know that beneath its picturesque facade lies a realm of dark tourism in Iceland, and that will send shivers down your spine? Brace yourself as we embark on a journey through Iceland's top dark tourist locations, where history, beauty, and haunting tales intertwine!
No, not with Brenden Fraiser, but if you're a fan of Jules Verne's adventurous tales, then a visit to the Snæfellsjökull Volcano on the Snæfellsnes Peninsula is a must. According to Verne, this volcano served as a direct gateway to the center of the Earth, but alas, we're not offering any guided tours to the Earth's core just yet.
Nevertheless, the mystique surrounding this stratovolcano is enough to give you goosebumps. Who knows what secrets lie within? Maybe some lost explorers from the 19th century who took Verne's story a tad too seriously?  Dun-dun dunnnnn.
The second stop takes us to the hauntingly beautiful Sólheimasandur beach, where a mysterious plane wreck lies eerily abandoned on the black sand. The US Navy DC-3 airplane crashed here in 1973, supposedly due to the pilot's disdain for conventional landing strips. Rumor has it that the pilot wanted to throw an impromptu beach party but clearly underestimated the consequences. Oops! Today, this wreckage serves as a chilling reminder of the perils of mixing aviation and partying.
Vatnajökull Glacier: Frozen Adventures and Frosty Intrigue
Next up, are you ready to get Frozen in Elsa's icy kingdom? Look no further than Vatnajökull Glacier, the largest dark tourism in Iceland destination.  Venture into the depths of this frozen giant, where ice caves and tunnels await. It's like stepping into a real-life fairy tale, complete with frostbite and the occasional ice-induced existential crisis. But hey, who needs warmth and sunshine when you can explore a glacier that could swallow you whole? Unfortunately, Olaf can't be there to meet you.
Þingvellir National Park may seem like an ordinary tourist destination at first glance, but don't be fooled. This UNESCO World Heritage Site holds historical significance as the site of the Icelandic Alþingi, the world's oldest parliamentary institution. You might find yourself pondering the weighty matters of medieval politics as you walk through the picturesque rift valley between the Eurasian and North American tectonic plates. Just don't let the scenic beauty distract you from imagining public executions and intense parliamentary debates. Ah, if we could only go back in time, life would be so much simpler.
Viðey Island: A Mental Break on an Abandoned Island
Viðey Island, located off the coast of Reykjavik, offers a unique opportunity to explore an abandoned mental institution. Nothing screams "relaxing vacation" like wandering through empty corridors and imagining the ghostly whispers of former patients. But fear not, as this former asylum is now just a haunting reminder of the darker side of mental health history. Enjoy a leisurely stroll through crumbling buildings and contemplate the fine line between sanity and eccentricity. It's truly an island paradise for the morbidly curious. You may even find Leonardo on Shutter Island when you drop by.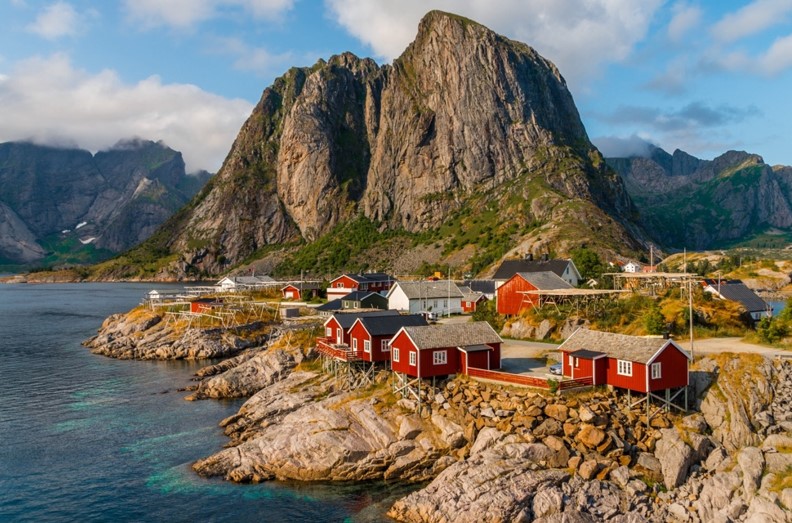 Reykjanes Peninsula: Where the Ground Bubbles with Excitement
Last but certainly not least, the Reykjanes Peninsula is a geothermal wonderland that will make you question the very ground beneath your feet. Boasting bubbling mud pots and steaming vents, this area will either inspire awe or an urgent need to consult a seismologist. Revel in the oh-so-delightful smell of sulfur as you witness Mother Nature's enthusiastic reminder that Iceland is indeed a land of fire and brimstone. Who needs a spa day when you can relax in the warm embrace of volcanic activity?
Iceland's nature is volatile and characterized by volcanic eruptions that have been causing air traffic disruptions across Europe. However, these volcanic activities attract a special cluster of tourists, among the many dark tourism in Iceland destination is Viti. Viti is an explosive creator with a warm, sulfurous lake that tourists can go swim in! To access the lake, you first have to clamber from the creator rim down to the lake, this should be done carefully as the surface is quite muddy, slippery, and extremely steep.
In Icelandic, Viti is a word used to mean hell. Located in Central Iceland within the massive Askja caldera, the 150-yard explosive creator is among one of the most active volcanic destinations for tourists. The long road that is used to commute to Viti is made up of a rough track extending through a thrilling wilderness that tourists are unlikely to see or experience anywhere else. On your way, you go through lava fields of different types and ages and vast extensions of pumice that have been deposited as a result of Viti explosions. Viti can give the most exquisite moonscape imaginable at its extreme, so moonscape it is that NASA sent its astronauts to train for Apollo landings on the real moon.
Heimaey – Dark tourism in Iceland
Heimaey is the main island of the Vestmannaeyjar and Westman groups located on the south coast of Iceland.  The island is well known to be a busy fishing harbor for its settlement. The dramatic volcanic eruption that took place in 1973 has placed the area on the maps as a dark tourism destination in Iceland. The eruption was severe, covering houses with layers of lava and ash, it also led to the expansion of the island by creating new land to its east. For today's dark tourism, a trip to the Heimaey is worth it for the remaining signs and evidence of the destruction and damage caused by the volcanic activities, especially the remains of residential areas that were crushed by the lava.
The best way to sightsee interesting points in the Heimaey is through coach drives around the island.  Some fascinating sites include the Eldfell Volcano itself.  The new land that was created by the eruption is also a good point to drive through while on the island. The island has one rule regarding the new, the new rule is that it remains to be public land until someone manages to make a garden that can last for more than one season without being blown away by a storm. There is also an excavation project in the area that began in 2005. This project's purpose is to provide a full-blown tourist experience to people visiting the island.
The Reykjavik Dark History Walking Tour
This is an intriguing and educational guided tour that takes participants through the capital city of Iceland to explore its grim and macabre past. This tour provides a unique perspective on Reykjavik's history, shedding light on stories of murder, execution, and other dark events that have occurred throughout the city's history. Participants will hear about infamous crimes, mysterious deaths, and grisly executions that took place in Reykjavik over the years. These stories may include legends, folklore, and historical facts. Guides often provide context about how these dark events influenced the development of Reykjavik's architecture, culture, and social fabric. You'll gain insights into how the past has shaped the city's character.
Reykjavik witnessed its last public execution in 1830 when Agnes Magnúsdóttir and Friðrik Sigurðsson were beheaded for their involvement in a double murder. This event marked a significant moment in the city's history and is often a focal point of such tours. Reykjavik has several houses and buildings believed to be haunted, and you might learn about their histories and the ghostly encounters that people have reported.
Conclusion:
Dark tourism in Iceland has so many famous destinations, offering a peculiar and offbeat way to experience the country's rich history and natural wonders. From abandoned plane wrecks to eerie mental institutions and frozen glaciers, these locations are sure to leave an indelible mark on your sense of adventure. So, pack your along with your warmest clothes and embark on an unconventional journey through Iceland's dark side. After all, who needs sunshine and rainbows when you can have haunting tales and frozen mysteries? Happy chilling 😉