Solo travel Iceland is an adventure like no other! This breathtaking country is known for its stunning landscapes and unique cultural experiences, making it the perfect destination for solo travelers and dark tourists. Whether you're looking for an off-the-beaten-path type of journey through remote villages or a thrilling excursion through some of Iceland's most iconic attractions, there are endless opportunities to explore this captivating country alone.
In this article, I will share how you can prepare yourself to solo travel Iceland.
SOLO TRAVEL ICELAND
After a week of Solo Travel in Iceland, I can tell you, it would have been better if my timing was better.  The country itself is beautiful.  From the dark volcanic rocks against the crystal blue sea, the crashing waterfalls of the Golden Circle, to the quaint and colorful houses sprinkled throughout the country.  It's a relatively untainted and untouched place with only around 350,000 residents throughout.  The buildings appear to be new, the technology is modern, wi-fi is common throughout, most of the cars are still in good condition, and the landscapes are mostly unblemished. 
Come to find out that until around the 1940's much of Iceland just wasn't inhabited, and cities and towns weren't really a thing.  Until recently, the inhabitants of Iceland lived in homes that were quite spread out. The city of Reykjavik is a relatively new city, and when you visit, you will notice it's very modern as it was recently built.
Exploring Iceland Alone
Iceland is a destination that has been on the bucket list of many travelers for quite some time. Its stunning landscapes, rugged terrains, and unique natural wonders attract millions of visitors every year. But have you ever considered exploring Iceland alone?  Travel to Iceland can be an incredibly rewarding experience that allows you to fully immerse yourself in the country's culture and natural beauty.
One of the biggest advantages of solo travel in Iceland is the freedom it provides. You can plan your itinerary based solely on your interests and preferences without having to compromise with anyone else's wishes or schedules. This means that if you want to spend an entire day hiking through the wilderness or soaking in hot springs, you can do so without worrying about anyone else's plans. Moreover, solo travel also gives you more time to reflect and introspect – something that we often miss out on during our busy lives.
WHY ICELAND IS A GREAT SOLO TRAVEL DESTINATION?
So, why solo travel to Iceland, you ask?  It boasts a cold and wet climate that was not that long ago home to the one volcano that shut down flights for days throughout Europe.  Well, I'd have to say it's because the nature that is able to be seen is still in the most pristine condition.  So many areas are still untouched by humans, and the ability to see icebergs, puffins, whales, volcanos, and the most wondrous northern lights makes solo travel in Iceland the perfect place.
Check Out: How to Travel to Antarctica: The Best Antarctica Travel Guide
Preparation: Planning Your Solo Trip
Planning a trip to Iceland can be both thrilling and daunting. With its stunning natural beauty, unique culture, and friendly locals, it's no surprise that Iceland has become a bucket list destination for many travelers. However, with so much to see and do in this magical country, it's important to plan ahead to make the most of your time there.
The first step in planning your trip is to decide when you want to go. The summer months are the busiest and offer a warm climate and long days of sunlight, while the winter months provide opportunities for viewing the Northern Lights. Once you have determined your travel dates, start researching flights and accommodations. Keep in mind that Iceland is known for being an expensive destination, so consider staying at hostels or guesthouses instead of traditional hotels.
My trip to a hostel in Reykjavik was an awesome experience, as I was lucky enough to meet with some amazing women who had already toured several of the areas I was looking to see.  They provided excellent advice and were nice to chat with and swap stories.
Next on your planning checklist should be deciding what activities you want to do while solo traveling in Iceland.  Determining the activity will certainly help you identify the area you will stay within the country.
DO I NEED A VISA?
Nope, you sure don't.  As long as you have enough pages in your passport and are visiting in less than 90 days, your passport is good nuf' (from the perspective of a US passport holder).  For other countries, please check your local consulate's website, just in case.
LANGUAGE
The national language of Iceland is Icelandic, but English is spoken everywhere, so you will have a pretty easy time getting around.
WHAT SHOULD YOU BRING TO ICELAND?
If you're planning to embark on an adventure solo travel Iceland, packing appropriately is essential. Iceland is known for its unpredictable weather, and climate changes can occur quickly. So, you will need to be prepared for any situation that may arise. You can be out on a walk, and the rain just shows up, and the temperature will just drop. 
The first item on your packing list should be warm clothing (even in the summer), including thermal underwear, a waterproof jacket/pants, gloves, a hat, an umbrella, a towel that dries quickly, rain gear, and sturdy boots. These items are necessary if you plan on exploring the great outdoors in this beautiful country. You'll also want to bring sunglasses as the sun can be very bright, reflecting off of the snow and ice.
Another important item to pack when solo traveling in Iceland is a power bank or extra batteries for your electronic devices such as cameras or phones.  I don't know how many times I've and to conserve battery power and stop taking photos because my phone was running on E because I didn't own one (yet).  Definitely don't let this happen to you.
ELECTRICAL OUTLETS
You will need to bring a type "C" or "F" type of adapter for your power needs, or you can purchase a universal adapter to make life easier when traveling the world.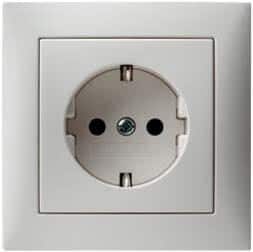 CASH
The currency of Iceland is the Icelandic Krona.  You really won't need cash here at all as credit cards are taken pretty much everywhere.  ATMs are located all around if you do need it but using your cards will make it easier to track all those expenses and earn points while you do.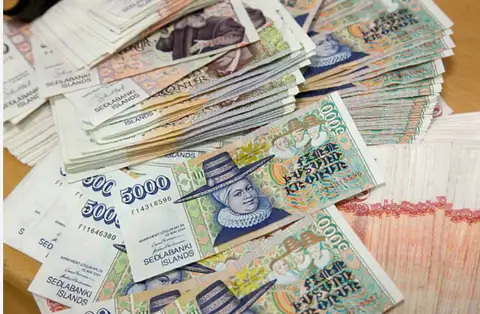 What Should You Leave at Home When Visiting Iceland?
When you want to travel to iceland, you should leave a few things at home to make your trip as enjoyable as possible. If going in the summer, you should consider leaving your heavy winter clothing in your closet. While Iceland may be known for its chilly weather, it's not necessary to pack bulky jackets and a ton of sweaters if you plan on visiting during the summer months.
Another item you won't need to pack are high heels and dress shoes. The terrain in Iceland can be rugged and uneven, so comfortable walking shoes and if your hiking (hiking boots) are a must-have. Additionally, Iceland has many hot springs and natural pools that require visitors to remove their shoes before entering – so pack the swimsuit but leave the dresses.
Finally, it's best to avoid bringing expensive jewelry or other valuables.  Iceland, even in the cities, is a pretty laid-back and casual location.  You'll end up spending more time worrying if you lost them than you would wearing them if you don't.
TRANSPORTATION FOR SOLO TRAVEL ICELAND
Getting to the center of Reykjavik you could choose to take a private transfer or a cab, but I found that the super simple way to get there was with a company called FlyBus. I booked my transfer online before I got there, but it's also easy enough to do at the airport.  The big orange bus is right outside the front door and runs about every half an hour.  We did have to wait about 20 minutes before we left, but it took it right to the center of town to the central bus station.  From there, they transfer you into mini busses that will take you to your hotel.  All in all, it took approximately 45-minutes to get to my hotel.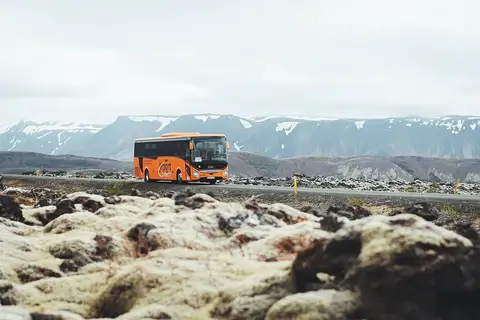 SOLO TRAVEL ADVICE
Rental cars are an option but are ridiculously expensive.  One of my fellow travelers mentioned that it was well over $2,000 for a month to rent a car, and she ended up with two flat tires as she traveled from the north to the south.  Roadside assistance may be something almost non-existent, but thankfully, the locals are friendly.  She mentioned that her rental was missing a jack, or she would have changed it herself, so if you do rent a car for your travels, make sure you fully check that out before taking the car.  Another bit of advice from a friend of mine was to ensure you take out the sand and ash insurance. The winds blow like crazy, and the ash and/or sand can certainly do some damage if you end up in a few of the more remote areas.
Taxis or private airport transfers are also ways to at least make it to neighboring towns.  Check your tours on Viator for options. 
Iceland Solo Trip Costs
It's essential to know what kind of expenses you can expect along the way. The cost of traveling to Iceland solo depends on various factors such as accommodation, food, transportation, and activities.
Here I'll break down the average costs you can expect during a trip.
The cost of flights to Iceland varies depending on where you are departing from and when you book your ticket. On average, flights from North America or Europe cost between $300-$800 each way. 
However, if you choose to travel off-season (September through May), prices may drop significantly. You can save on your flight expenses by checking my article on how to fly for free.
As for accommodation in Iceland, hostels are an affordable option for solo travelers, with dorm rooms for 4 to 8 people starting at around $30 per night.  Additionally, budget hotels and guesthouses are available throughout the country ranging from $50-$100 per night.
THINGS TO DO IN REYKJAVIK
While you are in Reykjavik, one of the most frequently seen rides around town is the scooter.  They are electric, and there are a ton of them!  Hopp Bike was seen the most frequently, with Zolo right behind it. You have an initial fee of 70 cents, and then it's about 22 cents a minute thereafter.   Personally, I haven't tried it myself as I have that fear of breaking my neck.  I saw one person in the short time I was there bite it pretty hard, but for those that are used to this mode of transportation, why not?tr
WHERE TO STAY IN REYKJAVIK
If you stay in Reykjavik, I do highly recommend staying in the city center.  I stayed on the outskirts to save a few extra pennies but was about a 45-minute walk to the center.  The outskirts didn't have much to offer other than a room.  The bus system was easy to use, and wherever you end up, you should definitely grab a City Pass.  It includes the use of the buses, entrance into several exhibitions, and discounts on others.   The city itself, you can get by seeing in a day or two maximum, and the remainder of your time should be used to take your tours around the country.  No matter what type of facility you choose to stay in, be prepared for the price tag, as it is not cheap.  One week in a hostel with 3 other ladies in the room and a bathroom was about $40 a night or $250 per week stay.  When I travel, I try to keep my costs to $250 per week for a place to myself.  Here, that was not possible.  
The hostel was a good option as it led me to meet other travelers from all over the world and it served its purpose.   The one I stayed at wasn't the cleanest nor the most ideal, but hey, it did the trick.  The experience of meeting the ladies that I did, and having the ability to share ideas, recommendations, and good conversations, was worth the conditions.  I've stayed at several hostels on my solo trip time and haven't had a completely horrible experience yet.  While I do like my privacy, it's kind of nice to have others right there to talk with and learn from as well every so often.  If I were to do it over, I'd recommend staying downtown at the Refurinn Reyjaviak Guesthouse.     
If you'd like more of a hotel stay that is closer to the center, but far enough away, the Hilton was a prominent point on the map and is located next to a beautiful walking, running, and biking trail. 
Once you finish the first few nights in Rekyivak, then grab your stuff and move over to the town of Vik for a few days to experience a different part of the country.  Hotel Vik I Mydral is a beautifully decorated hotel in a gorgeous environment where you can stay at a reasonable price.
You should also make sure to make your way up north and if you have the funds, try out a Bubble Hotel. This clear bubble will give you a clear view of the night sky (hopefully cloud-free) so you have the best chance of seeing the northern lights.  These bubbles run about $500+ a night, but if you're headed there for the views, why the heck not?
How to Save Money When Traveling to Iceland as a Solo Traveler
Solo travel Iceland can be a thrilling and rewarding experience, but it can also come with a hefty price tag. This is especially true when traveling to Iceland, as the country's reputation for natural beauty and adventure activities often leads to high costs for accommodation, transportation, and excursions. However, there are plenty of ways to save money when traveling to Iceland as a solo traveler without sacrificing the quality of your trip.
A few things you can consider if you're not ready or unable to acquire another credit card with points is to use budget airlines and alternative modes of transportation such as buses or car rentals instead of pricey taxis or airport shuttles.
Additionally, staying in accommodations outside of Reykjavik; the capital city tends to have higher prices than other areas. You'll also be thankful you did, as it is hard to see the northern lights within city limits. Hostels and guesthouses also offer affordable options for solo travelers who don't mind sharing a room with fellow adventurers.
EATING OUT IN ICELAND: MONEY-SAVING TIPS
Food costs here and pretty much everything else here are extremely high!  A one-person bowl of pasta and a beer at an average Italian restaurant added up to around $45 for lunch.  Don't get me wrong, it was GOOD, but I'd rather save my funds for other items.  One of the local specialties, the hot dog, runs about $6 per dog.  They do taste slightly different than what we have at home, but they are quite good, and they offer the smells and tastes of a wonderful day at the ballpark.  Their hot dog stands are located all over the city, and you can get your dog covered with a variety of toppings.  Oh, and one more thing, the chocolate, oh my goodness—worth it!  Iceland does chocolate almost as well as the Swiss!  😉
MY RECOMMENDATIONS
So, as far as restaurants that I can recommend from personal experience, Grazie for Italian, Blackbox for pizza, and the Thai Kitchen.  All provide excellent food and different vibes.  Blackbox pizza was definitely my favorite. The pizza was excellent, but the vibe was cooler.  It was certainly different and offered US chill Hip Hop to listen to in a land far far away.  As far as local foods go, I've been slow to try as I'm not a big fish, lamb, or horse person (yep, I said horse; it's on the menu), but I heard great things about their fish and chips.  Also, if you are looking for more of a fine dining experience, they do have 1 Michelin Star restaurant to check out the Dill restaurant.
Mama's Reykjavik was also very cool and offered a variety of Indian/Vegan cuisine options with a funky cool vibe, as well as Babalu Café.  The crepes were calling my name, and it's one of those hidden gems that everyone talks about.
THINGS TO DO WHILE SOLO TRAVEL IN ICELAND
When you travel Solo in Iceland you may wonder what you should do. Well, I found there are a number of must-do's and a ton of relatively inexpensive tours that will take you all over Iceland  A full-day tour can run around $100-$150, which isn't bad for a full 11-14 hours of entertainment.  You can cover either the north or the south on a full-day ticket which will include your transportation, the sites, and of course, your guide.
BEST TIME TO SOLO TRAVEL IN ICELAND
I can tell you that Iceland is amazing, but my one issue with the country was the weather. My timing was totally off when I visited.  I chose the last week in September to stop in, but if I could have adjusted my dates, the last few weeks in August or anytime in the summer would have been better.
August offers the best time to view the Puffins.  A cool little bird that only makes it into the mainland to get freaky and have their babies. In September they leave the land and head back out to the water as most of their lives are spent out on the ocean.  The weather fought me at every step as the cloud cover prohibited the viewing of the northern lights, canceling my tour 5 nights in a row.  I then booked a tour to the Southern Coast and was met with the issue of bad weather and high winds. My tour was canceled that day as well as most of the flights.
Visiting Diamond Beach is still on my to-do list for a future solo trip as well as staying in a Bubble House , which is located off the beaten path up north, providing some of the best views of the lights.  On the next trip, I will also take a tour of Vik, a small fishing village in the south. 
While the weather was complete crap most of the time I was there, I was fortunate enough to make it up to the Golden Circle in the Northern part of Iceland.  I was able to find the most beautiful and powerful waterfalls, hike into the inside of a dormant volcanic crater, and stop off at the Blue Lagoon.  Many of the other ladies in my hostel recommended Sky Lagoon over Blue Lagoon, mainly due to its aesthetics and how it sits next to the sea for the most spectacular views.
Solo Travel Safety Tips: Staying Secure
Solo travel Iceland can be a thrilling and fulfilling experience, but it also comes with its own set of risks. If you're planning a solo trip to Iceland, there are some important safety tips to keep in mind. With the right preparation and precautions, you can stay secure throughout your journey.
First, make sure to research your destinations ahead of time. Familiarize yourself with the local customs and laws so that you don't inadvertently offend anyone or break any rules. Additionally, pay attention to weather conditions and natural hazards such as volcanic activity or icy roads.
Second, keep your valuables safe at all times. Invest in a sturdy lock for your luggage and consider carrying a money belt or hidden pouch for important documents like passports and credit cards. Be wary of pickpockets in crowded areas like tourist hotspots or public transportation.
Third.  If you choose to rent a car, ensure you get full coverage as well as paint coverage.  It's separate insurance they offer in Iceland due to the blowing winds and sand wearing the paint from the car.  Here you'll be glad you did.  One of the girls in the hostel I stayed at ended up getting two flat tires on her way.  Thankfully she knew how to change a tire on her own, but make sure you check with the company on how to acquire any form of roadside assistance while traveling in Iceland.
Finally, always let someone know where you'll be each day. If you don't show up late at night, someone should at least be aware of your path and know the approximate route you were taking to get there.
Experiences: Unique Adventures
If you're looking for a unique adventure, solo travel in Iceland is an experience like no other. This Nordic island nation is known for its stunning natural beauty, including glaciers, geysers, and hot springs. And while it's often thought of as a winter destination, there are plenty of things to see and do year-round.
A must-see attraction is the Blue Lagoon or Sky Lagoon which are geothermal spas located in a lava field on the Reykjanes Peninsula. They are the perfect place to relax and soak in the warm waters while being surrounded by breathtaking scenery. You are able to soak in the minerals that help to detoxify your body, complete a face mask, or have a few drinks from the in-water bar to walk with throughout the large lagoons. The feeling of euphoria is one you will have once you try to get out of the water.  There's something in those minerals that you soak up that have an impact on your body. 
Another popular activity is hiking on one of Iceland's many glaciers or exploring ice caves. If you get a chance, definitely take in a tour of the south and Diamond Beach.  You'll be in awe of how the broken bits of glaciers that remain on the beach shine bright like diamonds. And if you're lucky enough to visit during winter months, witnessing the Northern Lights dance across the sky is an unforgettable experience.
But solo travel in Iceland isn't just about sightseeing – it's also about immersing yourself in Icelandic culture.  The people are friendly and the local foods are quite interesting to say the least.  So, you should always try to meet with the locals and gain a new perspective on life. 
Nature: Beautiful Landscapes
Now you know that Iceland is a solo traveler's paradise, with its breathtaking landscapes of glaciers, waterfalls, and geysers, you know it's time to get serious about booking your trip. The county's unspoiled natural beauty makes it the perfect destination for anyone looking to escape the noise of urban life and immerse themselves in a serene environment.
From the stunning Northern Lights to taking a ride on Icelandic horses in the countryside or hiking near an active volcano, Iceland has so much to offer. It's no wonder why this country has become one of the most popular travel destinations in recent years. To get the most out of your trip, solo travelers can explore Iceland's rugged terrain on their own or join a tour group to discover some of the hidden gems that are off the beaten path. I met so many amazing people on tours from all over the world and was able to share my experience with like-minded individuals. Solo travel isn't always about being alone all of the time.  It's about being willing to travel to a location and enjoy the best it has to offer and not waiting on anyone else to finally have the money or time to go. 
Whether you're hiking through snow-capped mountains, on top of a glacier, or soaking in natural hot springs, travel in Iceland is an unforgettable experience.
Culture: Appreciating Icelandic Traditions
Now, to ensure you get the full experience, you can immerse yourself in Iceland's rich history and culture, which dates back centuries. With its breathtaking landscapes, iconic landmarks, and friendly locals, Iceland is the perfect destination for solo travelers looking to immerse themselves in new traditions. However, to fully appreciate Icelandic culture and traditions requires an open-minded approach and willingness to explore beyond the tourist traps.  Solo travel in Iceland allows you to really put yourself out there and immerse yourself into the nooks and crannies you may not be able to do with other travel partners. 
One of the best ways to experience Icelandic culture is by attending one of their many festivals throughout the year. From Reykjavik's Winter Lights Festival to Akureyri's Folk Music Festival, these events showcase Iceland's vibrant art scene, culinary delights, and traditional music. For those interested in learning more about Iceland's ancient past, visiting historical sites such as Thingvellir National Park or Skalholt Cathedral can provide insight into Iceland's rich cultural heritage. Finding your way into the smaller local villages and staying at an AirBnB or guesthouse will allow you to experience the locals like none other. You'll be able to learn their ways of life and try their foods all the while bypassing the Americanized food chains.
RECOMMENDED TOURS
If the likelihood of the lights is low, the tour providers will cancel well in advance and reschedule for another day.  With this tour, you get to travel to the location inside a very nice boat with a full bar and get out when the boat arrives at the best viewing location.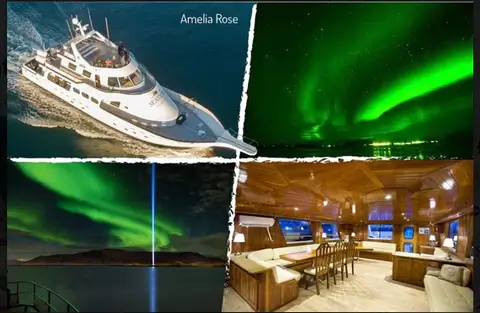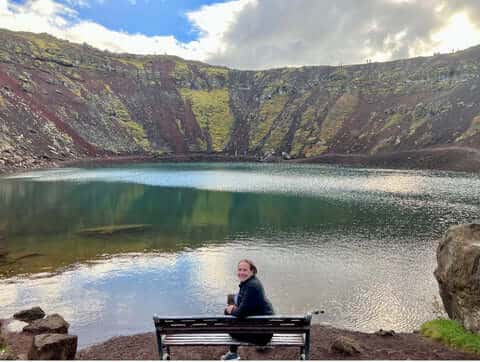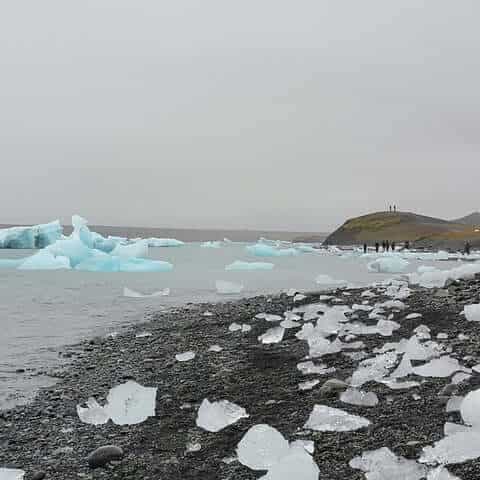 Take a half a day or full-day solo travel in Iceland to spend at the Blue Lagoon and dip your body into the geothermal mineral waters.  They provide the goo for 3 septate facials as you wander through the lagoon, and they offer walk-up bar service. Make sure you schedule early, and you can also get a massage included in your trip.  You will leave the Blue Lagoon feeling like a limp rag of relaxation.
Same thing with the Sky Lagoon. It's located right next to the sea and provides amazing views. 

If you'd like to get a feel for the city itself, take a Hop-On/Hop-Off Tour
and if you're really lucky find the red glowing and flowing kind.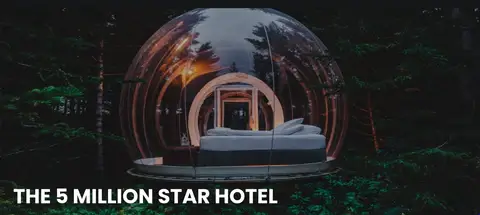 If you'd like to try something else even a little more off of the beaten path (yes, it can be done), make your way over to the Faroe Islands for a few days for yet another level of natural beauty.
Accommodation: Finding Home Away from Home
For solo travelers wanting to take the culture further, finding the perfect accommodation can make or break their trip. This is especially important when visiting a new and unfamiliar location such as Iceland. With its unique landscape and cultural offerings, Iceland offers a variety of accommodations to suit solo travelers' needs.
One popular option for solo travel Iceland is staying in hostels. Hostels offer affordable rates and the opportunity to meet other travelers from around the world. Many hostels also offer private rooms for those who prefer a bit more privacy.
Another great option is staying in an Airbnb or guesthouse, which allows for a more personalized experience and may even give insights into Icelandic culture through interactions with locals.  Imagine staying in someone's home and being able to have a home-cooked meal provided to you.  It's an incredible experience like none other.
No matter what type of accommodation you choose, it's important to research your options thoroughly before booking. Look for reviews from previous guests to get an idea of what to expect, as well as the location of the accommodation relative to your planned activities.
CONCLUSION
No matter where you decide to Solo Travel in Iceland or the Faroe Islands, you'll find something every nature lover can enjoy!  But certainly, wherever you decide to go and do, always make sure to Travel Till You Drop!   Also, make sure to stop by the Travel Till You Drop Shop to get all your travel-related goodies
Book Your Trip To Iceland: Check Out My Resources for Your Travel Needs
Use Skyscanner to find a cheap flight.  This is my very first stop when I'm looking for my next trip. It's a fast, easy-to-use search engine that is perfect for finding an affordable flight, a perfect hotel, and the right rental car for you in locations around the globe.
Book Your Accommodation
If you are looking for a super budget friendly location and are open to a hostel stay, make sure you book your hostel with Hostelworld. It offers the broadest range of quality hostels around the world. 
If you'd prefer a hotel or a guesthouse for stays less than 28 days, drop on over to Booking.com It's perfect for providing excellent options, a ton of user reviews, and prices to fit every budget.
For stays over 28 days, AirBnB still remains my #1 choice. User reviews and monthly pricing allow for some incredible deals all around the world.
Don't Forget Travel Insurance
Travel insurance is but a small up-front investment that you won't want to leave home without. After just one experience of having to delay or cancel your trip or having your luggage stolen, you'll wish you would have made that investment.  I've hated my life a few times when the moment arose, and I decided to skip out.  Let's just say, I've changed my ways and recommend each of the following companies to protect your ass-ets.
My favorite companies are:         
Want to Travel for Free?
Travel credit cards allow you to earn points that can be redeemed for free flights and accommodation — all without any extra spending. Check out my guide to getting free flights to get started.
Ready to Book Your Trip?
Check out my Resource Page for the best companies to help you book your travel at reduced rates!  This list will help you get to where you're going.  I know-I use them ALL the time!