So, are you ready for your next adventure?  Well, why not choose Basque Country, in Spain as your next stop?  I'm here to help you to see what this vibrant and diverse region spanning northern Spain and southwestern France entails. This location boasts a unique unlike other areas in Spain or France, is rich in history, has fantastic food, and stunning landscapes.  After reading this Basque Country Itinerary, you'll be able to understand why Basque Country in Spain is a hidden gem waiting to be explored.
Where is the Basque Country?
Basque Country is nestled between the rugged Pyrenees mountains and the Atlantic coastline.  It's an autonomous community in Spain that offers a blend of traditional and contemporary cultures, making it a compelling destination for solo travelers that is unlike most of Spain and France. 
The Basque region, also known as Euskadi or País Vasc and extends all the way to the southwestern part of France.   This country consists of three provinces: Álava, Biscay, and Gipuzkoa., and has three main cities in this region including Bilbao, San Sebastián, and Vitoria-Gasteiz.  Despite being divided between two nations, the Basque Country is united by a distinct cultural heritage, including a unique language (Basque or Euskara), traditions, and cuisine.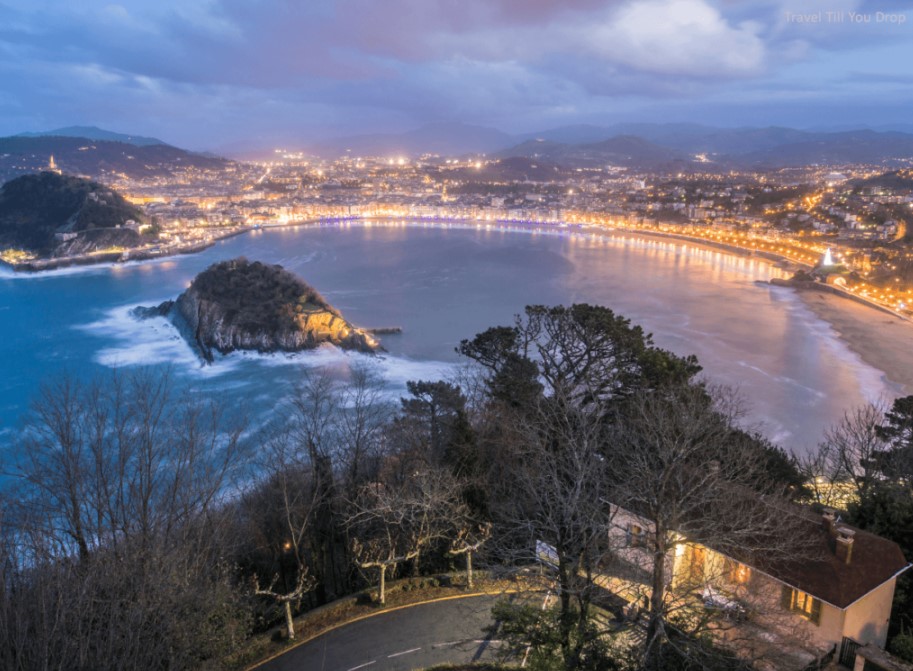 My 

Basque Country 

Itinerary for the Perfect Road Trip
Day 1 and Day 2: Bilbao
Bilbao, a city that has undergone a fascinating transformation from an industrial heartland to a modern art hub, is your starting point—Marvel at the shimmering titanium curves of the Guggenheim Museum, designed by Frank Gehry and is well-known around the world.
In Bilbao, you can visit the charming lanes of Casco Viejo, which is an area that is full of historic buildings and vibrant bars.  In this location, there is also a fine arts museum you should look into as well as pop on over to the Mercado de la Ribera, which is a buzzing market full of all kinds of goodies.  In order to explore the various types of food this region has to offer, make sure you pop over to the traditional Basque pintxos, which offer something similar to the Spanish Tapa.  For a bit of a more upscale experience, you should choose a chic modern restaurant for an innovative take on Basque cuisine. it is the most important Basque Country Itinerary.
Day 3 and Day 4: San Sebastian (Donostia)
Next, move on to San Sebastian, a picturesque fishing port known for its amazing food.  Donostia actually has the highest concentration of Michelin Star Restaurants in Europe., and who doesn't love amazing food?  While you are here you should also take some time to relax on the sandy stretch of La Concha Beach, and/or take a walk through the Parte Vieja, also known as Old Town.
Another highly sought out activity you should take in is to hike up Mount Igueldo for sweeping views of the city and the bay.  Enjoying the birds-eye view along with a picnic is always good for the soul. 
Another fun experience to take in f you have the time is the San Sebastian Aquarium.   
Day 5: Small Town Gems: Hondarribia and Guernica
So, you've made it to Day 5 in this region.  Hop in your car and bounce on over to the cities of Hondarribia and Guernica. Hondarribia is a beautiful city that has a colorful marina and a charming old town filled with well-preserved medieval buildings.
Guernica, on the other hand, offers something a bit different.  It is famously known for displaying one of Picasso's famous paintings.  This city also houses the Peace Museum, which depicts its history and the resilience of its people. Lastly, don't forget to wander over to the symbolic Oak Tree to take a look while you are there, as this is a significant Basque symbol.
Day 6 and Day 7: French Basque Country: Bayonne and Biarritz
On days 6 and 7, you should cross the border to the French side of the Basque Country Itinerary to visit Bayonne and Biarritz.  Bayonne is an enchanting city, with its half-timbered houses and narrow streets. Oh, and while you're here, don't miss out on the famous Bayonne chocolate—it's mighty tasty and can be found throughout the city.
Once you're done feeding your face with chocolate, or at least taking a break, head on over to Biarritz.  Biarritz is a glamorous seaside resort city that boasts beautiful beaches and a thriving surfing culture.  
Why Visit the Basque Country?
The Basque Country region in Spain is an enchanting blend of stunning landscapes, fostering age-old traditions blended with dynamic modernism, a beautiful mix of the past and the present.  Gastronomes also are well-known in this region and boast a reputation as a foodie paradise.  This region offers everything from rustic pintxos bars to Michelin-starred dining experiences. Also, its distinct language, Euskara, predates many European languages and offers an enchanting sound that flows off the locals' tongues.
Additionally, this region offers festivals, adrenaline-filled outdoor activities, and breathtakingly beautiful coasts.  This area consists of mountainous landscapes which further elevate the region's charm. It's a destination that promises to cater to every traveler's desire.
What is The Best Season to Visit the Basque Country?
The best time to visit the Basque Country largely depends on your personal preferences and interests. With that being said, late spring (May-June) and early fall (September -October) are considered the most favorable periods.
Here's why these seasons stand out:
Late Spring (May-June): The weather during late spring is typically mild and pleasant, with fewer crowds than in the peak summer months. The region's landscapes are vibrant and lush, making it an excellent time for outdoor activities such as hiking and sightseeing. It's also a wonderful time to enjoy the local festivals and events that take place during this time.
Early Fall (September-October): Early fall offers comfortable temperatures and fewer tourists. The ocean is still warm enough for swimming or surfing without the temps outside being miserably hot.  Additionally, you'll find a wide variety of events and food festivals, such as the San Sebastian International Film Festival and the wonderful cider season.
The summer months (July and August) are also a great time to visit, especially for beach lovers, as the temps are very hot.   Usually, the summer months are the busiest in terms of tourism, so it's advisable to book accommodation in advance if you plan to travel during the summer months, even if you are traveling solo. you need to know the basics of the Basque Country Itinerary. Additionally, if you rent a car, finding a place to park can be tricky in the major cities of San Sebastien or Bilbao.  Definitely talk to the people at the hotel or your hosts to ensure there is plenty of parking or determine the appropriate strategy for hiring a car.
The winter months are relatively mild in Basque Country compared to other parts of Europe.  Snow is rare in these areas, and it's the perfect time to visit to avoid crowds.   While it's always a great thing to avoid crowds, just be aware that you may have to battle the rainy and chilly weather.  While in the cities you are generally safe from snow, you can find those fun winter sports in the mountains if that's your preference.
No matter what the season is though, Basque Country Itinerary is important to know and it is renowned for its food, so no matter when you visit, make sure to enjoy the local cuisine.  From pintxos bars to Michelin-starred restaurants, you'll find plenty of goodies to consume.
How to Get to and Around the Basque Country as a Solo Traveler?
You can start off your trip to this region by hopping an international or domestic flight into either Bilbao or Biarritz.  Additionally, there are many direct trains and buses from Spanish and French cities that also connect through this region. Once you arrive in Basque Country, you will find a well-connected public transport system, in addition to a variety of rental car services available to make moving around the region effortlessly.
The most efficient way to get around in this country is Trains and buses.  They are set up to run between major cities and towns and offer an inexpensive way to travel.  Additionally, while you are there, biking and walking are also great ways to explore urban areas – especially if you are alone.  One of my favorite things to do is to walk, as it offers the ability to really get into and understand a particular community.
My Advice: you should follow my Basque Country Itinerary tips. If your budget allows, once you land, if you can rent a small car, you can see some or all of the sights suggested below. You can rent a car for as little as $40 a day and explore a much larger area.  While you are in town though, I highly recommend that you grab a local train as the systems are set up so well and you won't have to worry about always finding a parking space.  This way you can dig in, but you can also explore a large portion of the Basque coast.
Outdoor Activities in Basque Country
If you're all about adventure, this is an area that is ready for you. Basque Country offers excellent hiking opportunities, with trails running through natural parks like Urkiola and Aiako Harria.
Basque Country Itinerary also offers a ton of amazing surfing beaches for your water pleasure.  If you are into surfing or would like to give it a try, the beaches around San Sebastian and Biarritz have great waves year-round. If you do travel to this area, just be mindful of the intense sun in summer.  Here, it doesn't take long to get a burn that you'll spend the next week agonizing over.  So, make sure you stock up on sunscreen and wear a surf hat to avoid getting frazzled.  If you are traveling on your own, it's easy enough to book a private surf lesson or go with a bigger group and make some lifelong connections along the way.
If you'd like to try something a bit out of the ordinary by the way of sports, you should take in a traditional Basque game – Pelota.
Basque Festivals and Events
Now that you know a bit about the Basque Country Itinerary and the adventure that awaits you, let's make sure you are fully covered with this region's festivals.  The area boasts such a vibrant culture which is certainly reflected in its numerous festivals.  The locals love a party, so why not join in?  
A few of these parties include the San Sebastian Film Festiva and the Semana Grande in Bilbao.  This festival is filled with music and fireworks, there's always something to celebrate.  So, what's the best part of every festival?  The food of course! So, let's check that out next Basque Country Itinerary. 
5 Basque Foods Not To Be Missed
Pintxos
Perhaps the most iconic of Basque foods, pintxos are similar to tapas but with a Basque twist. They are beautifully crafted small bites served atop slices of baguette.  Pintxos can range from simple combinations like anchovy and pepper (yes, that's one of the favorites) to intricate culinary creations involving seared foie gras or local Idiazabal cheese. Exploring pintxos bars, hopping from one to another, is a quintessential Basque Country Itinerary experience you can't miss.
Bacalao a la Vizcaína
This is a traditional Basque dish that showcases the region's love for seafood. Bacalao, or salted cod, is slowly cooked in a rich and vibrant red sauce made from choristers peppers, onions, and garlic. The result is a deeply flavored, savory dish where the tender flakes of cod beautifully meld with the spicy-sweet pepper sauce.
Marmitako
Originally a fisherman's stew, Marmitako is hearty and warming. It's made with bonito tuna, potatoes, onions, peppers, and tomatoes. The name 'Marmitako' comes from 'marmita,' the pot in which it is cooked. This humble stew has bold, comforting flavors that reflect the region's maritime roots.
Txuleta
For meat lovers, Txuleta is a must-try. It's a large, bone-in ribeye steak, often served rare to medium-rare, seasoned only with sea salt to let the quality of the meat shine through. This dish is a staple in Basque cider houses, and it's traditionally served alongside a simple green salad and plenty of local cider.
Gâteau Basque
This sweet treat from the French Basque Country Itinerary rounds off our list. Gâteau Basque is a filled cake, with a buttery, tender crust enveloping a center of either black cherry jam or vanilla-infused pastry cream. This classic dessert strikes the perfect balance between sweet and tart, making it the perfect end to a Basque meal.
Travel Tips When Visiting Basque Country
In this region, you'll be happy to know that when you visit this area, you'll have a variety of language choices.  While they do have their own dialect, they speak Spanish and French, and you'll find that English is commonly spoken. In this area, it is important to know that the Euro is the local currency, and tipping is customary in restaurants and cafes. The one issue that you may find in this area, which is common in Europe is that local restaurants and bars like to only use cash.  I found this very common in Portugal as well.  So, try to keep a stash with you at all times for those moments when you need a cool izozkia (ice cream in Basque) or a frothy coffee.
One other important Basque Country Itinerary tip to note is that particularly in high season, make sure to keep an eye on your possessions.  Petty crime is a thing here, so try not to bring or wear expensive items that could make you an easy target.
Final Thoughts
From world-class art and cuisine to untouched natural beauty and vibrant traditions, the Basque Country is a destination like no other.
Immerse yourself in the region's unique cultural tapestry and discover the rich heritage and warm hospitality of the Basque people – you never know, you might not want to leave!  And don't forget to Travel Till You Drop!
About the author:
Matt Hapgood is a father, surfer, and entrepreneur. He has worn many hats in his career, from being a removal guy in Vancouver to teaching elementary kids in the UK, as well as a parking valet in the French Alps. He's the founder and main contributor to MattHapgood.com and is currently living in the Algarve, Portugal.
Book Your Trip : Check Out My Resources for Your Travel Needs
Use Skyscanner to find a cheap flight.  This is my very first stop when I'm looking for my next trip. It's a fast, easy-to-use search engine that is perfect for finding an affordable flight, a perfect hotel, and the right rental car for you in locations around the globe.
Book Your Accommodation
If you are looking for a super budget friendly location and are open to a hostel stay, make sure you book your hostel with Hostelworld. It offers the broadest range of quality hostels around the world. 
If you'd prefer a hotel or a guesthouse for stays less than 28 days, drop on over to Booking.com It's perfect for providing excellent options, a ton of user reviews, and prices to fit every budget.
For stays over 28 days, AirBnB still remains my #1 choice. User reviews and monthly pricing allow for some incredible deals all around the world.
Don't Forget Travel Insurance
Travel insurance is but a small up-front investment that you won't want to leave home without. After just one experience of having to delay or cancel your trip or having your luggage stolen, you'll wish you would have made that investment.  I've hated my life a few times when the moment arose, and I decided to skip out.  Let's just say, I've changed my ways and recommend each of the following companies to protect your ass-ets.
My favorite companies are:         
Want to Travel for Free?
Travel credit cards allow you to earn points that can be redeemed for free flights and accommodation — all without any extra spending. Check out my guide to getting free flights to get started.
Ready to Book Your Trip?
Check out my Resource Page for the best companies to help you book your travel at reduced rates!  This list will help you get to where you're going.  I know-I use them ALL the time!