Double Stroller
So, you've got not one, but two tiny humans to ferry around on your travels? Well, aren't you lucky? Or a glutton for punishment. Either way, we've been navigating the tricky terrain of parenting and travel for over five years. When it comes to double strollers, we fancy ourselves quite the experts."Selecting the right stroller is like choosing the right wine. It's all about the perfect pairing," says world-renowned child mobility expert Dr Patricia Strollington. And who are we to argue?
Dive into our double stroller reviews – it's the stuff of legends (and nightmares for those who chose the wrong one).
Introduction: If you're into keeping it light and eco-friendly, you might fall in love. And no, we're not introducing you to your next date. We're talking about the Century Stroll on Duo.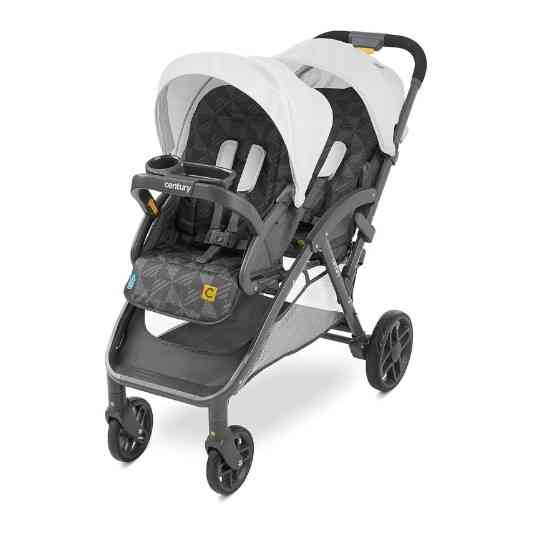 Features:
Ultra-lightweight at under 24 lb. No need to skip the gym; this is your workout.

Part of the HAPPY PLANET COLLECTION. Because the Earth needs love, too.

One-hand, self-standing, compact fold. Trust us, you'll appreciate this after juggling two tired toddlers.

Adapters for a Carry On 35 Lightweight Infant Car Seat. Because… options.

The back seat reclines into a flat infant bassinet. Naptime? Sorted.
Pros:
Eco-friendly. Your little ones will thank you for the fresh air in the future.

Ultra-lightweight.

It can transform into a travel system.
Cons:
If you aren't into recycling, the eco-friendly appeal might be lost on you.
Conclusion: This is the Tesla of strollers – sleek, lightweight, and eco-friendly. Elon, is that you?
Introduction: The DuoGlider is the sensible minivan of the stroller world. It's got all the bells and whistles and is as dependable as that old family recipe you love.
Features:
Tandem seating for two kids, up to 40 pounds each. That's a lot of diapers.

One hand, standing fold. For those times, you're holding a latte in the other.

Double reclining seats with individual canopies. Because no one likes sharing.

Lockable front swivel wheels. It's like the ABS of strollers.

Parent's tray with storage. Let's face it, you'll need that extra coffee.
Pros:
Holds two Graco Snug Ride Click Connect infant car seats.

Easy access storage basket.

Individual canopy and footrest for each kiddo.
Cons:
It might make you feel like you're driving a bus. Beep beep!
Conclusion: Reliable and full of features, this is the comfort food of strollers. Your kiddos will be riding in style.
Introduction: Have you ever wanted a stroller that's as adaptable as your mood swings? Say hello to the Ready2Grow LX 2.0.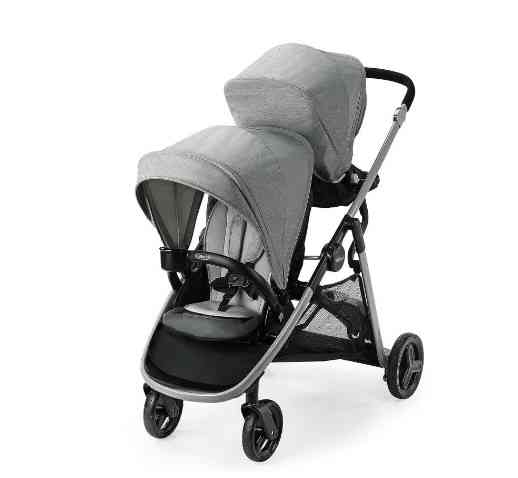 Features:
It rides like a double and folds like a single. It's magic.

Two stroller seats, a bench seat, AND a standing platform. It's like a playground on wheels.

Close-to-you rear hub for those clingy toddler days.

Compatible with all Graco infant car seats. Brand loyalty, anyone?
Pros:
Multiple seating options for every toddler's whim.

Folds compactly for a double stroller.
Cons:
It might require a manual to understand all seating configurations.
Conclusion: It's the Swiss Army knife of strollers. Be prepared for any toddler tantrum or triumph.
4. Baby Trend Expedition Double Jogger Stroller, Griffin
Introduction: For the parents who promised themselves they'd stay fit post-babies. We salute you.
Features:
Quick-release wheels. Because sometimes you want to let loose.

Lockable front swivel wheel. Safety first, folks.

Ratcheting shade canopy with peek-a-boo window. Because playing peek-a-boo never gets old.
Pros:
Great for jogging parents.

Peek-a-boo window for endless entertainment.
Cons:
It could be too sporty for some. Not everyone's running marathons, Karen.
Conclusion: A sporty choice for the active parent. It's like a gym membership on wheels.
Introduction: Ever wanted to drive a Jeep but ended up with toddlers instead? This might be your closest bet.
Features:
Each seat holds up to 40 pounds. That's 80 pounds of pure chaos.

Pop-out SPF 50 sun visors. For your little sunshine.

7-inch swivel lock front wheels. For when you're feeling adventurous.

Fits through standard 30-inch doorways. A miracle in itself.
Pros:
Lightweight and durable with an aluminum frame.

Independent, multi-position reclining seats. Naptime just got an upgrade.
Cons:
May invoke jealousy in other parents.
Ah, the double stroller. The minivan of the baby world. The chariot carries your two bundles of joy… or chaos. If you're considering traveling with these bad boys, you've come to the right place. We've seen, tried, and spilled some coffee on most double strollers. With over five years in this baby-rearing biz, we've got the inside scoop for you. So, let's dive deep and check out these rad strollers.
6. Joovy Caboose Too Sit and Stand Double Stroller (Black)
Introduction: Ever wanted a stroller that screams, "I'm fun, but I'm also functional"? Enter Joovy Caboose!
Features:
REACH BENCH AND STANDING PLATFORM. Freedom for big kids? Check.

UNIVERSAL CAR SEAT ADAPTER. No need to splurge on a new stroller.

3-WAY RECLINING SEATS. Because naptime is sacred.

90LB WEIGHT CAPACITY. That's like two giant dogs.

UNDER-SEAT STORAGE. Because we all need room for snacks.

FOUR-WHEEL SUSPENSION. Smooth rides? Yes, please!

EASY-TAP BRAKES. Because safety comes first, duh.
Pros:
Versatility at its best

Sturdy and durable

Storage galore!
Cons:
Some might find it bulkier than other models.
Conclusion:
The Joovy Caboose strikes a balance between fun and function. It's the Swiss Army knife of double strollers.
Introduction: For the parents who want to jog but also want to, well, parent. BOB's got you!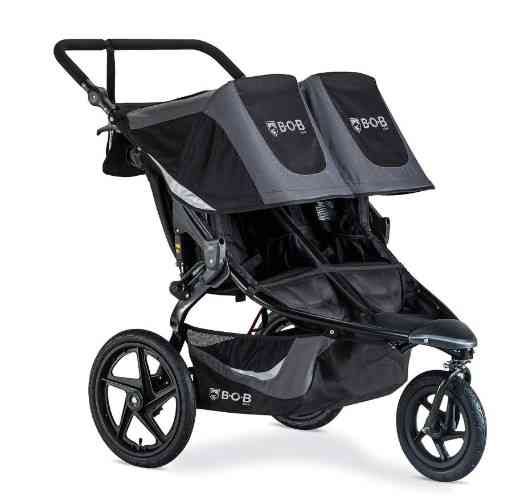 Features:
Smooth ride with SUSPENSION SYSTEM & AIR-FILLED TIRES.

ADJUSTABLE HANDLEBAR. One size doesn't fit all, after all.

10 STORAGE POCKETS. You can never have too many pockets!

Ready for a TRAVEL SYSTEM.
Pros:
Ultra-smooth ride

Tons of storage

Durable
Cons:
Conclusion: Jogging with two kids has always been more stylish and smoother.
Introduction: The Kolcraft Cloud Plus offers a duo of delight in its side-by-side design. Perfect for parents on the go, this stroller seamlessly combines convenience with safety.
Features:
SIDE BY SIDE LIGHTWEIGHT DESIGN. Ideal for travels, weighing only 23 lbs.

LARGE SUN CANOPY with three-tier protection and peek-a-boo window.

RECLINING SEAT with a 5-point safety restraint system. Supports up to 80 kg in total.

EXTRA STORAGE with a parent tray, removable child trays, and ample storage baskets.

EASY STANDING FOLD for quick storage and transport.
Pros:
Easily navigates standard doorways.

Ample storage for all essentials.

Sun protection with a view.
Cons:
The seat does not recline completely flat.
Conclusion: Kolcraft Cloud Plus is perfect for those sunny day strolls. With ample storage and protection, your children will easily ride comfortably while you maneuver.
Introduction: The Evenflo Pivot Xplore is where a stroller's functionality meets a wagon's coolness. Perfect for adventurous families who like options.
Features:
PUSH OR PULL HANDLE. Adapt your ride with a quick flip.

ALL-TERRAIN WHEELS for versatility in travel.

UPF 50+ CANOPIES protect against harmful sun rays.

SPACIOUS STORAGE. Easy access and rotates when seating one child.

GROWTH POTENTIAL. It fits two kids, from 6 months to 5 years, holding up to 55 lb per seat.
Pros:
Highly adaptable design.

Works on various terrains.

Sun protection and spacious storage.
Cons:
Some may find it bulkier than traditional strollers.
Conclusion: The Evenflo Pivot Xplore is a top contender if you want flexibility in your child-carrying gear. It provides comfort and adaptability, ensuring every trip is smooth.
Introduction: This stroller is a game-changer for those who like to mix things up.
Features:
Compatible with MOST MAJOR BRANDS of infant car seats.

The front seat holds up to 40 lbs, and the jump seat up to 60 lbs.

5-POINT CHILD RESTRAINT SAFETY HARNESS.

DURABLE STEEL FRAME. This stroller is built like a tank.

Soft and luxurious polyester fabric with polyester fill. Talk about riding in style!
Pros:
Highly adaptable

Comfortable for kiddos

Super durable
Cons:
It might be on the heavier side for some
Conclusion: The Jeep of strollers. Adventure awaits!
The Baby Trend Sit N' Stand is an excellent pick if you're looking for flexibility and durability.
As famed stroller enthusiast Charles Babington once said, "A journey is best measured in friends, rather than miles – unless you have a double stroller, then it's measured in comfort and convenience." So, grab one of these magnificent contraptions, pack your munchkins, and embark on your next adventure. Safe travels, and no matter where you go, always remember to Travel Till You Drop!