Norway, a Scandinavian gem renowned for its breathtaking landscapes, is a destination that beckons travelers all year round. However, understanding the intricacies of each season can be the key to unlocking an unforgettable Norwegian experience.
In this comprehensive guide, we will delve into the nuances of Norway's seasons, helping you make an informed choice for your next adventure. also, we will explore the best time to visit Norway and what you can expect during each season.
Best Time to Visit Norway – Seasons
Norway has four distinct seasons: summer, autumn, winter, and spring. The climate varies significantly from north to south, with the northern part of the country experiencing colder temperatures than the south.
Summer in Norway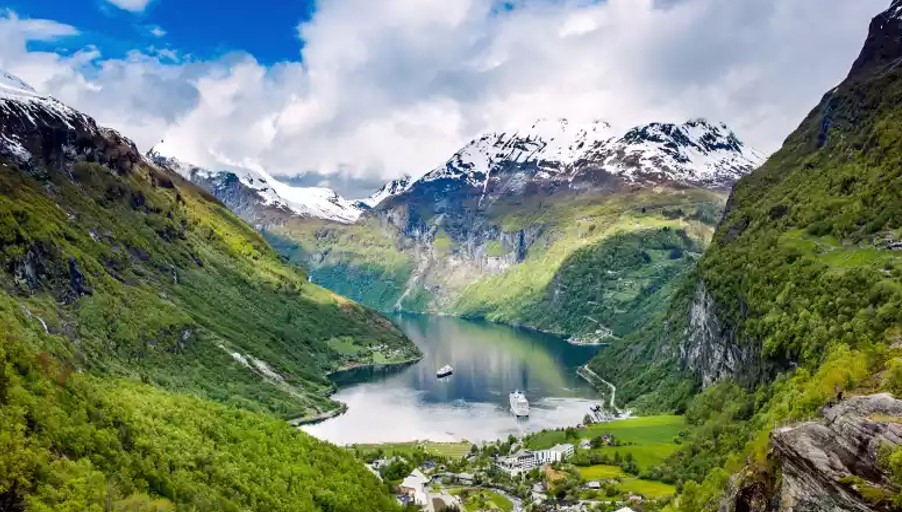 As the summer sun graces Norway with its warm embrace, the country transforms into a mesmerizing land of enchantment. The allure of this season is irresistible, drawing travelers from all corners of the globe to experience its unique wonders.
Weather: Norway's summer is characterized by mild temperatures, typically ranging from 15°C to 25°C (59°F to 77°F). However, it's essential to note that frequent rain showers can be expected, so it's wise to have a trusty raincoat on hand to fully enjoy your outdoor adventures.
Outdoor Activities: Norway's vast and pristine national parks, along with its scenic hiking trails, beckon adventure enthusiasts. This is the perfect time for hiking, cycling, and fishing, with the added bonus of daylight stretching for nearly 24 hours in the northern reaches of the country. Imagine embarking on a midnight hike under the soft glow of the midnight sun, an experience that is nothing short of magical.
Festivals and Events: Beyond its natural wonders, summer is also a season of celebration in Norway. The world-renowned Bergen International Festival takes place in May and June, offering a rich tapestry of music, theater, and dance performances that captivate the senses. 
Other notable festivals include the Oslo Jazz Festival and the lively Stavernfestivalen Music Festival, making summer in Norway a time of cultural immersion and vibrant festivities. So, if you want to choose the best time to visit Norway for a hot and rainy vacation, you can select the summer season.
Autumn in Norway
When summer gracefully yields to autumn, Norway undergoes a breathtaking transformation, donning a vibrant cloak of reds, yellows, and oranges. The country becomes a canvas painted by nature itself, offering a visual spectacle that rivals any work of art.
Weather: Autumn in Norway brings milder temperatures ranging from 5°C to 15°C (41°F to 59°F). While the beauty of autumn unfolds, it's essential to keep in mind that rain showers continue to grace the landscape, so packing waterproof gear is advisable.
Foliage: Late September and early October are the prime months for witnessing the breathtaking transformation of Norway's foliage. The lush greenery of summer gives way to a riot of colors as the leaves transition into hues of red and gold. Exploring the countryside during this season is akin to stepping into a living, breathing painting.
Outdoor Activities: With cooler temperatures and nature's vibrant palette as your backdrop, autumn is the ideal season for exploring Norway's national parks and forests. Hiking and cycling in this season become immersive experiences in the artistry of nature, with each trail offering a new masterpiece to discover.
So, if you want to choose the best time to visit Norway for an Autumn vacation, you can select the Autumn season.
Winter in Norway – A Snowy Wonderland
Norway's winter is a fairy tale brought to life, where snow blankets the land, and the skies light up with the mesmerizing Northern Lights. This season offers a unique and magical experience for those who seek the charm of a winter wonderland.
Weather: Prepare for the chill as winter temperatures range from -6°C to 3°C (21°F to 37°F). Layering up with warm clothing is essential to stay comfortable while exploring Norway's snowy landscapes.
Northern Lights: Winter is the best time to visit Norway to see the Northern Lights. One of the most sought-after winter experiences in Norway is witnessing the Northern Lights, also known as the Aurora Borealis. 
From late September to early April, these ethereal lights dance in the northern skies, creating a celestial spectacle that is nothing short of awe-inspiring. To maximize your chances of seeing this natural wonder, head to the northern regions of the country, where the displays are the most dazzling
Skiing and Snowboarding: For winter sports enthusiasts, Norway boasts world-class ski resorts and facilities. The skiing and snowboarding season typically runs from November to April, offering a wide range of slopes and terrains for all levels of experience. Whether you're a novice or an expert, Norway's ski destinations have something to offer everyone.
Christmas Markets: Norway's Christmas markets add an extra layer of magic to the winter season. Open from late November until Christmas Eve, these markets create a heartwarming and festive atmosphere.
Wander through stalls adorned with twinkling lights and decorations, and savor delicious Norwegian treats such as gingerbread cookies and gløgg (mulled wine). It's a time when Norway truly embraces the spirit of the season.
So, if you want to choose the best time to travel to Norway for a cold winter vacation, you can select the winter season to visit here.
Related Post: Explore the Natural Beauty of Norway
Spring in Norway – A Season of Renewal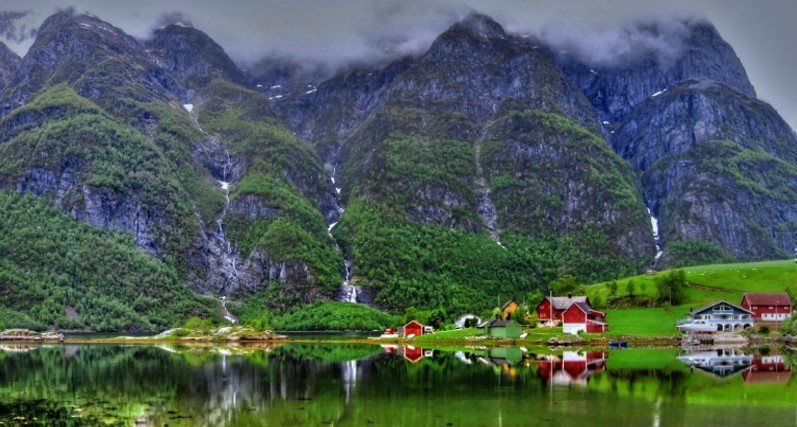 As winter's grip loosens and the days grow longer, spring graces Norway with wildflowers, a sense of renewal, and a promise of brighter days ahead. This season invites you to witness the country's natural wonders in a new light.
Weather: Spring in Norway brings mild temperatures ranging from 5°C to 15°C (41°F to 59°F). While it's relatively mild, layering clothing is still advisable, as the weather can be unpredictable.
Wildflowers: Spring is the best time to visit Norway's wildflowers. Spring in Norway is synonymous with the bloom of wildflowers. Forests and meadows burst to life with a colorful tapestry of blossoms such as bluebells, crocuses, and daffodils. The sight and scent of these flowers create a truly immersive experience in nature's renewal.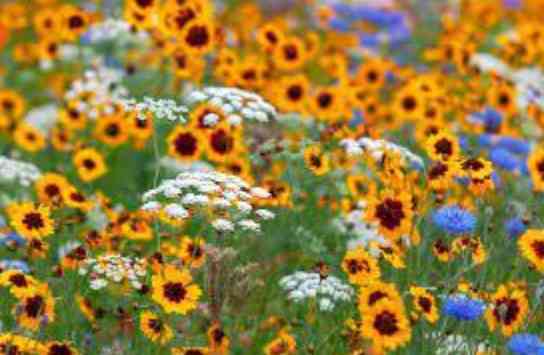 Outdoor Activities: Longer days and milder weather make spring an excellent time for outdoor activities like hiking and cycling. Exploring Norway's captivating landscapes during this season allows you to witness the natural world awakening from its winter slumber.
Each outing becomes a journey through fields of wildflowers and forests that echo with the songs of returning birds, offering a sense of rejuvenation and tranquility.
Conclusion – Crafting Your Norwegian Odyssey
Norway is a beautiful country that offers visitors the opportunity to enjoy outdoor activities all year round. so when is The best time to visit Norway? it depends on your interests and what you want to experience. If you're looking for mild temperatures and long days, summer is the perfect time to visit. Autumn is a great time to see the fall foliage, while winter is ideal for skiing and snowboarding and seeing the Northern Lights. Spring is the best time to visit Norway's wildflowers and enjoy outdoor activities in mild weather.
FAQs
Q: What is the best time to see the Northern Lights in Norway?
A: The best time to witness the Northern Lights in Norway is from late September to early April.
Q: Is Norway very cold in the winter?
A: Yes, Norway experiences cold temperatures in winter, with average temperatures ranging from -6°C to 3°C (21°F to 37°F).
Q: What is the weather like in Norway during the summer?
A: Norway experiences mild summer weather with average temperatures ranging from 15°C to 25°C (59°F to 77°F).
Q: What is the Bergen International Festival?
A: The Bergen International Festival is a prestigious cultural event that takes place in Bergen during May and June. It showcases a diverse range of music, theater, and dance performances.
Q: What are Norway's Christmas markets like?
A: Norway's Christmas markets are a festive wonderland featuring dazzling lights, enchanting decorations, and a delightful array of Norwegian treats. These markets typically open from late November until Christmas Eve, creating a joyful and cozy atmosphere for visitors.
Book Your Trip To Norway: Check Out My Resources for Your Travel Needs
Use Skyscanner to find a cheap flight.  This is my very first stop when I'm looking for my next trip. It's a fast, easy-to-use search engine that is perfect for finding an affordable flight, a perfect hotel, and the right rental car for you in locations around the globe.
Book Your Accommodation
If you are looking for a super budget friendly location and are open to a hostel stay, make sure you book your hostel with Hostelworld. It offers the broadest range of quality hostels around the world. 
If you'd prefer a hotel or a guesthouse for stays less than 28 days, drop on over to Booking.com It's perfect for providing excellent options, a ton of user reviews, and prices to fit every budget.
For stays over 28 days, AirBnB still remains my #1 choice. User reviews and monthly pricing allow for some incredible deals all around the world.
Don't Forget Travel Insurance
Travel insurance is but a small up-front investment that you won't want to leave home without. After just one experience of having to delay or cancel your trip or having your luggage stolen, you'll wish you would have made that investment.  I've hated my life a few times when the moment arose, and I decided to skip out.  Let's just say, I've changed my ways and recommend each of the following companies to protect your ass-ets.
My favorite companies are:         
Want to Travel for Free?
Travel credit cards allow you to earn points that can be redeemed for free flights and accommodation — all without any extra spending. Check out my guide to getting free flights to get started.
Ready to Book Your Trip?
Check out my Resource Page for the best companies to help you book your travel at reduced rates!  This list will help you get to where you're going.  I know-I use them ALL the time!