The Midwest is known for its hearty cuisine and down-to-earth culture, but sometimes we all crave a change of scenery, don't we? If you're a Midwesterner looking for a thrilling and exotic escape, the Florida Keys and Key West might be your ideal destination. These sun-kissed islands offer more than just pristine beaches and crystal-clear waters; they serve up a tantalizing seafood experience and world-class fishing adventures. In this post, we'll take you on a journey to this tropical paradise and explore two essential aspects of your visit: the delectable seafood, with a focus on the famous stone crabs, and the incredible fishing opportunities, including fishing charters. Let's dive right in!
Savoring the Seafood Delights: Stone Crabs and More
The Florida Keys are a seafood lover's dream come true, and one of the local specialties that you simply can't miss is the delectable stone crab.
The Stone Crab Extravaganza
Stone crab is the crown jewel of Florida Keys' seafood, and the season for these sweet, succulent delights typically runs from October to May. They're renowned for their tender meat and unique harvesting method, which emphasizes sustainability.
When dining on stone crab claws, you'll be presented with a unique challenge – cracking the hard shell to reveal the luscious meat inside. But the effort is well worth it. These claws are served chilled and often accompanied by a zesty mustard-based dipping sauce. The sweet, firm flesh of stone crab claws is a true delicacy, making them a must-try for seafood enthusiasts.
Seafood Restaurants to Satisfy Your Cravings
To sample this delectable delicacy and other local seafood offerings, here are a few top seafood restaurants in the Florida Keys and Key West:
Key West's Half Shell Raw Bar: This laid-back spot offers freshly shucked oysters and, of course, stone crab claws. You can enjoy your meal al fresco while savoring the waterfront views.
Lazy Days Restaurant (Islamorada): Lazy Days serves up a diverse seafood menu with a charming beachside ambiance. Try their stone crab appetizer or opt for the signature Lazy Days Seafood Trio, a plate of Florida lobster tail, jumbo shrimp, and tender scallops.
Conch Republic Seafood Company (Key West): This iconic restaurant is all about celebrating the flavors of Key West. Their stone crab offerings are a standout, and you can pair them with a range of Caribbean-inspired dishes.
The Fish House (Key Largo): For a more casual experience, The Fish House is a popular choice. It boasts a seafood market where you can select your catch of the day. They'll prepare it to your liking and serve it with a view of the marina.
Exploring Florida's Local Seafood Markets
If you're feeling adventurous, consider visiting one of the local seafood markets to pick up your own stone crabs and other fresh catches. You can prepare a seafood feast in your vacation rental or have a barbecue by the beach, creating an unforgettable dining experience.
Reeling in the Adventure: Fishing Charters in Paradise
Now that we've whet your appetite with the promise of mouthwatering seafood, let's switch gears and dive into the fantastic world of fishing in the Florida Keys.
The Ultimate Fishing Playground
The Florida Keys are renowned for being a world-class fishing destination. With its diverse marine life, from the shallows to the deep sea, you'll find something to satisfy every angler's dreams. From bonefish and tarpon to snapper, grouper, and the mighty sailfish, the Florida Keys offer a vast spectrum of fishing opportunities.
Fishing Charters: Your Gateway to the Deep Blue
One of the best ways to experience the rich fishing opportunities in the Keys is by booking a fishing charter. These charters offer a tailored fishing experience, whether you're a novice or a seasoned angler. They provide the knowledge, equipment, and expertise to ensure you have a successful day on the water.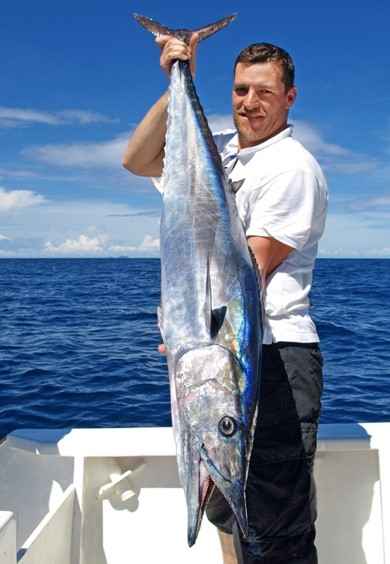 Here are a few popular fishing charters to consider:
Cowboy Cow Charters (Key West): Known for their friendly and experienced crew, Cowboy Cow Charters specializes in big game fishing. They'll take you on the adventure of a lifetime, hunting for marlin, sailfish, and other trophy fish.
Robbie's of Islamorada: Offering a wide variety of charters and guides, Robbie's has something for everyone. Whether you're interested in backcountry fishing, reef fishing, or offshore excursions, they have you covered.
Captain Hook's Marina & Dive Center (Marathon): This full-service marina offers fishing charters, complete with knowledgeable captains and well-maintained vessels. They cater to both novice and experienced anglers, making it a great choice for families.
Fishing Key West (Key West): Specializing in light tackle and fly fishing, this charter company is perfect for those looking to explore the shallower waters of the Keys. It's a great way to target species like bonefish and tarpon.
Catch and Release: Sustainability Matters
While enjoying your fishing adventures, remember the importance of sustainability. Many charters in the Florida Keys follow responsible catch-and-release practices to preserve the local fish populations. It ensures that future generations of anglers will have the same opportunities to experience the thrill of fishing in this paradise.
Conclusion: A Taste of Paradise for Midwesterners
The Florida Keys and Key West offer a perfect escape for Midwesterners seeking a taste of paradise. From the mouthwatering delights of stone crab to the world-class fishing charters that cater to all levels of experience, these islands have something for every traveler.
So, if you're longing for a change of scenery, pack your bags, head to the Florida Keys, and prepare to savor the flavors of the sea and the thrill of the catch. It's a journey that promises to leave you with unforgettable memories and a longing to return to this tropical oasis again and again. always remember travel till you drop
Book Your Trip : Check Out My Resources for Your Travel Needs
Use Skyscanner to find a cheap flight.  This is my very first stop when I'm looking for my next trip. It's a fast, easy-to-use search engine that is perfect for finding an affordable flight, a perfect hotel, and the right rental car for you in locations around the globe.
Book Your Accommodation
If you are looking for a super budget friendly location and are open to a hostel stay, make sure you book your hostel with Hostelworld. It offers the broadest range of quality hostels around the world. 
If you'd prefer a hotel or a guesthouse for stays less than 28 days, drop on over to Booking.com It's perfect for providing excellent options, a ton of user reviews, and prices to fit every budget.
For stays over 28 days, AirBnB still remains my #1 choice. User reviews and monthly pricing allow for some incredible deals all around the world.
Don't Forget Travel Insurance
Travel insurance is but a small up-front investment that you won't want to leave home without. After just one experience of having to delay or cancel your trip or having your luggage stolen, you'll wish you would have made that investment.  I've hated my life a few times when the moment arose, and I decided to skip out.  Let's just say, I've changed my ways and recommend each of the following companies to protect your ass-ets.
My favorite companies are:         
Want to Travel for Free?
Travel credit cards allow you to earn points that can be redeemed for free flights and accommodation — all without any extra spending. Check out my guide to getting free flights to get started.
Ready to Book Your Trip?
Check out my Resource Page for the best companies to help you book your travel at reduced rates!  This list will help you get to where you're going.  I know-I use them ALL the time!