Alright, ladies, let's talk camping! Now, I know what you might be thinking – camping is all bugs, dirt, and survival skills, right? Well, hold on to your fancy hiking boots because we're about to flip the script! Camping is one hell of a fantastic outdoor activity for us fearless women; let me tell you why. Oh, and don't forget, having the right gear is an absolute must if you want to conquer the great outdoors like a true badass.
First things first, camping gets you out of your comfort zone (and oh, how we love that). It's an opportunity to disconnect from the chaos of the city and reconnect with nature. Picture this: waking up to the sweet sound of chirping birds instead of your alarm clock. Sigh, isn't that the dream?
But wait, there's more! Camping offers a sense of freedom that will make you feel like the queen of the wild. No hotel reservations, no tour guides telling you what to do – just you and Mother Nature in all her breathtaking glory. So, pack your adventurous spirit (and maybe a sturdy tent or two) because we're diving headfirst into the ultimate camping experience.
Shelter and Sleeping Essentials:
Tents, Sleeping Bags, Sleeping Pads, and Pillows – Because a Queen Deserves Her Throne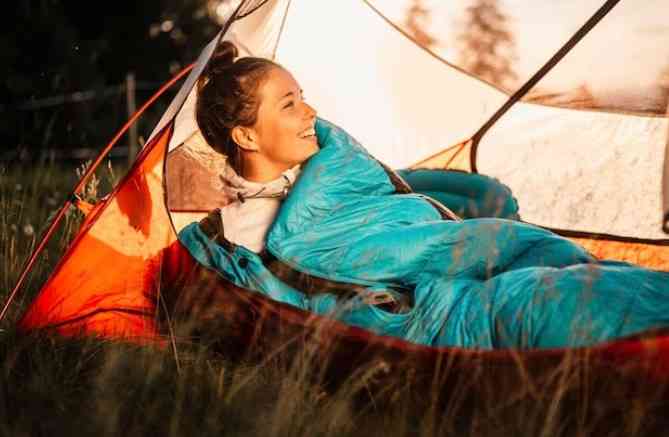 Alright, my fellow queens of the wild, let's talk shelter and sleeping essentials! Because if you're going to conquer the wilderness, you better do it in style and comfort. No rickety tents or lumpy sleeping bags here – we're on a mission to find the best gear that will make you feel like the fearless wanderer you truly are.
Tents
Ladies, let's talk about tents – because, let's be real, not all tents are created equal, and some features can make your camping experience more comfortable and enjoyable. While tents are typically not gender-specific, there are some factors to consider when selecting a tent that can make a difference.
Size and Space: When it comes to tents, bigger is usually better. Look for a tent that provides enough space, and extra headroom can be a game-changer for changing clothes comfortably, especially if you're taller or just need more personal space (#independentwoman). So, don't settle for a cramped tent, and make sure it fits your needs, ladies.
Vestibules: We love gear almost as much as we love adventure, but let's not drag it all into the sleeping area where we're trying to get our beauty sleep on. Tents with vestibules or gear storage areas are like a dream come true. They allow you to store muddy or wet gear and boots outside of the sleeping area so you can keep the interior clean and dry.
Ventilation: Ventilation is key when it comes to tents. Look for a tent with multiple vents and mesh panels to promote airflow because, let's face it – nobody wants to wake up in a sauna. This is especially important for managing humidity during hot weather, which can be uncomfortable for women. Ventilation makes all the difference, ladies. Breathe easy, sleep tight.
Ease of Setup: Struggling with a complicated tent can turn any bad weather situation into a nightmare. Freestanding tents are usually easier to set up, so choose a tent that won't leave you cursing your life choices. Because, let's face it, we're badass warriors, and nobody has time for complicated tent setups. Save that energy for climbing that mountain or kayaking that river.
Mummy Style Sleeping Bags
Some brands actually offer women-specific mummy bags. Yes, ladies, they've thought of everything! These bags have a narrower shoulder and a wider hip area to accommodate our fabulous female body shape. Because let's face it, we're not shaped like those broad-shouldered dudes out there.
So, rejoice solo female travelers! No longer do we have to settle for sleeping bags that make us feel like we're trapped in a sausage casing. We can now sleep comfortably and confidently, knowing that our mummy bags have been tailor-made to embrace our curves and keep us warm all night long.
Notable Mummy Style Sleeping Bag:
Bessport Mummy Sleeping Bag 15-45 ℉ 3-4 Season
TETON Sports LEEF Ultralight
Temperature rating, oh boy, we can't forget about that. You don't want to be shivering like a chihuahua in the Arctic, do you? No, I didn't think so. Make sure you choose a sleeping bag that's rated for the lowest temperatures you expect to encounter while camping. Don't be fooled by that summer-weight bag that promises to keep you warm in a blizzard – be realistic, my friend.
And here's a little secret: women-specific sleeping bags often come with temperature ratings that are better suited to our fabulous female comfort levels. That's right, they've taken into account that we might need a little extra warmth and coziness. Because we queens deserve nothing but the best, even in the great outdoors.
Now, let's talk insulation. Down or synthetic? It's like choosing between champagne or a fruity cocktail – both have their perks. Down insulation is lighter and more compressible, like those yoga pants you can squeeze into your carry-on. But be warned, it loses its insulating properties faster than an ice cube in a hot tub when it gets wet. So, if you're planning on taking a dip in a lake or just tend to be a magnet for rainstorms, synthetic insulation might be the way to go. It may be bulkier, but it holds its warmth even in damp conditions.
Lastly, let's not forget about length, ladies. Women-specific sleeping bags often come in shorter lengths to better fit our fabulous female frames. After all, we don't want our toes sticking out like attention-seeking divas or our heads smushed against the top like a pancake.
Sleeping Pads for Us Girls
Alright, ladies, let's talk about sleeping pads designed just for us. Because, you know, our bodies are so unique and special that we need something tailored to our fabulousness. These pads actually consider our body shape and temperature regulation (finally, someone gets us). So, here are a few sleeping pads that will have us snoozing in comfort:
First up, we have the Therm-a-Rest NeoAir XLite Women's. This bad boy is inflatable, lightweight, and boasts exceptional insulation. Plus, the women's version is shorter and narrower, because apparently, our bodies are like delicate little flowers that need special treatment. But hey, we won't complain if it means more comfort and insulation.
Next, we have the Big Agnes Q-Core SLX Women's. This lightweight, inflatable pad is all about quilted construction. Because, let's be honest, nothing says luxury like sleeping on a cozy quilt. It's got a slightly tapered shape to fit our fabulous female bodies because everyone knows we deserve that perfect fit.
Last but not least, we have the Sea to Summit Comfort Light Insulated Women's. This pad is all about that balance, babe. A little bit of weight, a little bit of warmth, and a whole lot of comfort. It's contoured to fit our curves because, let's face it, we're not shaped like those broad-shouldered dudes out there. And it's got a decent R-value for insulation because we're queens who deserve to stay cozy, even on those chilly nights.
Camping Air Mattresses
If you end up taking a trip with more people and wish to have more space to wiggle around, we have the list of the Top 4 Camping Air Mattresses to provide added comfort.
Camping Pillows for Women
Alright, ladies, let's talk about the best damn pillows for our majestic heads. Because we queens deserve nothing but the ultimate comfort, even when we're sleeping under the stars.
Therm-a-Rest Compressible Pillow for Women: Designed with our fabulous female bodies in mind. It's got that soft foam filling that can be compressed for easy packing because we've got better things to do than wrestle with bulky pillows. But don't worry, it expands magically to provide a heavenly night's sleep.
Sea to Summit Aeros Premium Pillow – Deluxe Women's: This inflatable pillow is all about that custom fit. It's contoured to fit the shape of our regal heads and necks because standard pillows are for peasants. With its multi-functional valve, you can adjust the level of inflation to your liking.
NEMO Fillo Elite Ultralight Pillow for Women: This feather-light pillow is the dream when it comes to comfort and weight. It's designed to keep the weight to a minimum because we don't have time for extra baggage. Plus, it's got a layer of foam and Primaloft insulation, giving you the snuggle-worthy coziness you crave.
Exped REM Pillow Women's: Ladies, this inflatable pillow is all about giving us options. It's ergonomically shaped for our fabulous heads and allows for adjustable height and firmness. Need a little more support? No problem. Craving a soft and fluffy embrace? Done.
When choosing a sleeping pillow for camping, think about what height and firmness you prefer, how compact and lightweight it needs to be, and if it's washable and easy to inflate/deflate. Oh, and don't forget durability – ain't nobody got time for flimsy pillows that can't handle our wild spirit.
Clothing and Footwear
Let's dive into the wonderful world of clothing and footwear because we need to rock that adventure look while keeping our fabulous selves comfortable and dry. Here are some tips on choosing the perfect damn clothing for our fearless journeys:
Base Layer: When it comes to moisture-wicking and quick-dry fabrics, ladies, consider the "Smartwool Merino 150 Base Layer". And for you gents out there, check out the "Patagonia Capilene Lightweight Base Layer". Both of these options will have you feeling fresh and dry like the majestic beings you are.
Insulating Layer: Oh, baby, we gotta talk about the "Arc'teryx Atom LT Womens Jacket". It's like having a cozy, lightweight hug wrapped around you. This jacket not only keeps you warm but also lets that beautiful body of yours breathe.
Outer Layer: Ladies and gentlemen, let's not forget about the "Outdoor Research Helium II Rain Jacket". This bad boy (or girl) will protect you from those relentless raindrops and gusty winds. It's like having a shield of awesomeness wrapped around you.
Convertible Pants: Now, my adventurous souls, we need something versatile and quick-drying, and that's where the "Prana Halle Convertible Pants" come in. Convertible pants are like the superheroes of the pants world, ready to adapt to any situation.
Shoes & Boots
Alright, ladies, let's talk about the most important aspect of our fearless adventures – footwear! Because, let's face it, you can't conquer the world in flimsy flip-flops. So, put on your hiking boots and strap on those lightweight hiking shoes, because we've got some serious exploring to do!
Keen Targhee III Mid WP (Hiking Boots for Women): These bad boys provide comfort and stability, because who needs wobbly ankles when you're conquering mountains?
Salomon XA Pro 3D V8 (Lightweight Hiking Shoes for Women): These durable and supportive shoes are like having a loyal companion for your feet. They've got your back, or rather, your soles.
Hygiene and Personal Care
Alright, my fearless solo female travelers, let's talk about hygiene and personal care because even badass adventurers need to smell fresh and keep things clean. Here are some tips and product recommendations to help you maintain your fabulousness while conquering the world.
Pee Cloths

: Forget about that boring old toilet paper, ladies! Consider getting yourself a "Kula Cloth" or an "

REI Co-op Multi Towel Mini

". These reusable, antimicrobial pee cloths are designed specifically for women, providing a hygienic and eco-friendly alternative. Who knew peeing could be so empowering and environmentally friendly?

Body Wipes:

When you find yourself freshening up in the great outdoors without access to a luxurious shower, check out the "

Sea to Summit Wilderness Wipes

". These bad boys are biodegradable and come in a compact and resealable package. They're your secret weapon for quick freshening up, so you can keep those adventures going without feeling sticky and gross. Freshness, activated!

Solar Showers:

Who says you can't have a warm and refreshing shower experience while camping? Get yourself the "

Advanced Elements 5-Gallon Solar Shower

" because it's like having a portable spa in the wild. It uses solar energy to heat water, proving once again that the sun is more than just a ball of fire – it's your personal shower buddy. Time to cleanse away the dirt and worries, my adventurous beauties!

Feminine Hygiene Products

: Ah, that time of the month. Don't let it cramp your style, ladies. Consider eco-friendly options like the "

DivaCup

" or the "

Lena Cup

", miraculous inventions that will have you saying goodbye to disposable tampons forever. And if cups aren't your thing, don't worry, brands like "Thinx" offer period underwear designed for active use. Because periods shouldn't stop you from conquering the world, one menstrual cycle at a time.

Biodegradable Soap

: When it's time to clean your beautiful self, go for the eco-friendly option – "

Dr. Bronner's Pure-Castile Liquid Soap

". Not only can you use it to wash your body like the goddess that you are, but it's also versatile enough to clean your hands and even your dishes.

Toothbrush and Toothpaste

: Don't forget that dazzling smile, my fierce adventurers! Opt for a compact and travel-friendly toothbrush and toothpaste set. Brands like "

Bamboo

" offer eco-friendly toothbrushes with biodegradable handles, making brushing your teeth a statement of both dental hygiene and environmental consciousness.

Hand Sanitizer

: In situations where water and soap are as rare as finding a unicorn, pack a small bottle of hand sanitizer with at least 60% alcohol. It's like having cleanliness in a bottle, ready to save the day when germs threaten your well-being. Don't let those dirty hands ruin your fearless adventures, my empowered warriors!

First Aid Kit

: Safety first, my brave souls. Make sure to include essential personal care items in your first aid kit, like adhesive bandages, antiseptic wipes, and any personal medications you may need. Because you're not just prepared for anything – you're prepared for EVERYTHING.

Trash Bags:

Pack those small trash bags, my thoughtful adventurers. We're all about leaving nothing but footprints and a trail of fierce independence. Use those bags to pack out all used hygiene and personal care products, following the Leave No Trace principles like the eco-conscious warriors we are.
With these hygiene and personal care tips and product recommendations, you're now armed with the knowledge to stay fresh, clean, and environmentally responsible on your epic journeys.
Entertainment and Comfort
Camp Chair: Get yourself a comfortable camp chair that will keep you cozy while you soak up the great outdoors. Look for lightweight, collapsible chairs that are easy to transport and set up because who needs back pain on a camping trip?
Camp Table

: Don't settle for eating on the ground like a savage. Bring a small folding camp table that's perfect for prep, games, or having a surface to put your stuff on because picnics are so last season.

Portable Hammock

: Relaxation is the name of the game, ladies. Treat yourself to a portable hammock that's perfect for lounging, reading, or stargazing. Because comfort should be a priority, even in the wild.

Outdoor Games

: Keep yourself entertained like the queen that you are with outdoor games like a frisbee, bocce ball, or a deck of cards. Who says camping can't be fun AND fabulous?

Headlamp or Lantern

: Don't stumble around in the dark like a lost camper. Invest in a good-quality headlamp or lantern to brighten up your tent and surrounding area at night. Safety first, ladies.

Portable Speaker

: Music makes everything better, right? Bring a portable, battery-powered Bluetooth speaker to provide some tuneful entertainment around the campfire. Because who needs silence when you can have your own personal campsite concert?
Cooking and Food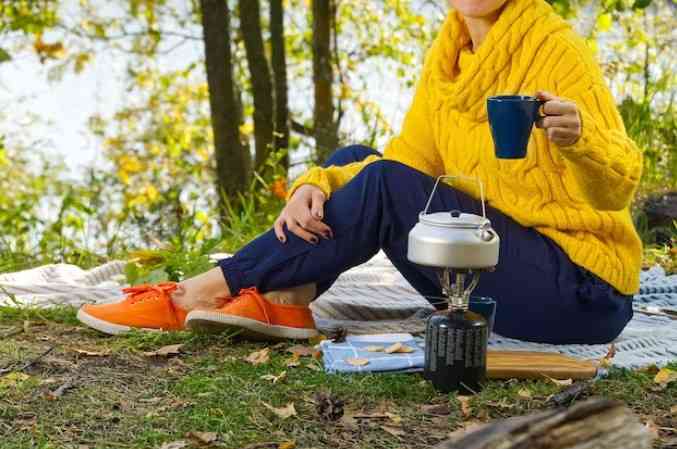 Camp Stove

: Time to unleash your inner chef, ladies. A portable camp stove is a must-have for cooking up delicious meals at your campsite. Choose one that suits your cooking needs, from a simple backpacking stove to a more robust propane stove. Culinary adventures await!

Cookware

: Want to whip up culinary masterpieces in the great outdoors? Bring a set of lightweight and compact cookware, including a pot, pan, and utensils. Non-stick options make cleaning up a breeze because nobody wants to spend hours scrubbing burnt food off a pan (ain't nobody got time for that).

Mess Kit

: Say goodbye to food chaos with a mess kit that includes plates, bowls, and utensils specifically designed for camping. Keep your dining essentials organized and ready for action. You're the queen of organization, after all.

Cooking Accessories

: Don't forget the little things that make cooking a breeze. A can opener, cutting board, knife, and camping coffee maker (because caffeine makes the world go round) are all essentials for your gourmet camping experience.

Food Storage

: Keep your food safe from hungry critters by using airtight containers or bear-resistant canisters. Because who needs uninvited guests munching on your snacks?

Cooler

: Planning to bring perishable items? A portable cooler with ice packs will save the day, keeping your food fresh and your taste buds happy. Because a stale sandwich is a sad sandwich, and we're all about happy taste buds.

Dining Setup

: Ditch the disposable plates and utensils and instead opt for reusable and eco-friendly camping mugs, plates, and utensils. Look for durable materials like stainless steel or bamboo to make Mother Earth proud.

Fire Starter

: Let there be fire! Pack some trusty fire-starting tools like waterproof matches, a fire starter, or a fire starter kit if you plan to cook over an open flame. You're the queen of fire, lighting up campfires and hearts.

Biodegradable Soap

: Don't be a menace to the environment. Use biodegradable soap for dishwashing and cleaning to minimize your impact on Mother Earth because saving the planet is always in style.

Food:

Plan your camping meals like the true warrior you are. Bring non-perishable foods that are easy to prepare (think dehydrated meals, trail mix, and energy bars). And don't forget the essentials like coffee, tea, and condiments because spices make everything better.
Alright, ladies, you're armed with the knowledge to have the best damn camping experience. Now go out there, be fearless, and conquer the great outdoors on your own terms. Happy camping, ladies, and as always, Travel Till You Drop!
Book Your Trip : Check Out My Resources for Your Travel Needs
Use Skyscanner to find a cheap flight.  This is my very first stop when I'm looking for my next trip. It's a fast, easy-to-use search engine that is perfect for finding an affordable flight, a perfect hotel, and the right rental car for you in locations around the globe.
Book Your Accommodation
If you are looking for a super budget friendly location and are open to a hostel stay, make sure you book your hostel with Hostelworld. It offers the broadest range of quality hostels around the world. 
If you'd prefer a hotel or a guesthouse for stays less than 28 days, drop on over to Booking.com It's perfect for providing excellent options, a ton of user reviews, and prices to fit every budget.
For stays over 28 days, AirBnB still remains my #1 choice. User reviews and monthly pricing allow for some incredible deals all around the world.
Don't Forget Travel Insurance
Travel insurance is but a small up-front investment that you won't want to leave home without. After just one experience of having to delay or cancel your trip or having your luggage stolen, you'll wish you would have made that investment.  I've hated my life a few times when the moment arose, and I decided to skip out.  Let's just say, I've changed my ways and recommend each of the following companies to protect your ass-ets.
My favorite companies are:         
Want to Travel for Free?
Travel credit cards allow you to earn points that can be redeemed for free flights and accommodation — all without any extra spending. Check out my guide to getting free flights to get started.
Ready to Book Your Trip?
Check out my Resource Page for the best companies to help you book your travel at reduced rates!  This list will help you get to where you're going.  I know-I use them ALL the time!