Now, before we dive headfirst into these breathtaking trails, let's set the scene for our daring escapades in the land of yaks and prayer flags. Nepal, my friends, is a hiker's paradise, boasting some of the most stunning landscapes known to humankind. From snow-capped peaks to lush green valleys, this Himalayan gem offers a plethora of hiking options that will leave you in awe.
Some of the Best Hiking Trails and Treks in Nepal
Poon Hill Circuit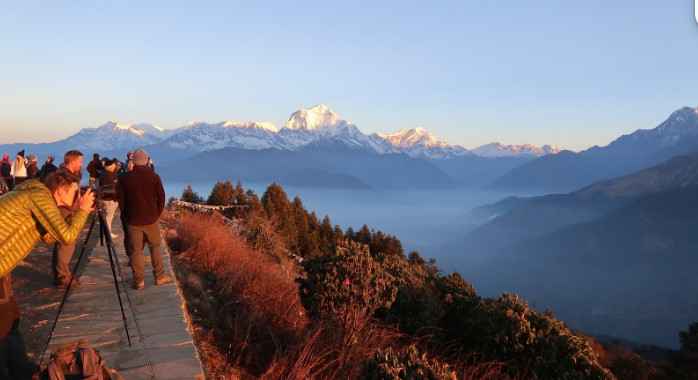 Hiking Time: 4-5 days
Trail Length: Approximately 35 kilometers (22 miles)
Difficulty: Beginner
Start Point: Nayapul
End Point: Nayapul
Highest Altitude: Approximately 3,210 meters (Poon Hill)
Oh, Poon Hill, you will find one magnificent piece of nature's artwork! This trail is perfect for those of you who are just dipping your toes into the hiking world. With its well-marked paths and cozy teahouses along the way, this beginner-friendly circuit takes you through beautiful Rhododendron forests and offers stunning views of the Annapurna and Dhaulagiri Mountain ranges. Say goodbye to civilization and hello to the sweet serenity of the Himalayas.
Langtang Valley
Hiking Time: 6-8 days
Trail Length: Around 77 kilometers (48 miles)
Difficulty: Moderate
Start Point: Syabrubesi
End Point: Kyanjin Gompa
Highest Altitude: Approximately 3,870 meters (Kyanjin Ri)
Calling all hikers with a little more experience under their belts! The Langtang Valley trail promises a moderate challenge while gifting you with jaw-dropping vistas of snow-capped peaks and charming Tibetan-influenced villages. The Trail can take around 5-7 days, but you can take side treks to make the route a bit longer. Trek through dense forests, spot the occasional red panda (yes, they exist!), and soak in the spiritual energy of sacred monasteries. Careful, though – the beauty of this trail might just leave you speechless.
Annapurna Base Camp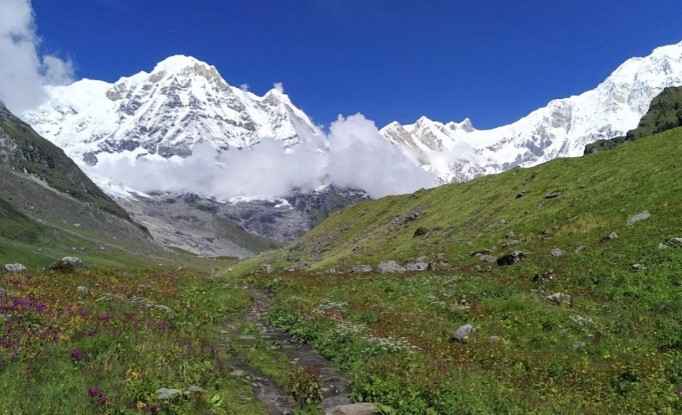 Hiking Time: 8-11 days
Trail Length: Approximately 115 kilometers (71 miles)
Difficulty: Experienced
Start Point: Nayapul or Phedi
End Point: Annapurna Base Camp
Highest Altitude: Approximately 4,130 meters (Annapurna Base Camp)
Alright, my seasoned hikers, this one's for you. Drumroll, please – presenting the Annapurna Base Camp trek! This is the complete Trek to the base camp, which can take 9-11 days from Naya Pool. With steep ascents, rugged terrain, and jaw-dropping scenery, await those brave enough to take on this trek of epic proportions. You'll hike through picturesque villages, encounter thundering waterfalls, and be greeted by the mighty Annapurna massif at every turn. Trust me, the panoramic views from Base Camp are worth every single step. Prepare to feel like a total badass when you conquer this trail.
Upper Mustang
Hiking Time: 10-15 days
Trail Length: 140km (87 Miles)
Difficulty: Moderate to Experienced
Start Point: Jomsom
End: Muktianth then back to Jomsom
Highest Altitude: Approximately 3,840 meters (Lo La Pass)
Calling all fearless, untamed souls – the Upper Mustang trail is about to test your limits and push you to your absolute badassery. This restricted region will transport you to a magical, almost otherworldly, landscape. Think sweeping desert-like vistas, ancient cave dwellings, and vibrant Buddhist monasteries. This challenging trail, with its rugged terrain and high altitudes, is not for the faint of heart. But if you're up for the adventure of a lifetime, prepare to have your mind blown by the raw beauty of Upper Mustang.
Phulchoki Hill Hike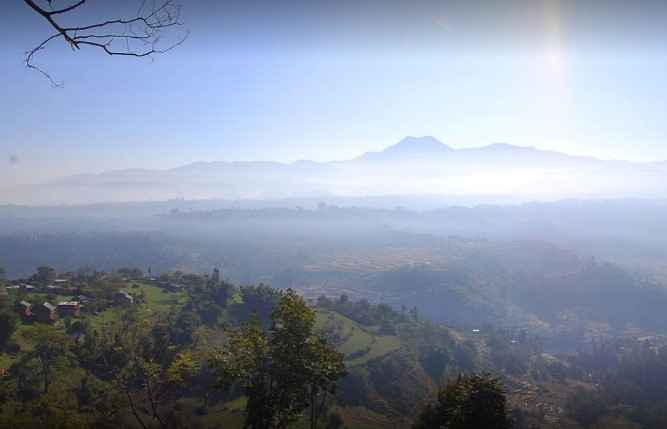 Hiking Time: 1 day (4 hours hike)
Trail Length: Approximately 14 kilometers (8.7 miles)
Difficulty: Beginner to Moderate
Start Point: Godavari
End Point: Phulchoki Hill Summit
Highest Altitude: Approximately 2,782 meters
Alright, my fellow adventurers, if you're in the mood for a short but sweet day hike near Kathmandu, then the Phulchoki Hill hike is where it's at! It's time to put on your hiking boots, pack some snacks, and prepare for a moderate trek that will leave you with epic views and memories that'll make even your frenemies jealous.
The journey begins at the Godavari Botanical Garden, and trust me, it's not your average walk in the park. As you make your way up, you'll be treated to breathtaking landscapes that will make you question whether you've stepped into a fairytale.
Shivapuri National Park Hike Trail
Hiking Time: 1 Day (approx. 6-hour hike)
Trail Length: Approximately 12 kilometers (7.5 miles)
Difficulty: Moderate
Start Point: Budhanilkantha
End Point: Shivapuri Peak
Highest Altitude: Approximately 2,732 meters
This moderate hike will take you deep into a world of lush forests, shimmering streams, and exotic wildlife that will leave you in awe. Listen to the harmonious sounds of birds singing, breathe in the pure mountain air, and let nature do its magic. And when you finally reach the summit, prepare for a panoramic view that will knock your socks off. Feeling adventurous? Extend your journey by camping overnight and bonding with fellow trailblazers around a cozy campfire.
Chandragiri Hills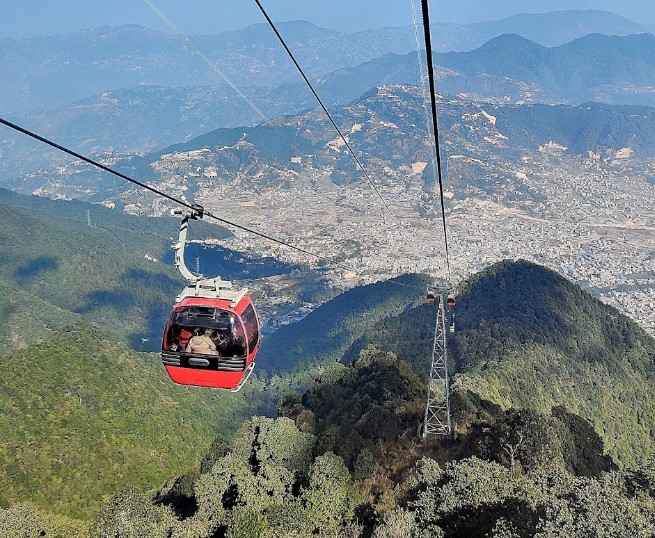 Hiking Time: 5 Hours
Trail Length: Approximately 9 kilometers (5.5 miles)
Difficulty: Moderate to experienced
Start Point: Thankot
End Point: Chandragiri Hills Summit
Highest Altitude: Approximately 2,551 meters
The star of the show? The Chandragiri Cable Car, here to whisk you away on a scenic ride to the summit. Oh, the views you'll see! Pristine natural environment with trails that scream "hike me!" And guess what? The hiking experience can range from moderate to challenging, depending on how daring you're feeling. Lush forests, occasional viewpoints, and calm surroundings are just some of the perks you'll encounter on this thrilling trek.
As you climb to new heights, get ready for the ultimate panoramas. Feast your eyes on the Kathmandu Valley, the Langtang Mountain Range, and if you're lucky on a clear day, even a glimpse of the mighty Everest range.
Chisapani Nagarkot Hike
Hiking Time: 2-3 days
Trail Length: Approximately 32 kilometers
Difficulty: Beginner to Moderate
Start Point: Sundarijal
End Point: Nagarkot
Highest Altitude: Approximately 2,195 meters
Get ready to conquer Nepal's natural wonders on the Chisapani Nagarkot Hike! This two-day trek takes you through lush forests, traditional villages, and pristine streams. Feel like a majestic queen in Chisapani's serene hill station, then brace yourself for mind-blowing sunrise and sunset views of Langtang, Annapurna, Manaslu, and Everest ranges in Nagarkot. It's nature and culture intertwined! It's an ideal choice for a short, rewarding trek amidst Nepal's natural wonders.
Dhulikhel to Namo Buddha Hike
Hiking Time: 5-6 hours
Trail Length: Approximately 10-12 kilometers
Difficulty: Beginner to Moderate
Start Point: Dhulikhel
End Point: Namo Buddha
Highest Altitude: Approximately 1,760 meters
We kick things off in the charming town of Dhulikhel, where this picturesque journey begins. From there, you'll venture through lush landscapes and traditional Nepali villages, immersing yourself in the local culture and daily life. The highlight of the hike is Namo Buddha, a sacred site where Lord Buddha is believed to have performed a selfless act of kindness. Take a deep breath and soak in the serene ambiance while exploring the Namo Buddha Monastery. It's like pressing the pause button on life and diving into a spiritual wonderland. This hike is the ultimate marriage of natural beauty, cultural immersion, and spiritual exploration.
Trekking Company 
Now, if you are looking for the ultimate hiking company and seeking out a 14-day trek of Mt. Everest Base Camp, you need to check with these guys.  They will pick you up from Katmandu and lug around your crap for you.  You'll get to sleep in tea houses (other peoples' homes) and have the nicety of heat, water, and meals made for you along the way (so worth it).  This is definitely the route I'm choosing when I make my way back to that side of the world!  Highly recommended by my friends, and I can't wait to make the journey myself!
Closing Words
We've just unveiled some of the most epic hiking trails that Nepal has to offer. Whether you're a newbie just sticking your toe into the hiking pond or a seasoned pro seeking a challenge, Nepal's got something for everyone. 
So, grab your bags, lace up those boots, and prepare to conquer those Himalayan trails like the fearless explorers you were born to be. It doesn't matter if you're traveling solo, with friends, or with a whole damn crew – the mountains don't discriminate. They're all yours for the takin'!
No matter where you go, always remember to Travel Till You Drop! 
Book Your Trip : Check Out My Resources for Your Travel Needs
Use Skyscanner to find a cheap flight.  This is my very first stop when I'm looking for my next trip. It's a fast, easy-to-use search engine that is perfect for finding an affordable flight, a perfect hotel, and the right rental car for you in locations around the globe.
Book Your Accommodation
If you are looking for a super budget friendly location and are open to a hostel stay, make sure you book your hostel with Hostelworld. It offers the broadest range of quality hostels around the world. 
If you'd prefer a hotel or a guesthouse for stays less than 28 days, drop on over to Booking.com It's perfect for providing excellent options, a ton of user reviews, and prices to fit every budget.
For stays over 28 days, AirBnB still remains my #1 choice. User reviews and monthly pricing allow for some incredible deals all around the world.
Don't Forget Travel Insurance
Travel insurance is but a small up-front investment that you won't want to leave home without. After just one experience of having to delay or cancel your trip or having your luggage stolen, you'll wish you would have made that investment.  I've hated my life a few times when the moment arose, and I decided to skip out.  Let's just say, I've changed my ways and recommend each of the following companies to protect your ass-ets.
My favorite companies are:         
Want to Travel for Free?
Travel credit cards allow you to earn points that can be redeemed for free flights and accommodation — all without any extra spending. Check out my guide to getting free flights to get started.
Ready to Book Your Trip?
Check out my Resource Page for the best companies to help you book your travel at reduced rates!  This list will help you get to where you're going.  I know-I use them ALL the time!