Best Toiletry Containers
In the ever-evolving realm of travel, even the most minor details matter. And let's be honest, nobody likes a lotion explosion mid-air. It's more dramatic than a reality TV show climax. Enter travel containers. And who better than us, with over five years of expertise, to guide you through the jungle of plastic and silicone? Buckle up, kids; it's going to be a saucy ride!
"I've always said, travel light, but carry the right container." Jenna Thompson, travel expert and container enthusiast
Introduction: Remember when your shampoo bottle thought it was a volcano and erupted in your bag? The Squeezy Silicone Bottles are here to put those dark days behind.
Features:
Leak-proof design:

 Your clothes will thank you.

Suction cup:

 Stick it to shower walls because… why not?

See-through body:

 No more playing the guessing game with your liquids.
Pros:
Durable and long-lasting.

TSA approved; take that, security!

Easy to clean; no lingering smells.
Cons:
It might make your other bottles jealous.
Final Words: Squeezy Silicone Bottles: your liquids deserve better than a budget motel stays.
Introduction: Why press or pump when you can twist? The Tubular Twist Containers are revolutionizing the way we access our creams.
Features:
Twist to dispense:

 Like a candy bar, but for your toiletries.

Compact size:

 Perfect for minimalists.

Interchangeable labels:

 No more mistaking hair gel for toothpaste.
Pros:
Sleek and modern design.

Prevents product wastage.

Fits snugly in any toiletry bag.
Cons:
This may lead to an obsessive twisting habit.
Final Words: This container is a no-brainer for those who like to add a little twist to their routine.
Introduction: Give your creams the VIP treatment they deserve with the Pump-It-Up Travel Jars.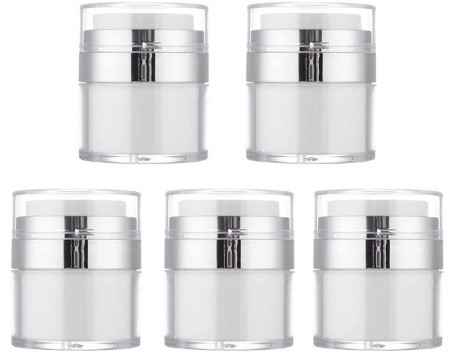 Features:
Airless pump:

 Keeps bacteria at bay.

Lock mechanism:

 No accidental squirts.

Transparent window:

 Check your remaining potion.
Pros:
Hygienic and convenient

Travel-friendly size.

A sturdy build ensures longevity.
Cons:
It might make you feel too luxurious.
Final Words: Let's pump up the jam, or in this case, your favorite lotion, with these nifty containers.
Introduction: Why carry five when you can stack them up? These pots are the Transformers of the travel container world.
Features:
Stackable pots:

 Save space and add style.

Varied sizes:

 from your eye cream to face masks.

Screw-tight lids:

 No spillage sorcery here.
Pros:
Ideal for multi-product travelers.

Durable and leak-proof.

Easily customizable for trip needs.
Cons:
It might make you overpack skincare because.
Final Words: A space-saver and a lifesaver, these pots are all you need for a flawless face on the go.
Introduction: Ditch the dip with the Scoop 'n Store Tubes. It's the next best thing since sliced bread, but for your toiletries.
Features:
Wide-mouth design:

 easy to fill and use.

Soft, squeezable body:

 Get out every last drop.

Built-in label area:

 Scribble or stick, you choose.
Pros:
Super user-friendly.

Flexible sizes are available.

Ideal for thick creams and pastes.
Cons:
This could lead to a compulsive scooping disorder.
Final Words:
The Scoop' n Store Tubes ensure you're not leaving behind that precious dollop of hair mask. Every drop count, right?
Introduction: If your beauty products could talk, they'd ask to live in the Clear-View Compact Cases. It's like a penthouse suite but for your toiletries.
Features:
Transparent design:

 quick grab-and-go access.

Durable zippers:

 secure yet smooth.

Partitioned pockets:

 Organize like a pro.
Pros:
Perfect for makeup & tiny tools.

TSA would nod in approval.

Easy to clean, wipe, and repeat.
Cons:
May cause a momentary existential crisis: "Do I have too much makeup?"
Final Words: For those who believe in the power of visuals and like to flaunt their beauty arsenal, this is it.
Introduction: No, it's not another beauty product. It's for those essentials you can't live without—your vitamins and medications.
Features:
Separate compartments:

 one for every day

Tight-seal lids

 keep the potency intact.

Pocket-sized:

 Fits even in your jeans.
Pros:
Travel without the pill bottle rattle.

Clearly labeled for easy access.

Durable and long-lasting.
Cons:
Friends might ask if you've started a mini-pharmacy.
Final Words: Press' n Portion ensures you're always in good health, even on the go. Cheers to no missed pills!
Introduction: Roll out the red carpet! These rolling refillables are every perfume lover's dream come true.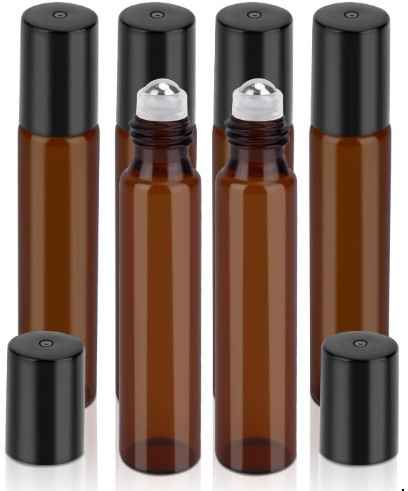 Features:
Roll-on applicator:

 For that precise touch.

Leak-proof:

 Your bag's not a pool.

See-through design:

 Know when it's time for a top-up.
Pros:
Great for fragrances & essential oils.

It is compact and super travel-friendly.

Easy roll-on application.
Cons:
You might get too roll-happy.
Final Words: Keeping you smelling divine, these refillable containers are every olfactory lover's must-have.
Introduction: Why settle for one when you can have two? Twin-Twist Dual Jars: Because sometimes, life's about choices.
Features:
Double compartments:

 day cream and night cream? Sorted!

Twist-to-open mechanism:

 Easy peasy.

Stackable design:

 like a mini skyscraper for your creams.
Pros:
Keeps products fresh.

It's ideal for those who can only pick one.

It has a compact design but doubles the fun.
Cons:
It might cause a slight addiction to dual products.
Final Words: For the indecisive traveler, the twin-twist is a game changer. Double the care, half the space.
Introduction: Injecting a dose of stealthy fun into your outings, the GoPong Power Bank Flask is a game-changer for enthusiasts looking to enjoy their favorite beverages discreetly. Designed to camouflage perfectly into your tech gear, this flask is not just about the sneaky appeal but also about delivering value in a compact form.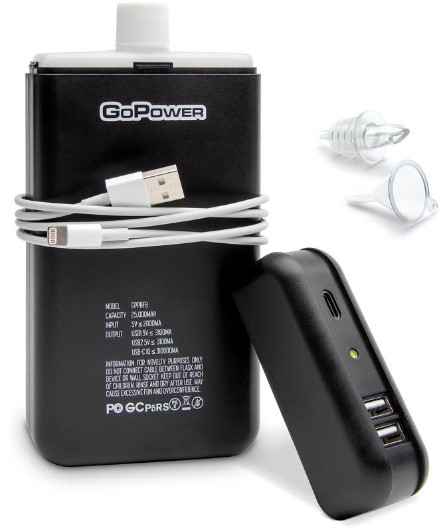 Features:
Convincing Appearance:

 With a design mirroring a power bank, it includes a non-functioning fake power cable, enhancing its disguise for seamless integration into your gadget ensemble.

Generous Capacity:

 Holding up to 8 ounces of liquid, this flask allows you to carry approximately five shots, saving you from spending on overpriced drinks at various events.

Food-Grade Material:

 Crafted with care, it utilizes food-grade materials ensuring that it's safe for containing your beverages.

Leak-Proof Cap:

 No need to fret about potential spills in your bag, thanks to its water-tight twist-off cap that guarantees a mess-free experience.

Easy Filling:

Comes equipped with a hassle-free funnel and pour spout, filling it up with your preferred drink smooth and simple.
Pros:
Stealthy and Creative:

Its realistic power bank design ensures you can confidently carry it without drawing attention.

Economical:

 Say goodbye to shelling out money for expensive drinks at events, as it allows you to bring your liquor.

Portable and Compact:

 With its sleek profile, it is ideal for tucking into purses, backpacks, or even pockets, making it a perfect companion for clubs, concerts, games, and festivals.
Cons:
Not Functional as a Power Bank:

 While it's a convincing disguise, remember that it does not function as a real power bank. Ensure to carry an actual power source if needed.
Final Words: The GoPong Power Bank Flask is not merely a container; it's an experience for those looking to enjoy their drinks on the go without the hefty price tag. Its clever design and functional features make it a must-have accessory for your next adventure. Whether you're heading to a concert or a game, it's your ticket to a good time, minus the exorbitant cost of beverages at venues. Cheers to smart, inconspicuous sipping!
Conclusion
Travel toiletry containers have revolutionized the way we pack and organize our luggage. From preventing messy spills to offering sleek, space-saving solutions, these products are essential for every traveler, whether a minimalist backpacker or a luxury jet-setter. Each container type serves different needs, so travelers may often need more than one kind of bottle. Select the one that fits your travel style and product preferences, and embark on a hassle-free journey with your favorite liquids securely packed! 
FAQs
Q: Can I bring these containers in my carry-on luggage?
A: Yes! All the containers listed are designed to comply with TSA's liquid-carrying regulations for carry-on luggage.
Q: How should I clean and maintain these containers?
A: Most containers can be cleaned with warm water and mild soap. Ensure they are scorched before refilling.
Q: Can these containers handle hot temperatures like checked luggage holds?
A: While these containers are designed to withstand a range of temperatures, it's always advisable to check each product's specific temperature tolerance.
Q: Can I store food items or medications in these containers?
A: While some containers may be suitable for non-liquid items, you should always check the manufacturer's guidelines to ensure the material is safe and won't react with the contents.
Q: Are these containers eco-friendly?
A. Many of the containers are made from recyclable materials. Check the packaging or manufacturer's website for specific recycling instructions.
With so many smart and stylish options available, there's no excuse for leaving your beloved products behind or dealing with messy spills and bulky packaging. Choose your perfect travel toiletry container and start your journey right! Safe travels, and no matter where you go, always Travel Till You Drop!