NARVA CASTLE
If you're looking for a place that's dripping in history, look no further than Narva Castle. This fortress, which overlooks the Narva River, has been standing since the 15th century and has seen its fair share of battles. These days, it's home to a museum that showcases Estonian art and culture. And if you're feeling brave, you can explore the castle's winding staircases and dark dungeons. Just be prepared for the cold, dark winters—it can get pretty chilly up there!
Best Times to Visit –  The summer months (June to August) offer milder weather, making it an ideal time to explore Narva Castle and its surroundings. However, if you enjoy winter activities, visiting during the colder months provides a unique experience.
Transportation – Narva is accessible by bus or train from major cities like Tallinn. Once in Narva, the castle is within walking distance from the city center. Taxis and local buses are also available.
Narva Castle, standing proudly since the 15th century, offers visitors more than just an architectural marvel; it is a living testament to Estonia's turbulent history. Originally constructed by the Danes, the castle changed hands multiple times, witnessing conflicts between the Livonian Order, the Swedes, and the Russians. One of the most significant events in its history was the Battle of Narva in 1700, a pivotal clash during the Great Northern War. The fortress played a central role in this battle, with Peter the Great emerging victorious, solidifying Russia's growing influence in the region.
Over the centuries, Narva Castle underwent various reconstructions and served diverse purposes, from a military stronghold to a residence for different ruling powers. Today, as you explore its halls and dungeons, you are stepping into the footsteps of soldiers and nobility who shaped the course of Estonian history. The castle's museum not only showcases Estonian art and culture but also offers a captivating narrative of the region's resilience and evolution.
If you're looking for a place that's full of natural beauty in estonia, you'll want to check out Saaremaa. This island is located in the Baltic Sea and is known for its rolling hills, lush forests, and sandy beaches. There's a lot to do in Saaremaa, from hiking and biking to swimming and windsurfing. And if you're into history, you'll be fascinated by the many medieval castles, including the Kuressaare Castle, which is now a museum, and churches that are scattered throughout the island. So, what are you waiting for? Pack your bags and head to Saaremaa for an unforgettable holiday experience.
Saaremaa, the picturesque island in the Baltic Sea, boasts a cultural heritage as rich as its landscapes. Stepping onto this island feels like entering a medieval tapestry woven with tales of knights and kings. The numerous medieval castles and churches scattered across Saaremaa are relics of its storied past.
Kuressaare Castle, a prominent feature on the island, stands as a proud reminder of Saaremaa's medieval legacy. Built in the 14th century, this fortress has witnessed centuries of change and is now a museum, allowing visitors to immerse themselves in Saaremaa's history. The island's churches, some dating back to the 13th century, offer a glimpse into the spiritual and architectural practices of the time.
Saaremaa's medieval structures not only showcase the island's strategic importance but also reflect the resilience of its inhabitants through times of war and peace. Exploring these historical sites adds a layer of depth to the natural beauty that Saaremaa is renowned for, providing a holistic understanding of the island's cultural heritage.
Hiking Trails: Saaremaa offers numerous hiking trails, with one of the most scenic being the Harilaid Nature Trail. It takes you through coastal meadows and ancient juniper fields. The Kaali Meteorite Crater trail leads to an extraordinary natural landmark.

Cycling Adventures: For cyclists, Saaremaa's diverse terrain provides an array of routes. The Kuressaare–Angla–Kuressaare circuit offers a mix of cultural and natural sights. The Muhu Island cycling trail, accessible by ferry, showcases the island's rural charm.

Water-based Activities: Saaremaa's coastal location makes it a haven for water activities. Paddleboarding and kayaking in the Panga Cliff area offer a unique perspective of the island's limestone cliffs. The clean sandy beaches are perfect for a relaxing day by the sea.

Natural Landmarks: The Kaali Meteorite Crater, formed around 7,600 years ago, is a fascinating geological site. The Sõrve Peninsula with its lighthouse provides stunning views of the surrounding sea.
Best Times to Visit – Summer (June to August) is the peak season when the weather is pleasant, and outdoor activities are in full swing. However, if you prefer a quieter experience, late spring and early autumn can also be delightful.
Transportation – Reach Saaremaa by ferry from the mainland. Once on the island, renting a car is a convenient way to explore its diverse landscapes. Buses and taxis are available, but they might have limited schedules.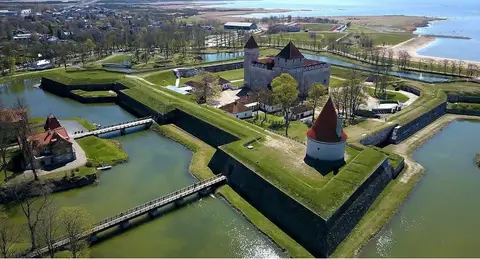 TARTU
Tartu is the second-largest city in Estonia and is known for its university and historic architecture. You'll find winding cobblestone streets, pretty parks, and a wealth of cultural museums here.
One of the highlights of Tartu is the city's Old Town, which is a UNESCO World Heritage Site. Here you'll find beautiful churches, charming shops, such as Typa, a paper design center and museum, and lively nightlife.
Make sure to check out the Town Hall and take a stroll along the Daugava River. Tartu is also a great place to sample traditional Estonian cuisine. There are plenty of restaurants and cafes to choose from, and you're sure to find something that satisfies your taste buds. So why not add Tartu to your list of places to visit in Estonia? You won't regret it!
Best Times to Visit – Tartu is vibrant year-round, but summer is particularly lively with various events and festivals. The university atmosphere is dynamic during the academic year.
Transportation – Tartu is well-connected by bus from Tallinn and other major cities. The city is compact and walkable, but buses and taxis are available. Consider renting a bike to explore the city's bike-friendly paths.

Local Customs – Tartu has a youthful energy due to the university. Engage with students, visit local cafes, and participate in cultural events. Estonians appreciate punctuality and straightforward communication.
Hiiumaa is the second largest island in Estonia. You can get to it by ferry from the mainland, and once you're there, you'll find a wealth of things to do. This place is a nature lover's paradise, with forests, lakes, and beaches galore. There's also a wealth of history and culture to be found on Hiiumaa. You can visit the Kõpu Lighthouse, which is the oldest lighthouse in Estonia, or check out a lavender farm for a little peace and quiet. If you're looking for a little bit of everything, Hiiumaa is definitely the place for you.
Hiking Trails: Hiiumaa boasts a network of hiking trails that lead through its diverse landscapes. One highlight is the Tahkuna Nature Trail, taking you through coastal areas with stunning views of the Baltic Sea. The trail around Kassari Island offers a serene walk through pine forests and along the shoreline.

Biking Routes: Cycling enthusiasts will find joy in exploring Hiiumaa's bike-friendly paths. The route from Kärdla to Kassari takes you through picturesque villages and along the coast. For a more challenging ride, the Orjaku cycling trail offers a mix of forested areas and coastal stretches.

Water-based Activities: With its surrounding waters, Hiiumaa invites visitors to indulge in water-based adventures. Kayaking or canoeing along the island's many small rivers and inlets provides a unique perspective of its natural beauty. Windsurfing is also popular, particularly at the sandy beaches of Kärdla and Ristna.
Best Times to Visit – Summer (June to August) is ideal for outdoor activities. The ferry to Hiiumaa operates year-round, but check schedules in advance.
Entrance Fees – Some attractions, like the Kõpu Lighthouse, may have a small entrance fee. Research in advance for any fees and opening hours.
Transportation – Reach Hiiumaa by ferry. Renting a car is recommended for exploring the island, but there are also buses and taxis available.
If you're looking for a charming place to visit in Estonia, Viljandi is definitely worth your time. Stay at the Park Hotel and visit the Viljandi Order Castle which is one of the main tourist attractions in Viljandi. It's in ruins, of course, but that only makes it more interesting. The castle was built in the early 13th century by the Teutonic Knights.
It was used as a fortress and as a residence for the order's members. Over the years, it's been destroyed and rebuilt several times. Soomaa National Park is about a two-hour drive from Viljandi, and it's well worth it. The park is home to some of the most beautiful landscapes in Estonia, and there's plenty to do there, from hiking and biking to canoeing and fishing.
You can even go on safari tours in the park! There are also plenty of other things to see and do in Viljandi. You can wander through the streets of the town center, explore the local churches and museums, or go for a hike in the nearby hills. One thing's for sure—you'll never run out of things to do in Viljandi!
Hiking and Biking: Surrounding Viljandi, Soomaa National Park offers a variety of hiking trails through its pristine wilderness. The Riisa Study Trail is an excellent choice for a nature walk. Cyclists can explore the Viljandi-Heimtali-Ramsi cycling route, taking them through charming villages and lush landscapes.

Canoeing: Soomaa National Park is often referred to as the "Land of Bogs," and one of the best ways to explore it is by canoe. The park's numerous rivers and flooded meadows create a unique canoeing experience. Guided tours are available for those unfamiliar with the waterways.

Bird Watching: Viljandi is a paradise for bird enthusiasts. Lake Viljandi and surrounding wetlands attract a diverse range of bird species. Bring your binoculars and explore the birdwatching towers scattered around the lake for an immersive experience.

Natural Landmarks: The Viljandi Castle Hills provide a panoramic view of the town and Lake Viljandi. The Valuoja Springs and the Siniallikad Springs are unique geological formations worth exploring.
Best Times to Visit – Summer is delightful for exploring Viljandi's outdoor attractions and attending festivals. Winter offers a different charm with potential snowfall.
Entrance Fees – Check if there are any fees for attractions like the Viljandi Order Castle or Soomaa National Park.
Transportation – Viljandi is accessible by bus. Once in the town, walking is a great way to explore. If you plan to venture to Soomaa National Park, consider renting a car.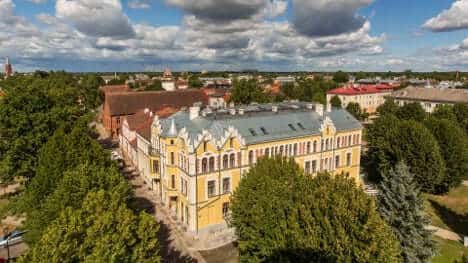 CONCLUSION
Estonia is a gorgeous country with plenty to offer solo female travelers and other tourists. From the stunning rocky coastlines and quiet forests, to the lively cities and historical towns, there's something for everyone here. We've listed five of our favorite places to visit in Estonia, but there are plenty more waiting to be discovered. Venture out and explore this enchanting corner of the world – you won't regret it
female solo travel blog, Female Travel Blogs, Best Places for Solo, Solo Female Travel Destinations Female Travel, dark tourism, dark tourist, budget travel, budget travel tips, budget travel hacks jill charpia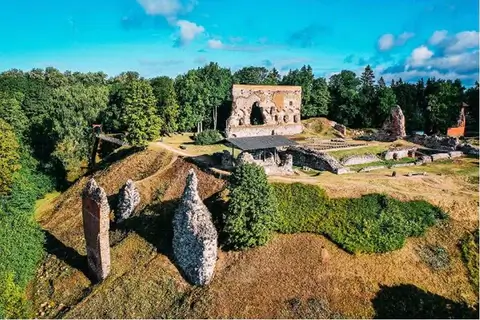 If you'd like a bit of a different solo female travel experience that is a bit darker in its experiences, make sure to Travel Till You Drop and check out Dark Tourism in Germany!  
Luxury Travel Blog, luxury travel blog, luxury travel blogs, luxury travel hacks, female solo travel blog, Female Travel Blogs, Best Places for Solo, Solo Female Travel Destinations Female Travel, dark tourism, dark tourist, budget travel, budget travel tips, budget travel hacks