I know DC has a reputation for being all suits and briefcases, (but believe it or not, there's actually a whole lot more to the nation's capital than just politicking). Under that serious exterior lies a city with tons of fun Things to Do in Washington DC.
Washington, D.C., officially the District of Columbia and commonly called Washington or D.C., is the capital city and the federal district of the United States. In 2022 alone it received 20.7 Million domestic visitors!
So, what's there to see?
DC is a fantastic city with plenty to offer, especially if it's your first time visiting. It's also a great girls' weekend getaway! To give you a better idea of what to see and do, here's my list of the best things to do in the nation's capital!
1. National Mall and Monuments (Night Tour)
DC is a city where granite and marble come together to form some of the most iconic buildings and landmarks, each echoing the historical events that have shaped this nation into a beacon of liberty and democracy.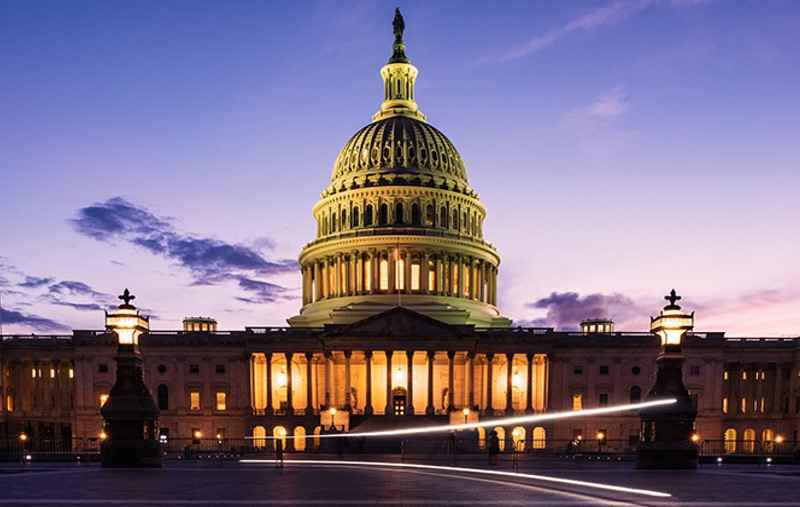 As darkness descends, the city's majesty is further amplified. The Iwo Jima Marine Corps Memorial, FDR, Vietnam Veterans, Korean War, and Martin Luther King, Jr. Memorials all take on a different beauty under the moonlight. This nighttime transformation offers a new perspective on these famous landmarks, making them even more captivating.
2. Visit a Downtown Holiday Market
The holiday season in Washington DC is a spectacle to behold. The city transforms into a winter wonderland, adorned with dazzling lights and festive decorations. But beyond the visual splendor, DC becomes a haven for shoppers seeking unique items, artisan gifts, crafts, and souvenirs.
From November through January, the city hosts a variety of holiday markets that offer more than just shopping. They create an atmosphere of joy and celebration, complete with fantastic food and warm drinks. As the holidays approach and the city's trees light up, it's the perfect time to start your holiday shopping at one of DC's holiday markets. A great addition to the list of things to do in Washington DC during the holiday season!
One such market is the annual Downtown Holiday Market, which returns from Nov. 17 through Dec. 23, operating daily from 12 p.m. to 8 p.m. I've also covered it as one of the Top 21 Best Places to Celebrate Halloween in the US.
P.S. After exploring the market, you can visit the nearby Smithsonian American Art Museum and the National Portrait Gallery, both free to enter.
3. Smithsonian's National Zoo – Best Things to Do in Washington DC
A visit to the Smithsonian's National Zoo is a must. Established in 1889, this zoo is one of the oldest and most popular in the United States. It houses over 2,700 animals from more than 390 species worldwide.
Giant pandas, lions, elephants, cheetahs, Komodo dragons, red pandas and more. These are just a few of the many animals you can see at the Smithsonian's National Zoo.
4. Check out Rock Creek Park
Rock Creek Park is like this huge breath of fresh air right in the middle of Washington, D.C. It's got a whopping 1,754 acres of nature to explore, making it a dream come true for anyone who loves the great outdoors. Established way back in 1890, this park has been a go-to spot for nature lovers for over a century.
If you're the active type, You can play a round of golf, test your tennis skills, or even take a dip in the swimming pool.  These are just a few of the things to do in Washington DC if you're into sports. And if you're more into relaxing, there are plenty of picnic spots where you can kick back and enjoy a meal with friends and family. The park is also super accessible, with several roads that are close to motor vehicles on weekends, making it a peaceful retreat from the hustle and bustle of city life.
 Read More: Girls Gone Camping: Essential Gear and Tips for Women Explorers
5. Dupont Underground
Just a mile away from the White House, a long-abandoned trolley tunnel has been transformed into an innovative art space known as Dupont Underground. This non-profit arts organization has breathed new life into 15,000 sq ft of open abandoned space under Dupont Circle, turning it into a platform for creative exchange and contemporary arts.
The unique setting of Dupont Underground, with its exposed brick walls and vaulted ceilings, provides an intimate and atmospheric backdrop for a variety of performances and exhibitions. The venue hosts a myriad of events, including art exhibitions featuring work by both local and international artists, concerts spanning a wide range of musical genres, theater performances by various companies, and film screenings including film festivals and independent films.
6. Catch a Game
Another thing to do in Washington DC is catch a game! What better way to spend the day with friends and family?
The Washington Commanders are the city's National Football League (NFL) team. Formerly known as the Washington Redskins, they compete in the National Football Conference (NFC) East division. Their home games are held at FedExField in Landover, Maryland. Despite a recent downturn in ticket sales, the Commanders remain a beloved part of the city's sports culture.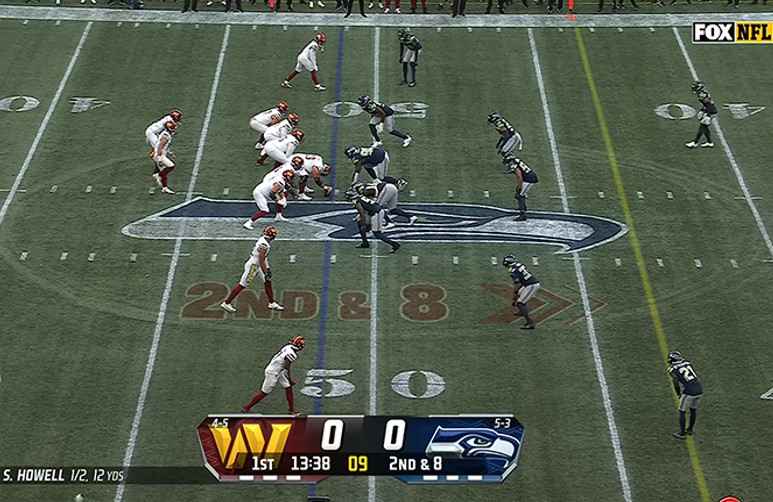 In Major League Baseball (MLB), D.C. is represented by the Washington Nationals. They compete in the National League (NL) East division and play their home games at Nationals Park in Southeast D.C.
Basketball fans in D.C. rally behind the Washington Wizards, They are a part of the league's Eastern Conference Southeast Division and host their home games at Capital One Arena in Chinatown.
7. Ferris Wheel at National Harbor
Just minutes away from Washington, D.C., nestled in Oxon Hill, Maryland, lies a waterfront resort destination that's a treasure trove of experiences – National Harbor.
It's by far one of my favorite things to do in Washington. This one-of-a-kind destination is a haven for tourists and locals alike, offering a plethora of things to see, do, and savor.
The Capital Wheel is the 180-foot-tall Ferris wheel located at National Harbor and is a great place to take in the view of the city.
If you're planning to stay, National Harbor offers a range of accommodations to suit every preference. The luxurious MGM National Harbor Hotel & Casino offers stunning views of the Potomac River and has plenty of entertainment and dining options to offer as well. Believe it or not, stepping into the MGM building looks and feels like you're on a cruise!
8. Ben's Chili Bowl
In 1958, a newlywed couple named Ben and Virginia Ali decided to take a leap of faith. With $5,000 in their pockets, they began renovating a building at 1213 U Street in Northwest Washington DC.
This wasn't just any old building, mind you. Built in 1910, it was once a silent movie house called the Minnehaha Theater. Later, it was converted into a pool hall by Harry Beckley, one of D.C.'s first Black police detectives. Talk about a place with history!
Fast forward six decades, and that building is now home to Ben's Chili Bowl, a must-visit restaurant for anyone visiting the city.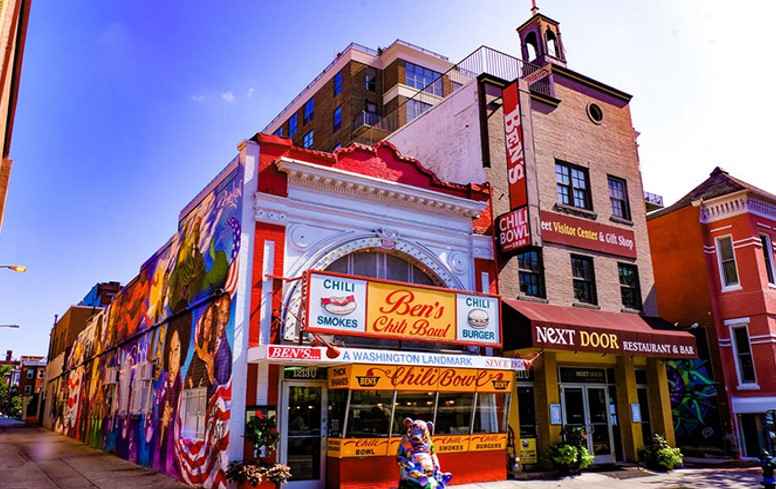 Ben's Chili Bowl is famous for its chili dogs, half-smokes, and milkshakes. And if you're scratching your head wondering what a half-smoke is, you're not alone. It's a local delicacy, voted DC's Signature Dish, and it's as delicious as it is mysterious.
9. Cherry Blossom Festival
Every spring, Washington, D.C. transforms into a pink and white wonderland, thanks to the blooming of the city's iconic cherry blossoms. This isn't just a natural spectacle, it's a tradition that dates back to 1912 when Japan gifted the United States 3,000 cherry trees as a symbol of friendship.
The cherry blossoms typically bloom in late March or early April, depending on the weather. The peak bloom period lasts about a week, turning the city into a sea of pink and white. Now, you might be wondering where the best spots are to witness this spectacle. Well, let me tell you, there are plenty!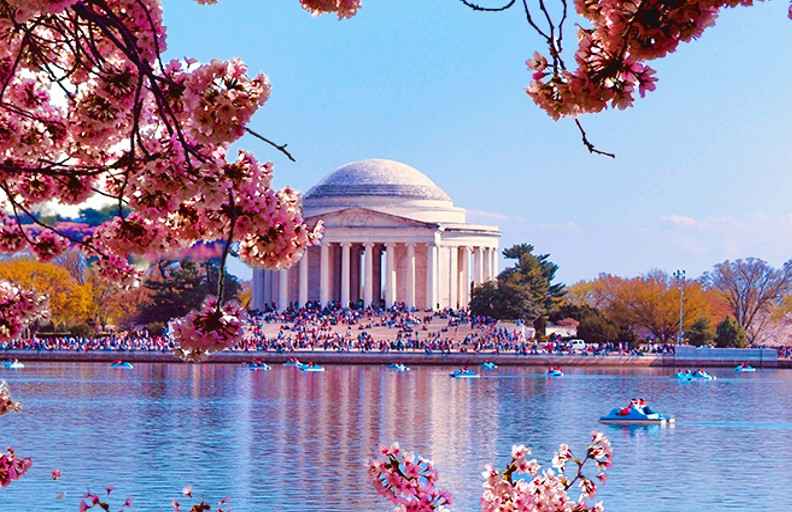 Here are some popular cherry blossom spots in DC:
The Tidal Basin: The most popular spot, home to over 700 Yoshino cherry trees.
The Jefferson Memorial: Offers stunning views of the cherry blossoms.
The National Arboretum: Home to a variety of trees and plants, including over 3,000 cherry trees.
10. Guided Tour of the Pentagon
The Pentagon is the nerve center of the United States Department of Defense and it's also one of the world's largest office buildings. It's so massive, it makes the Empire State Building look like a dollhouse with its floor space being thrice as much!
Now, you might be thinking, "A military headquarters? That's got to be off-limits to the public, right?". Actually, the Pentagon rolls out the red carpet for visitors, not once, but twice a week. Every Tuesday and Thursday, excluding federal holidays, at 10 a.m. and 1 p.m., the doors of this mighty fortress swing open for guided tours.
The tour itself is not just a walk in the park. It's a journey through time and history, covering about 1.5 miles inside the Pentagon. This tour is a unique experience and can be considered as one of the things to do in Washington DC for those interested in military history and architecture.
11. Interactive Exhibit in Artechouse
ARTECHOUSE DC, established in 2017, is a pioneering art space situated in Washington, D.C. This unique venue is dedicated to the exhibition of large-scale, experiential, and immersive installations by artists who are at the forefront of the intersection of arts and technology.
In recent exhibitions, ARTECHOUSE has collaborated with NASA scientists to interpret and visualize the data collected about our universe. This collaboration has resulted in it becoming a popular destination. In fact, in the past 12 months the term "Artechouse DC" averages 82.2K monthly searches on Google and Bing.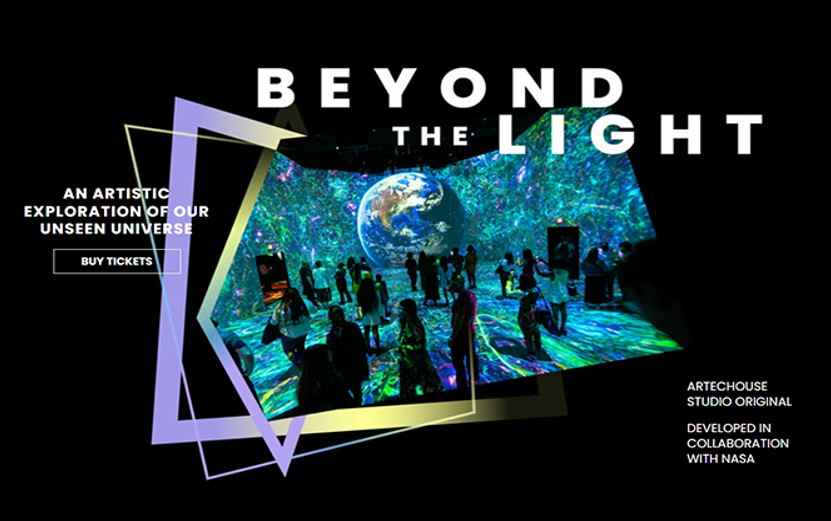 Past exhibitions have included:
"Beyond the Light": Explored the relationship between light and perception.

"Future Sketches / Code Poems": Featured artworks created using code.

"Transient: Impermanent Paintings": Showcased paintings created using artificial intelligence.
12. Welcome to The Wharf
Washington D.C.'s dazzling $3.6 billion waterfront neighborhood has been making waves since its first phase in 2017 and its grand completion in 2022. It's a neighborhood; a world-class, mixed-use marvel that stretches a mile along the historic Washington Channel of the Potomac River.
Enjoy breathtaking views of the river and the city's iconic monuments. With 3.5 million square feet of development, it's got everything from residences and offices to hotels, shops, restaurants, and entertainment venues. Not to mention the marinas, public spaces, waterfront parks, promenades, and piers. It's like a city within a city! This vibrant and bustling area is definitely one of the things to do in Washington DC for those who enjoy urban exploration and waterfront views.
13. Busboys and Poets
Busboys and Poets is a tribute to the American poet Langston Hughes, who once worked as a busboy before making his mark as a poet. Today, it stands as a beacon for writers, thinkers, and performers from America's progressive social and political movements.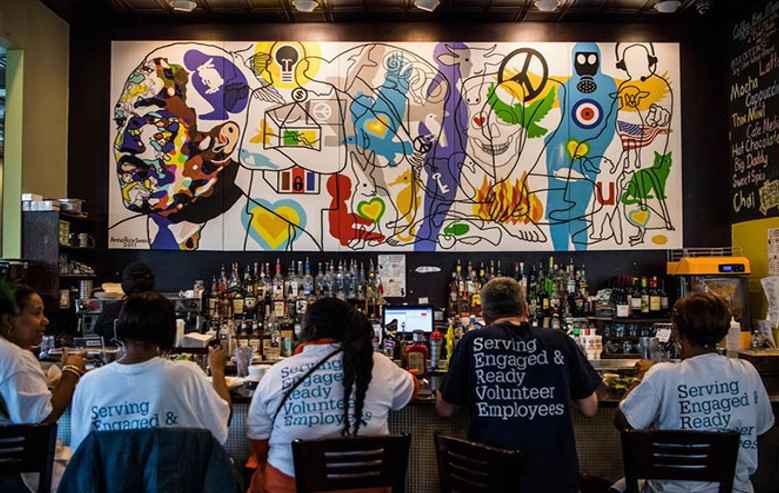 With seven locations sprinkled across the D.C. area, each Busboys and Poets is a world unto itself. It's a full-service restaurant that serves breakfast, lunch, and dinner with a side of social justice.
14. National Air and Space Museum
The National Air and Space Museum, part of the Smithsonian Institution, is a leading museum dedicated to the history of aviation and space exploration. Established in 1946, it has two locations: one on the National Mall in Washington, D.C., and another in Chantilly, Virginia.
The museum houses over 180,000 artifacts that span the history of flight, from the Wright brothers' first powered airplane to the Apollo 11 moon landing. Notable exhibits include the Wright 1903 Flyer, the Spirit of St. Louis, and the Apollo 11 Command Module.
In addition to its vast collection, the museum hosts a variety of exhibitions that delve into different aspects of aviation and space exploration. Visiting these exhibitions is a great way to learn more about the history and future of aviation and space exploration, making it one of the things to do in Washington DC for science and history enthusiasts.
15. Tour the white house
Workplace of the U.S. President and a symbol of power and prestige worldwide. Located at 1600 Pennsylvania Avenue NW in Washington, D.C., it has been home to every U.S. president since John Adams in 1800.
To Tour the Whitehouse, you'll need to request a tour through your member of Congress up to three months in advance and no less than 21 days before your visit.
The tour itself includes the public rooms in the East Wing, the State Dining Room, the China Room, and a view of the White House Rose Garden. Secret Service members are stationed in each room and can answer questions about the history and architecture of the rooms.
Getting to the White House is easy with the Metro, with the closest stations being Federal Triangle, Metro Center, and McPherson Square.
16. Top of the Gate (Rooftop Bar)
The Watergate Hotel opened in 1967 and quickly became a hotspot for politicians, celebrities, and international guests. It's a vantage point that offers a 360-degree view of the city's skyline. From the Kennedy Center to the Potomac River, you can see it all from here.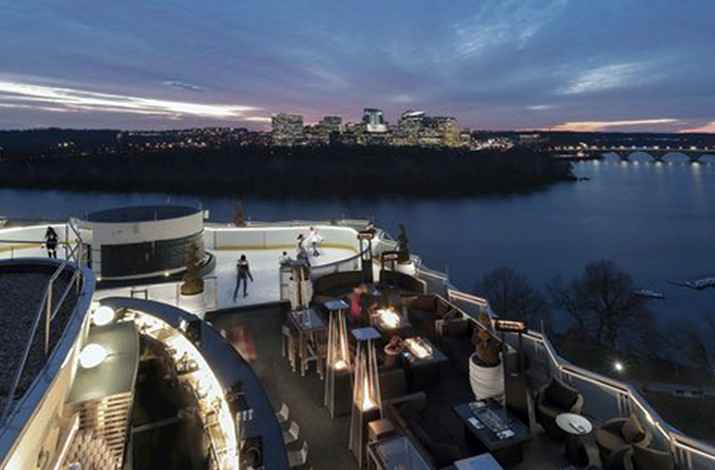 The cocktail menu features a selection of handcrafted libations inspired by seasonal ingredients and global flavors. Experienced bartenders expertly mix these creations, using fresh juices, premium spirits, and unique garnishes. The bar also offers a curated wine list and a variety of non-alcoholic beverages.
17. Sleep in a Bank! What?
A former bank at least …
Once the headquarters of the influential Riggs National Bank, this grand building has been meticulously transformed into a modern, stylish hotel that pays homage to its rich past.
Founded in 1836, Riggs National Bank was a cornerstone of Washington's financial history for over 150 years. Its imposing granite façade and grand interior served as a testament to its stature, catering to presidents, senators, and ambassadors.
Perhaps the pièce de résistance? The hotel's restaurant and bar. Housed in the former bank's subterranean vault, it retains the original teller windows and marble details, creating an ambiance that's both elegant and nostalgic. This unique dining experience is certainly one of the things to do in Washington DC for those who appreciate history and fine dining in a unique setting.
Closing Words
Those were the 17 absolute must-see, must-do things in Washington DC. From the iconic landmarks to the hidden gems, this city is brimming with history, culture, and endless adventure.
Washington, D.C., is a city that will captivate your senses, ignite your curiosity, and leave you with memories to cherish. It's definitely got an atmosphere that will keep you coming back for more!
No matter where you choose for your next trip, always remember to Travel Till You Drop!
Written By: Sophia Wu