Best Places to Celebrate Halloween in the US
Honey, grab that black lipstick and those stiletto boots. Why? Because Halloween is not just for kids on a sugar rush or dads dressed as mummies. This one's for the wild, the free, the daring divas ready for some nocturnal naughtiness. Buckle up, witches, for an epic rundown of the top 21 Best Places to Celebrate Halloween in the US – the girls' trip edition.
1. Salem, Massachusetts: Ah, my beloved Salem, where every cobblestone seems to whisper secrets of ancient witches. Cliché? Maybe. But there's a reason—Salem's your spot if you want to party where the witches did. And trust me, after 35 years of gallivanting the globe, the Salem Witch Trials site still sends shivers. Indulge in the mystic charm with haunted happenings, live music, and extravagant costume parties. Just remember, the only spirits allowed are the ones in your glass.
2. New Orleans, Louisiana: Picture this: Bouncing along to jazz, wearing your witchiest attire, in a city where every corner has a tale. Bourbon Street is your playground; ladies, it's time to swing. The city that taught me what a hangover truly feels like. Ghost tours, voodoo shops, and late-night beignets. Did I mention the cocktails.
3. Las Vegas, Nevada: Vegas dresses in black and orange in October. Zombies at the blackjack tables, vampires at the slots. And the parties? Because 'sin city' knows how to do sinful right, especially with a Magic Mike show before the goblins head out. Hit a thrilling nightclub dressed as your favorite wicked creature, and let's see who wins the sinful bingo! Otherworldly.
4. Key West, Florida: Let's get those Halloween bikinis out because the island is renowned for its indulgent Halloween festivities. It's all about the body paint here, gals, so let's get colorful! Home of the Fantasy Fest, where Halloween meets Mardi Gras. Are beads just for February? Think again.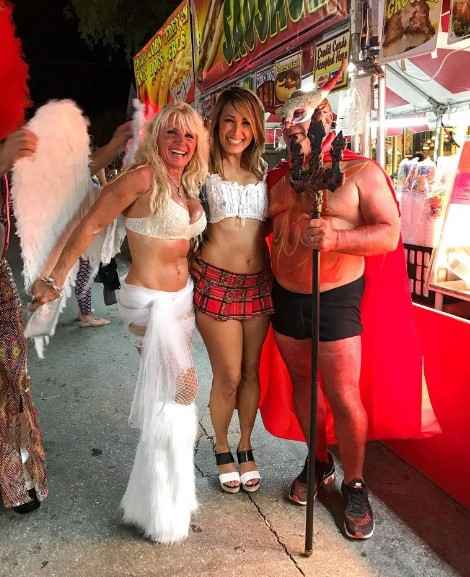 5. Sleepy Hollow, New York: Perfect if you've been trying to lose your head over some gorgeous fellow travelers. The town's haunted history is the cherry on top.
Austin, Texas: Because everything's bigger in Texas. Especially the parties. I once danced with a cowboy skeleton here.
6. Los Angeles, California: You have partied once and experienced the Hollywood Halloween magic. The mix of glam, grotesque, and glitter elevates the L.A. Halloween scene to celestial heights. West Hollywood Halloween Carnival. Enough said.
7. San Francisco, California: Think ghostly ships, swashbuckling pirates, and lots and lots of rum! The parties are as diverse as the city, offering something wicked for everyone. Their Halloween Pub Crawl? Legendary.
8. Chicago, Illinois: Between the wickedly diverse bar scenes and haunted history, Chicago's allure is irrefutable. Explore the spirited side of the windy city with themed pub crawls, after-dark museum soirées, and haunted hotel bars. This city knows how to pour a drink and tell a ghost story.
9. Savannah, Georgia: Bewitching squares, ghosts and gravestones, and an electric nightlife? Yes, please.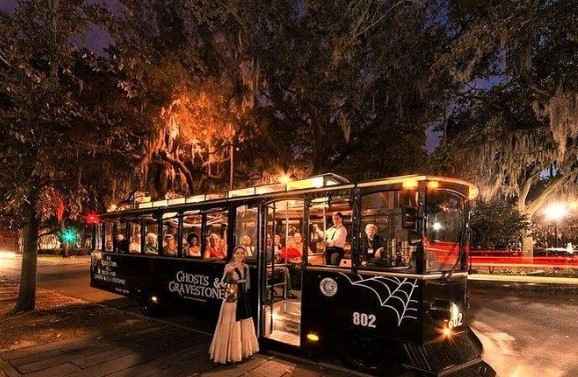 10. Nashville, Tennessee: Ghost tours in the day, honky-tonk booze and boos tour by night.
11. Washington D.C.: Not just for politicians. Dupont Circle goes all out. Take a spooky ghost tour of our nation's capital while you are there.
12. Miami, Florida: The only thing hotter than the beaches is the Halloween club nights. Check out the latest happenings in the 305.
13. New York City, New York: The Village Halloween Parade. Costumes, glitter, and Manhattan mischief.
14. Aspen, Colorado: Have you ever tried a costume ski party? You're welcome. While Aspen itself is not a ghost town, there are nearby ghost towns such as Ashcroft, which you can visit to experience a real taste of the Wild West and ghostly legends. Aspen sometimes hosts Halloween costume parades, particularly for families and children, making it a great place for kids to enjoy the holiday.
15. Portland, Oregon: Hipster ghosts and craft beer haunts.
Witch's Castle: Located in Forest Park, the Witch's Castle is a historical site known for its eerie ambiance. It's especially popular around Halloween and has inspired many spooky tales.
ZooBoo: The Oregon Zoo hosts an annual Halloween event called ZooBoo, featuring a fun and safe trick-or-treating experience for kids, along with costumed characters, games, and other activities.
16. Phoenix, Arizona: Day of the Dead festivals that continue into the night.
Haunted Houses: Phoenix offers a range of haunted houses and spooky attractions, including the 13th Floor Haunted House, Scarizona Scaregrounds, and Fear Farm.
Dia de los Muertos Celebrations: Given Phoenix's diverse population, Dia de los Muertos celebrations are a significant part of Halloween festivities, with events featuring colorful altars, parades, traditional music, and dancing.
17. Honolulu, Hawaii: Tiki torches and spooky luaus, anyone?
18. Anchorage, Alaska: It might be cold, but the parties are fire.
19. Philadelphia, Pennsylvania: Haunted penitentiary tours, a tour of the R-rated sites of Philly, followed by spirited bar hopping.
20. San Diego, California: Ghostly ship tours and Gaslamp Quarter shenanigans.
Let's be clear, darlings: These places are a blast year-round. But during Halloween? They're hotter than hell (pun intended). I've danced with demons in New Orleans, flirted with phantoms in Phoenix, and sipped spooky cocktails in San Francisco. And remember, ladies, nothing's scarier than FOMO.
In my 35-year travel odyssey, I've gathered stories, made friends, and partied like there's no tomorrow. And here's my golden nugget of wisdom for you: Live life like every night is Halloween.
To back my claim? Well, my liver's resilience after all the partying is proof enough, right? But in all seriousness, with the vast experience under my belt (and the endless tales to prove it), you can trust that these places will give you the wickedest of adventures.
So, pack that costume, raise that glass, and dance like every ghost, ghoul, and goblin is watching. Because, darling, this is your Halloween.
Cheers to bewitching nights and thrilling frights!
Don't Just Paint the Town, Bewitch It!
Let's dive a little deeper because, trust me, these places have layers like a devilishly delicious Halloween cake, and it's time to explore every flavorful bite.
Sassy Side Note: Never, and I mean never, underestimate the power of a well-chosen Halloween accessory. Remember, details can elevate your Halloween swagger to ethereal levels, whether it's that shimmering witch's hat or fiery devil horns!
Time to Break some Myths!
Halloween is not just about horror and haunted houses. It's about embracing the mysterious, celebrating the unknown, and letting your hair down. Each of these places doesn't just offer a Halloween party; they offer a Halloween experience!
Feel the Vibes: Feel the magnetic pull of the sultry Savannah nights or the thrilling allure of the dramatic Miami beaches, and each place is a unique concoction of excitement, mystery, and charm. It's about that electrifying connection you make when the beat drops, the crowd goes wild, and it's infectious, refreshing, and pure Halloween magic.
Let's Create Stories!
Remember, it's about creating those unforgettable "Remember when…" stories that make you giggle, blush, or maybe even cringe a little. Because let's be honest, the night isn't complete without a bit of mischief and a dash of drama, right?
A Toast to the Spirited Adventures: So, here's to the sinfully delightful adventures, the glamorous encounters, and the enchanting escapes. Whether dancing with the dazzling creatures of the night in San Francisco or reveling in the magnetic allure of Salem, every moment is a chance to create a spellbinding story.
I've shared my treasure trove of compelling tales, peppered with the wisdom of my countless escapades. Every word is a shimmering bead in the elaborate tapestry of my travel exploits. And now, it's your turn to weave your thrilling chapter.
A Final Sassy Whisper: Ladies, embrace your inner vixen, channel that enchanting sorceress within, and step into the night like the queen of Halloween. Remember, the night is young, the moon is high, and the adventures are limitless.
Let the mystical allure of the night guide your steps and light up your spirit because, darling, it's time to bewitch the world!
So, shall we dance under the spellbound moon and sprinkle a little bit of our magic tonight? After all, the world needs a touch of our sparkling mischief!
Wrap it up with a wink and a twirl because, ladies, we own the night!
Let's not just paint the town red. Let's paint it black, orange, purple, and every shade of wicked. Remember, we're not just here to create a stir. We're here to create a storm! Cheers to the sassy, the spicy, and the spirited! Let's make some unforgettable memories together, and no matter where you go, always remember to Travel Till You Drop!
Book Your Trip : Check Out My Resources for Your Travel Needs
Use Skyscanner to find a cheap flight.  This is my very first stop when I'm looking for my next trip. It's a fast, easy-to-use search engine that is perfect for finding an affordable flight, a perfect hotel, and the right rental car for you in locations around the globe.
Book Your Accommodation
If you are looking for a super budget friendly location and are open to a hostel stay, make sure you book your hostel with Hostelworld. It offers the broadest range of quality hostels around the world. 
If you'd prefer a hotel or a guesthouse for stays less than 28 days, drop on over to Booking.com It's perfect for providing excellent options, a ton of user reviews, and prices to fit every budget.
For stays over 28 days, AirBnB still remains my #1 choice. User reviews and monthly pricing allow for some incredible deals all around the world.
Don't Forget Travel Insurance
Travel insurance is but a small up-front investment that you won't want to leave home without. After just one experience of having to delay or cancel your trip or having your luggage stolen, you'll wish you would have made that investment.  I've hated my life a few times when the moment arose, and I decided to skip out.  Let's just say, I've changed my ways and recommend each of the following companies to protect your ass-ets.
My favorite companies are:         
Want to Travel for Free?
Travel credit cards allow you to earn points that can be redeemed for free flights and accommodation — all without any extra spending. Check out my guide to getting free flights to get started.
Ready to Book Your Trip?
Check out my Resource Page for the best companies to help you book your travel at reduced rates!  This list will help you get to where you're going.  I know-I use them ALL the time!