Some of Scariest The Haunted Houses in the States For Halloween
Ladies gather 'round because, honey, we're diving deep into the sultriest, scariest places and haunted houses in the good ol' U.S. of A. Forget the tedious spa days and mundane wine tours; this is the girls' trip itinerary for those looking to spice things up a notch. Or ten.
The name itself screams, "Welcome, darlings… or not."
Heart of the Big Apple, this haunted house will do more than give you a tiny jump-scare. Picture this: a haunted maze where sultry ghosts might steal a dance with you. Tight corners, dark alleys, and mysterious apparitions who look like they could've been former Chippendale dancers in their past lives.
Theme: Blood Manor is known for its intense and macabre themes, with realistic sets and special effects that immerse visitors in a nightmarish world. Expect to encounter horrifying scenes and unsettling characters.
Ever danced with the devil in the pale moonlight?
Seductive? Check. Terrifying? Double check. This spot promises more than just shrieks. It offers the thrill of being chased by heart-throb zombies in tailored suits. Heels on, gals, this isn't a walk in the park!
Interactive Elements: The 13th Floor in Chicago is not only about scares but also interactive elements. Visitors might find themselves engaged in heart-pounding chases and encounters with zombies dressed in tailored suits.
3. Erebus, Pontiac, Michigan:
Darlings, size does matter.
Touted as one of the most prominent haunted attractions in the world, Erebus gives you ample room to run, play, and get those heart rates soaring. Gargoyles, seductive witches, and the occasional charming vampire looking for a nibble. Did someone say neck massages?
Size and Ambiance: Erebus is renowned for its sheer size and the ambiance it creates. The haunted attraction features gargoyles, seductive witches, and charming vampires in a spacious setting, providing a more immersive experience for visitors.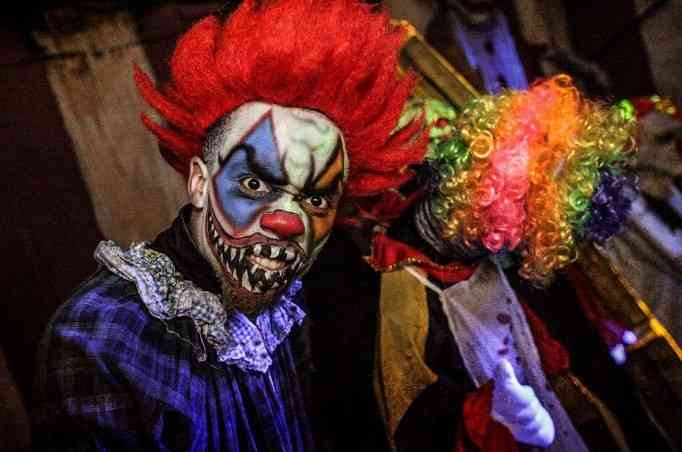 Southern hospitality with a twist!
Prepare to be wooed by the creatures of the night. Labyrinthine corridors lead to gothic chambers where ghostly figures might sweep you off your feet, literally.
Gothic Atmosphere: Netherworld is known for its gothic ambiance and intricate set designs. The haunted attraction creates an eerie, otherworldly atmosphere with its labyrinthine corridors and ghostly characters.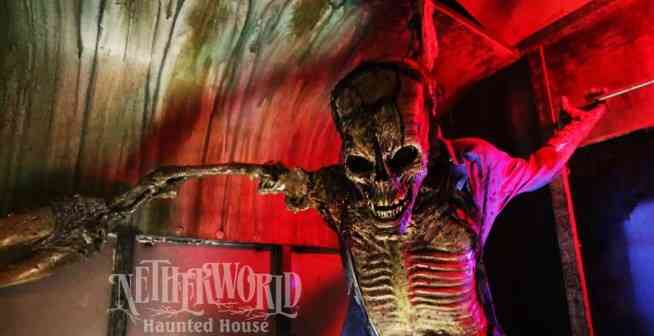 Let's get one thing straight: it's not just a nightmare; it's a Nightmare.
Creepiness levels here are off the charts. It's all here, from devilishly handsome phantoms to enchanting banshees with a penchant for red lipstick. Plus, you might find your "boo" for those single gals.
Unique Characters: Nightmare on 13th is distinct for its array of characters, including devilishly handsome phantoms and enchanting banshees. The haunting experience is enriched by these unique and captivating entities.
Alright, divas, it's time to swap those heels for some sultry boots and hit these haunted hotspots. Let's toast haunted hallways, lingering glances from the undead, and those blood-curdling shrieks (half of which might be from the sheer excitement). Remember: it's all fun and games until a ghost tries to slide into your D.M.s!
So, grab your daring dames, pack that liquid courage, and make some spine-tingling memories! Who said haunted houses can't be sexy?
Old schools, new thrills!
 What's sexier than an old school haunted by its past? You might find yourself playing cheeky hide and seek with spirits in retro attire. But be careful. Those vintage ghosts have had plenty of time to practice their flirting techniques. Classroom shenanigans, flirty janitor phantoms, and eerie bathroom encounters. (And not the type your best friend usually has after one too many margaritas!)
Haunted School Theme: The Dent Schoolhouse plays on the theme of an old haunted school. Visitors can expect to explore classrooms, encounter flirty janitor phantoms, and even have eerie bathroom encounters in this spooky setting.
Keep it weird, keep it wild!
Austin is known for its eccentric vibe; this haunted house does not disappoint. It's an eclectic mix of gothic romance and modern horror. Let's say the creatures lurking in this Haunted House have a flair for the dramatic. Sultry sirens, dashing demons, and maybe a mysterious cowboy or two. Yeehaw, anyone?
Eclectic Mix: House of Torment in Austin offers an eclectic mix of gothic romance and modern horror. The haunting experience includes sultry sirens, dashing demons, and possibly even enigmatic cowboys, reflecting Austin's unique vibe.
A haunted ship? Sail away with me!
All aboard this nautical nightmare. The Queen Mary's ghosts have a taste for high seas and high jinks. From the ship's captain with his alluringly deep voice echoing through the chambers to the sassy sirens of the sea, this trip promises adventure and allure.
Nautical Horror: The Queen Mary's Dark Harbor is set aboard a historic and haunted ship. It promises a nautical-themed horror experience, with ghostly ship captains and sirens from the sea adding to the allure.
Where every room has a 'Do Not Disturb' sign.
If you thought elevators were just for quickie make-outs and mirror selfies, think again. This haunted hotel adds a new dimension to the "elevator pitch." Suave Specters might share a ride with you. By the end, you'll question if you booked a haunted house experience or a risqué romance novel.
Elevator Encounters: Haunted Hotel in San Diego is known for incorporating elevator encounters into its experience. Suave specters may share elevator rides with visitors, making it a unique and unsettling experience.
Ever had a prison fantasy? Say no more.
Set in the historic Eastern State Penitentiary, this isn't your ordinary jailbreak. Think charming inmates with rugged pasts and alluring wardens keeping naughty secrets. Behind these bars, the only thing more complex than the cold stone walls are the flinty glances exchanged in the dim candlelight.

Historic Setting: Terror Behind the Walls is set within the historic Eastern State Penitentiary, which enhances the experience. The attraction captures the essence of the penitentiary's history and features complex characters.
Sing your heart out, or scream it out – Nashville's got you covered.
You thought Nashville was all cowboy boots and country ballads? Think again. Dive into a realm where the tunes are haunting, and the ghosts have rhythm. Between the sultry ghostly crooners and the eerily alluring dance floors, this haunt promises a foot-tappingly scary experience. And let's be honest; nothing says "wild night" quite like a phantom guitarist serenading you with love ballads from the beyond.
Unique Music Theme: Nashville, Nightmare combines haunting music and rhythm into its haunted house experience. Visitors can expect to encounter ghostly crooners and eerie dance floors, providing a distinctive and entertaining experience.
Now for my top pick of all Haunted Houses that will take being scared to all new heights! McKamey Manor isn't one I would ever try out myself, but if you are looking for a scare of a lifetime, this is it!  You have to sign a 40-page waiver for this one, and he'll pay you $20k if you make it all the way through.  He tailors the scariness to your demons, and if you survive, well, you've faced your fears in more ways than one.  He can and will lay hands on you, so prepare yourself.  If you're not a scaredy cat like me, have at it and let me know how it goes! 
Extreme Experience: McKamey Manor is famous for pushing the limits of extreme horror experiences. Participants must sign a lengthy waiver, and the owner customizes the experience to each individual's fears, making it one of the most intense and personalized haunted house experiences available.
Tips for Your Thrilling Trip:
Are you prepping for this haunted escapade? A couple of things to remember, ladies. Always travel in packs – it's more fun (and flirtatious) when spirits have more choices. And those high heels? Perfect for a fashionable flee from friendly phantoms.
Wrap-Up:
Your girls' trip deserves to be legendary. From melodic ghosts in Nashville to tempting terrors in Philadelphia, it's all about embracing the chills with charm. So here's to sexy spooks, thrilling tales, and wild nights out with your favorite gals. After all, if these walls could talk, they'd whisper tales of brave divas, cheeky spirits, and the kind of fun to die for.
Alright, femme fatales, it's time to drop those humdrum getaways and dive into the world of seductive spooks and tantalizing terrors. Remember, these haunted houses aren't just about the fright; they're about finding that exhilarating blend of horror and allure where every corner turned leads to a gasp, either from the seductive charm of a ghostly lover or the adrenaline-pumping thrill of the unknown.
So, next time someone suggests a girls' trip, skip the usual spa and brunch routine. Choose a place that ignites the thrill, flirts with the forbidden, and promises memories that linger… much like the caress of a phantom lover.
Ready to redefine what it means to be 'haunted'? Put on that little black dress, grab your fearless squad, and dare to walk the sultry, spine-tingling corridors of America's most seductive haunted houses. And who knows, amidst the shrieks and shivers, you might discover a side of yourself you never knew existed – fierce, audacious, and unapologetically wild.
Cheers to wild nights, hauntingly good times, and memories that will keep you returning for more. After all, who said ghosts were the only ones allowed to have all the fun?  No matter where you choose for your Halloween Haunt, always remember to Travel Till You Drop! 
Book Your Trip : Check Out My Resources for Your Travel Needs
Use Skyscanner to find a cheap flight.  This is my very first stop when I'm looking for my next trip. It's a fast, easy-to-use search engine that is perfect for finding an affordable flight, a perfect hotel, and the right rental car for you in locations around the globe.
Book Your Accommodation
If you are looking for a super budget friendly location and are open to a hostel stay, make sure you book your hostel with Hostelworld. It offers the broadest range of quality hostels around the world. 
If you'd prefer a hotel or a guesthouse for stays less than 28 days, drop on over to Booking.com It's perfect for providing excellent options, a ton of user reviews, and prices to fit every budget.
For stays over 28 days, AirBnB still remains my #1 choice. User reviews and monthly pricing allow for some incredible deals all around the world.
Don't Forget Travel Insurance
Travel insurance is but a small up-front investment that you won't want to leave home without. After just one experience of having to delay or cancel your trip or having your luggage stolen, you'll wish you would have made that investment.  I've hated my life a few times when the moment arose, and I decided to skip out.  Let's just say, I've changed my ways and recommend each of the following companies to protect your ass-ets.
My favorite companies are:         
Want to Travel for Free?
Travel credit cards allow you to earn points that can be redeemed for free flights and accommodation — all without any extra spending. Check out my guide to getting free flights to get started.
Ready to Book Your Trip?
Check out my Resource Page for the best companies to help you book your travel at reduced rates!  This list will help you get to where you're going.  I know-I use them ALL the time!