Alright, fearless ladies, get ready for a blog post that will have you itching to grab your party hats and jump aboard the Nashville Party Tractor. Oh, Nashville, the city where the music is loud, the boots are shiny, and the party never stops.
In this blog post, we're diving headfirst into all things Nashville Party Tractor. Hold onto your cowboy hats because we've got it all covered. From fashion advice that will make even the flashy lights jealous to behind-the-scenes interviews with the entertainers who bring the party to life, we've got your inside scoop.
History of the Nashville Party Tractor
Now, picture this: It's a warm summer's night in 2023, and the first Nashville Party Tractor hits the streets. With music blasting, lights flashing, and a group of fearless souls ready to let loose, it was an instant hit. Word spread like wildfire, and suddenly, everyone wanted to be a part of this rolling party phenomenon.
As the years went by, the Nashville Party Tractor scene exploded. The city itself couldn't deny the magnetic energy captured on these behemoth party vehicles, so they worked together to create regulations and guidelines to keep the good times rolling. 
Milestones and developments? Oh, you betcha! The Nashville Party Tractor has seen it all. From celebrating milestone birthdays of fabulous ladies to hosting bachelorette parties that shook the very foundation of Music City, these party wagons have become a staple in the city's vibrant social scene.
But the party didn't stop there. As the Nashville Party Tractor continued to thrive, it also became a force for good. These larger-than-life vehicles started giving back to the community, partnering with local charities and artists to spread joy and make a positive impact. Who said you can't party with a purpose?
What is the Nashville Party Tractor?
Alright, ladies, let me paint a picture for you. Imagine a colossal party on wheels, a rolling fiesta that can't be tamed. Welcome to the Nashville Party Tractor, where the party never stops, and the good times are as big as Dolly Parton's hair!
Now, close your eyes and picture this badass contraption: a larger-than-life vehicle decked out with vibrant colors, flashy lights, and enough energy to power an entire city block. It's like a disco ball exploded and landed on wheels. You can't miss it, even if you tried (unless—you are too tipsy before you ever get there—yep the first year my group did this).  
Let's just say, my ladies and I enjoyed the city far too much before trying to make it to the tractor, and while our Uber driver pulled a Fast and the Furious type of move to make the tractor pull over, we sadly had to wave goodbye.  The following year, oh we were on it.  
Sober when we started, but NOT by the time we rode it twice and still missed 90% of the tour. Lol. Those photos are not included here, but let's just say we had a hell of a time! 
Now, what makes this party wagon so unique? I'm glad you asked, my soon-to-be drunken friends. Let's dive into some of the fabulous features that make it a force to be reckoned with:
The Ultimate Sound System: Prepare to have your eardrums blown away! The Nashville Party Tractor boasts a top-notch sound system that will make you feel like you're in the front row at a concert. From country classics to high-energy pop hits, every song will have you dancing like nobody's watching.  Hopefully, you'll get our same male host who may or may not have been a stripper in his past life.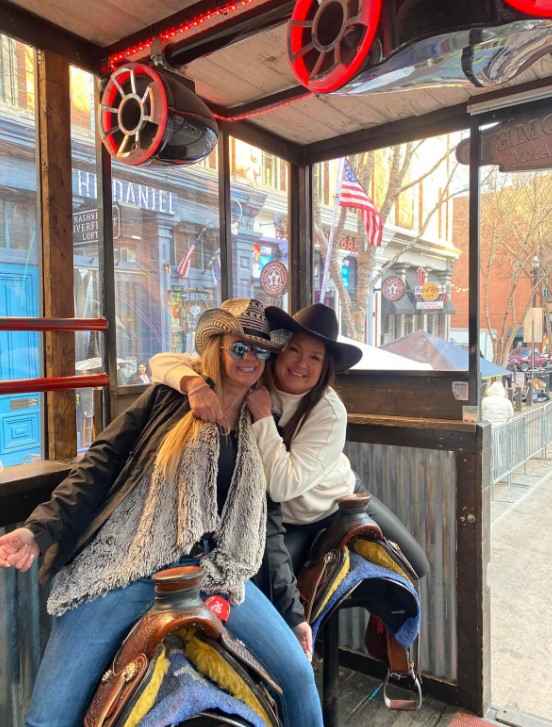 Lights, Lights, Lights: If you thought fireworks were impressive, wait until you see the Nashville Party Tractor in action. This baby is lit up like Times Square on New Year's Eve. It's a kaleidoscope of colors, with LED lights dancing to the rhythm of the music. You won't just see the party; you'll feel it, too!
Dancing as You Go: Forget sitting on your butt; the Nashville Party Tractor is all about getting your groove on. Picture yourself on an open-air dance floor, surrounded by like-minded party animals, shaking your hips and letting your inhibitions fly away. Who needs a club when you have a moving party palace?
Routes and Destinations
During the ride, the tractor tour typically takes you through popular neighborhoods and areas of Nashville, allowing you to soak in the city's charm and energy. Destinations and landmarks that the Nashville Party Tractor may potentially visit include:
Downtown Nashville: Experience the heart of Music City as you cruise through the bustling streets of downtown. Marvel at the towering buildings, neon signs, and the energy of Broadway, known for its live music venues and honky-tonk bars.
The Gulch: This trendy neighborhood is known for its vibrant nightlife, upscale boutiques, and stylish restaurants. Admire the unique street art and iconic colorful murals that adorn the walls, making it a perfect spot for that Instagram-worthy photo.
Midtown: Cruise through Midtown, one of Nashville's hottest areas, filled with bars, lounges, and live music venues. This lively district is perfect for enjoying the city's nightlife and soaking up the energetic atmosphere.
Please note that specific routes and destinations may vary depending on the tour operators, weather conditions, and any special events happening in the city.
Music and Entertainment
I know you're itching to find out if this rolling fiesta comes with live music, a DJ spinning sick beats, or a playlist filled with iconic Nashville tunes. Well, buckle up and get ready to groove because the answer is… drumroll, please… YES!
When you hop aboard the Nashville Party Tractor, you can expect a party playlist that will have you bopping your head and tapping your feet like a woman possessed by the spirit of Johnny Cash himself. Picture this: an epic blend of country anthems, foot-stomping rock hits, and infectious pop jams that will make you forget all your worries and dance like nobody's watching.
But wait, there's more! The Nashville Party Tractor knows how to keep the good times rollin' with its kickass entertainment features. Get ready to unleash your inner dancing queen on the open-air dance floor. Yep, my fearless friends, this party machine has a designated space for you to show off your dance moves and let your inhibitions fly away. Who needs to hit up clubs when you've got your own moving dance floor?
If dancing isn't your thing, fear not! The Nashville Party Tractor is always full of surprises. You might find yourself caught up in a spontaneous game of trivia, karaoke, or even a legendary dance-off competition. Trust me, this wild ride is a one-way ticket to endless laughter, unforgettable moments, and potentially embarrassing stories to share with your besties back home.
Tour Providers & Packages
Public Tour: For the bargain price of $44.95 (Wednesday to Sunday, mind you), you can hop on this wild ride and experience 90 minutes of pure, unadulterated fun, dancing, and partying. Who needs pit stops when you can have an unstoppable party tour? We won't be making any stops along the way, because the party never stops on the Nashville Tractor!
Now, I have to break the news to you party animals who aren't yet 21. You'll have to stick to the PRIVATE TOURS ONLY if you want a taste of the tractor action before 5:15 pm. And here's a little buzzkill: NO alcohol is allowed by anyone (yes, you too, 21+ folks) if there are any under-agers on board. Safety first, I suppose.
Private Tour: Starts at $595. Listen up, ladies! I've got the quick details on this private farm party to Broadway, and trust me, it's a hoe down you don't want to miss! If you're planning a bachelorette party or a birthday bash in Nashville, then this private tour is a must-do. Get ready for 90 minutes of non-stop fun on the biggest rolling party wagon in town!
Oh, and let me just remind you that BYOB is a big fat no-no on this shin-dig. But don't worry, they've got you covered. You can grab a variety of ice-cold beers and refreshing seltzers right on the wagon. No need to bring your own when you can get 'em straight from the source!
Now, let's talk wagon size, shall we? They've got not one, but two huge wagons that can hold up to a whopping 65 people. So, whether you're rolling deep with all your gal pals or just want to keep it more intimate, they've got you covered. The hay rack fits 30 people, while the Size Matters, this rack can accommodate 35 of your closest friends. Yeah, you heard me right, Size Matters. They're not afraid to go big!
Public Ticket: Now, if you're not rolling deep with a big group, fear not! You can still join the party wagon as an individual or with a small crew. The price for this thrilling adventure is $42.99 per person. For that amount, you'll be treated to an hour and 45 minutes of pure party pleasure on wheels. And here's the kicker – they've got a professional bartender and DJ on board. Forget about the boring old tour guides, these folks know how to do their thing!
Private Tour: So, according to the glorious website of Nashville Party Wagon, you have a couple of options to choose from. They've got private group experiences that can accommodate up to 20 people. And guess what? It won't break the bank! These private shindigs will cost you $480 per group if you decide to party from Monday to Thursday and a smidge more ($500) if you rock out on a Friday to Sunday.
Tips To Make for a Great Experience
Snag the Best Seat: When you hop onto the Party Tractor, it's all about that prime seating position. Aim for the back row so you can soak up the views, wave at passersby with your newfound celebrity status, and have easy access to the bar.
Dress to Impress: Now, I know we're fans of that effortless "I woke up like this" look, but when it comes to the Party Tractor, it's time to bring your A-game, my friends. Dress in your sassiest country-chic attire, complete with a stylish cowboy hat and some fabulous boots.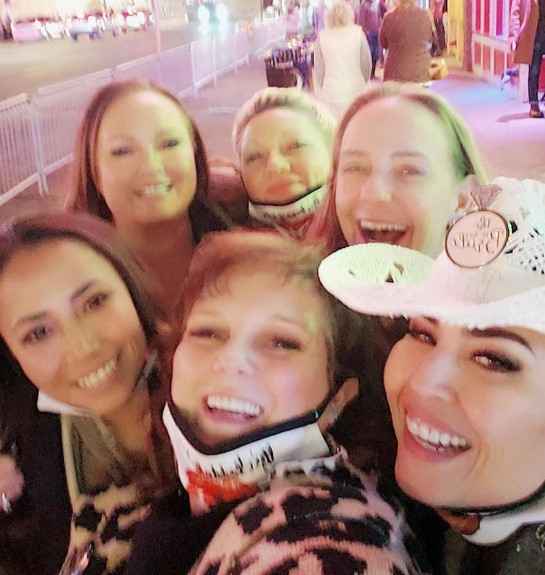 Embrace the Playlist Power: You've got a professional DJ on board, so take advantage of their talent and crank up the tunes. Don't be shy – make requests and get ready to belt out your favorite jams.
Sip and Savor: A party isn't complete without some tantalizing beverages, and the Party Tractor has you covered. Get acquainted with their professional bartender, and don't hesitate to indulge in some delicious libations. Whether it's a refreshing cocktail, a perfectly poured beer, or a cheeky shot, let your taste buds dance along with the beats. Just remember to stay hydrated in between, because we all know too drunk ain't cute. Lol 
Connect with Your Fellow Partiers: The Party Tractor is not just a vehicle, it's a social hub. Strike up conversations with your fellow travelers and embrace the opportunity to make new friends. Who knows, you might even meet a fellow traveler with whom you can embark on future adventures.
Capture the Magic: Don't forget to document those epic moments! Whip out your trusty camera or smartphone and snap away. Capture the joy, the laughter, and the unforgettable memories.
Related Articles and Resources
Party Tractor Reviews on TripAdvisor: Need some honest opinions and reviews from fellow fearless travelers? TripAdvisor is the go-to destination for real, unfiltered feedback. Check out the Party Tractor reviews, ratings, and even photos to get a sneak peek into the fun that awaits you. Here's the link
Start your quest for Party Tractor knowledge with the official website. Get all the deets on their routes, schedules, and special events. Plus, you might even score some sweet discounts or exclusive offers. Head on over to nashvillepartytractor website.
Alright, my bold explorers, with these resources at your fingertips, you'll be armed with all the Party Tractor knowledge a fearless traveler could ask for. From official websites to reviews and personal accounts, these links will satiate your thirst for information and ramp up the excitement for your upcoming Party Tractor adventure.  And no matter where you go, always remember to Travel Till You Drop!
Book Your Trip : Check Out My Resources for Your Travel Needs
Use Skyscanner to find a cheap flight.  This is my very first stop when I'm looking for my next trip. It's a fast, easy-to-use search engine that is perfect for finding an affordable flight, a perfect hotel, and the right rental car for you in locations around the globe.
Book Your Accommodation
If you are looking for a super budget friendly location and are open to a hostel stay, make sure you book your hostel with Hostelworld. It offers the broadest range of quality hostels around the world. 
If you'd prefer a hotel or a guesthouse for stays less than 28 days, drop on over to Booking.com It's perfect for providing excellent options, a ton of user reviews, and prices to fit every budget.
For stays over 28 days, AirBnB still remains my #1 choice. User reviews and monthly pricing allow for some incredible deals all around the world.
Don't Forget Travel Insurance
Travel insurance is but a small up-front investment that you won't want to leave home without. After just one experience of having to delay or cancel your trip or having your luggage stolen, you'll wish you would have made that investment.  I've hated my life a few times when the moment arose, and I decided to skip out.  Let's just say, I've changed my ways and recommend each of the following companies to protect your ass-ets.
My favorite companies are:         
Want to Travel for Free?
Travel credit cards allow you to earn points that can be redeemed for free flights and accommodation — all without any extra spending. Check out my guide to getting free flights to get started.
Ready to Book Your Trip?
Check out my Resource Page for the best companies to help you book your travel at reduced rates!  This list will help you get to where you're going.  I know-I use them ALL the time!