Hey there, you absolute freaks of nature who want a memorable experience through the Best Places to Celebrate Halloween, It makes your grandma clutch her pearls! Suppose you're tired of lame pumpkin patches and kids whining about toothaches from candy. In that case, it's time to dive into the spectacular world of dark tourism. No trick, all treats! Let's spice up your Halloween faster than you can say "boo."
The Spook-tacular Basics of Dark Tourism
First, let's recap for the uninitiated. Dark tourism is when you visit places tinged with death, disaster, or the downright creepy. Sounds like fun. Well, it's not just for Goths and history nerds; it's for anyone who craves a thrill that a haunted house can't deliver.
The Ultimate Bucket List: Even More Places for the Daring Dark Tourist
If you've made it this far into the article and still haven't found the Best Places to Celebrate Halloween to tickle your twisted fancy, you're a hard one to please—but I like it! Let's delve even deeper into this creepy cornucopia and check out a few more spots that didn't make the first cut but are begging for your screams…I mean, attention.
Romania: Vampires, Dracula, and Oh So Much Blood!
Speaking of things that go "bite" in the night, let's start our creepy journey in Romania. Home to Bran Castle, also known as "Dracula's Castle," this place is a dark tourist's wet dream. Experience the thrill of walking through the halls that inspired Bram Stoker's Dracula. You can almost hear the Count whispering sweet Transylvanian nothings into your ear. But beware! The local townspeople still hang garlic on their doors. So, if you plan to make out with any vampires, pack some mints.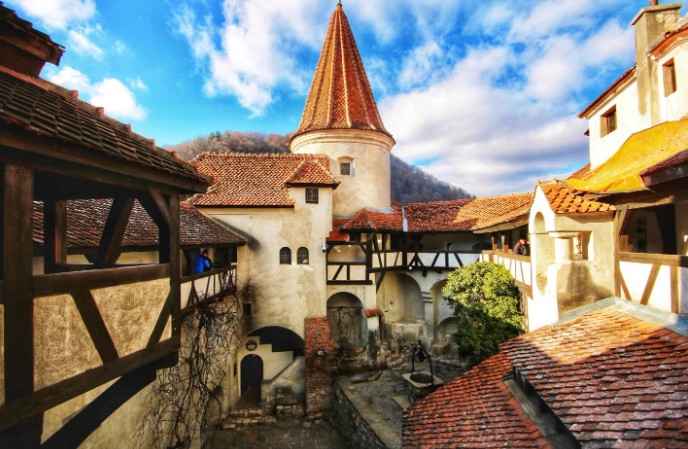 San Francisco: The Spooky Side of the Golden Gate
Ah, San Francisco—the city known for tech bros, steep hills, and… Alcatraz? That's right, you thrill-seekers. This former prison is a playground for those who like their tourism more "imprisoned." Listen, there's nothing like standing in the cell that once held Al Capone while contemplating the life choices that led you there. And hey, you might even catch a ghostly figure in your selfie. If that doesn't boost your Instagram game, what will?
The Castro is famous for its Halloween street party, which draws thousands of revelers every year. The neighborhood goes all out with elaborate and creative costumes, and the bars and clubs along Castro Street host themed parties. It's a fantastic place to people-watch and enjoy the festive atmosphere.
San Francisco offers a variety of haunted attractions and escape rooms during the Halloween season. Places like "The San Francisco Dungeon" and "The House of Screams" offer spooky experiences for those who love a good scare.

Pier 39: This popular tourist destination often hosts Halloween-themed events and activities for families. Check out their website for the latest updates on what they have planned for the season.

San Francisco has a rich history, and many areas are rumored to be haunted. Join a ghost tour to explore the city's spookier side and learn about its haunted history.

The Catacombs of Paris: The Bone-Chilling Basement of France
Screw the Eiffel Tower. The real romance happens six feet under. I'm talking about the Catacombs of Paris, baby! Imagine navigating dimly lit tunnels adorned with human skulls while humming "La Vie en Rose." That's a love story for the ages. Or, at least, it's a cool thing to brag about when you get home.
Disneyland Paris is known for its impressive Halloween-themed decorations and events during the Halloween season. The park is adorned with pumpkins, fall colors, and offers special parades and shows with Disney characters in costume.
For a spooky and atmospheric experience, consider visiting the Montmartre Cemetery, which is the final resting place of many famous individuals. The cemetery takes on an eerie ambiance at night, making it a unique place to explore on Halloween.

Paris boasts many costume shops, making it a great place to shop for Halloween costumes. Additionally, some venues in the city host masquerade balls and costume parties where you can show off your creativity.

Another famous cemetery in Paris, Père Lachaise, is a popular place to visit on Halloween. Known for its historic and artistic significance, it becomes a bit mysterious and haunting during the Halloween season.

Located just outside of Paris, Parc Asterix, a theme park based on the popular French comic book characters Asterix and Obelix, often hosts Halloween-themed events and attractions. It's a great place for family-friendly Halloween fun.

Chernobyl: Where Even the Air Tastes Like Fear
You've seen the show, now live the radioactive dream. There's something oddly appealing about wandering a ghost town once the site of one of the world's worst nuclear disasters. Just be sure to pack some sunscreen with a super high SPF—you'll need it.
Chernobyl tours, often referred to as "dark tourism," have gained popularity in recent years. These tours offer visitors the chance to explore the abandoned city of Pripyat and the Chernobyl Exclusion Zone. The desolation, overgrown buildings, and eerie silence create a haunting atmosphere that some find fitting for a Halloween-themed experience.
New Orleans: Voodoo, Jazz, and Cemeteries—Oh My!
Down in the Big Easy, they take their dark tourism with a side of jazz and jambalaya. From Voodoo shops to above-ground cemeteries, New Orleans is one endless spooky parade. And if you have the guts to join a nighttime paranormal investigation and cemetery tour or a voodoo queen tour, you might earn some dark, severe tourist cred.
Krewe of Boo Parade: This Halloween parade rolls through the streets of the French Quarter and is a family-friendly event with spectacular floats, marching bands, and participants in elaborate costumes.
Marie Laveau's House of Voodoo: Pay a visit to this voodoo shop in the French Quarter to explore the world of voodoo and purchase unique and eerie items for your Halloween festivities.

Aokigahara Forest, Japan: Where Trees Keep Secrets
Yeah, you read it right. A forest in Japan is also known as the "Suicide Forest." It's a quiet place where nature hides its most melancholic stories. Going there requires a sturdy sense of adventure and a dark soul. Remember, this place isn't for the faint-hearted, so maybe wait to pitch a tent here.
Gettysburg, USA: Where History Comes Alive, Literally
You don't have to be a Civil War buff to appreciate the haunting beauty of Gettysburg. Where else can you roam historic battlefields during the day and then go on a genuine ghost hunt at night? Just be prepared to run into a soldier or two—ghostly or otherwise.
Why gaze at works of art when you can at works of "death?" This crypt in Rome is decorated with the bones of more than 4,000 monks. If that doesn't send shivers down your spine, what will?
Let's Get Packing! Before Selecting the Best Places to Celebrate Halloween
I commend you if you're one of those over-achievers who makes spreadsheets for their trips. But this Halloween, toss the spreadsheets and roll the dice. Pick a place that screams at you—again, literally. Nothing compares to unexpectedly coming face-to-face with the grim and the gruesome when searching for the Best Places to Celebrate Halloween fetish. 
Essential Gear for Your Haunting Adventures
Let's talk survival essentials:
Camera:

 How else will you capture the horrified look on your face?

A Buddy:

 Because no one wants to scream alone.

Snacks:

 Fear burns calories, folks.

Common Sense:

 Leave your Ouija boards at home. Some spirits are better left undisturbed.
Parting Words for the Dark at Heart
Hey, we've all got a little dark side. And if yours involves traipsing around ghoulish places while others are bobbing for apples, then you're my kind of people. These destinations are more than just a trip; they're an exploration of the taboo, a walk on the wild side of history and humanity.
Let's cut to the chase. Are you ready to swap the Best Places to Celebrate Halloween for an epic adventure in dark tourism? With these locations, you can take your October 31st from "meh" to "OMG, did you see that shadow move?!" It's time to graduate from trick-or-treating and dive into something genuinely spine-chilling.
So, toss the candy corn, grab your bravest—or most gullible—friend, and jet off to these dark and delightful destinations. Because, as they say in the shady tourism business, you haven't lived until you've dabbled in death.
Alright, spooksters, that's a wrap. Or should I say, that's a "wrap-ture?" No? Okay, I'll see myself out. But before I do, let me wish you a dark and the Best Places to Celebrate Halloween that you'll never forget—or at least, one you'll always remember during therapy.
Go forth, my creepy comrades. Make this Halloween a bone-chilling blast! Now go, make this Halloween one for the books—or should I say, one for the tombstones?
That's all, folks, and remember: Life's no fun without a good scare! Do you need to be entertained? If not, well, there's always next Halloween. Happy haunting, and as always, Travel Till You Drop!
Book Your Trip : Check Out My Resources for Your Travel Needs
Use Skyscanner to find a cheap flight.  This is my very first stop when I'm looking for my next trip. It's a fast, easy-to-use search engine that is perfect for finding an affordable flight, a perfect hotel, and the right rental car for you in locations around the globe.
Book Your Accommodation
If you are looking for a super budget friendly location and are open to a hostel stay, make sure you book your hostel with Hostelworld. It offers the broadest range of quality hostels around the world. 
If you'd prefer a hotel or a guesthouse for stays less than 28 days, drop on over to Booking.com It's perfect for providing excellent options, a ton of user reviews, and prices to fit every budget.
For stays over 28 days, AirBnB still remains my #1 choice. User reviews and monthly pricing allow for some incredible deals all around the world.
Don't Forget Travel Insurance
Travel insurance is but a small up-front investment that you won't want to leave home without. After just one experience of having to delay or cancel your trip or having your luggage stolen, you'll wish you would have made that investment.  I've hated my life a few times when the moment arose, and I decided to skip out.  Let's just say, I've changed my ways and recommend each of the following companies to protect your ass-ets.
My favorite companies are:         
Want to Travel for Free?
Travel credit cards allow you to earn points that can be redeemed for free flights and accommodation — all without any extra spending. Check out my guide to getting free flights to get started.
Ready to Book Your Trip?
Check out my Resource Page for the best companies to help you book your travel at reduced rates!  This list will help you get to where you're going.  I know-I use them ALL the time!