Some of the Best cheap Places To Travel in USA
The United States of America is among the most stunning and interesting destinations in the world. While some trips can be expensive, there are plenty of budget-friendly options that will let you see the best of what America has to offer. Whether you are looking for a national park experience, a small town, or a beach adventure, there are plenty of pocket-friendly activities you can engage in. In this post, we'll share five Cheap Places To travel in the United States. Whether you're looking to explore the outdoors or visit some of America's most iconic cities, we've got you covered. 
1. Grand Canyon
One of the most well-liked tourist locations in the US is the Grand Canyon and for a good reason too! "Grand" is almost an understatement when describing the canyon. With approximately 277 river miles in length, a mile deep, and a width of 18 miles, this ambiguous natural wonder in northern Arizona is truly a beauty to behold. The Grand Canyon brings in millions of people from all over the globe to this UNESCO World Heritage Site just to enjoy its orange and red grandeur.
This awe-inspiring natural wonder is simply breathtaking. Although it's worth it to splurge and stay in one of the luxurious lodges near the canyon, there are also plenty of budget-friendly options. If you're on a tight budget, camping is a great way to save money while still enjoying the incredible views. Visit Grand Canyon
2. Glacier National Park
Next on the list is Glacier National Park in Montana, also commonly known as the "Crown of the Continent."  It is located on the border of Montana and Canada and has a natural beauty that is like none other. This national park has plenty of breathtaking natural wonders to explore, and it's all available at a fraction of the cost of other popular destinations. Glacier National Park is home to over 700 miles of hiking trails, so you will be able to explore the incredible landscapes at your own pace. Or, if you're looking for a more relaxing experience, take a boat ride on one of the area's pristine lakes. Either way, you can't go wrong!
In addition to the dizzying beauty of the geological features and geographic wonders, Glacier National Park is home to an exciting history. One of the National Historic Landmarks – The Going-to-the-Sun-Road – a scenic, 50-mile drive through the park, is a structural engineering feat that has beautiful views as well as access to popular hiking trails. Visit Glacier National Park
3. Grand Teton National Park
If you're looking for an outdoor adventure that won't break the bank, consider a trip to Grand Teton National Park in Wyoming. With soaring peaks, pristine lakes, and miles of hiking trails, this park offers something for everyone. Peak summer seasons are best for hiking in the National Park.  With each step, you'll be able to see beautiful views of the Tetons, and with each step you take, you will be closer to hidden waterfalls. If you are a rafter or a kayaker or just simply enjoy floating, then the Snake River will be very appealing to you.  Also, history buffs are not left out on a trip to Grand Teton National Park either. There is so much to experience from historic districts like Mormon Row and Menor's Ferry that will keep you entertained. Visit Grand Teton National Park.
You can camp or stay in one of the many lodges or cabins inside the park or simply day trip it and enjoy the views from the roadside. Admission is free, and you can even bring your food and drinks into the park (just make sure to pack out what you bring in).
4. Moab
Moab, Utah is another pocket-friendly destination that will leave you awestruck. This stunning area is home to some of the most beautiful landscapes in the country, from red rock canyons and sandstone arches to dramatic river valleys and snow-capped peaks. What's more, Moab is also a great place to enjoy outdoor activities like a 4×4 driving tour, hiking, biking, and white water rafting. This is definitely one of my favorite places on this planet! 
Also, with a wide range of accommodation options available, from camping and hostels to hotels and B&Bs, it's possible to visit Moab on a budget. There is no limit to what you will experience in a Moab adventure. So, what are you waiting for? Start planning your trip today! Visit Moab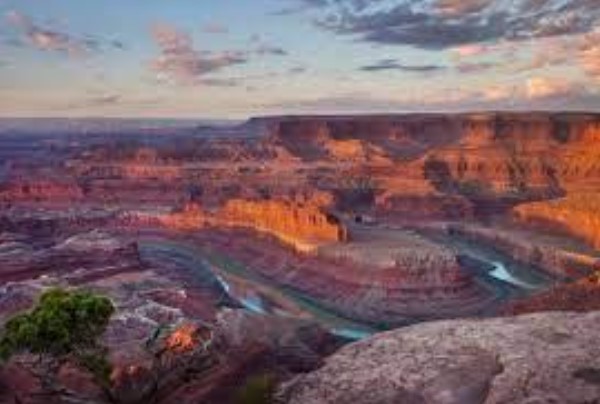 5. Arcadia National Park, Bar Harbor, Maine
Located on the coast of the Atlantic Ocean and often referred to as the gateway to Acadia National Park, Bar Harbor is a charming town with plenty of things to see and do. From sailing to hiking in Acadia National Park, the harbor has a scenic reputation that combines all the fine qualities of the state. Its location enables tourists to enjoy settling water views from all angles, coupled with dazzling landscapes that can make stunning landscape paintings. The town gives a special kind of feeling like you are in a storybook experiencing the forever after. It is the kind of place where you get to forget reality and clear your mind, all while marveling at the sites the park has to offer.   
No matter what your preference is, there's something for everyone in Bar Harbor, and best of all, it's affordable! You can easily find accommodations and dining options that fit within your budget. So, if you're looking for an affordable getaway, Bar Harbor is the place to go.
6. 
Asheville, North Carolina
Explore the Blue Ridge Parkway
This must-visit destination offers breathtaking views of the Appalachian Highlands, and the best part? It won't break the bank. Plan a day trip along the parkway and immerse yourself in the stunning mountain landscapes. Oh, and don't forget to look for trailheads along the way! There are numerous hiking trails that allow you to experience the natural beauty of the area and get a solid outdoor adventure without spending a dime.
Visit the Biltmore Estate Gardens
Now, who wouldn't want to experience the grandeur of the Biltmore Estate's intricate architecture and history? If you can't afford the admission fee for the main Biltmore Estate tour, no worries, we still got you covered. You can still enjoy the gardens on a budget with a Gardens-Only ticket, providing access to the stunning Italian Garden, Rose Garden, and Conservatory. And who knows? You might even score a discount to experience the beauty of the gardens at an even more affordable price!
Attend Free Events and Live Music in Downtown Asheville
What's a trip without soaking in some local culture? Downtown Asheville is the perfect place for just that! This vibrant and eclectic hub is full of artsy vibes, unique shops, and lively entertainment. And guess what? There are plenty of free events such as art walks, street performances, and cultural festivals to immerse yourself in the vibrant arts scene and local culture without breaking the bank. Keep an eye out for free outdoor concerts and local bars/breweries that often host live music without cover charges.
Hike in Pisgah National Forest
Can't get enough of nature? Who could blame you, especially when Asheville's natural landscape is so stunning? Take a hike in Pisgah National Forest, where you'll find a wide range of hiking trails, waterfalls, and scenic overlooks that are free to access! And while you're at it, indulge in the River Arts District – a haven for artists with galleries, studios, and public art installations.
Botanical Gardens at Asheville
Next, head to the Botanical Gardens at Asheville for a peaceful retreat with a diverse collection of native plants. Entry to the gardens is free, making it an ideal spot for a leisurely stroll and nature appreciation. Finally, take a self-guided walking tour and explore the city's history through the Asheville Urban Trail, featuring sculptures and plaques that tell fascinating stories and showcase artistic elements along the trail.
With these budget-friendly recommendations, you'll get the most out of your visit to Asheville and the surrounding areas without breaking the bank. 
7. 

San Antonio, Texas
Visit the Alamo
The Alamo is such an iconic landmark with a rich history. It's a historic mission and fortress known for the famous Battle of the Alamo during the Texas Revolution.
I love that entry to the Alamo is free, making it accessible for everyone. It's a must-visit for all history enthusiasts. Additionally, they offer educational programs and guided tours that provide a deeper understanding of its historical significance. Don't miss out on those!
Stroll Along the River Walk
The San Antonio River Walk is such a picturesque area lined with shops, restaurants, and attractions. It's a network of walkways alongside the beautiful San Antonio River.
One of the best things about the River Walk is that you can explore it for free. Just take a leisurely stroll and enjoy the charming scenery. I highly recommend bringing a picnic to have by the river as well. It's so peaceful and relaxing!
Make sure to keep an eye out for any free events happening along the River Walk. There are often live music performances or cultural festivals that you can enjoy without spending a dime.
Explore the Missions
San Antonio is home to several historic missions, including Mission San Jose and Mission Concepción. They are all part of the San Antonio Missions National Historical Park.
The missions offer free admission, which is fantastic. You can take a self-guided tour to explore the stunning architecture and learn about their fascinating history. It's a great opportunity to immerse yourself in the cultural heritage of the area.
Bike or Hike in Brackenridge Park
Brackenridge Park is a gem with its trails, picnic areas, and even the San Antonio Zoo.
If you enjoy biking or hiking, this park is perfect for you. Bring your own bike or just take a leisurely hike along the park's trails. It's a budget-friendly way to appreciate the beauty of nature. Don't forget to pack a picnic and take advantage of the designated areas in the park for a relaxing break.
Market Square – El Mercado
Market Square, also known as El Mercado, is a lively district with plenty of shops and entertainment options.
One of the best things about Market Square is that window shopping is free! You can explore the vibrant shops and stalls, soak in the atmosphere, and maybe find some unique souvenirs or local crafts. Additionally, there is often live music and entertainment in the square, which is usually offered for free. It's a fantastic place to visit and experience the vibrant culture of San Antonio.
San Fernando Cathedral Light Show
You know, the San Fernando Cathedral is not just any old cathedral. It's the oldest continuously functioning religious community in the state of Texas. And guess what? They host a visually stunning light show that you absolutely cannot miss.
The best part? It's totally free! Yeah, you heard me right. This captivating light show, called "San Antonio | The Saga," is projected onto the cathedral's façade. So grab your popcorn and get ready for a magical evening. And don't worry about breaking the bank because this show takes place several evenings a week, giving you plenty of opportunities to experience the spectacle.
Japanese Tea Garden
Now, if you're looking for a serene spot to unwind and take in some natural beauty, the Japanese Tea Garden in Brackenridge Park is the place to be. Picture lush gardens, a koi pond, and stone pathways that'll have you feeling like you've stepped into a postcard.
And here's the best part: admission to the Japanese Tea Garden is absolutely free. Yes, you heard me right. You don't need to reach into your wallet to enjoy this tranquil oasis. It's the perfect spot for a leisurely stroll, some quiet reflection, and of course, snapping some envy-inducing Instagram photos.
Pearl Brewery District
Okay, let's talk about the Pearl Brewery District. This trendy area is buzzing with shops, restaurants, and the historic Pearl Farmers Market. It's a hub of activity that will tickle your taste buds and send your shopping desires into overdrive.
But what's the budget tip here? Well, my friend, if your visit aligns with the weekend, you've hit the jackpot. Make sure to check out the Pearl Farmers Market for a variety of fresh produce, artisan goods, and more. It's like a treasure trove of local delights.
San Antonio Museum of Art – Free Admission Times
Art lovers, listen up! The San Antonio Museum of Art is a haven for those who appreciate diverse collections of art from different cultures and time periods. This place is a feast for the eyes and will leave you feeling cultured and inspired.
Now, here's a sweet little secret. You don't always have to splurge on admission fees to explore this art mecca. Just check the museum's schedule for those magical free admission times. Yeah, you heard me right. You can explore the museum's collections without spending a single dime. 
Final Thoughts
If you're looking for an amazing vacation that won't break the bank, look no further than these 5 best luxuries on a budget vacation. Each location offers something a bit different for each type of traveler inclusive of amazing views, plenty of things to do, and water and land excursions.  Pick your poison and head on out for the next trip of a lifetime.  No matter where you head off to next, always remember to Travel Till You Drop! 
Book Your Trip : Check Out My Resources for Your Travel Needs
Use Skyscanner to find a cheap flight.  This is my very first stop when I'm looking for my next trip. It's a fast, easy-to-use search engine that is perfect for finding an affordable flight, a perfect hotel, and the right rental car for you in locations around the globe.
Book Your Accommodation
If you are looking for a super budget friendly location and are open to a hostel stay, make sure you book your hostel with Hostelworld. It offers the broadest range of quality hostels around the world. 
If you'd prefer a hotel or a guesthouse for stays less than 28 days, drop on over to Booking.com It's perfect for providing excellent options, a ton of user reviews, and prices to fit every budget.
For stays over 28 days, AirBnB still remains my #1 choice. User reviews and monthly pricing allow for some incredible deals all around the world.
Don't Forget Travel Insurance
Travel insurance is but a small up-front investment that you won't want to leave home without. After just one experience of having to delay or cancel your trip or having your luggage stolen, you'll wish you would have made that investment.  I've hated my life a few times when the moment arose, and I decided to skip out.  Let's just say, I've changed my ways and recommend each of the following companies to protect your ass-ets.
My favorite companies are:         
Want to Travel for Free?
Travel credit cards allow you to earn points that can be redeemed for free flights and accommodation — all without any extra spending. Check out my guide to getting free flights to get started.
Ready to Book Your Trip?
Check out my Resource Page for the best companies to help you book your travel at reduced rates!  This list will help you get to where you're going.  I know-I use them ALL the time!