Embracing the Adventure
As an avid traveler and adventure seeker, I have always been drawn to the outdoors and the road less traveled. There is a lot more to Thailand to experience than the bustle of city life or the beaches and bars. In this guide, I want to share some tips on camping and backpacking through Thailand, so you can be ready for your own adventure in Thailand.
Preparing for Your Thai Adventure
Before going on your camping adventure in Thailand, thorough preparation is key to ensure a smooth and enjoyable experience.
Visa and Travel Documents
Check for the latest visa regulations for Thailand, as these are always changing. Fortunately, for most visitors from the Western world, you can receive an exemption when arriving in Thailand, which allows up to 45 days of stay. Keep in mind this is only valid for 2023 and may be reverted to 30 days in 2024.
Looking to Book a Flight see our other post on How to Get Cheap Flights Last Minute | Airfare Hacks for Cheap Flights
Packing Essentials
Packing is crucial for backpacking or camping in Thailand. Opt for lightweight, breathable clothing suitable for Thailand's tropical climate, including a rain jacket for unexpected rain showers. Invest in a comfortable backpack with ample compartments. Remember essential gear like a sleeping bag, tent, and cooking equipment. Don't forget travel-sized toiletries and a basic first aid kid.
Language
While basic English is widely spoken in tourist areas, learning a few basic Thai phrases shows respect for the local culture and can enhance your interactions. Simple greetings like Sawasdee Ka/Khrap can go a long way in forging connections and making your adventure more memorable.
Choosing the Right Season / Thai Weather
Selecting the right season for your camping and backpacking adventure in Thailand can mean a great experience or a terrible one. Thailand's climate is diverse and can vary from region to region, so it is essential to plan for this.
Cool and Dry Season (November to February)
This is the most popular time for tourists in Thailand, and for a good reason. The weather during this season is mild and comfortable, with very little rain, which makes it ideal for outdoor activities. The temperatures are pleasant, and with no rain, there should be clear skies for your adventure. Keep in mind because of the popularity of outdoor activities at this time, you might encounter more crowds at popular camping destinations.
Hot Season (March to June)
If you think the heat won't bother you and wait to avoid the crowds, the hot season might be a good option. This season features very hot temperatures from anywhere 33c-38c, and for you Americans, that's 91 to 100. While camping in the mountains or near bodies of water can provide some relief, be prepared for an intense sun and the possibility of brief rain showers.
Wet and Green Season (July to October)
The rainy season brings back lush greenery to Thailand, but this also means heavy rainfall and even flooding in some areas. If you really want an adventure and don't mind getting wet, going around July-August would be a safer bet as most of the rain comes in the latter two months. The landscapes are at their most vibrant, and you'll find fewer tourists during this time. Just be ready for muddy trails and unpredictable weather.
Ultimately, the choice of season will depend on your preferences and situation for traveling. Each season in Thailand is slightly different.
Camping in the Thai Wilderness
Camping in Thailand's wilderness is an adventure like no other, offering a chance to connect with nature in its purest form. Here are some tips to make the most of your camping experience:
Finding Campsites in Thailand
Look for established campsites in national parks or near hiking trails. These often provide basic amenities like toilets and designated fire pits. I have provided a list of some current camping grounds you can find in Thailand.
Kachong Hills Tented Resort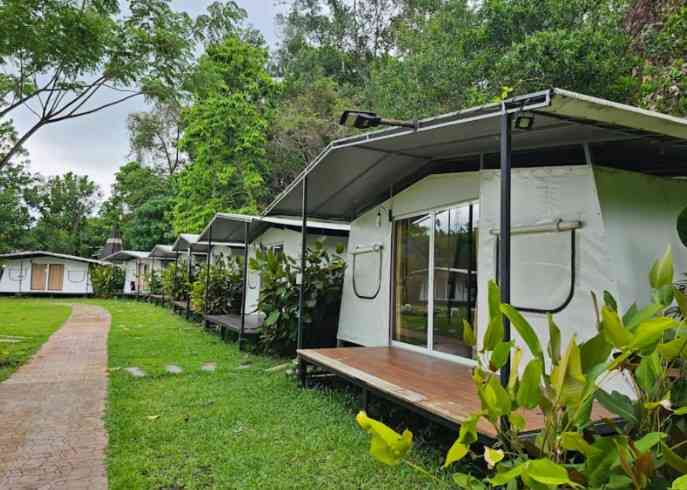 Kachong Hills Tented Resort is situated in Trang towards southern Thailand. It's a remote and tranquil location, surrounded by lush forests and offering breathtaking views of the hills. 
Prices: Expect to pay anywhere from $30-80 a night per tent. This includes amenities and services that enhance your camping stay. You will not need your own camping gear as this resort has everything on hand.
The resort provides spacious and well-furnished tents equipped with comfortable beds and modern amenities, ensuring a cozy night's sleep.

Guests can enjoy delicious Thai and international cuisine at the on-site restaurant.

Explore the nearby hiking trails, take guided nature walks, or simply relax in the serene surroundings.

For adventure enthusiasts, there are opportunities for outdoor activities such as zip-lining and mountain biking.

The resort staff are known for their hospitality and can assist you with organizing day trips to local attractions.
Kachong Hills Tented Resort in Trang offers campers an extraordinary opportunity to connect with nature while enjoying the comforts of a well-appointed tent or a traditional room. Whether you're a solo traveler or a family seeking a unique camping experience, this resort is the perfect haven for an unforgettable wilderness retreat.
Koh Adang: Your Island Camping Paradise
Koh Adang, a beautiful island in the Andaman Sea close to Thailand's renowned Koh Lipe, could be what you're searching for if you're seeking a tropical camping paradise. Koh Adang, which is a part of the Tarutao National Marine Park, is close to Koh Lipe via boat. From significant cities like Bangkok and Phuket, it is conveniently accessible. In comparison to other campsites, Koh Adang is reasonably priced, costing $7 to $10 USD per person each night. If you don't want to bring your own, you may also rent a tent and some other essential camping supplies.
What They Have to Offer for Campers
Nature enthusiasts will adore Koh Adang. Expect to see verdant woods, crystal-clear waters, and pure white beaches. Here, the coral reefs are vibrant and alive with marine life, making snorkeling and diving excellent.

The island has a number of authorized camping spots with conveniences like fresh water and restrooms.

If you're feeling adventurous, climb to the island's overlook for mesmerizing views of the surrounding area and the sea.
The ambiance and lack of tourists on the island make it the perfect location for stargazing and simply relaxing in nature.

You may plan boat trips to adjacent islands like Koh Lipe.
Exploring Khao Yai National Park
If you are looking for an escape from the city, this is a great choice to spend a few days camping and enjoy the natural beauty of Khao Yai National Park. This is located just a few hours from Bangkok, Khao Yai is a great option for a getaway retreat to witness the wildlife and nature.
Location
Khao Yai National Park is located in the eastern part of Thailand, it actually spans across different provinces: Nakhon Ratchasima, Saraburi, Prachinburi, and Nakhon Nayok. From Bangkok, it is about a 3-hour drive.
Prices
To get into the park itself for foreigners, the fee usually ranges from around $13-$25 dollars per person, although this depends on the activities that you are looking to enjoy.
Accommodations here can vary depending on where you stay in the park these range from cozy lodges and resorts to simple camping grounds for tents. So, with this in mind, there will be budget-friendly to mid-range expenses.
What Khao Yai has to Offer
Khao Yai is a huge national park and one of Thailand's oldest, this place is beaming with lush forests, waterfalls, and diverse wildlife.

There are many Hiking trails that you can enjoy, and you can find these come in varying lengths to explore the surroundings. Don't forget to check out the Haew Narok Waterfall, probably one of the highlights in this park.

It is a good idea to take a camera in case of potential occasions you run into wildlife here, these can range from elephants, gibbons, macaques, and many different bird species.

The park also offers self-guided tours and guided tours, which will be suitable for solo travelers and groups.

If you go during the cool season, you can enjoy dry, cool weather from November to February.
Khao Yai National Park is a great choice to get away from the urban environment. It doesn't matter if you are someone looking to do some hiking, check out the wildlife, or just enjoy time with your friends and family this park promises to ensure a fun experience.
Khao Sok National Park
Khao Sok National Park is situated in the southern part of Thailand, spanning the Surat Thani and Phang Nga provinces. It's easily accessible from popular tourist areas like Phuket and Krabi.
Features
Ancient Rainforest: First up, we've got the Ancient Rainforest. Khao Sok is like the wise old sage of rainforests, boasting some serious age and incredible biodiversity. You're gonna be surrounded by lush greenery that's been around longer than your great-great-great-grandma. Seriously, these trees have probably seen some wild stuff in their time.
Limestone Cliffs: These bad boys rise majestically from the dense jungle, like a badass backdrop just waiting for you to strike a pose. They add that extra touch of scenic beauty to the park and make you feel like you're in a scene out of an epic adventure movie.
Cheow Lan Lake: This place is like something out of a dream. It's a man-made reservoir surrounded by limestone karsts and lush greenery, creating a picture-perfect setting that will make your heart skip a beat. Hop on a boat tour, dive into various water activities, and just let the beauty of this lake wash over you.
Flora and Fauna: We're talking elephants, gibbons, macaques, and a whole bunch of bird species. The park's rich biodiversity is like an all-you-can-eat buffet for nature enthusiasts and wildlife lovers. So keep those eyes peeled for some seriously cool critters, and maybe even make friends with a wild animal or two.
Campsites
You've got floating raft houses and lakeside campsites, allowing you to immerse yourself in the tranquility of nature like the badass you are. Imagine waking up to the sounds of the jungle and the sight of limestone cliffs reflecting in the lake. Can you say epic photo opportunity? This is the kind of experience that will make you feel alive and connected to the natural world around you.
So get ready to trek through the jungle like a fearless explorer, spot wildlife like a nature-loving ninja, and go on boat excursions that will make you the envy of all your non-camping friends.
Helpful Safety Measures While Camping and Backpacking
Ensuring your safety during your Thailand adventure is paramount. Here are some key safety tips:
Wildlife Awareness: Respect local fauna and keep a safe distance from wildlife.

Hydration and Food Safety: Stay hydrated and practice food hygiene.

Weather Preparedness: Pack rain gear and be cautious of flash floods.

Navigation: Carry maps or GPS for navigation.

First Aid Kit: Include essentials and know how to use them.

Campfire Safety: Follow local regulations for campfires and use fire pits when made available.

Emergency Contacts: Have local emergency numbers and share your itinerary.

Local Advice: Seek guidance from authorities or experienced hikers.

Leave No Trace: Minimize environmental impact and respect local regulations.
Camping in Thailand's wilderness, no matter which season will give you a chance to see another side of Thailand you may not have experienced before. In this post, I went over just a few camping areas that you can enjoy in Thailand. So, pick your spot and always Travel Till You Drop!
Book Your Trip : Check Out My Resources for Your Travel Needs
Use Skyscanner to find a cheap flight.  This is my very first stop when I'm looking for my next trip. It's a fast, easy-to-use search engine that is perfect for finding an affordable flight, a perfect hotel, and the right rental car for you in locations around the globe.
Book Your Accommodation
If you are looking for a super budget friendly location and are open to a hostel stay, make sure you book your hostel with Hostelworld. It offers the broadest range of quality hostels around the world. 
If you'd prefer a hotel or a guesthouse for stays less than 28 days, drop on over to Booking.com It's perfect for providing excellent options, a ton of user reviews, and prices to fit every budget.
For stays over 28 days, AirBnB still remains my #1 choice. User reviews and monthly pricing allow for some incredible deals all around the world.
Don't Forget Travel Insurance
Travel insurance is but a small up-front investment that you won't want to leave home without. After just one experience of having to delay or cancel your trip or having your luggage stolen, you'll wish you would have made that investment.  I've hated my life a few times when the moment arose, and I decided to skip out.  Let's just say, I've changed my ways and recommend each of the following companies to protect your ass-ets.
My favorite companies are:         
Want to Travel for Free?
Travel credit cards allow you to earn points that can be redeemed for free flights and accommodation — all without any extra spending. Check out my guide to getting free flights to get started.
Ready to Book Your Trip?
Check out my Resource Page for the best companies to help you book your travel at reduced rates!  This list will help you get to where you're going.  I know-I use them ALL the time!