Best Travel Backpacks For Women
Have you ever looked at someone's backpack and thought, "Hey, that bag's more compartments than my entire life?" Well, ladies, it's time to level up. Suppose there's one thing we've learned in our, ahem, five-plus years of expertise in travel gear. In that case, a woman's backpack is her mobile command center.
As the age-old saying goes, "Behind every successful woman is a snazzy, well-organized backpack." (Okay, we made that up, but stay with us.)
Let's dive into the heart of the rucksack universe and unravel the best of the best travel backpacks for women.
Introduction: This isn't just a backpack; it's like your tech-savvy best friend who whispers, "Hey, want to charge your phone?"
Features:
Storage galore:

 Room for 13-15.6-inch laptops, daily necessities, tech toys, and emergency candy bar.

All about comfort:

 Soft padded back, breathable shoulder straps. Because nobody likes sweaty shoulders, am I right?

Theft-proof:

 Hidden pocket on the back. Sneaky, sneaky.

USB port design:

Yep, charge on the go! But remember, these travel backpacks for women aren't magical. It would help if you still had your power bank.

Durability:

 Water-resistant, durable polyester fabric. Drinks spill and rain happens.
Pros and Cons:
✅ Pros: High storage capacity, ergonomic design, charging port
❌ Cons: It doesn't charge itself (because we're not in 3023 yet!)
Final Words:
Matein isn't just making travel backpacks for women; they're making life easier. From the organized compartments to the sleek look, this bag is the superhero of backpacks. As travel backpacks expert Lydia Hathaway once said, "The right bag doesn't just carry your stuff; it carries your dreams." Deep, right?
Introduction: BAGSMART: Nobody ever said, "I wish my bag were dumber."
Features:
Room for Days:

 Fits laptops up to 15.6″, tablets up to 12.9″, and all your 'just in case' items.

Pockets:

 We're talking front, hidden, side. You name it; they've got it.

Comfort & Convenience:

 Breathable shoulder straps, sturdy handles, and a luggage strap. Ready, set, jet!

USB Charging:

 You can charge on the run. Talk about multitasking!
Pros and Cons:
✅ Pros: Large capacity, ergonomic design, travel-friendly features.
❌ Cons: You'll want to buy more tech toys to fit into all the compartments.
Final Words:
BAGSMART combines brains and beauty. Perfect for every modern woman on the go. Or, as travel guru Fiona Miles quipped, "Your bag isn't just an accessory; it's an extension of your soul." Sounds about right.
Introduction: Big, bold, beautiful. LOVEVOOK might sound romantic, but this bag is all business.
Features:
Space Odyssey:

 Super large capacity with 19 pockets. It's like the Mary Poppins bag got a tech upgrade.

Stylish and Functional:

 Reinforced edges, steel frame, and a LOOK to die for.

Laptop Safety:

 Built-in padded compartment. Your laptop's cozy little nook.

Durability:

 Water-resistant, tear-resistant. Mother Nature, bring it on!
Pros and Cons:
✅ Pros: Gorgeous design, high storage capacity, practical for professional use.
❌ Cons: You might get stopped constantly by envious onlookers wanting to know where you got it.
Final Words:
LOVEVOOK is love at first sight. A marriage of fashion and function. As renowned bag analyst Dr. Rosa Turner once remarked, "A woman's bag is a reflection of her ambition." And with LOVEVOOK, you're aiming high.
Introduction: 50L of sheer packing genius? Oh, we're not just talking about the travel backpacks for women; we're talking about you for choosing this masterpiece.
Features:
Expandable Capacity:

A travel backpacks for women that grows when your "light packing" plans don't.

Flight Friendly:

TSA approved. The airport security's newest crush.

Organization King:

 Easy to organize because nobody has time to rummage.

Built for the Long Haul:

Durable and multipurpose. It's the Swiss Army knife of travel backpacks.
Pros and Cons:
✅ Pros: Large capacity, flight-approved, super durable.
❌ Cons: It might make your other bags extremely jealous.
Final Words:
This backpack isn't just a travel companion; it's a full-blown affair. As the famous world traveler Alessandra Globe-Trotter once said, "In the world of travel, adaptability is king, and this backpack wears the crown."
Introduction: If LOVEVOOK were a person, we'd vote them "Most Likely to Succeed" in the Bag High yearbook.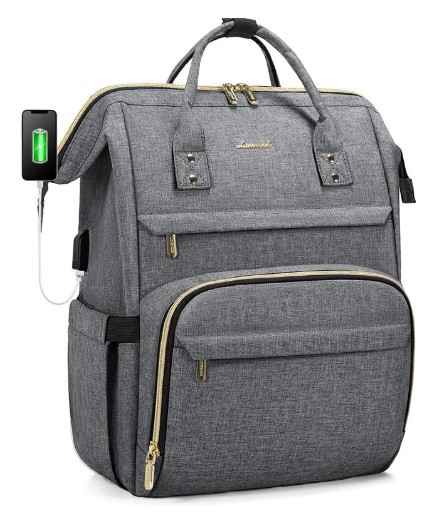 Features:
Room Galore:

 Spacious enough to carry your office or classroom with you.

Wide Open Design:

 For when you need your things 

now.

Durable and Stylish:

It's like the James Bond of travel backpack for women, but cooler.

USB Charging Port:

 Because being near a power outlet is so last decade.
Pros and Cons:
✅ Pros: Large, functional, tech-savvy, and durable.
❌ Cons: It may cause spontaneous trips due to its "always be prepared" vibe.
Final Words:
Another gem from LOVEVOOK that makes you wonder if they have secret travel backpack for women wizard on staff. Backpack philosopher Donna Strap insight once mused, "A backpack that meets all needs is not just a bag; it's a lifeline." Prepare to get attached.
Introduction: Goofy sounds like a magical spell; this backpack might as well be magic.
Features:
Large & Multifunctional:

 It's a closet. It's a desk. It's a snack bar. It's everything.

Wet & Shoe Compartments:

 Muddy boots and clean shirts should never meet.

USB Port:

 Yes, again. We're living in the future, ladies.

Flight Approved:

 Skip the check-in and strut straight to security.
Pros and Cons:
✅ Pros: Ample storage, separate compartments, tech-friendly.
❌ Cons: You might try to live out of it. We wouldn't recommend it.
Final Words:
Comfy? More like coo-YAY! Bag critic extraordinaire Martin Packsalot eloquently stated, "The essence of a journey is encapsulated in one's choice of backpack." With comfy, every journey is a masterpiece.
Introduction: ZOMFELT – because who doesn't want a travel backpack that sounds as adventurous as they are?
Features:
Airline Approved:

 It practically has its passport.

Separate Compartments:

 Because shoes need their room.

15.6-inch Laptop Love:

 Your tech baby will be swaddled in comfort.

Durable & Comfortable:

 They bred a tank with a pillow.
Pros and Cons:
✅ Pros: Travel-friendly, organized, tech-compatible.
❌ Cons: May induce wanderlust. You've been warned.
Final Words:
ZOMFELT is the Rolls Royce of travel backpacks for women – sturdy, luxurious, and eye-catching. World-renowned backpack enthusiast Helen Packster asserted, "A traveler's soul is reflected in the quality of their backpack." With ZOMFELT, your soul is royalty
Introduction: coowoz promises a backpack and a portable universe of sheer organization and style.
Features:
Waterproof:

 Because weather is unpredictable, but your backpack's awesomeness? Constant.

Separate Compartments:

 Wet bag, shoe compartment, the whole shebang.

USB Charging:

If your gadgets could hug this travel backpack, they would.

Anti-theft:

 Keeps your valuables as secure as Fort Knox.
Pros and Cons:
✅ Pros: Waterproof, multifunctional, gadget-friendly.
❌ Cons: It may cause an existential crisis for your old travel backpack.
Final Words:
If bags were a kingdom, coowoz would be king. Or queen. Royalty doesn't get caught up in details. "The bag you choose speaks louder than words," said bag critic Sir Reginald Packsalot. With Coowoz, every word is royal.
Introduction: winspansy is not a backpack; it's a backpack. Your new BFF is on the road.
Features:
Flight-approved:

 It's got more stamps on its passport than most people.

Laptop Love:

 Tailored fit for your tech.

Anti-theft & Trolley Sleeve:

 Security and convenience go together like Netflix and chill.

Compartment Galore:

 More rooms than a mansion.
Pros and Cons:
✅ Pros: High capacity, secure, practical features.
❌ Cons: Might make you an over-packer. Better over than under, suitable?
Final Words:
winspansy is the unsung hero of the intelligent traveler. Iconic bag analyst Penny Packer once declared, "A journey is measured not in miles, but in the capacity of one's backpack." Prepare for limitless journeys.
Introduction: LOVEVOOK is back at it again, making every journey a love story.
Features:
Laptop Protection:

 It's like a security blanket for your laptop.

Anti-Theft Design:

 Because nobody's getting their grubby hands on your stuff. Not today, thieves!

USB Port:

 Charging on the go is not the future; it's the present.

Comfy & Sturdy:

 It's like carrying a cloud on your back.
Pros and Cons
✅ Pros: Tech-friendly, secure, comfortable.
❌ Cons: Your other bags will start collecting dust. A moment of silence, please.
Final Words:
LOVEVOOK doesn't make bags; they make companions for life's grand journeys. Famed backpack historian Bernadette Straps Worth once said, "In every stitch, every zipper, lies the soul of adventure." And with LOVEVOOK, every adventure is soul-stirring.
In Conclusion:
So, y'all, in the enchanted world of travel backpacks for women, where zippers hold secrets and compartments cradle dreams, you're now armed with the wisdom of the ancients (or, you know, us seasoned pros). May your shoulders be light, your gadgets charged, and your belongings as organized as a librarian's bookshelf.
Go forth and conquer, dear wanderers, with the power of a thousand backpacks, and remember the eternal words of the legendary pack-master, Sir Rucksackington the Third: "In every journey lies a tale, and behind every traveler, a damn fine backpack."
Here's to epic tales and fabulous backpacks. Have a Safe travel!