6 Of the Best Things to Do In Australia: Explore the Best of Australia
If you're planning a trip to Australia and want to experience the very best this stunning country has to offer, we've got you covered with the best of Australia. From diving into the mesmerizing depths of the Great Barrier Reef to visiting the pristine Wineglass Bay, Australia is a treasure trove of natural wonders.
Marvel at the iconic Uluru, immerse yourself in the joy of swimming with dolphins and witness the awe-inspiring Saltwater Crocodiles in the Northern Territory. And for the thrill-seekers, don't miss the chance to go sandboarding on the magnificent dunes. Join us as we uncover the six must-know experiences that make up the best of Australia.
Dive into the Great Barrier Reef
One of the most unforgettable experiences for the best things to do in Australia is diving in the Great Barrier Reef. This natural wonder is home to a diverse range of marine life and offers an incredible underwater experience. Make sure to book a tour with a reputable company to ensure a safe and memorable trip minus the Great White Sharks!
The Great Barrier Reef is a natural wonder and one of the world's most diverse ecosystems, home to countless species of marine life. As visitors, it's important to respect this fragile environment and be conscious of our impact on it. This means following responsible tourism practices, such as not touching or damaging the coral, not littering or polluting the water, and using reef-friendly sunscreen. By treating the Great Barrier Reef with respect, we can help preserve this incredible natural wonder for future generations to enjoy.
Dive Sites:
Popular dive sites in the Great Barrier Reef include the Cod Hole, Ribbon Reefs, Osprey Reef, Yongala Shipwreck, and the Whitsunday Islands. Each site offers unique features, such as massive schools of fish, stunning coral formations, and encounters with large marine species.
Visit Wineglass Bay
Nestled in the Freycinet National Park, Wineglass Bay is a must-see attraction. Ok, ok, it had wine in its name, so I had to pick it. With its unique shape and clear waters, it's no wonder this bay is world-famous. Also, if you're up for a challenge, take the hike up to Mt. Amos for a breathtaking view of the bay and surrounding areas.
See Uluru
No trip to Australia would be complete without a visit to Uluru, the massive red rock, otherwise known as Ayer's Rock in the heart of the Outback. I wrote a book report on it in 4th grade and have wanted to visit ever since. Witnessing this natural wonder in person is an experience that will stay with you for a lifetime. best of australia, You can take a tour or explore the area on your own, just be sure to respect the sacred site and its history.
Uluru is located in the heart of the Australian Outback, which makes it quite remote and isolated. This means that reaching it can be quite expensive, especially if you're flying in from one of the major cities like Sydney or Melbourne. It'll take a day from Sydney to get out to it, but it's worth the time and the cost.
Getting to see Uluru in person is an unforgettable experience, or so I'm told. Plus, the surrounding landscape is also incredibly beautiful and unique, making it a truly one-of-a-kind destination.
Just be sure to budget accordingly and plan ahead to ensure a smooth and enjoyable trip. Travelers around the globe have ranked this spot in the top three best of Australia to explore.
Check out: Exploring Dark Tourism in Iceland and Controversial Attractions
Swim With Dolphins
For a truly magical experience, head to Tangalooma Resort on Moreton Island to swim with dolphins. These curious and playful creatures are a joy to be around; swimming with them is a once-in-a-lifetime experience. Who doesn't just start smiling when a dolphin is out bouncing around? Just make sure to book ahead, as spaces fill up quickly.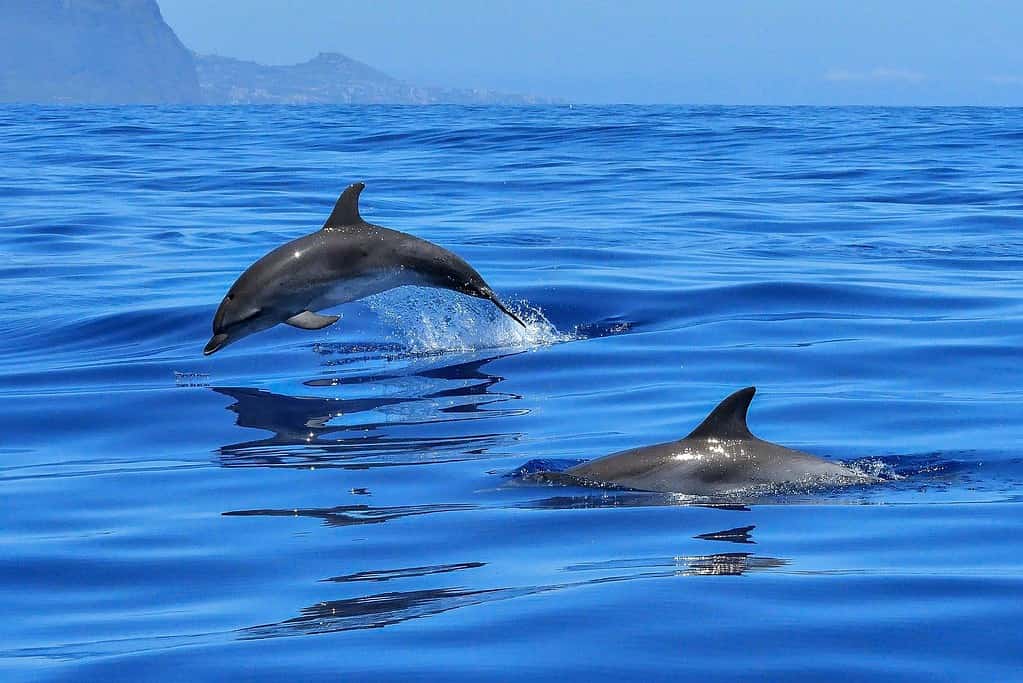 Locations:
Tangalooma Island Resort, Moreton Island, Queensland: This resort offers a unique opportunity to swim with wild bottlenose dolphins. Every evening, a group of dolphins visit the resort's shores, and visitors can wade into the water to interact with them under the supervision of marine experts.

Rockingham, Western Australia: Just south of Perth, you'll find opportunities for swimming with wild dolphins in the crystal-clear waters of Rockingham. Tours typically include the chance to snorkel with dolphins in their natural habitat.

Monkey Mia, Western Australia: This is a renowned location for dolphin encounters. Wild dolphins, mainly bottlenose dolphins, visit the beach regularly, and visitors have the opportunity to wade into the shallow waters to get close to these intelligent marine mammals.
Visit Saltwater Crocodiles in the Northern Territory
If you're an animal lover, you can't miss the opportunity to see saltwater crocodiles in the Northern Territory; just don't fall in. These massive creatures can be dangerous, so it's best to view them from a safe distance.
Personally, I'd prefer most of them to be used to make me a purse, but I'm open to looking at them from a distance as well. While you're there, make sure to explore Kakadu National Park, a UNESCO World Heritage Site that is home to diverse wildlife, including wallabies, kangaroos, and more.
Locations:
Kakadu National Park: Kakadu is a UNESCO World Heritage-listed park in the Northern Territory, known for its diverse wildlife, including saltwater crocodiles. You can take guided boat tours on the rivers and wetlands to spot these impressive reptiles in their natural habitat.

Yellow Water Billabong: This is a popular location within Kakadu National Park for saltwater crocodile viewing. Tours are often available, allowing you to get up close to these powerful creatures while staying safely aboard a boat.

Adelaide River: Located just south of Darwin, the Adelaide River is known for its saltwater crocodile population. The Jumping Crocodile Cruise is a famous attraction where you can witness crocodiles leaping out of the water to catch their prey. It's a thrilling and educational experience.
Go Sand Boarding
Once you've had enough of just seeing the sights, it's time to experience a rush of adrenaline. In this location, you're going to have to try sandboarding on some of Australia's massive dunes. It's a unique experience that's like snowboarding but on the sand.
You'll need only a board and some sunscreen to enjoy this thrilling activity. And it's relatively cheap, especially if you go with a group of friends. Or book a tour and make a bunch of new friends while you're at it.
Locations
Stockton Beach, New South Wales: Stockton Beach, near Newcastle, boasts the largest sand dunes in the Southern Hemisphere, making it a prime destination for sandboarding. The dunes here can reach heights of up to 30 meters (98 feet), providing an excellent playground for sandboard enthusiasts.

Lancelin, Western Australia: Lancelin, a coastal town north of Perth, is known for its pristine white sand dunes. The town offers rentals of sandboards and provides an ideal setting for both beginners and experienced sandboarders.

Moreton Island, Queensland: Moreton Island is famous for its Tangalooma Desert, which consists of massive sand dunes. Visitors can enjoy sandboarding down these dunes before heading to the island's beautiful beaches.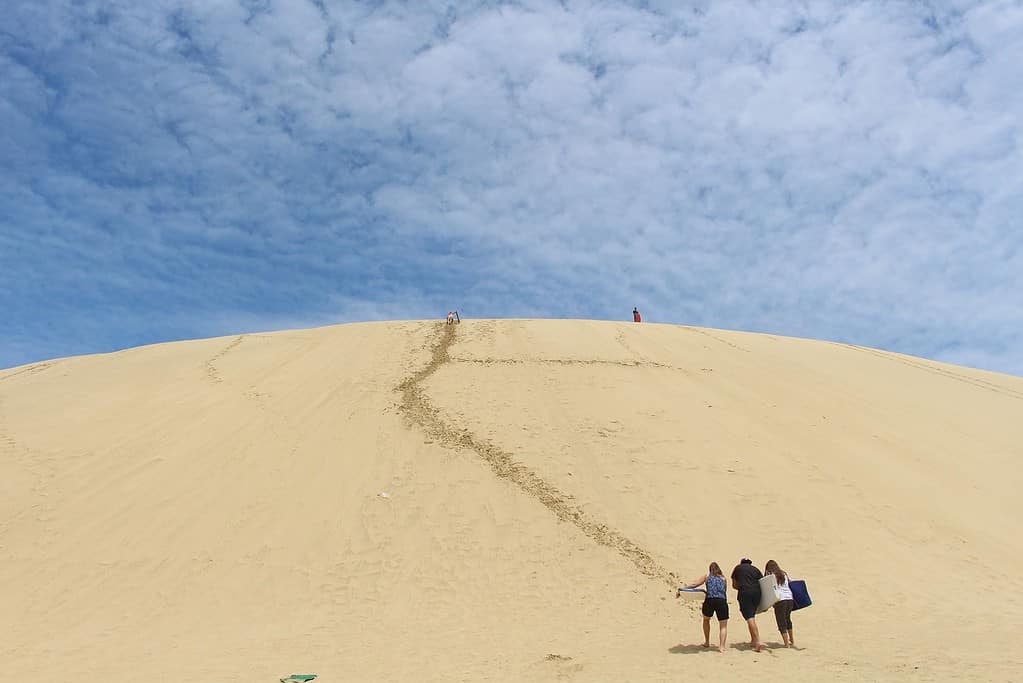 Conclusion
So, now you have a few items from the itinerary I fully intend on living in the next few months. I can't wait to share those photos and experiences with you in real-time. Australia is an incredible country with so much to offer, and I'm sure that you and I will find plenty to entertain us while we're there.
From the stunning Great Barrier Reef to the majestic Ayer's Rock and the unique experiences like sand boarding and swimming with dolphins, there's no shortage of adventure here. With my list of top things to do, you're sure to have an unforgettable trip to the land down under. So, what are you waiting for? Start planning your Australian adventure today, and always remember to Travel Till You Drop!