Some of the MOST BEAUTIFUL PLACES IN CANADA
If you're planning a trip to the Most Beautiful Place in Canada, you're in for a treat. This beautiful country is home to some amazing landmarks and natural wonders. We've put together a list of our five favorite hidden gems in Canada. From charming small towns to awe-inspiring landscapes, these destinations are definitely worth adding to your itinerary.
NIAGARA FALLS -THE MOST BEAUTIFUL PLACE IN CANADA
As one of the most famous and best places to visit in Canada, Niagara Falls is definitely worth a visit. The falls are located on the border of Ontario and New York and are made up of three waterfalls: the American Falls, the Bridal Veil Falls, and the Horseshoe Falls. Niagara Falls is a breathtaking sight and definitely worth checking out. If you're looking for something a little more adventurous, you can also go on a boat tour to get up close and personal with the falls.
The Falls Themselves
Horseshoe Falls
Horseshoe Falls doesn't mess around when it comes to impressing people. It's the most famous, the largest, and it's got a volume of water cascading over the edge that'll leave you questioning your entire existence. Seriously, the sheer power and fury of the water crashing down is enough to make even the most stoic adventurer shed a tear of humble appreciation.
American Falls and Bridal Veil Falls
Now, I know what you're thinking: "What about American Falls and Bridal Veil Falls? Do they even stand a chance against the epicness of Horseshoe Falls?" Well, my friends, while they may be smaller in size, they are no less stunning. It's like the all-star supporting cast that steals the show with their undeniable charm. When you see the combination of all three falls together, it creates a panorama that will leave you breathless.
Maid of the Mist: Get Your Dose of Waterworks
Listen up, ladies, because I've got an experience that'll leave you feeling like an absolute badass: the Maid of the Mist boat tour. Hop on board and get ready for a wild ride that'll take you right up close and personal with the base of the falls. And when I say close, I mean close enough to feel the mist on your face and the thundering waters rumbling in your bones.
Journey Behind the Falls: Tunnel Your Way to Greatness
For those of you who like to take the road less traveled, I've got just the thing: Journey Behind the Falls. This adventure takes you through tunnels that lead you straight behind the mighty Horseshoe Falls. It's like stepping into a whole new world where you can witness the raw power and breathtaking beauty of the falls from a unique perspective.
Niagara Parks Butterfly Conservatory: A Fluttery Escape
Who says you can't have a moment of serenity amidst all the power and fury of the falls? Take a break and head over to the Niagara Parks Butterfly Conservatory. It's a delightful haven filled with thousands of colorful butterflies. Picture yourself surrounded by these delicate creatures, amidst beautiful flowers and lush greenery. It's the perfect contrast to the unstoppable force of nature that is Niagara Falls.
Niagara SkyWheel: Ride High and Feel the Magic
For a view that'll have you on cloud nine, hop aboard the Niagara SkyWheel. This bad boy gives you a panoramic view of the falls and the surrounding area. At night, the falls illuminate with vibrant colors, and from this vantage point, it's downright enchanting.
Queen Victoria Park: Where Views Rule
If you're looking for a chill spot to soak in the majestic beauty of the falls, Queen Victoria Park has got you covered. This place offers stunning views that'll leave you breathless. Take a leisurely stroll, unwind, and let the scenery work its magic on you. And during the summer, it's the perfect setting for a picturesque picnic. After all, who needs a boring old dining room when you have Mother Nature serving up the best views around?
Clifton Hill: Let Your Inner Child Run Wild
It's time to unleash your inner child and have some fun on Clifton Hill. This vibrant and lively area is known as the "Street of Fun," and boy, does it live up to the name. You'll find endless entertainment, dining options, and attractions that'll keep you entertained for days. Sure, it may be a bit more commercial, but trust me, it adds a whole new layer of excitement to your Niagara Falls experience.
Niagara Glen Nature Reserve: Get Your Hiking Boots On
Calling all nature lovers and adventure seekers, the Niagara Glen Nature Reserve is where it's at. Lace up those hiking boots and get ready to explore some epic trails that'll lead you through a rugged gorge and provide you with jaw-dropping views of the mighty Niagara River. Designed to make you feel small and utterly amazed.
Niagara Falls Illumination: Lights, Camera, Jaw Drop
Prepare to have your mind blown as you witness the falls illuminated with vibrant colors during the Niagara Falls Illumination. It's like a magical light show that takes the already stunning natural beauty of the falls to a whole new level. Trust me, ladies, you won't want to miss this enchanting spectacle.
Wine Country: Sip, Savor, and Swoon
Did I mention that Niagara Falls is conveniently located near Ontario's wine country? That's right, my fierce wine connoisseurs, you can take a day trip and immerse yourself in the world of vineyards, fine wines, and breathtaking landscapes. Picture yourself strolling through picturesque vineyards, tasting local wines, and letting the beauty of the surroundings sweep you off your feet. It's the ultimate way to treat yourself after conquering the wild wonders of Niagara Falls. 
MOUNTAIN TOWN WHISTLER 
If you're looking for an epic outdoor adventure, you need to check out Whistler. This mountain town is a mecca for skiing, snowboarding, and mountain biking. But there's more to Whistler than just outdoor activities. In the summer, the town comes to life with music festivals, farmers markets, and art walks, and in the winter, the famous Christmas lights turn the town into a winter wonderland. No matter what time of year you visit, Whistler is definitely worth checking out.
Whistler Blackcomb Ski Resort: Shred and Chill in Style
Alright, ladies, let's talk about the ultimate winter sports destination: Whistler Blackcomb Ski Resort. This place is a freakin' beast – it's one of the biggest and most badass ski resorts in North America. Think stunning alpine scenery, world-class skiing, and snowboarding facilities that'll make your heart race.
Village Stroll: Where Charming Meets European Alpine
Get ready to explore the heart of Whistler's village on the pedestrian-only Village Stroll. It's like stepping into a European alpine dream, complete with shops, restaurants, and galleries. Soak up the charming vibe and take in the architecture that's specifically designed to complement the natural surroundings.
Peak 2 Peak Gondola: The Ride of a Lifetime
Hold on to your ski hats, because we're about to experience an engineering marvel – the Peak 2 Peak Gondola. This bad boy connects the peaks of Whistler and Blackcomb mountains, giving you jaw-dropping panoramic views of the surrounding mountains, forests, and valleys. Whether you visit in summer or winter, this is a must-do experience that'll leave you feeling like you're on top of the world.
Whistler Olympic Plaza: Where Champions and Concerts Clash
Remember the Winter Olympics in 2010? Well, Whistler Olympic Plaza was a freaking focal point during those epic games. Today, it's a public space for events, concerts, and festivals.
Lost Lake: Nature's Tranquil Playground
In the summer, Lost Lake Park is your escape to tranquility. Get ready to immerse yourself in hiking and biking trails that'll lead you through jaw-dropping scenery. And let's not forget about the beautiful lake – perfect for a refreshing swim or a chill picnic. In the winter, this place transforms into a cross-country skiing and snowshoeing paradise.
Valley Trail: Walking, Jogging, and Biking Bliss
Get those legs moving on the Valley Trail system. This trail spans over 40 freaking kilometers and is perfect for walking, jogging, or biking. It weaves through the scenic landscape, connecting various parks and neighborhoods. So hit that trail and soak up the stunning views while getting your sweat on.
Whistler Golf Club: Tee Off With a Mountain View
Attention, golf enthusiasts! The Whistler Golf Club is your one-stop shop for mountain views and epic shots. This course is nestled in the beauty of the natural landscape, providing you with a backdrop that will make your swing look like a damn work of art. So grab your clubs, channel your inner Tiger Woods (or Michelle Wie), and soak up the glorious mountain scenery while you dominate the green.
Outdoor Activities: Beyond Skiing and Snowboarding
Whistler doesn't stop at skiing and snowboarding, my adventurous ladies. It's got a whole arsenal of outdoor activities to keep you entertained. From zip-lining to mountain biking, hiking to ATV tours, you name it, they've got it. The surrounding mountains and forests become your freaking playground, offering endless opportunities for adventure and adrenaline.
Check Out: 5 Reasons Why You Should Visit Peru at Least Once in Your Lifetime
BANFF NATIONAL PARK
Most Beautiful place in Canada: If you're looking for an unforgettable Canadian experience, Banff National Park is a must-see! This stunning park is home to glaciers, lakes, rivers, and mountains, and it's a favorite spot for hikers, campers, and nature lovers of all kinds. 
No matter what time of year you visit, Banff National Park is sure to amaze. In the winter, you can ski or snowboard on the slopes of Mount Norquay. In the summer, you can hike the famous Johnston Canyon Trail or go for a swim in Lake Louise. 
Whatever you do, don't miss out on this incredible national park!  If you are looking for incredible hikes while you are there, make sure you check out: 
Glorious Mountain Scenery: Prepare to be Blown Away
Alright, ladies, get ready for some serious eye candy because we're about to dive into the glorious mountain scenery of the Canadian Rockies. These bad boys dominate the landscape and offer vistas that will take your breath away. We're talking towering peaks, pristine alpine lakes, and lush valleys that will make you feel like you've stepped into a freaking postcard.
Lake Louise: Where Turquoise Waters Meet Snow-Capped Mountains
This place is famous for its turquoise-blue waters that are just begging to be Instagrammed. And guess what? They're surrounded by snow-capped mountains that'll make you weak in the knees. In the winter, this lake transforms into a magical ice skating rink, perfect for twirling around like a freaking figure skating champion. In the summer, you can hop in a canoe and paddle your way around or go hiking along the shoreline.
Moraine Lake: Turquoise Bliss and Peak Perfect Views
This glacially fed lake is famous for its stunning turquoise color that'll make you question if it's even real. And to make things even more jaw-dropping, it's framed by the majestic Valley of the Ten Peaks. This place is a freaking paradise for hikers, photographers, and anyone who just wants to bask in some seriously awe-inspiring scenery.
Banff Townsite: Charming AF in the Heart of it All
Nestled smack dab in the heart of the national park, Banff Townsite is a charming little gem that you don't want to miss. It's got a mix of boutique shops, restaurants, and cultural attractions that'll keep you entertained. And let me tell you about Banff Avenue – it's a bustling street that oozes with a vibrant atmosphere. Think lively energy, friendly locals, and an all-around good time.
Bow Lake: Picture-Perfect Serenity
This picturesque beauty is nestled along the Icefields Parkway and is surrounded by rugged mountains that'll have you feeling like you're in a nature documentary. Stop for a moment and let the peacefulness wash over you as you take in the scenic beauty. The Bow Glacier and Bow Summit only add to the overall picture-perfect experience.
Icefields Parkway: Beauty in Every Curve
This highway stretches through the heart of the Canadian Rockies, and trust me when I say that beauty awaits you at every damn curve. Prepare to be wowed by glaciers, waterfalls, and wildlife that'll have you reaching for your camera at every turn. This is the kind of road trip that will fill up your memory card and leave you grinning from ear to ear.
Athabasca Glacier: Get Up Close and Icy
This bad boy is part of the Columbia Icefield and is accessible via the legendary Ice Explorer. Yeah, you heard that right – it's a freakin' unique experience to walk on a glacier and witness the icy expanse up close. Let Mother Nature show off her icy wonderland as you navigate the frozen landscape like a true badass explorer. It's a bucket list moment that you won't soon forget.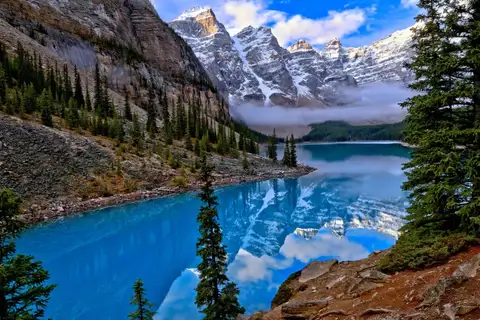 BUTCHART GARDENS
Most Beautiful Place in Canada: If you're looking for the most beautiful natural places in Canada, you need to check out Butchart Gardens. The gardens are just stunning, with a variety of different gardens and floral displays to enjoy, and if you're visiting in the spring or summer, you'll get to see the gardens in bloom. Butchart Gardens is also home to a number of concerts and events throughout the year, so be sure to check out what's happening when you visit.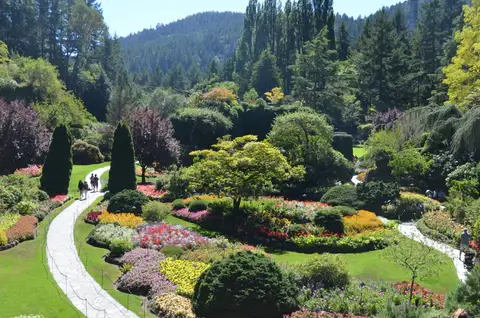 CN TOWER
Most Beautiful Place in Canada: When you think of the most beautiful place in Canada, the CN Tower is one of the first things that comes to mind. It's the country's most iconic structure and a true symbol of Canadian engineering prowess. At 553 meters, it's the world's sixth-tallest tower and offers absolutely stunning views of Toronto and Lake Ontario. Make sure to visit and take a look if you're ever in the area. You won't be disappointed. 
CONCLUSION
If you are looking to find the most beautiful place in Canada, make sure to check out any one of the top five places I've recommended, as they are all amazing. While there is no shortage of amazing places in this country, you will find that sometimes the most spectacular sights are hiding in plain sight. 
If you're looking to see some gorgeous sites and just haven't decided which direction to go yet, check out 5 Reasons to Go to Peru, and always remember to Travel Till You Drop!