Ready to embark on a solo tour to Thailand, the land where golden temples and neon lights coexist? Let's get something straight—Thailand isn't just a destination. It's like the electric blue of your exotic cocktail—it gets under your skin and gives you a buzz you won't forget!
Why Solo Travel in Thailand, anyway?
You might ask, "Why would I go solo in a land known for full moon parties and tropical romance?" Because, dear adventurer, Thailand is the sultry love child of adventure and serenity. And remember the words of Sir Henry Mingle-a-Lot: "Solo travel in Thailand means never having to share your pad Thai.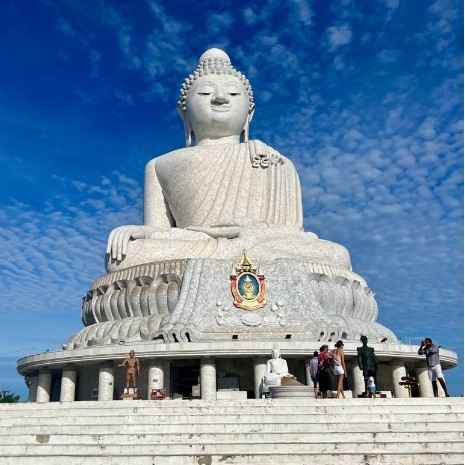 Alright, but is it Safe?
Safe as a coconut on a sandy beach, my friend! You might encounter the odd gecko in your room or a mischievous monkey stealing your sunglasses. But in general, the Thai people are as warm as their tropical sun and will make you feel right at home.
The Lingo Tango: Communicating with the Locals
Yes, Thai can be as intricate as their temple carvings, but a simple "Sawasdee" (hello) and "Khob "Khun Ka (thank you) will melt hearts faster than ice cream on a Phuket beach.
Stuff You Need in Your Suitcase
Sunscreen:

 Because looking like a lobster isn't sexy unless you're a lobster.

Bug Spray:

 Because mosquitoes think foreign blood is like fine wine.

A Waterproof Bag:

 Monsoons Enough said.

Bargaining Skills:

 Not exactly packable, but essential for market adventures. Hone them.
Currency and Cash: A Thai Tale
Cash is king here. While credit cards might be accepted in glitzy Bangkok malls, in the street markets of Chiang Mai, or on the beaches of Koh Samui, those colorful Thai Baht notes are your ticket to everything delightful.
FAQs, For All Your Quirky Queries
1. Spicy Food: Can I Handle It?
Thai chili is no joke. It's like salsa dancing on your tongue—a lot of zest, a bit of burn. When ordering, "mai phet" (not spicy) is your safety word.
2. Is That a Monkey on the Street?
Yes, yes, it is. Welcome to Thailand.
3. Elephants?
Choose ethical elephant sanctuaries. No riding, love.
Must-Dos That Don't Involve Getting a Tattoo
1. Street Food: Where magic happens, think aromatic Pad Thai, tangy Som Tum, and, for the brave souls—scorpions on a stick.
2. Temples: They're everywhere. Wat Pho in Bangkok and the White Temple in Chiang Rai are just the tip of the temple iceberg.
3. Beaches: From the party hub of Pattaya to the tranquil shores of Koh Lanta, Thailand's beaches are as varied as your Spotify playlists.
4. Floating Markets: It's like a grocery run but, on a boat, with more colors, smells, and photo opportunities.
Before You Jet Off to the Land of Smiles
1. Visa Drill: Know your visa needs. And please ensure your passport has more than six months of life left.
2. Immunizations: Because tropical paradises have tropical bugs. Be prepared.
3. Cultural Etiquette: Thais respect their monarchy and religion deeply. So, mind your manners, especially in temples. A modest dress code is appreciated.
Exploring the Underrated
Bangkok's Nightlife:
We get it; you've heard of Bangkok's dazzling nightlife, where the city is as awake as a night owl on a caffeine hit. But did you know there's a world beyond Khao San Road? Think sky bars with cocktails as colorful as sunset views and underground clubs where the beats are as spicy as the local cuisine.
Chiang Mai's Serenity:
Then there's Chiang Mai, the calm to Bangkok's storm. This city is so laid back that it's almost horizontal. Yet, it buzzes with a quiet energy akin to the soft hum of a monk's prayer. The temples here aren't just architectural wonders; they're silent storytellers of a rich and enigmatic history. As the famed travel writer Lek Chillaxalot puts it, "In Chiang Mai, every sunrise feels like the universe is whispering secrets of an ancient civilization."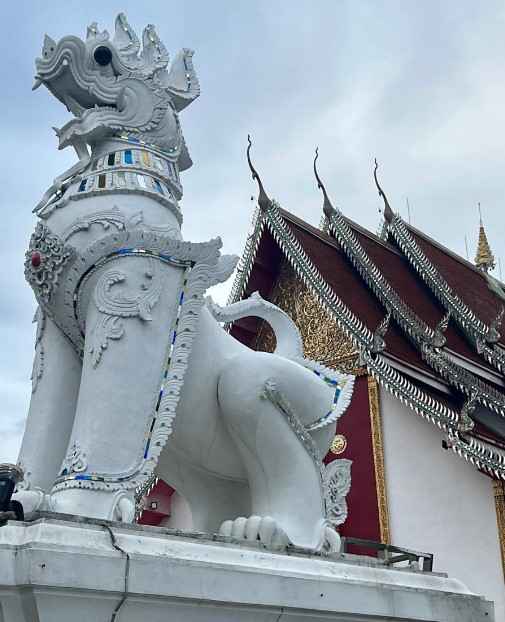 Thai Festivals Not to Miss
Loy Krathong: Let's talk festivals, and we're not just talking about the world-renowned EverSongkran water fight. Have you heard of Loy Krathong? It's the Festival of Lights, where thousands of lanterns take to the sky in a spectacle that would give the Northern Lights a run for their money.
Yi Peng: In Yi Peng, lanterns aren't just airborne beauties but messages to the heavens, floating hopes and dreams. Imagine a sea of golden lights ascending against the backdrop of a moonlit sky, each carrying the silent prayers of a thousand souls.
Diving Into the Deep Blue
Enough about the skies; let's touch the sea. The underwater world of Thailand is as mesmerizing as life above. The Similan Islands, Koh Tao, and Phi Phi Islands are a diver's paradise, where coral reefs are thriving metropolises and fish are the vibrant locals.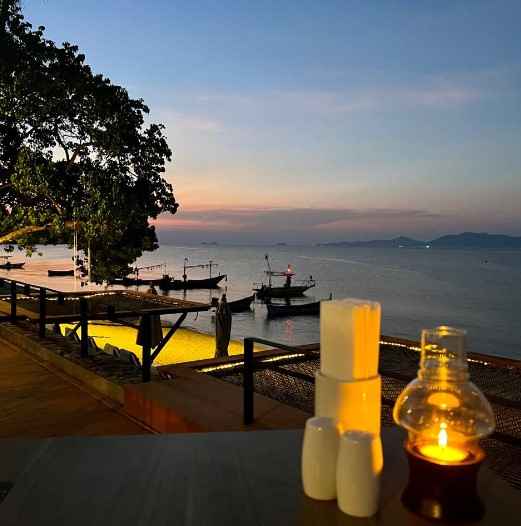 Tips for the Lone Wolf in Thailand
1. Respect the culture: As you roam free, remember – Thailand is a land steeped in traditions. Temples are sacred, the monarchy is revered, and the national anthem at 8 a.m. and 6 p.m. is a moment of collective pause.
2. Bargaining is an art form: Haggling isn't just accepted; it's expected. But remember, it's a dance, not a duel. Be respectful, and you might walk away with a treasure at a steal.
3. Transport Tricks: Tuk-tuks are iconic, but be wary of the 'scenic route' and inflated prices. For long journeys, night buses and trains are your cozy cocoons.
4. Stay connected: Get a local eSIM card because Google Maps is the difference between finding that hidden waterfall and ending up at a random local's backyard.
The Culmination of Your Thai Sojourn
With its ethereal landscapes, enigmatic cities, and islands that spellbind, Thailand is more than a travel destination. It's a sonnet, a painting, a song – art in its most majestic form. As the renowned globe-trotter Aom Wander luster once said, "To wander solo in Thailand is to dance to the silent tunes of an enigmatic melody, each note a whisper of the mystique, each chord a soul's rendezvous with the mystical."
So, brave soul, as you venture into this world of golden temples and moonlit beaches, remember that every moment is a bead in the grand necklace of your Thai journey. Each experience, from the quiet rustle of the palm trees to the bustling night markets, is a jewel of unmatched allure.
Final Nuggets of Nomadic Wisdom
In the words of the iconic Thai traveler Somchai WokandRoll, "Thailand isn't just a place. It's an emotion, an explosion of senses, a theater of dreams where every act tells a tale."
So, as you embark on your Thai journey, remember you're not merely visiting a country—you're diving headfirst into a whirlwind of experiences, flavors, sights, and sounds that are bound to titillate every sense, tease every emotion, and touch your soul in ways you never imagined.
Here's to a Thai experience as diverse and dazzling as the country's landscapes. Dive in, breathe deep, and let the Land of Smiles weave its enchanting tale around your soul.
Now go on, intrepid traveler, and let Thailand work its magic on you. And maybe you'll come back with more than just a tan and some fridge magnets. SawasdeeKa, Bon Voyage, and never forget to Travel Till You Drop!
Book Your Trip : Check Out My Resources for Your Travel Needs
Use Skyscanner to find a cheap flight.  This is my very first stop when I'm looking for my next trip. It's a fast, easy-to-use search engine that is perfect for finding an affordable flight, a perfect hotel, and the right rental car for you in locations around the globe.
Book Your Accommodation
If you are looking for a super budget friendly location and are open to a hostel stay, make sure you book your hostel with Hostelworld. It offers the broadest range of quality hostels around the world. 
If you'd prefer a hotel or a guesthouse for stays less than 28 days, drop on over to Booking.com It's perfect for providing excellent options, a ton of user reviews, and prices to fit every budget.
For stays over 28 days, AirBnB still remains my #1 choice. User reviews and monthly pricing allow for some incredible deals all around the world.
Don't Forget Travel Insurance
Travel insurance is but a small up-front investment that you won't want to leave home without. After just one experience of having to delay or cancel your trip or having your luggage stolen, you'll wish you would have made that investment.  I've hated my life a few times when the moment arose, and I decided to skip out.  Let's just say, I've changed my ways and recommend each of the following companies to protect your ass-ets.
My favorite companies are:         
Want to Travel for Free?
Travel credit cards allow you to earn points that can be redeemed for free flights and accommodation — all without any extra spending. Check out my guide to getting free flights to get started.
Ready to Book Your Trip?
Check out my Resource Page for the best companies to help you book your travel at reduced rates!  This list will help you get to where you're going.  I know-I use them ALL the time!