There comes a time when everyone is looking for that special place to retire, it just happens that Thailand is very appealing for current or soon-to-be retirees. Thailand offers a wide range of experiences, from tranquil islands to vibrant cities with booming nightlife, making it an exciting retirement destination that won't make you go broke. In this post, I want to go over details about retiring in Thailand and help you plan the move to the Land of Smiles.
Dreams Come True – Retiring in Thailand
Who wouldn't love to wake up in the morning hearing the gentle rustling of palm leaves, the fresh smell of the ocean air, and a vibrant culture right outside your new home? There is a special allure to retiring in Thailand, where you can finally realize your dream of living in paradise.
Why Thailand?
Natural beauty – Thailand has a range of natural beauty, from pristine beaches with turquoise waters to lush jungles teeming with wildlife and beautiful landscape mountains. Wherever you go in Thailand, there are endless opportunities for exploration.
Culture – Thailand has a rich cultural history with historic temples, vibrant festivals, and warm hospitality. Retiring in Thailand means you can enjoy all of these things whenever you like.
Affordability – One of the biggest deciding factors for people choosing Thailand for their place to retire is the cost of living. You can enjoy a comfortable lifestyle without worrying too much about your budget, making it feel more like an everyday vacation.  You can live like a King or a Queen for $4,000 a month, and very comfortably on $2,000.  
Delicious Food – Thai food is well-known for its robust flavors of food. From street food to mom-and-pop type of restaurants, or upscale restaurants, you can find any food or experience you are craving. 
Warm Climate – Thailand has a tropical climate, which is why so many people in the Western world come during the winter months to get away from the gloomy weather. This weather is ideal for outdoor activities. The rainy months are usually from September to October, but the rain in Thailand usually doesn't last the entire day.  You generally can set your watch by when it will arrive during the day, and a few hours later, out comes the sun. 
Healthcare – Thailand is also known for medical tourism, People who come here just to get procedures done just because the cost is considerably lower when compared to the Western world. It is also very affordable for retirees, and Thailand offers quality healthcare, especially in its major cities. 
Financial Considerations
Retiring in Thailand offers a blend of affordability and an improved quality of life. Take it from me: I enjoyed every minute of the last four months. To make this dream become a reality, it is important to consider the financial aspects and create a plan.
Minimum Funds Needed for Retirement
This is probably one of the most asked questions when considering if you want to retire in Thailand, "How Much do I need to retire in Thailand?"  While the answer will vary greatly depending on your lifestyle and where you plan to retire, a general rule of thumb is that if you are married and come as a couple, you can easily retire on a budget between $1500 and $2500 a month, and to do it up lavishly, you'd do really well with $4k per month. This would include accommodation, food, transportation, and entertainment. Keep in mind, though, that certain areas like Bangkok may require a higher budget, while cheaper rural areas like Issan are much cheaper.
Income Sources
To sustain your retirement in Thailand, it's essential to have reliable income sources. Here are a few common ones:
Pensions: If you are eligible for a pension, this can provide passive income to cover your living expenses. 
Investments: Consider having investments back at home. This could be anything like rental properties, stocks, or retirement accounts. You should also always diversify your investments for better security.
Social Security: If you're a U.S. citizen, you can receive your social security benefits while living in Thailand, providing another income source.
Savings: Let's hope by now you did manage to keep some savings over the years, but you should always keep savings on hand in case of medical emergencies or unexpected expenses.
Military Retirement: My military retirement covered all of my expenses each month while in Thailand with zero issues.  So, if you need a framework, know that if you've paid your bills back home, your retirement will fully cover your new life in Thailand.
Working Online: If you want a little extra income while living in Thailand but have officially retired, consider working as a freelancer for a few hours a week.  That'll cover your massage and facial budget in no time. 
By understanding all your potential sources of income, you can embark on your journey to Thailand with confidence, Now, you have the financial stability to make the most out of your retirement in Thailand.
Thailand Retirement Visa: Your Ticket to Paradise
If you have your sights set on retiring in Thailand, then one of the crucial steps to get there is to acquire your retirement visa. There are various options for visas in Thailand, but the one we will go over is the retirement visa, also known as the Non-Immigrant O-A visa.
What Is the Thailand Retirement Visa (Non-Immigrant O-A Visa)?
The retirement visa is designed specifically for retirees who are looking to spend an extended period of time in Thailand. Here are the details:
Eligibility: To be eligible for this visa, you must be at least 50 years old, possess a passport with at least 18 months of validity, and meet the financial requirements.
Financial Requirements: Being able to stay in Thailand also comes with meeting the financial standards. You must maintain a bank account in Thailand with a balance of 800,0000 Thai baht ($23,000 at current conversion). An alternative to this is that you can also show proof of monthly income equaling at least 65,000 baht a month ($1850-2000). Simple enough?
Application Process: You can apply for this through various agencies, but they will take a cut, and it will be more expensive.  While it may cost a bit extra, this route is much more convenient and time-saving. Another option is to visit a local Thai consulate in your local country. All of this depends on your current situation, the amount of hassle you may have to go through, and your timeline.
Duration: The initial retirement visa will be valid for one year. After the first year, you can renew the visa annually as long as you meet the previous financial requirements that I discussed earlier. If you happen to fail to meet these requirements, the visa will be denied.
Additional Documentation: The Thai authorities may require additional documentation such as a medical certificate, background check, and proof of health insurance when issuing a O-A visa.
Maintaining Your Retirement Visa
To retain the validity of your retirement visa, you must report to Thai Immigration every 90 days to confirm your current address. Failure to report every 90 days will result in the cancellation of your visa. This may be a bit of a pain, but it's certainly better than the alternative.
The visa is just one step to retiring in Thailand, and it is well worth it. It is very important to keep up to date with the latest visa rule changes and comply with Thai immigration regulations to stay in Thailand permanently.  Believe me, you do not want to screw up your visa. 
Choosing Your Retirement Location and Ensuring Safety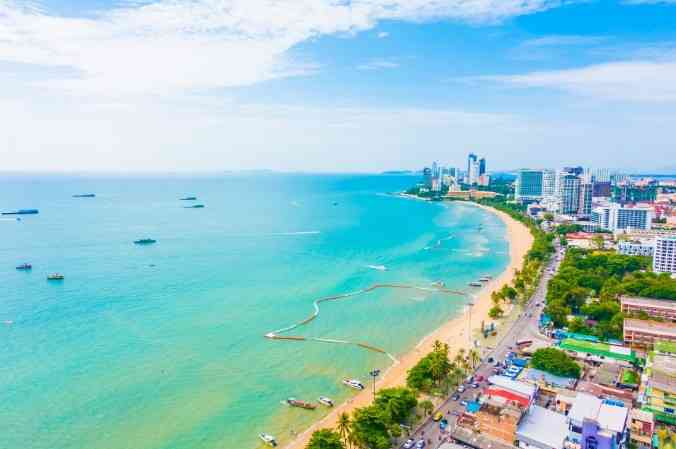 Selecting the ideal retirement location in Thailand is one of the most significant decisions, and your safety there is also important so you can enjoy your retirement to the fullest.
Choosing Your Retirement Location
Urban Locations: If you prefer to be in an area with a lot of expats and many things going on, consider cities like Chiang Mai, Bangkok, Phuket, or Pattaya. These cities offer a blend of modern conveniences to larger expat populations, not to mention the food.  If food from back home is a big part of your lifestyle, then you can still enjoy a large amount of Western foods in these larger cities.
Countryside Retreats: A much more laid-back way of living is out in the rural areas of Thailand, but you have to accept most of your modern conveniences are not available when you get there.  Washers and dryers may not be readily found in your unit, and bathtubs aren't really a thing, but it is much cheaper to live in the country. Some beautiful areas like this include Nakhon Ratchasima, Khon Kaen, Sisaket, and Buriram.
Tranquil Locations: If you are looking for a mixture of both, there are some rural areas like Chiang Mai or Chiang Rai in northern Thailand or one of the islands off the coast of Thailand like Koh Samui. These locations may cost slightly more, but they do offer a beautiful environment to retire in.
Read More: Buy Property in Thailand
Safety and Security
Overall Safety: Thailand is generally considered overall safe, but like any destination in the world, you have to remember to respect the locals, avoid risky areas during the night, and have common sense precautions.
Healthcare Access: When considering where you want to live, make sure you think about the level of healthcare access you will need.  If you're healthy and a once a year's checkup is all that is needed, rural areas can be an amazing choice, but if your health is in question, make sure you stick closer to the major cities with well-equipped hospitals.  
Local Support: It is important to build connections in the community where you end up deciding to stay, this enhances your sense of security. Thai people are known to be very approachable and friendly in general, especially in the rural areas of Thailand, and will go out of their way to help you. Get acquainted and become part of the local community, and you'll be amazed at what you can learn.  
By carefully selecting your retirement location and staying mindful of your own safety, you can enjoy the best of what Thailand has to offer during your retirement years.
As you plan your transition to the Land of Smiles, remember to stay informed about any changes in immigration policies and take necessary precautions for your safety and well-being. With the right preparation, when you retire in Thailand, it can be everything you've dreamed of – a beautiful, affordable, and culturally enriching chapter of your life.  And no matter where you choose to head off to, always remember to Travel Till You Drop!