Galapagos Islands Travel Guide
For any of those of you who want to travel to the Galapagos islands, it takes a little bit of effort if you are planning your own trip versus using a travel planner, but it's definitely doable.
If you've ever thought about heading into the Galapagos Islands, make sure you read through this to help you easily transition to the islands so you can easily Travel Till You Drop.
The Galapagos Islands are absolutely amazing, and everyone should add them to their bucket list to visit at least once in a lifetime. While they are that amazing, there are a number of requirements to enter.
I'm here to help you understand what you need to do so you don't pull your hair out while traveling there. Let's just say that when I flew there, I didn't take the time to research much about it, and wished I had.
Galapagos Entry Requirements: Flights to Galapagos Islands
If you are considering a trip to Galapagos Islands, you will need to fly into either Quito or Guayaquil in Ecuador and then over to the islands. There are no direct flights to the Galapagos (at least for now). Taking a few days in one of Ecuador's major cities is a very cool experience, so definitely stop by there first to eat, drink, and be merry. You are required to have a round-trip flight ticket to the Galapagos Islands, indicating your departure from the islands.
There are only three airlines that fly into the Galapagos as of now: TAME, LAN-Ecuador, and Avianca, and tickets will generally run you anywhere from $350-$500 USD for the required roundtrip airfare.
If you are on Avianca, they do not serve beverages from Quito to Guayaquil, so grab something at the airport before you roll. Avianca did serve water from Guayaquil to the Galapagos (GPS). Why this was important: If you are on flights to the Galapagos islands from Quitoo and don't have a drink, it'll be 3 hours before you do.
Snacks/Liquor
Also, if you want liquor or wine while you are on the Galapagos islands trips, make sure to stop at the duty-free once you're at the Quito/Guayaquil airport (once you are through security). It's much cheaper to buy it and bring it with rather than buy it on the island.
Also, make sure you bring snacks. Pretty much anything you want to purchase on the islands isn't nearly as cheap due to the remoteness of the island. So, a small suitcase filled with protein bars/snacks to get you through while you are here will save a lot on your budget.
1. COVID Testing
As of October 20, 2022, travelers are not required to present a vaccination certificate or a negative result of a qualitative RT-PCR prior to visiting the Galapagos Islands.
While it's not mandatory, it may be a really good idea if you are planning on traveling to such a remote place. The old adage of it's better to be safe than sorry if you're feeling a little rundown.
2. Vaccinations
Traveling to various types of locations, especially one that is a bit more "exotic" than most, the government. The one you may not currently have but is recommended (and a must if you are coming from a region that is known for yellow fever), is the yellow fever vaccine.
Additional vaccines that are recommended are Hepatitis A, Typhoid Fever, Tetanus, and your other routine vaccinations.
3. Passport Requirement
To travel to the Galapagos Islands, your passport must not expire within 6 months of your trip. A good rule of thumb is to ensure you have at least 6 blank pages left in your passport.
4. Health Insurance and Travel Insurance
According to the official website of the Galapagos, health insurance is "strongly recommended". Previously travel insurance was mandatory, but not a soul checked for it, but I do highly recommend popping over to Safety Wing to grab your travel insurance.
There are no major hospitals on the islands and if you run into the scenario of getting hurt at all, broken bones, or anything past a basic cold, you'll have to be evacuated off the island to Ecuador to be seen. So, the dealer's choice on that one.
The other option is to check with your credit card to see what coverage they may have. Some offer travel insurance for a reduced price if you book your trip through them.
When you get to the Quito/Guayaquil airport you will need to first get your luggage inspected. They will look for plants, plant products, and animal products.
I made it through with peanut butter, and from what I read that was fine. They will right then and there place a blue plastic lock on your suitcase—so make sure you have anything out before you go through the inspection process, or you may have to do it again.
Once inspected, you go to the line to get your TCT (tourist card). Here they will check your passport, review your information, and take your $20 cash! This $20 is to help support the conservation efforts of the Galapagos islands.
Make sure prior to heading out that you pre-register for your TCT online. It can be completed in Spanish or in English, you'll just have to select the correct language. Takes about 5-10 min to fill out. DO IT… cause if you wait to get to the airport, it will be a world of suck.
All the same, info will have to get filled in, but you'll have to recite your information to the guy through the glass, 2 masks, and that isn't fluent in English to fill it in if you don't do this step… So, definitely do this step!
6. Galapagos Entry Fees
The airport you will fly into most likely when traveling to the Galapagos is GPS, or the Baltra Islands. It's a military base so when you get here, you'll come thru customs, then pay your $100 fee (Again, bring Cash—US dollars) grab your suitcase, and head outside to buy the initial bus ticket. It's right around the corner, follow the signs. This advice is for US citizens over 12 years of age. The table below shows the fees for all others.
7. Mandatory Bus/Ferry Fees
Once you arrive at the airport that is located on their military base, you must leave the base and head to the islands. The way to do that is by taking a bus and, subsequently, a ferry. The bus ticket just gets you off the base and costs $5 cash USD. No credit cards/foreign money.
They put everyone on a bus and take you to the ferry. They will move your suitcase from the bus to the ferry, and you will get on. Once you're on, you pay the guy $1 per person for what I can assume is the luggage handling fee. He wanted a dollar and was not moving past your position until you gave him a dollar. They also sell little ice creams on the boat for $1 each as well.
Looks like a few people have been here before and knew that. It wouldn't have been a bad thing to try, for sure. If you eat fast, you will have time to eat it as it's a short trip.
8. Santa Cruz Island Ferry
This island will be your first stop. I'll explain more about the island later as this piece will be dedicated primarily to the transportation piece.
When you leave Baltra, most people will head to Santa Cruz Island. The ferries will take you to the island of Santa Cruz which is about a 5–10-minute boat ride. It's so pretty that it goes by quickly. You get to Santa Cruz, and from there, you can either take a bus or a taxi to Puerto Ayora.
They both take you to the same general spot. The taxi is $25 and brings you directly to the hotel, the bus is $5, and once you get into town, you'll either have to hoof it or grab a taxi to your hotel. At my point of arrival, I was not down with having to take a bus and then figure out my next step in transportation as I was too hot and tried to care. I paid the $25 and called it a day (worth it). In March, it's 80% and 90% humidity and about the temp of boiling water.
It's a Florida/Texas mid-summer kind of humid, but the evenings are amazingly beautiful, which is great for being in the water, but traveling or walking around mid-afternoon in that kind of heat is not a great experience.
9. Weather and best time to visit Galapagos islands
Just in case you are wondering when the best time to visit the Galapagos Islands is, here's a rough guideline of the temperatures there and possible things you can see during the various seasons.
While I digressed into a slight rant above while I was there, I'll try to be a bit more thorough on when the best time to visit the Galapagos islands is December to May is usually considered the warm and wet season, with temperatures ranging from 23°C (73°F) to 32°C (90°F).
During this time, you can expect sunny days, calm seas, and vibrant plant life. But bring an umbrella because the afternoon showers can be unpredictable. The ocean temperature also rises, making it the perfect time to go swimming, snorkeling, or diving. As I mentioned, I went in March, and it was hot, hot, hot!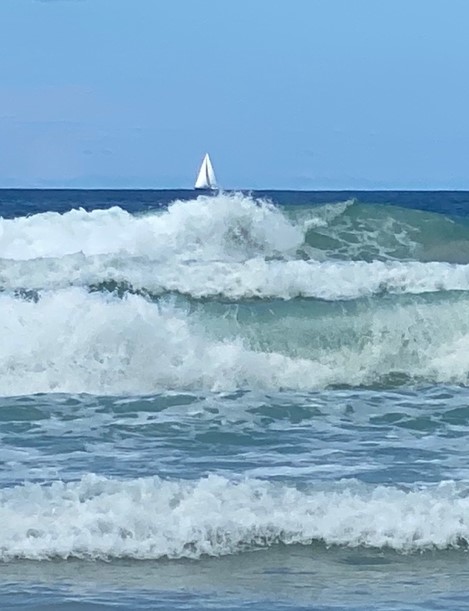 June to November is the cool and dry season in the Galapagos Islands. The temperature fluctuates between 15°C (59°F) to 25°C (77°F). During these months, you may need to bring a sweater, windbreaker, yoga pants, and a jacket as the temperature drops at night.
But the cool waters welcome the migration of many marine species, such as whales, dolphins, and hammerhead sharks. Also, you won't have to fight the crowds during this less popular season.
While the distinct seasons are not set in stone, just be prepared as the Galápagos Islands have their own weather patterns that are unpredictable and can change in a blink of an eye. It is quite common to head out for a swim in the blazingly hot sun, but at a moment's notice, the clouds can roll in, and the skies open to unexpected showers. So, make sure to pack layers and be ready for everything!
If you're a bird lover, you may want to plan your visit between December and May, as this is the breeding season for the blue-footed boobies, Nazca boobies, and waved albatrosses. Additionally, the green sea turtles come to land to lay their eggs, and the giant tortoises migrate down to the warmer lowlands.
I missed the boobies while I was there as they were primarily located on other islands other than Santa Cruz, which I will get to in the, which island to visit section below.
10. Which Island to Visit
Now that you've figured out how to get to the Galapagos Islands, what the entry requirements are, how to get around from the airport (Baltra island-GPS) to Puerto Ayora on Santa Cruz, the main island, and know what the temps are like year-round, let me point out what makes each island special.
There are 13 islands that make up the Galapagos, and here I will discuss 5 of the main ones. They are each unique in their own way, and I highly recommend visiting at least 3 of them on your trip.
You'll, of course, start with Baltra. Baltra is not known for much, except that it is an international airport, which is their military base. You won't find much there except for a bunch of iguanas roaming around. I think I met the iguana welcoming committee as I got off the plane. They were too cool and definitely started the trip off right.
Santa Cruz
Moving on to the second island on the list: Santa Cruz. This was where I had to grab the bus and a ferry to get to Puerto Ayora. Santa Cruz has the most people and infrastructure, including the best Wi-Fi you'll get in the islands (it doesn't say much as Wi-Fi anywhere in the Galapagos is questionable), towns, hotels, restaurants, and souvenir shops there. For me personally, though, Santa Cruz is not peaceful.
There are too many people in a small space, and the buildings take up almost every square inch of the water. In the areas that are open, though, you will find many a sea lion that hobbles up for a visit and takes a snooze on the park benches.
Please don't touch them. They are wild animals and have very large teeth, even as cute and adorable as they seem.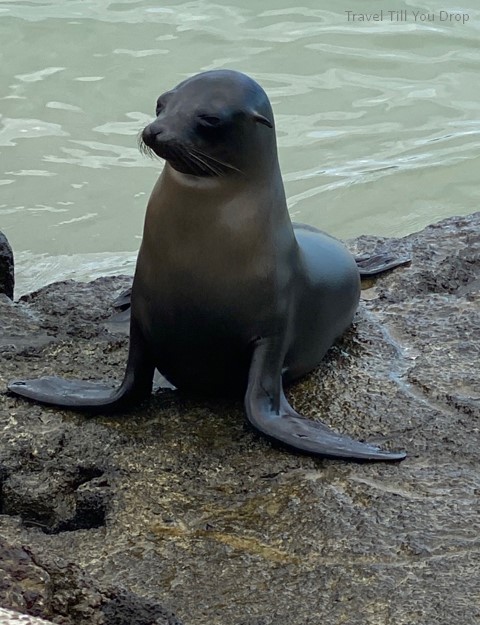 Even with the larger population of tourists and structures, Santa Cruz is still home to some of the most amazing wildlife and natural wonders in the world.
Here you'll find the Charles Darwin Research Station, which is well worth the visit, the giant tortoise breeding centers about 20 minutes up the road-also awesome, the lava tunnels, and the famous Tortuga Bay (beach).
In other words, Santa Cruz is the perfect mix of civilization and wilderness. Definitely spend 4-5 days just on this island to ensure you get everything you can.
Tortuga Bay
Tortuga Bay IS PHENOMENAL. It is still located on Santa Cruz Island but deserves a section all to itself. I will tell you that it has one of the most beautiful beaches I've ever been to.
It's about a 50-minute walk from the time you get to the designated path through the trees and cacti. I will tell you that once you exit the trees and it opens up the beach, the views are magical!
The path has a control point where they ask for your name, country of residence, and hotel. I'm sure they do this to ensure they don't lose anyone along the way.
The path to Tortuga Bay opens at 6 am and closes at 5 pm. It will be HOT. Bring large water and stay well-hydrated.
Isabela Island
The next island that you should visit is Isabela Island. You'll need to grab a ferry to get there from Puerto Ayora if coming from Santa Cruz, which will take a few hours. Personally, this was my favorite island. The sunsets were amazing, and the spaces were way more open with fewer people.
It is the largest island in the Galapagos and arguably the most volcanic. Isabela is the place to go if you want to witness some serious geology in action, from the Sierra Negra volcano to the Tintoreras islets to the Wall of Tears (a historical landmark built by prisoners).
But that's not all. Isabela is also home to a plethora of unique and endangered species, such as the Galapagos penguin, the Galapagos hawk, the marine iguana, and the giant tortoise. So, if you're a nature lover with a passion for adventure, Isabela should be at the top of your list.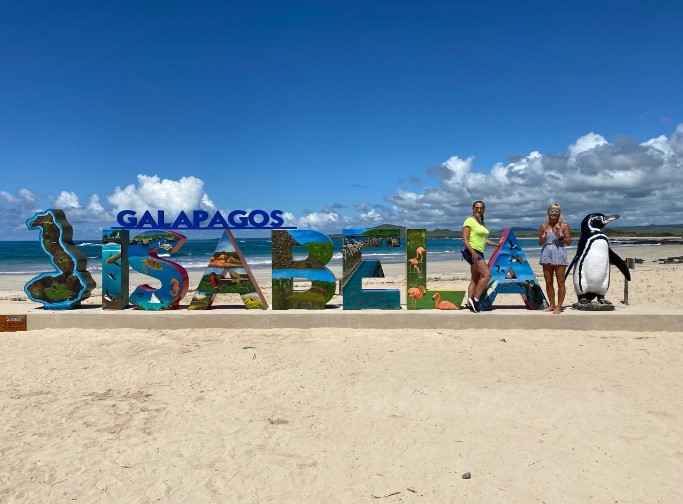 Floreana
Now, let's talk about the island that's probably on every solo female traveler's bucket list: Island #4: Floreana. Floreana is known for its mysterious history, romantic legends, and secluded beaches. The island has a small population of around 100 residents who live in harmony with nature and preserve the island's traditional culture.
One of the most famous landmarks in Floreana is the Post Office Bay, where visitors can leave or take postcards in a 200-year-old barrel and hope that they'll end up in the hands of someone they know. But the real gem of Floreana is its beaches, such as the Devil's Crown, the Black Beach, and the Cormorant Point, where you can swim, snorkel, and sunbathe in absolute tranquility or topless if you so desire. There is nothing like peace and quiet and a lot of nature to keep you company.
Espanola
Last but not least, island #5, Espanola, is the oldest and southernmost island in the Galapagos. Espanola is known for its rugged terrain, dramatic cliffs, and vibrant wildlife. The island is a birdwatcher's paradise, with species such as the waved albatross, the Nazca booby, and the red-billed tropicbird.
Espanola is also home to some of the most stunning beaches in the archipelago, such as Gardner Bay (where you can spot sea lions and sea turtles) and Suarez Point (where you can see marine iguanas and colorful crabs). So, if you're a nature enthusiast with a love for remote islands, Espanola will blow your mind.
Transportation Between Islands
You can book your transportation between islands here or you can pop on over to the dock of the island you are currently located on and buy direct from the ferry operators. Make sure you review the routes, as you may have to travel to a main island before bouncing to a smaller island.
Final Thoughts
In conclusion, the Galapagos Islands are a magical and diverse destination that's worth every penny and every effort. Each island has its own personality, charm, and attractions, and it's up to you to decide which one suits your style and interests. Whether you're into geology, ecology, history, or simply relaxation, there's an island in the Galapagos that's known for what you're looking for.
And if you're a solo female traveler, don't be afraid to venture out and explore these islands on your own. With a bit of research and planning, you'll have the trip of a lifetime that you'll cherish forever.
So, go ahead, book that flight, pack that backpack, and embark on a journey that will change you forever, and always remember to Travel Till You Drop!
Book Your Trip : Check Out My Resources for Your Travel Needs
Use Skyscanner to find a cheap flight.  This is my very first stop when I'm looking for my next trip. It's a fast, easy-to-use search engine that is perfect for finding an affordable flight, a perfect hotel, and the right rental car for you in locations around the globe.
Book Your Accommodation
If you are looking for a super budget friendly location and are open to a hostel stay, make sure you book your hostel with Hostelworld. It offers the broadest range of quality hostels around the world. 
If you'd prefer a hotel or a guesthouse for stays less than 28 days, drop on over to Booking.com It's perfect for providing excellent options, a ton of user reviews, and prices to fit every budget.
For stays over 28 days, AirBnB still remains my #1 choice. User reviews and monthly pricing allow for some incredible deals all around the world.
Don't Forget Travel Insurance
Travel insurance is but a small up-front investment that you won't want to leave home without. After just one experience of having to delay or cancel your trip or having your luggage stolen, you'll wish you would have made that investment.  I've hated my life a few times when the moment arose, and I decided to skip out.  Let's just say, I've changed my ways and recommend each of the following companies to protect your ass-ets.
My favorite companies are:         
Want to Travel for Free?
Travel credit cards allow you to earn points that can be redeemed for free flights and accommodation — all without any extra spending. Check out my guide to getting free flights to get started.
Ready to Book Your Trip?
Check out my Resource Page for the best companies to help you book your travel at reduced rates!  This list will help you get to where you're going.  I know-I use them ALL the time!