Introduction
Africa, the cradle of humanity and a land of unparalleled biodiversity offers some of the most exhilarating and unforgettable safari experiences on the planet. From the vast plains of the Serengeti to the lush wetlands of the Okavango Delta, the continent is a treasure trove of natural wonders and wildlife encounters. In this article, we will embark on a journey through the best African safaris for couples, exploring the diverse ecosystems, incredible wildlife, and unique experiences that make this continent a must-visit for nature enthusiasts and adventure seekers.
best African safaris for couples
1. Serengeti National Park, Tanzania
The Serengeti National Park in Tanzania is often described as the crown jewel of the best African safaris for couples. Spanning approximately 14,750 square kilometers, this vast wilderness area is renowned for its annual wildebeest migration, often dubbed "The Greatest Show on Earth." Witnessing thousands of wildebeest, zebras, and other animals cross the plains in search of greener pastures is a sight that is etched into the memory of all who visit.
The Serengeti offers a year-round safari experience with the "Big Five" (lion, leopard, elephant, buffalo, and rhinoceros) as well as cheetahs, giraffes, and countless bird species. Serengeti National Park, Tanzania the best African safaris for couples; provides various accommodation options, from luxurious lodges to mobile camps, ensuring visitors can enjoy the wilderness comfortably.  You can also hop on a hot air balloon tour and see the massive beauty of the Serengeti from the skies.
2. Maasai Mara National Reserve, Kenya
Adjacent to the Serengeti, the Maasai Mara National Reserve in Kenya offers a similarly spectacular wildlife experience. It's another best African safaris for couples. It is renowned for its high concentration of predators, making it one of the best places to witness thrilling predator-prey interactions. The Great Migration also extends into the Maasai Mara, allowing visitors to experience this natural phenomenon from a different perspective.
Beyond the wildlife, the Maasai Mara offers cultural encounters with the Maasai people, known for their distinctive customs and vibrant attire. you and your loved person can engage in cultural tours and learn about their traditional way of life, making the safari experience even richer.
3. Okavango Delta, Botswana
The Okavango Delta, a UNESCO World Heritage Site, is a unique and best African safaris for couples. This destination is characterized by its intricate network of waterways, floodplains, and islands. It is often referred to as the "Jewel of the Kalahari" and is home to an astonishing array of wildlife, including elephants, hippos, crocodiles, and countless bird species.
Exploring the delta on a traditional mokoro (dugout canoe) safaris provides an intimate experience with the water-based wildlife and offers a serene escape into nature. Game drives, bush walks, and boat safaris are also popular ways to explore the delta. Luxury lodges and tented camps offer a blend of comfort and immersion in the untamed wilderness.
4. South Luangwa National Park, Zambia
South Luangwa National Park in Zambia is a hidden gem that offers a unique and authentic safari experience. No doubt that this is the most famous and the best African safaris for couples. Known for its walking safaris, this park provides the opportunity to get up close and personal with the African bush. Led by experienced guides, these walks allow you to connect with the environment on a deeper level, observing animal tracks, plants, and smaller creatures that are often missed during traditional game drives.
The park is home to a diverse range of wildlife, including leopards, hippos, and a variety of antelope species. The vibrant Luangwa River is a lifeline for both wildlife and visitors, providing exceptional game-viewing opportunities.
5. Chobe National Park, Botswana
Chobe National Park, located in northern Botswana, is renowned for its massive elephant herds. it's one of the best African safaris for couples. It boasts one of the highest concentrations of elephants in Africa, making it a must-visit destination for elephant enthusiasts. A boat safari along the Chobe River offers a unique perspective, allowing you to witness these gentle giants swimming and playing in the water.
In addition to elephants, Chobe is home to a rich diversity of wildlife, including lions, leopards, buffalo, and a profusion of birdlife. Game drives and boat cruises are popular activities, and the park offers a range of accommodation options, from luxurious lodges to budget-friendly campsites.
6. Etosha National Park, Namibia
Etosha National Park in Namibia is a vast salt pan surrounded by arid savannah and bushveld. It is famous for its unique landscapes and remarkable concentration of wildlife around the waterholes. Etosha's salt pans provide an otherworldly backdrop for wildlife photography, especially during the dry season when animals gather at the waterholes to quench their thirst.
Visitors to Etosha can expect to encounter a variety of wildlife, including lions, cheetahs, rhinos, and numerous antelope species. The park offers well-maintained camps and lodges both inside and outside the park, catering to different budgets and preferences. if you are a couple, and looking for an adventurous experience; Etosha National Park, Namibia is the best African safaris for couples.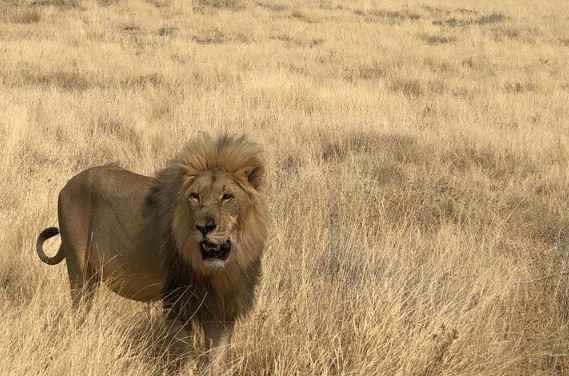 7. Hwange National Park, Zimbabwe
Hwange National Park in Zimbabwe is one of Africa's largest and oldest national parks, covering approximately 14,651 square kilometers. It is celebrated for its diverse wildlife and particularly its large elephant population. Game drives and guided walks in Hwange offer excellent opportunities to spot the "Big Five" as well as wild dogs, giraffes, and zebras.
One of the park's unique attractions is the opportunity to spend a night in a hide, a camouflaged underground shelter overlooking a waterhole. This immersive experience allows visitors to witness nocturnal wildlife behavior up close and personal.
8. Bwindi Impenetrable Forest, Uganda
While not a traditional safari destination, Bwindi Impenetrable Forest in Uganda offers a different kind of wildlife encounter: gorilla trekking. This UNESCO World Heritage Site is home to approximately half of the world's remaining mountain gorilla population. Gorilla trekking here is a once-in-a-lifetime experience that provides a rare opportunity to observe these majestic creatures in their natural habitat.
In addition to gorillas, Bwindi is also home to a variety of other primates, including chimpanzees and several monkey species. The forest itself is a lush, biodiverse wonderland, making it a must-visit for nature lovers and conservation enthusiasts.
Conclusion
African safaris are an extraordinary way to connect with nature, witness incredible wildlife, and experience the diverse cultures of the continent. Whether you're seeking the drama of the Great Migration, the tranquility of the Okavango Delta, or the thrill of walking safaris in Zambia, Africa offers a safari experience to suit every adventurer's desires. Each destination mentioned in this article provides a unique and unforgettable journey into the wild, leaving visitors with memories that will last a lifetime. So, pack your bags and embark on an African safari for an adventure like no other, and as always, Travel Till You Drop!
Book Your Trip : Check Out My Resources for Your Travel Needs
Use Skyscanner to find a cheap flight.  This is my very first stop when I'm looking for my next trip. It's a fast, easy-to-use search engine that is perfect for finding an affordable flight, a perfect hotel, and the right rental car for you in locations around the globe.
Book Your Accommodation
If you are looking for a super budget friendly location and are open to a hostel stay, make sure you book your hostel with Hostelworld. It offers the broadest range of quality hostels around the world. 
If you'd prefer a hotel or a guesthouse for stays less than 28 days, drop on over to Booking.com It's perfect for providing excellent options, a ton of user reviews, and prices to fit every budget.
For stays over 28 days, AirBnB still remains my #1 choice. User reviews and monthly pricing allow for some incredible deals all around the world.
Don't Forget Travel Insurance
Travel insurance is but a small up-front investment that you won't want to leave home without. After just one experience of having to delay or cancel your trip or having your luggage stolen, you'll wish you would have made that investment.  I've hated my life a few times when the moment arose, and I decided to skip out.  Let's just say, I've changed my ways and recommend each of the following companies to protect your ass-ets.
My favorite companies are:         
Want to Travel for Free?
Travel credit cards allow you to earn points that can be redeemed for free flights and accommodation — all without any extra spending. Check out my guide to getting free flights to get started.
Ready to Book Your Trip?
Check out my Resource Page for the best companies to help you book your travel at reduced rates!  This list will help you get to where you're going.  I know-I use them ALL the time!