Exploring Jordan Affordably
Jordan is one of my favorite places to visit in the world. I would go back in a heartbeat just to feel the vibe and the spirit of this location. For me, it may be more of a spiritual journey, but if you open yourself to it, you may feel that sense of peace that I always have as I travel closer to the Dead Sea. 
Jordan isn't one of the cheapest locations to visit in the world as it has a strong currency that can hit foreign tourists and visitors hard in their purses, but with some creativity, effort, and research, you can have a wonderful experience where you travel Jordan on a budget and even get to see one of the 7 Wonders of the World in the Middle East.
In this guide, we will unveil the secrets of traveling through Jordan on a budget, where your wallet remains intact, and your wanderlust knows no bounds. Whether you're a history enthusiast, an adventurer seeking thrills in the wild, or a foodie craving the taste of local delights, Jordan has something to offer every traveler. So, let's embark on this budget-friendly odyssey through Jordan, where affordability meets adventure, and every step reveals a new marvel.
VISAS to Travel Jordan on a budget
When planning your trip to Jordan on a budget, one essential thing that you need to know is that a Visa is required to explore this country which can be purchased at the airport upon arrival. It's just one more line to hop in, but you need to make sure you pay your dues and get your passport stamped before trying to exit through customs.
To cut costs on Visa fees to be able to travel to Jordan on a budget, travelers can purchase a Jordan Pass.  The Jordan Pass includes entries to over 30 attraction sights, including Wadi Rum and Petra, but also the cost of the Visa for 99 USD (70 dinars). This charge varies based on how many days you are traveling and which attractions you would like to see.  
FLIGHTS to Jordan
In addition to finding ways to travel Jordan on a budget, you can check out ways to acquire a low-cost flight to Jordan by using my expert travel hack methods.  A few of these methods include redeeming reward points for free flights or being on the lookout for mistake fairs.
Do you know: Affordable Travel Packages in Kenya for $30/day
Accommodations in Jordan
Another way to save when traveling is to take a look at backpacker hotels and hostels.  They offer cheap accommodations in Jordan and aren't all that bad if you're planning on being out of the hotel most of the time.
Why waste a bunch of money on a space to store your stuff when you can spend it on seeing and doing things you may not have previously imagined on your travel to Jordan on a budget. With $16 USD (11 dinars) or less per night, you can afford yourself a decent enough dorm bed to spend your stay in Jordan.
If you're looking into a local hotel, where you do have your own space, you can always opt for something in the price range of $15-$30 per night. So, take a look at what you're willing to sacrifice to determine how to balance your budget against your housing needs.
If you find yourself not willing to compromise, there are plenty of luxury hotels to go around as well. Most of the land along the Dead Sea beaches was reclaimed for five-star resorts, which are more expensive to book, but are absolutely amazing.  If you choose not to stay on the beaches to conserve your budget, I recommend that you take a day trip out to the Dead Sea.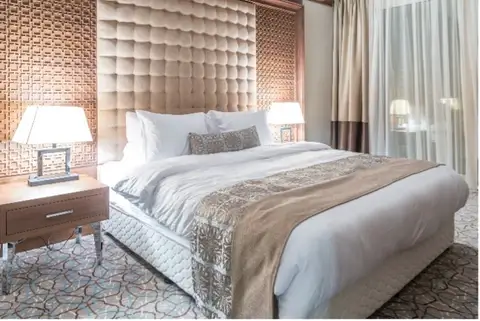 WHAT TO SEE AND DO
The country has exquisite cultural, archeological, and natural wonders, and a Jordan pass certainly one of the most economical ways to sightsee all these wonders. With this pass, you will be able to acquire free entry into a variety of UNESCO World Heritage wonders, several ruins, and a variety of museums.
Also, to make the most out of your Jordan pass, definitely do your research to determine what is or is not covered to maximize what you are able to see and do while in the country.  
Petra is known as one of the 7 Wonders of the World.  For how many times I've been to Jordan, I still haven't been there, but the next trip, it's on!  The Dead Sea and Petra are about an hour from one another, and when I worked on that side of the world, I was always too tired to make the journey.
 This time, that's going to change.  The Dead Sea was always one of my favorite places to be while I was there.
The sea is filled with salt, and you can float a bit like a porpoise. You remain buoyant and can spin around like it's nothing.  While you are there, make sure to follow the rules about how long you should stay submerged to avoid any issues.  
Also, you really shouldn't dunk your head in the water but rather acquire the mud and slather it all over your body for a mask.  I was always amused at the rather large men from Kuwait who would make it over and rub it on one another. It was entertaining to say the least. 
One other experience that did not disappoint was when the local ladies would get in the pool in full garb.  Literally, the full burka and hijab were worn into the pool.  
I was scared that if they fell forward, they would drown.  At the Marriott or the Movenpick, wearing a bikini was normal as well, so it really is up to you on what you would like to wear.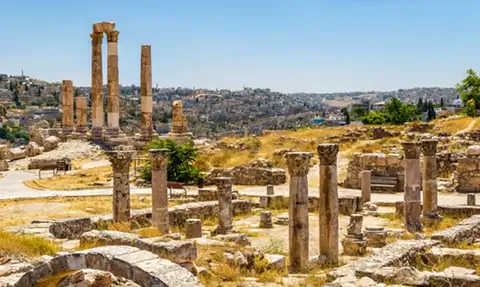 WHAT TO WEAR
While Jordan is a Muslim country, it is also a place where you can be yourself.  It may be more conservative than other places, but it's definitely not as strict as Saudi.  You can wear shorts and sleeveless tops, but I'd say leave the cleavage and the short shorts at home.  I'd recommend dressing a bit more conservatively, but a burka and/or head covering is not required. 
THE EATS
If you'd like to travel to Jordan on a budget and experience it like a local, choose to purchase your food from street vendors rather than opting for sit-down hotels and restaurants.  You may find it's a little riskier to eat at a vendor on the street, but to be safe, buy your Coke to chase it to help decrease the likelihood of Montezuma's Revenge. The food is excellent, and lamb is very popular.
I recommend trying traditional foods such as shawarma, falafel, fuul, and baklava.  My mouth is watering just thinking about it.  There are many local wines and beers that you can try that are less expensive than any of the imports, but you should also make sure to try tea and coffee made by the locals.  Taking a tea or coffee is a cherished custom Jordanians use to socialize. So, if you're looking to meet people while on your trip, this is a great place to start.
TRANSPORTATION
If you choose to be a bit adventurous, you can choose to rent a car when you fly into Amman.   Renting a car in Jordan will generally cost you between $25 and $45 USD (20 and 35 dinars) per day, and the fuel prices are inexpensive.  However, if you do choose to rent a car, be prepared, as the streets of Amman can be a bit chaotic.
If you do not choose to rent a car, taxis are common, Uber, or my favorite, hire a VIP service like Fast Track that takes care of your needs from the time you land until you arrive at your hotel.  
VIP SERVICES
While utilizing a VIP service may not necessarily be the most beneficial to your budget, it may be the way you are most comfortable traveling there.  Fast Track VIP services helped me get through customs, acquire my luggage, and be on my way.  I absolutely loved working with these guys.  They helped me in the airport, got my bags, got my visa, and took me all over. 
I felt taken care of and safe, and it was awesome to have my very own guides that would take me to find the underground salsa bar or the best quality/lowest cost shopping locations.  So, while you may not initially think of Jordan as a spot to add to the ole list, I will tell you that you should. Jordan offers a once-in-a-lifetime experience and is a beautiful destination for tourists, and you won't regret seeing one of the 7 Wonders of the World.  
If you're looking for a bit more of a modern experience in the Middle East, you should take a trip to Dubai in the UAE. 
For many other locations to choose from, check out my BLOG.
To get those much-needed travel supplies to make your travels just that much easier, make sure you check out the Travel Till You Drop Shop.