BEST PLAN FOR 5 DAY DUBAI ITINERARY
Dubai is an eminent gem in the Middle East, with overflowing luxury and exquisite architecture. 5-Day Dubai gives you value for your money with a wide range of activities to do while vacationing. From skiing to skydiving, dune bashing to fine dining, clubbing to kayaking. Dubai has something for everyone and is a solo traveler's dream. If you are planning to visit Dubai, this article will provide a 5-day Dubai itinerary, which is an ideal amount of time to experience the wonders and thrills this beautiful city offers.
Dubai is more than just a destination, it's a place where human ambition reaches new heights – literally. The iconic Burj Khalifa scrapes the sky like a rebellious teenager who just won't conform. It's a middle finger to gravity, a testament to what humans can achieve when they put their minds to it. And let's not forget about those man-made islands, like The Palm, defying nature's rules like a boss. Because, why settle for boring old land when you can have an island shaped like a palm tree? It's like Mother Nature tried to hold Dubai back, and Dubai said, "Nah, I'll pass."
5-Day Dubai Trip Details: 
DAY 1: DUBAI MALL
Well, let's start with some shopping at the biggest mall in the world. Yes, The Dubai Mall is the largest in the world, with over 1,100 shops ranging from Hershey's to the Zara Store. The mall also has fine-dining restaurants that offer exquisite delicacies from around the world. The mall's massive aquarium and ice rink will blow your mind away.
Why they have an aquarium and an ice rink inside the mall, one will never know, but it's a pretty neat experience, and when you think the wonders are ending with all of that, you bump into Ski Dubai. Ski Dubai is a one-of-a-kind indoor skiing resort that offers exquisite experiences. When you are done with your higher-priced shopping and skiing, you'll want to take in the evening by visiting a Souk.
A souk is a culturally styled Arabian market with classy restaurants and bars. It is a refreshing environment to grab drinks as you rejuvenate for day 2 or have a few too many—and yes, alcohol is legal in the UAE. Never cheap, but legal!
Now that we have done some shopping, it's time to feel elevated, and what better place to experience the heights of the world than in a plane or the Burj Khalifa? This building cannot go unnoticed with its shining and stunning architecture, serving as a beacon to the desert. The building is a hotel, a mall, a restaurant, a spa, and a residence.
Enjoy an epic site of the city from the tallest building in the world. You could head to the Burj al Arab in the evening, another iconic building alongside the coastline. The building has exquisite architecture and is also a 7-star hotel. Grab your dinner as you meditate on the magic engineering and structural sites you have seen during the day.
Check Out: Top 7 Unique Places to Visit in Spain: Off the Beaten Path Travel Ideas
DAY 3: THE PALM AND THE MARINA.
Day three is a perfect day to explore the extremes of the city. Have you ever imagined that someone came up with a brilliant idea to construct an island somewhere in this world? Well, you will only find that in Dubai. The Palm is a genius civic engineering structure with its island-like architecture. Get alcohol branch tickets in the Atlantis Hotel and enjoy unlimited cocktails as you enjoy the sea.
The Atlantis Aquaventure Water Park is another attraction within the Palm that is definitely worth your while. Since its day 3 has a lot of activities, from kayaking to skydiving at the Marina. The evening of your third day of this vacation will be maximized with spa services at your hotel as you take in the thrill of the day and prepare for the next two days. Skydiving at the Palm is absolutely at the top of my bucket list for this year! Tickets cost around $600.
DAY 4: DUBAI NIGHTLIFE + BEACH
Dubai, being a beach city, I would recommend the Jumeirah Beach residence for day 4. The previous day had you engaged in all sorts of fun activities. Day 4 can be spent under the sun and enjoying the water parks with refreshments to keep you fresh, cool, and calm. Also, the vacation cannot end without experiencing the city's great nightlife. 
Barasti Bar in the Meridien Mina Seyahi Hotel will give you a nightlife experience like no other. However, do not limit yourself. You can try the city's various Irish pubs, expensive nightclubs, and hookah bars. Oh! And your dress code should be communicating 'go big or go home.' This might be the perfect time to put those heels on your feet.
Looking for other adventures? See my other post on Top Overseas Adventures.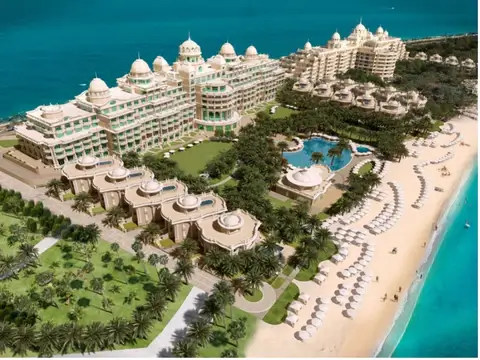 DAY 5: DESERT SAFARI
On day 5 we ride before we fly. Wrap up the vacation with a desert safari. The ice rinks, ski slopes, swanky hotels and restaurants, and shiny structures might make you forget the desert. You should not neglect the beauty the desert has to offer, from the beautiful site of the sand dunes to the wonderful sand bashing (off-roading on sand dunes) experience to camel riding without forgetting the henna tattoo artist. Henna tattoos are known to symbolize health and prosperity, so why not grab one while you're there? Then, spend the last evening of your five-day vacation enjoying a nice Arabian-style dinner in the desert. What could be better?
CONCLUSION:
We hope our 5-day Dubai itinerary helps you a lot while traveling. 
If you need to figure out how to get a free ticket to get there, definitely click here to take a look at my Travel Hacks! 
So, wherever you are in the world, make sure you Travel Till You Drop!