If you're planning a trip to Japan, you're in for a treat. In this article, you will find that there are many adventurous things to do in Japan. This fascinating country is home to a wealth of weird things to see and do. From the neon-lit streets of Tokyo to the serene temples of Kyoto, Japan is a must-see destination for anyone looking for an unforgettable travel experience. In this post, we'll take a look at five of the strangest and most adventurous things to do in Japan.
Adventurous Things To Do in Japan: RESTAURANT TOKYO
Have you ever been to a restaurant where the waiters are robots? No? Well, then, you need to add it to your list of weird things to do in Japan. At the Robot Restaurant in Tokyo, you can feast your eyes on an over-the-top performance that features dancing robots, lasers, and flames. It's definitely a sight to see, and you'll never forget it.
If you're looking for an adventurous experience that's truly unique, then a visit to a maid café is a must. These cafés are all the rage in Japan, and for good reason—the waitresses here are dressed as maids, and they act as your personal servants for the duration of your visit. They'll do everything from serve your food to give you a shoulder massage. It's definitely an adventurous experience, but it's also a lot of fun. The maids at Maid Café are always happy to chat and take photos with you, so don't be shy!
Check out: Solo Travel in Iceland: Trip Costs and Essential Guide for 2023
TAKESHITA STREET
If you're looking for something a little strange and wonderful, you should make your way to Harajuku Takeshita Street, Tokyo. This pedestrian-only street is crammed full of eclectic shops and quirky restaurants, making it the perfect place to wander around and explore.
Be sure to check out the Harajuku Girls—it's definitely a sight to see! These fashion-forward ladies are always on the go, and they love to dress in outrageous styles. So be prepared for some serious fashion overload. If you're looking for a unique souvenir, be sure to stop by one of the many candy stores on Takeshita Street. The selection is always changing, but you're sure to find something crazy and delicious that you can't get back home.
MONKEY MOUNTAIN
You may have heard of Mount Takao, but have you heard of Monkey Mountain? It's a little-known tourist spot that's home to hundreds of monkeys. And if you're lucky, you might even be able to catch a glimpse of the snow monkeys that live there. It's definitely worth a visit if you're looking for something a little bit different and adventurous things to do in Japan. Just be prepared for the hordes of tourists that flock there during the peak season! This one is certainly making it to my bucket list!
WISTERIA TUNNEL
You've probably seen pictures of the Wisteria Tunnel before—it's one of the most popular tourist attractions in Japan. And for good reason! The tunnel is covered in wisteria flowers, and the sight is absolutely stunning. If you're planning on visiting Japan, make sure to put the Wisteria Tunnel on your list of things to do. It's located in the Fuji Five Lakes region, and it's open from late April to early May.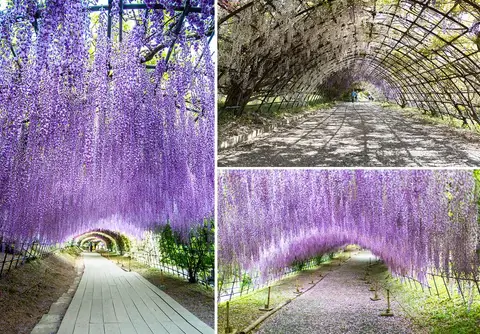 Go Hiking in Mount Fuji
Scale the legendary Mount Fuji and bask in the glory of conquering Japan's highest peak. Brace yourself for a challenging hike, breathtaking landscapes, and the satisfaction of standing on top of the world (well, almost).
Dive into the Underwater Paradise in Okinawa
Strap on your snorkeling gear (or go full mermaid with scuba diving) and dive into the turquoise waters of Okinawa. Explore vibrant coral reefs, swim alongside tropical fish, and revel in the awe-inspiring beauty of Japan's underwater wonderland.
Conquer the Wild Waters of Shikoku's Oboke Gorge
Hold on tight and prepare for a heart-pumping rafting adventure in Shikoku's Oboke Gorge. Navigate through thrilling rapids, marvel at the towering cliffs, and feel the rush of adrenaline as you conquer the untamed waters.
Paragliding in Hakuba
Hakuba, nestled in the Nagano Prefecture, is known for its world-class ski resorts. But when the sun starts shining and the snow disappears, it's time to take to the skies. Picture this: you, strapped into a paraglider, ready to defy gravity and embrace the exhilarating feeling of weightlessness. As you ascend, the panorama of those majestic mountainous landscapes unfolds before your eyes, leaving you in awe of nature's beauty. It's like being in a freaking postcard, but you're the main character!
This paragliding adventure is not for the faint of heart, my fearless friends. It's a chance to feel the rush of adrenaline as you soar higher and higher, taking in views that will make your Instagram followers green with envy. Trust me, your selfies will be epic. Just don't drop your phone from the sky – that would really suck.
But here's the best part: paragliding in Hakuba gives you a whole new perspective, a sense of freedom that only comes from defying gravity and embracing the unknown. It's a chance to challenge yourself, to conquer your fears, and to experience the world from a whole new angle.
Shark diving in Yokohama
Yokohama, a city south of Tokyo, is home to the Yokohama Sea Paradise, an aquarium and entertainment complex that knows how to bring the thrill factor. Want to get up close and personal with some majestic sharks? Well, strap on your courage and slip into that wetsuit because we're about to embark on the underwater adventure of a lifetime.
As you navigate through the watery depths, the graceful sharks gracefully glide past you, their sleek bodies cutting through the water like something out of a nature documentary. It's like swimming in an aquarium, but without the glass separating you from the action. This is the real deal, ladies.
Heli-skiing in Hokkaido
Hokkaido, Japan's northernmost island, is known for its insane amounts of pristine, fluffy snow. Think snowflakes the size of your head cascading down from the heavens, creating a winter paradise that even Elsa from "Frozen" would envy. It's like entering a whole new dimension where untouched slopes and breathtaking landscapes await. Now imagine dropping from a freaking helicopter onto these powder-covered peaks. Talk about making an entrance!
Heli-skiing, my fearless friends, is all about turning conventional skiing on its head. Forget about crowded resorts and groomed runs – this is about heading off the beaten path, finding those hidden gems, and experiencing the thrill of carving your way down untouched slopes that make you feel like the snow goddess you truly are.
But wait, let's not forget about the absurd level of badassery involved. Picture yourself hopping into a freaking helicopter, soaring above the mountains like a majestic bird, and then being dropped off at the top of a slope that looks like a winter wonderland dream come true. The feeling of anticipation as you prepare to descend is electrifying, your adrenaline pumping as you make turns in glorious powder that's as smooth as butter. It's a dance with gravity, a symbiotic relationship between you and the mountain. And trust me, when you're done, you'll be on top of the world, feeling like you just conquered Everest (minus the frostbite, thank goodness).
CONCLUSION
When it comes to travel, Japan is a hot destination for a lot of reasons: the food, the culture, and—of course—the crazy experiences you can only have there. If you're looking to do something off the beaten path, check out our list of the five weirdest things to do in Japan.
And whatever you do…don't forget to Travel Till You Drop!