Thailand is a country that has it all. From the bustling metropolis of Bangkok to the tropical paradise of Koh Phi Phi, there's no shortage of stunning sights to see and incredible things to do. If you're planning a trip to Thailand, make sure you don't miss these five must-see places.
Check Out The 9 Must See Places in Thailand
Thailand, a land of vibrant culture, stunning landscapes, and warm hospitality, is a destination that never fails to captivate travelers. Beyond the bustling streets of Bangkok and the famous beaches of Phuket lies a treasure trove of hidden gems waiting to be discovered. From ancient temples and picturesque islands to lush jungles and charming historic towns, Thailand offers a diverse range of experiences. Join us as we unveil nine must-see places that will leave you spellbound, ensuring an unforgettable journey through the enchanting wonders of Thailand.
1. Must See Places in Thailand: Bangkok
Start your trip in the heart of Thailand's capital city. Bangkok is a bustling metropolis that is filled with culture, history, and delicious food. Take the Midnight Bangkok food tour to experience the city's culinary delights. Hop aboard a tuk-tuk and indulge in a variety of foods that you may never have tried before or even take in a local Jazz and Blues bar.  You never know what you'll find when you get there.
I would say in Bangkok, English is spoken in most places unless you get closer to the outskirts of the city, then you may have to learn to speak squiggle. Their alphabet looks so much different, and while I'd love to even say a greeting of hello in Thai, I'm going to have to stick with a smile and a nod 🙂 and "hi".  No matter which part of the city you make your way to, it's a city that is bursting with life and energy, and you'll never run out of things to see and do.
Tuk Tuk Thailand. Thai traditional taxi in Thailand.
2.Railay Beach
Located in the Krabi Province, Railay Beach is one of Thailand's most stunning locations. Just a short flight from Phukett off of the southern side of Thailand, the beauty of Railay won't be forgotten. The crystal-clear waters and towering limestone cliffs make for some incredible photo opportunities. Take a half-day rock-climbing tour to experience this unique landscape from a new perspective. If you're looking for a more lively scene with a significant number of ex-pats, head to Patong Beach. It's a bit more hectic than Railay, but the party scene is unbeatable.
3. Phi Phi
Koh Phi Phi (pronounced P-P) is often referred to as the Jewel of the Andaman Sea, and it's easy to see why. This Thailand island is home to pristine beaches and crystal-clear waters that are perfect for swimming and scuba diving. Take a speed boat tour to Maya Bay, which is the location made famous by the movie The Beach. You may not be able to get onto the beach itself, but you can grab an up-close and personal view.  This breathtakingly beautiful island is a must-see for anyone visiting Thailand. One could only hope Leonardo is out sunbathing.
Exploring Witchcraft Around the World: A Guide for the Curious Traveler
4. Sukhothai Old City
The next location I have to recommend that you make sure you take time for is Sukhothai Old City.  Step back in time and visit the ancient city of Sukhothai. This UNESCO World Heritage Site is home to intricate temples and beautiful gardens that are sure to take your breath away. The best way to experience Sukhothai is by bicycle. Rent one at the entrance, and then explore at your own pace. Be sure to visit the Tha Pha Pasak Monument, which is the city's most famous landmark.
Other Popular Attractions:
Ramkhamhaeng National Museum: Learn more about the history and culture of Sukhothai at this museum, where you can see artifacts, sculptures, and exhibits related to the ancient kingdom.
Wat Si Chum: Visit this temple, famous for its large seated Buddha image that peeks through an opening in the temple's walls. It's an impressive sight and a popular photo spot.
Wat Phra Pai Luang: This temple is known for its impressive chedi (stupa) and serene surroundings. It's a great place to soak in the historical atmosphere of Sukhothai.
Sukhothai Butterfly and Insect Museum: If you're interested in nature and entomology, this museum is a unique attraction with a collection of butterflies and insects.
Loy Krathong Festival: If you visit Sukhothai in November, don't miss the Loy Krathong Festival, a traditional Thai celebration where people release lanterns and floats into the water to honor the water goddess.
5. Suthep
Next up is Doi Suthep.  No trip to Thailand is complete without a visit to Doi Suthep. This temple is located on a mountain, so you'll have to hike up to get there. Once you reach the top, you'll be rewarded with stunning views of the city below. Take plenty of pictures and soak in the peaceful atmosphere of the temple. It's a great way to escape the hustle and bustle of the city.
Panoramic Views
You know what's better than seeing an amazing view? Seeing an amazing view at SUNRISE or SUNSET. And that's exactly what you'll get when you journey to Doi Suthep! You'll be blown away by the panoramic views of Chiang Mai and the surrounding countryside. Plus, you'll get some killer photo ops that'll make your Instagram followers jealous AF.
Hiking and Nature Trails
Now, if you're feeling like a nature queen (which you obviously are), then hiking and exploring the various trails Doi Suthep has to offer is right up your alley. There are different trails that cater to different fitness levels, so there's no excuse not to get out there and explore the lush greenery and wildlife of the mountain. Trust me, this is the kind of adventure you'll be bragging about for years to come.
Phuping Palace
If you're feeling extra bougie, head over to Phuping Palace nearby. Now, while the palace itself may not always be open to the public, the beautiful gardens and surroundings are open for visitors. You won't regret taking a stroll through these lush gardens and soaking in all the beauty this region has to offer.
Bhubing Palace Gardens
Another palace garden worth checking out in the area is Bhubing Palace Gardens. These are known for their beautiful flowers and cool climate, making it the perfect spot for a chillaxing afternoon.
Doi Pui Hmong Hill Tribe Village
Head over to Doi Pui Hmong Hill Tribe Village and experience the unique culture of the Hmong hill tribe. This village offers a glimpse into traditional hill tribe life, and you can even purchase handmade crafts and textiles from local artisans.
Mon Tha Than Waterfall
And last but not least, take a pitstop at the Mon Tha Than Waterfall on the way up to Doi Suthep. It's the perfect place to refresh and recharge while admiring the natural surroundings
6. Krabi
Krabi is another must-see destination in Thailand. This southern province is known for its stunning beaches, turquoise waters, and towering limestone cliffs. Railay Beach, which we mentioned earlier, is actually located in Krabi. But there's so much more to explore here. One of the most popular attractions in Krabi is the Tiger Cave Temple, a Buddhist temple located in a cave at the top of a hill.
To get there, you'll have to climb over a thousand steps, but the stunning views at the top are well worth it. Krabi is also a great place to go if you wish to go island hopping. Once you are in Krabi, hire a long-tail boat and visit the islands of Koh Poda, Koh Gai (Chicken Island), and Koh Tup. Each island has its own unique beauty and charm, and you'll get to experience some of the best snorkeling and swimming in Thailand.
Other Popular Attractions: 
Krabi Hot Springs – Located in the Khao Phra Bang Khram Nature Reserve, the Krabi Hot Springs are a series of thermal pools with water temperatures ranging from warm to hot. It's a great place to relax and soak in the natural surroundings.
Kayaking in Ao Thalane – Explore the mangroves and limestone karsts in the Ao Thalane area by kayaking. You can paddle through the serene waters and take in the unique ecosystem.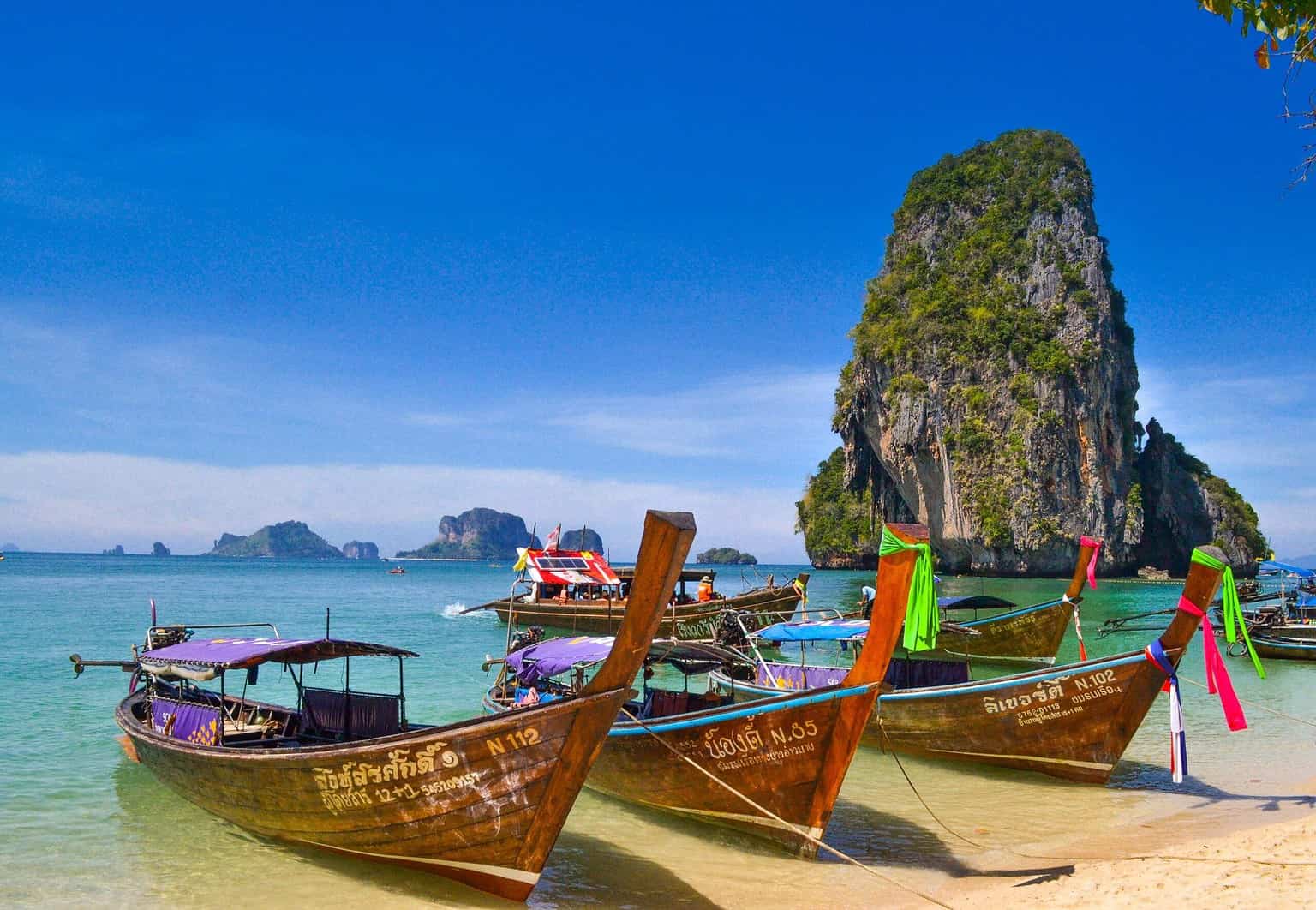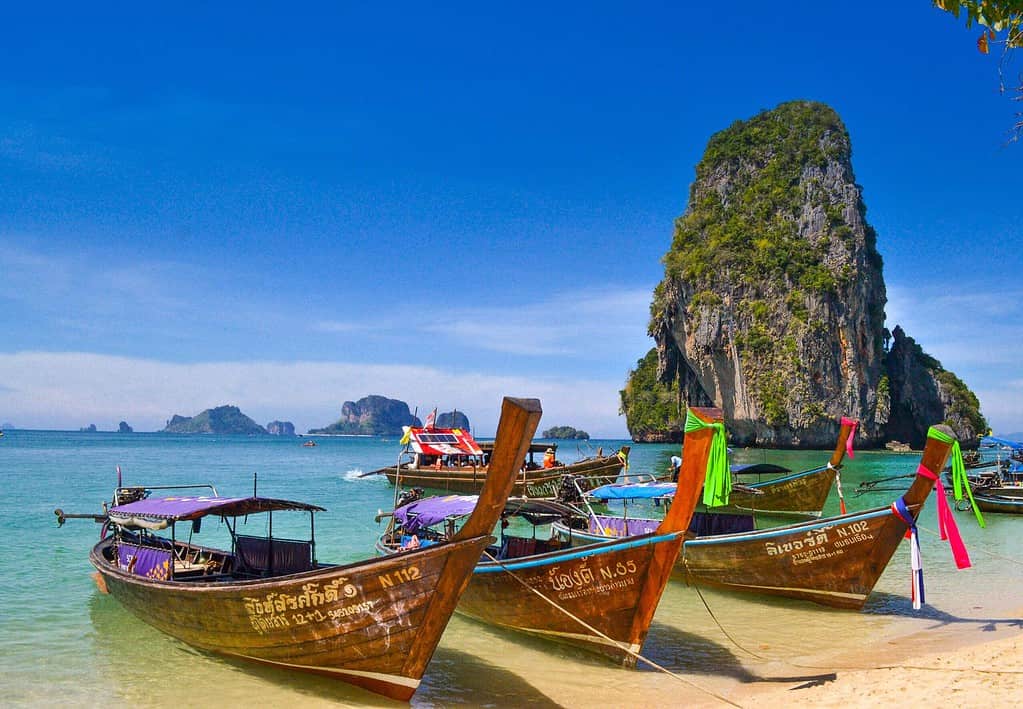 7.
Chiang
Mai
Chiang Mai is a city located in the north of Thailand, and it's a must-visit for anyone interested in exploring the country's cultural heritage. The city is known for its ancient temples, delicious food, and laid-back vibe. One of the most popular attractions in Chiang Mai is the Sunday Walking Street, a weekly market that takes place in the old town. Here, you'll find local artisans selling everything from handmade jewelry to traditional Thai textiles.
Another must-see attraction in Chiang Mai is Wat Phra That Doi Suthep, a stunning Buddhist temple located on a hill overlooking the city. To get there, you'll have to climb a staircase with over 300 steps, but the views at the top are breathtaking. Chiang Mai is also a great place to learn about Thai cooking. Take a cooking class and learn how to make some of the country's most popular dishes, like pad Thai and green curry. You won't regret it!
8. Koh Lanta  
Koh Lanta is a hidden gem in Thailand, and it's a must-see for anyone looking for a more laid-back and relaxed island experience. Located in the Krabi province, Koh Lanta is known for its white sandy beaches, crystal clear waters, and lush jungle. One of the most popular things to do on Koh Lanta is to rent a scooter and explore the island on your own.
There are plenty of hidden beaches and local villages to discover. Another must-see attraction on Koh Lanta is the Lanta Animal Welfare, a non-profit organization that helps care for stray animals on the island. You can volunteer to help out at the center, or simply visit and make a donation to support their work.
Other Popular Attractions: 
Lighthouse Hike: Climb to the top of the lighthouse at the southern tip of Koh Lanta for panoramic views of the island and its coastline.
Visit Old Town: Koh Lanta Old Town on the east coast offers a glimpse of traditional Thai culture. Explore charming streets, shop for local crafts, and enjoy fresh seafood at waterfront restaurants.
Mu Koh Lanta National Park: Explore the national park located in the southern part of the island. It offers hiking trails, a lighthouse, and lovely beaches. Wildlife enthusiasts might spot macaques and monitor lizards.
Waterfall Adventures: Visit the Khlong Chak Waterfall, where you can hike through lush jungle to reach a picturesque waterfall, offering a refreshing swim opportunity.
9. Ayutthaya
Ayutthaya is an ancient city located in central Thailand, and it's a UNESCO World Heritage Site. This former capital of Thailand is known for its ancient temples and stunning architecture. The most famous temple in Ayutthaya is the Wat Mahathat, which features the iconic Buddha head in the tree roots.
Ayutthaya is a great place to explore on foot or by bicycle. Rent a bike and ride through the ancient ruins, stopping along the way to explore the various temples and monuments. Ayutthaya is also a great place to try some traditional Thai food. The city is known for its unique street food, like grilled river prawns and deep-fried insects.
Notable Places to Visit Here
First up, we've got Wat Mahathat. You've probably seen pictures of this beauty with the iconic Buddha head entwined in tree roots – it's like something out of a surreal dream. And trust me, you'll want to snap a few photos of your own. The serene atmosphere of this temple adds that extra touch of spiritual magic to the experience. It's like stepping into a different world altogether.
Ayutthaya Floating Market
Feeling a little hungry, my fellow foodies? Well, get your taste buds ready because we're heading to the Ayutthaya Floating Market. Picture a vibrant, bustling scene with boats gliding along the rivers and canals, selling all kinds of local snacks and goodies. And hey, it's not just about filling your belly – you can also buy handmade crafts and souvenirs to commemorate this awesome adventure.
Ayutthaya Elephant Village
Now, let's show some love and respect to the majestic elephants of Ayutthaya. At the Ayutthaya Elephant Village, you can interact with these incredible animals in a responsible and ethical environment. It's a chance to feed, bathe, and learn about these gentle giants. Trust me, the experience of being up close and personal with these majestic creatures will leave a mark on your soul.
Chao Sam Phraya National Museum
For all you history buffs out there, the Chao Sam Phraya National Museum is a must-visit. This place is like a time capsule, housing a collection of artifacts, sculptures, and historical exhibits that will give you a deeper understanding of Ayutthaya's rich history.
River Cruises
And last but certainly not least, let's take things up a notch and explore Ayutthaya from a different perspective. Hop on a boat cruise along the Chao Phraya River and get ready for some stunning views. As if that's not enough, some cruises even offer sunset views, traditional Thai dance performances, and dinner options. It's like a full-blown experience that'll leave you in awe of this magical city.
Conclusion
Thailand is a country that has something for everyone. Whether you're interested in history, culture, food, or just having a good time, you'll find it in Thailand. The five places we've listed here are just a few of the must-see destinations in this amazing country. But there's so much more to discover, so why not plan a trip to Thailand and see it for yourself? With its stunning scenery, friendly people, and unique culture, I promise you won't be disappointed.