Guide on Traveling To Australia on A budget
Are you Looking to travel to Australia on a budget? We've prepared the best Guide for traveling to Australia on your budget. You're in luck! While Australia can be an expensive country to travel in, there are ways to see the best of the country without spending a fortune. In this article, we'll give you some tips on how to save money while traveling in Australia and show you some of the best places to visit for a budget-friendly trip.
Flight Deals And Getting To Australia Cheaper
Book in Advance
Booking your flights well in advance can often lead to significant cost savings. Airlines typically release tickets at lower prices for those who plan ahead. Aim to book at least a few months before your intended travel dates. Set up price alerts or use online tools to track fare changes.
Flexible Dates
Flexibility with your travel dates can open up opportunities to find lower fares. Airlines and booking platforms often display a calendar view, allowing you to compare prices on different days easily. Use flexible date search options when looking for flights on booking websites. Consider traveling on weekdays, as flights are generally cheaper compared to weekends.
General Tips for Booking Flights
Use your browser's incognito or private mode when searching for flights to avoid dynamic pricing based on your search history. Consider flying into or out of nearby airports, as this can sometimes be more cost-effective. Subscribe to airline newsletters and use travel apps to receive notifications about special deals and promotions.
Free Attractions Or Entertainment on A Budget
Taking advantage of free attractions can significantly reduce your overall travel expenses while still allowing you to experience the beauty and culture of your destination.
Examples:
Explore public beaches, parks, and nature reserves.

Enjoy walking tours in city centers or historic districts.

Hike on well-maintained trails.
City Passes
City passes can offer discounted entry to multiple attractions, providing a cost-effective way to explore various sites and activities. Research available city passes in advance to determine which attractions are included. Calculate potential savings by comparing the pass cost to individual entry fees. Some city passes also include public transportation, adding extra value.
Guided Tours
Guided tours can enhance your travel experience by providing insights from local experts and ensuring you don't miss important details. Research and compare prices from different tour operators. Look for online reviews to ensure the quality of the tour.
General Tips for Activities and Attractions
Check local event calendars for festivals, markets, and community events that may offer free or low-cost entertainment. Some museums and galleries offer free entry on specific days or times, so plan your visits accordingly. Explore the destination on your own using self-guided tours available through apps or online resources.
STAY IN HOSTELS
One of the best ways to save money on Traveling in Australia is to stay in hostels. Not only are they affordable, but they're also a great way to meet new people and explore different parts of the country. Hostels come in all shapes and sizes, so you're sure to find one that's perfect for you. If you're looking for a party atmosphere, then definitely check out the hostels in Melbourne and Sydney.
But if you're looking for something a little more low-key, there are plenty of hostels in smaller towns and villages that cater to a more relaxed crowd. No matter what you're looking for, there's a hostel that's perfect for you. So don't be afraid to give them a try—you might be surprised at how much fun you have.
MAKE YOUR OWN FOOD
When you're on a budget, one of the best ways to save money is to make your own food. Australia is a great place to do this because the produce is fresh and cheap. There are plenty of recipes online that will help you make the most of Australia's delicious and diverse cuisine.
Why not try out an Aussie classic like lamb roast with rosemary and potatoes? Kangaroo steak is definitely a unique option. No matter what you choose, cooking your own food is a great way to save money while traveling. Not to mention, it's a fun way to experience the local culture.
TRAVEL ON THE GREYHOUND BUS
Greyhound buses are a great way to travel around Australia on a budget. They're comfortable and affordable, and you can get pretty much anywhere on them. The best part is that you can buy tickets online, so you don't have to hassle with buying them at the last minute.
Just make sure you book in advance, especially during peak season. And remember to bring your passport and your student ID if you're a student—you can get discounts on both.
Check out: Top Tips for a Magical Disney World Vacation
BUY A CAMPERVAN
If you're looking to travel around Australia on a budget, your best bet is to buy a campervan. This way, you'll have all the amenities you need right at your fingertips, and you'll be able to save a lot of money by cooking your own meals and sleeping in the van.
Not sure where to start? There are plenty of places online where you can buy used campervans. Just do your research and make sure you're getting a good deal. Once you've got your campervan, all you need is a roadmap and some adventurous spirit! You're going to have an amazing time exploring this beautiful country.
Camping in Australia
Camping is an excellent way to experience the natural beauty of Australia while keeping accommodation costs low. Australia boasts numerous national parks that often provide well-maintained camping facilities. These parks showcase diverse landscapes, from rainforests to deserts. Camping is generally more budget-friendly than staying in hotels or hostels, and it allows you to immerse yourself in the outdoors.
Tips for Camping in Australia
Look into national parks that align with your travel route and interests. Check for campsite facilities, such as bathrooms, water sources, and fire pits. Some national parks may require permits for camping. Research and obtain any necessary permits in advance. Popular campsites can fill up quickly, so consider making reservations if possible.
Equipment:

If you're traveling with camping gear, you can save on rental costs.

If you don't have camping equipment, consider purchasing or renting gear locally.

Leave No Trace:

Practice responsible camping by following "Leave No Trace" principles. Respect the environment and wildlife, and leave the campsite as you found it.

Weather Considerations:

Be aware of the climate and weather conditions in the region you plan to camp. Pack accordingly to stay comfortable and safe.

Additional Consideration:

Glamping Options: For those who prefer a more comfortable camping experience, some areas offer glamping (luxury camping) options with pre-set tents and amenities.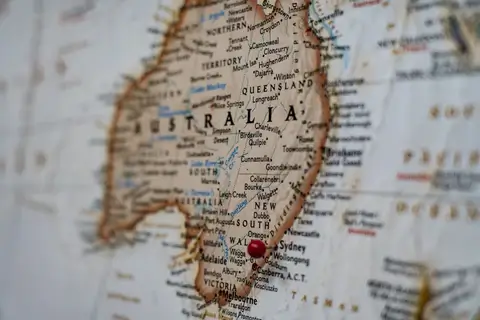 TIPS FOR AVOIDING COMMON MONEY TRAPS IN AUSTRALIA
When you plan for traveling in Australia, it's important to be mindful of the potential money traps that can drain your budget. Guide for traveling to Australia: 
Tips:
Don't exchange your currency at the airport—you'll get a much better rate from a bank or foreign exchange office.
Be aware of the cost of transport—taxis can be expensive, so try and use public transport where possible.
Avoid eating out at restaurants every night—cooking for yourself is always cheaper (and often healthier).
Stick to free activities wherever possible—there's plenty to see and do in Australia without spending a penny.
Shop around for deals on activities and attractions—many places offer discounted rates for students, seniors, and families.
CONCLUSION
Australia is a beautiful country to explore, but it can be expensive to do so.  With our guide for traveling to Australia, there are plenty of ways to see the best of Australia without breaking the bank. Just use your imagination and get creative!
And whatever you do, don't forget to Travel Till You Drop!