Introduction To Sleep Tourism:
Oh, you thought you'd tried it all, from food tourism to adventure travel and everything in between? Think again, y'all, because sleep tourism is the newest trend that's taking the world by storm. Finally, a form of tourism that caters to those of us who have serious sleeping issues, lazy travelers, and anyone who just wants to catch up on their beauty sleep while exploring the world. So, sit back, relax, and let me guide you through the top five places in the world where you can indulge in sleep tourism.
Are you tired of the chaotic life you're leading? Do you want a break from the daily hustle and bustle? If your answer is yes, then sleep tourism might be the perfect solution for you!
Types of Sleep Disorders Treated
Sleep tourism covers a broad range of sleep disorders, including sleep apnea, insomnia, narcolepsy, restless leg syndrome, circadian rhythm disorders, and parasomnias like sleepwalking or night terrors. People often seek treatment for disorders that have not been effectively managed in their home country.

Sleep tourism destinations typically have state-of-the-art sleep centers and clinics equipped with the latest diagnostic tools and treatment options. These facilities may offer polysomnography (sleep studies), continuous positive airway pressure (CPAP) therapy, medication management, cognitive-behavioral therapy for insomnia (CBT-I), and other specialized treatments.
Cost Savings
One of the primary motivations for sleep tourism is the potential cost savings. Medical treatments for sleep disorders can be expensive in some countries, and individuals may find more affordable options in other locations while maintaining a high standard of care.

Receiving care abroad does not necessarily mean sacrificing quality. Many sleep tourism destinations have internationally accredited healthcare providers and sleep centers, ensuring that patients receive excellent care and personalized treatment plans.
What is Sleep Tourism
So, what is sleep tourism, and why is it becoming a thing? Well, many of us sleep like complete crap, and you'd like to figure out what is causing it and how to fix it. Yep, I'm certainly one of those people on the list, and can't wait to find out what sleep tourism has to offer. This is one of many articles to come on the topic to try to determine which environment or strategy is best to get back to real sleep.
Sleep tourism, or "snooze-cations," is a new trend that is gaining popularity among solo travelers. This trend is all about getting the much-needed rest you deserve while exploring a new destination. In this blog post, we will talk about the top 5 places for sleep tourism and why they should be on your bucket list. So, grab your eye mask and get ready for some serious shut-eye.
If you're looking for a unique camping experience that won't require you to pitch a tent, then the Sleeping Tepee Hotel might just be what you're looking for. As the name suggests, you get to sleep in a cozy tepee out on the water while enjoying the beautiful scenery of the Canadian wilderness. You'll be provided with warm blankets, and there's even a stove inside the tepee to keep you warm during the colder nights. And don't worry, you won't have to rough it out since there's a nearby building with showers, toilets, and even a sauna. You may even get a great night's sleep while you are at it!
If you're looking for a more luxurious sleep tourism experience, then the Conrad Maldives Rangali Island Resort is the perfect place for you. Not only do they offer overwater bungalows that will give you the ultimate relaxation experience overlooking the crystal-clear waters, but they also offer a program called Sleep with the Fishes. This awesome program lets you sleep inside a glass-encased tunnel on the seabed, surrounded by swimming fish and the soothing sound of the water flowing around you. Don't worry; the glass is thick enough to keep you safe, and rather than counting sheep, you can spend your waking hours counting fish. This environment will provide plenty of relaxation, you won't want to sleep without them.
The resort is situated on two private islands in the South Ari Atoll, connected by a bridge. It is approximately 90 kilometers southwest of the Maldivian capital, Malé.
The Conrad Maldives Rangali Island offers a range of accommodation options, including overwater villas and beach villas. The resort is renowned for its iconic overwater bungalows that provide direct access to the ocean.
The resort features a spa called The Spa Retreat, offering a range of wellness and beauty treatments. Some of the spa treatment rooms are located over the water, providing a tranquil and scenic environment.
Guests can enjoy various water sports, including snorkeling, scuba diving, and water excursions. The resort also offers sunset cruises, fishing trips, and other recreational activities.
Not just any ordinary treehouse, the Free Spirit Spheres Treehouse Resort takes sleeping in the woods to a whole new level. The resort offers three treehouses suspended from the trees using ropes and a unique design that allows you to sway with the wind gently. The rooms are cozy and comfortable, with enough space to move around and even an electrical outlet if necessary. And in case nature calls, the resort has nearby facilities with bathrooms and showers. Sleeping with nature allows you to tune out your phone, laptop, and any other electronic source of sleep-depriving items, and you'll love to be able to tune it all out if only for a few days.
The Free Spirit Spheres are situated in the rainforest near Qualicum Beach on Vancouver Island, British Columbia, Canada.
Each sphere is designed to blend harmoniously with the natural surroundings. The interiors are compact but well-designed, featuring comfortable sleeping quarters, a sitting area, and small windows to enjoy the forest views.
The Free Spirit Spheres resort emphasizes sustainability and eco-friendliness. The treehouses are built with a minimal impact on the environment, and the resort aims to provide guests with a nature-centric and environmentally conscious experience.
While the focus of the Free Spirit Spheres is on providing a unique and secluded experience in nature, the resort also offers shared facilities such as bathrooms and a common lounge area.
Staying at the Free Spirit Spheres is often described as a one-of-a-kind experience, allowing guests to connect with nature while enjoying the comfort and novelty of the spherical treehouse accommodations.
If you're the type who loves to escape the city and immerse yourself in nature, then the Pure Pod in New Zealand might just be what you need. It's a dome-shaped glass house that's situated in the middle of the New Zealand wilderness. You'll get to sleep under the stars while staying in a room with a panoramic view of the mountains, forests, and rivers. It's truly a nature lover's dream come true. You'll have access to modern facilities like a hot shower, but don't forget to bring your own food and drinks.
PurePods are a unique form of eco-friendly, luxury accommodations in New Zealand. PurePods are situated in various remote and scenic locations throughout New Zealand, providing guests with a secluded and immersive experience in nature.
PurePods are small, transparent, glass cabins designed to blend in with the natural surroundings. The emphasis is on providing uninterrupted views of the landscape while maintaining a minimal environmental footprint.
The cabins are made predominantly of glass, allowing guests to enjoy panoramic views of the surrounding landscapes, whether it's mountains, forests, or coastal scenery. The design is sleek and modern, providing a comfortable and immersive stay.
Each PurePod is located in a private and remote setting, offering guests a sense of seclusion and tranquility. The idea is to disconnect from the hustle and bustle of everyday life and immerse oneself in the natural beauty of New Zealand.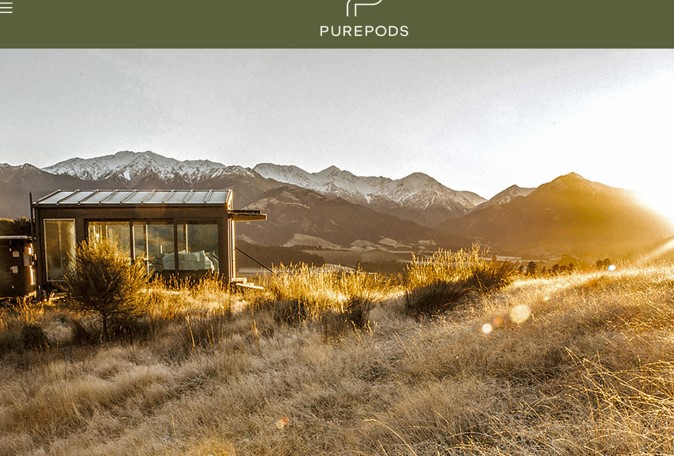 What better way to experience sleep tourism than to do it in the most extreme environment on Earth – the Arctic. The Kakslauttanen Arctic Resort is a hotel that offers unique accommodations like igloos fitted with glass-domed ceilings that allow you to see the Aurora Borealis while lying in bed. The resort also has log cabins and traditional Finnish house-style buildings. During the day, you can participate in snowmobiling, husky safaris, cross-country skiing, and many more activities. At night, you can sleep in your cozy igloo and marvel at the beauty of the Northern Lights.
The Kakslauttanen Arctic Resort is located in the Finnish Lapland, about 250 kilometers north of the Arctic Circle. It's in the vicinity of the Urho Kekkonen National Park.
The resort offers a variety of accommodations, but it is particularly famous for its glass igloos. These igloos provide guests with a unique opportunity to sleep under the northern lights, offering a view of the Arctic sky from the comfort of a heated glass-roofed space. In addition to the igloos, the resort has traditional log cabins and various other types of accommodation.
The glass igloos are designed to provide a thermal glass view, preventing frosting and allowing guests to enjoy the northern lights and starry skies during the winter months. They are equipped with basic amenities for a comfortable stay.
The resort offers a range of winter activities, including husky safaris, reindeer sleigh rides, snowmobiling, cross-country skiing, and opportunities to witness the northern lights. In the summer, guests can enjoy the beauty of the Arctic wilderness and engage in activities like hiking and fishing.
Conclusion:
Sleep tourism might be a relatively new trend in the travel industry, but it's quickly becoming a favorite among tired and busy travelers who want to slow down and take things easy. Whether you're looking for an adventure in the wild, a luxurious experience overlooking the ocean, or a serene experience under the stars, sleep tourism offers an experience that will help you recharge your energy, soothe your soul, and make unforgettable memories. So go ahead and sleep your way to your next adventure, you'll be glad you did.
Book Your Trip : Check Out My Resources for Your Travel Needs
Use Skyscanner to find a cheap flight.  This is my very first stop when I'm looking for my next trip. It's a fast, easy-to-use search engine that is perfect for finding an affordable flight, a perfect hotel, and the right rental car for you in locations around the globe.
Book Your Accommodation
If you are looking for a super budget friendly location and are open to a hostel stay, make sure you book your hostel with Hostelworld. It offers the broadest range of quality hostels around the world. 
If you'd prefer a hotel or a guesthouse for stays less than 28 days, drop on over to Booking.com It's perfect for providing excellent options, a ton of user reviews, and prices to fit every budget.
For stays over 28 days, AirBnB still remains my #1 choice. User reviews and monthly pricing allow for some incredible deals all around the world.
Don't Forget Travel Insurance
Travel insurance is but a small up-front investment that you won't want to leave home without. After just one experience of having to delay or cancel your trip or having your luggage stolen, you'll wish you would have made that investment.  I've hated my life a few times when the moment arose, and I decided to skip out.  Let's just say, I've changed my ways and recommend each of the following companies to protect your ass-ets.
My favorite companies are:         
Want to Travel for Free?
Travel credit cards allow you to earn points that can be redeemed for free flights and accommodation — all without any extra spending. Check out my guide to getting free flights to get started.
Ready to Book Your Trip?
Check out my Resource Page for the best companies to help you book your travel at reduced rates!  This list will help you get to where you're going.  I know-I use them ALL the time!