5 Incredible Places to Visit in Thailand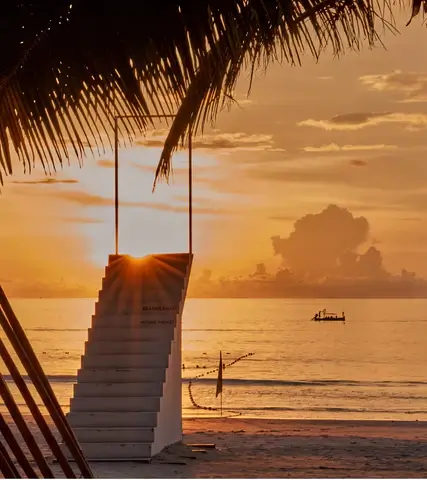 Bangkok
One of the amazing places I would keep on the list of 5 Must-See Places in Thailand. Take the Midnight Bangkok food tour to experience the wonders of Bangkok. The simple pleasures of enjoying the foods travel by tuk-tuk can help you taste a variety of things you never would have. 
The Grand Palace
I must say, the Grand Palace is truly an exceptional architectural masterpiece that exemplifies Thailand's rich heritage. It holds great historical significance as it has been the royal residence for Thai kings for centuries.
Key Highlights
Wat Phra Kaew: As you wander through the palace grounds, you'll come across the iconic Wat Phra Kaew, also known as the Temple of the Emerald Buddha. Inside this sacred temple rests a breathtaking emerald Buddha statue, which happens to be a national religious symbol of Thailand.
Intricate Architecture: Prepare to be amazed by the intricate Thai architectural details that adorn the palace complex. From glistening spires to vibrant murals and ornate decorations, every corner is a feast for the eyes.
Historical Significance: Dive deep into the enigmatic history of the Grand Palace, a place that has played a central role in shaping Thailand's monarchy and culture throughout the ages.
Street Food Adventures
Bangkok's street food scene is legendary, offering an unrivaled culinary adventure. It's an experience you simply can't pass up if you want to savor authentic Thai cuisine while exploring the city.
Key Highlights
Midnight Bangkok Food Tour: Brace yourself for an exhilarating midnight food tour through the bustling streets of Bangkok, riding on a traditional tuk-tuk. This thrilling adventure will introduce you to an array of mouthwatering dishes, as you navigate the vibrant city.
Local Flavors: Indulge in the true essence of Thai flavors, from the savory delights of Pad Thai to the fiery kick of Tom Yum soup. Unveil hidden gems known only to the locals and uncover the secrets behind beloved street food recipes.
Cultural Experience: Immerse yourself in the lively atmosphere of Bangkok's street food markets and engage with local vendors. It's an opportunity to witness the city's culinary traditions come to life before your eyes.
Shopping Extravaganza
Bangkok, my friend, is an ultimate shopper's paradise, offering a cornucopia of markets and shopping districts where you can unearth unique souvenirs, fashionable treasures, and exquisite handicrafts.
Key Highlights
Chatuchak Weekend Market: Prepare yourself for a vibrant and sprawling adventure at the Chatuchak Weekend Market, indeed one of the world's largest. You'll be spoiled for choice with thousands of stalls offering everything from trendy clothing and antiques to handcrafted gems and even exotic pets.
Bargain Hunting: Sharpen your bargaining skills as you meander through local markets, hunting for fantastic deals on a wide range of products. From traditional Thai silk to whimsical trinkets, you'll stumble upon treasures to bring back home.
Modern Malls: If modern shopping is your thing, then you're in luck! Bangkok houses contemporary shopping malls like MBK Center and Siam Paragon. Here, you can revel in a mix of high-end brands, top-notch entertainment, and delightful dining experiences.
By exploring these must-visit attractions in Bangkok, you'll not only gain a profound understanding of Thai culture but also create lasting memories of your journey through this vibrant and dynamic city. Let the adventure begin!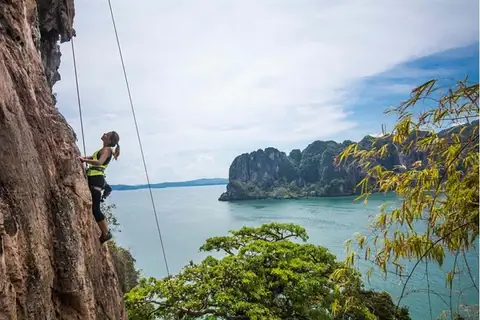 Pattaya Beach
A couple blocks from the beach and from the main party central street of Pattaya, staying at this particular property allows you to be close to the beach, close to the party, stay in a beautifully modern location, and party like it's 1999. 5 Must-See Places in Thailand: You can find the ladyboys downtown at any given time, a line of prostitutes that you can choose from along the beach, and plenty of places where you can explore a variety of your sensual sins. 
Do you know: What Not to Pack When Traveling for a Year: Essential Tips
Downtown is quite interesting when you attend the bars along the main street.  I was unaware when I visited that, essentially the owners of the bar employ employees that are not only bartenders but go the extra mile.  You can pay the mama-son for an additional experience, whatever that may include.  
You could pay them to show you around the town as long as you pay the bar fee (essentially paying the wage of the induvial you are taking for the day) and negating with the individual for any "extracurricular" activities that you may want to engage in.  This works for males in my education.  In regard to females, I'm not sure, but If I was a betting kind of girl, I think it'd work that way as well.
Walking Street
Famous for its nightlife, Walking Street is a bustling and vibrant area filled with bars, nightclubs, and entertainment venues. It's a must-visit for those looking to experience Pattaya's energetic nightlife.
Sanctuary of Truth
This iconic wooden temple is an architectural marvel filled with intricate carvings and sculptures. It's a unique blend of art and culture and offers stunning views of the coastline in Naklua.
Nong Nooch Tropical Botanical Garden
A beautifully landscaped garden with a variety of plants, flowers, and themed gardens. Visitors can enjoy cultural shows, and elephant shows, and explore the vast grounds.
Pattaya Viewpoint
Located on Pratumnak Hill, this viewpoint provides panoramic views of Pattaya City and its coastline. It's a popular spot for taking photos, especially during sunset.
Tiffany's Cabaret Show
Experience one of Pattaya's famous cabaret shows at Tiffany's. It features glamorous performers showcasing impressive costumes, dance routines, and musical performances.
Ripley's Believe It or Not! Museum
For those interested in the unusual and bizarre, this museum features a collection of oddities, artifacts, and interactive exhibits.
Railay Beach
You're heading to Thailand, and you want to know the best places to go. Well, we've got you covered. First on the list is Railay Beach. It's a beautiful location commonly known as 5 Must See Places in Thailand and it's not too crowded, which is always a bonus. Plus, the limestone cliffs make for some amazing photo ops.  
Take a tour to learn rock climbing on a half-day trip and enjoy something you may never have thought of on other vacations. If you're looking for a party scene, then head to Patong Beach—you won't be disappointed. But be warned: it's pretty hectic and can be a bit overwhelming for first-time visitors.
Phra Nang Cave Beach
This beach is known for its cave, which houses a revered fertility goddess statue. The beach itself is beautiful, with fine white sand and clear blue waters. It's a great place for swimming and sunbathing.
Railay West Beach
The main beach in Railay, Railay West, offers breathtaking views of the limestone cliffs. It's an ideal spot to relax, watch the sunset, and enjoy the serene atmosphere.
Princess Lagoon
A challenging hike takes you to the Princess Lagoon, a hidden emerald pool surrounded by limestone cliffs. The hike provides fantastic views, and the lagoon is a unique natural attraction.
Railay East Beach
While not as popular for swimming, Railay East is known for its rock climbing schools and more affordable accommodations. It's a quieter alternative to Railay West.
Diamond Cave (Tham Phra Nang Nok)
Explore the Diamond Cave, which leads you through a dark tunnel adorned with stalactites and stalagmites. The cave is surrounded by lush greenery and adds a sense of adventure to your Railay experience.
Nightlife at Railay Walking Street
In the evenings, Railay Walking Street comes alive with restaurants, bars, and shops. It's a great place to unwind after a day of exploration and enjoy the laid-back atmosphere. 
Koh Phi Phi
If you're looking for a breathtakingly beautiful island to explore, Koh Phi Phi is definitely worth adding to your list. With its pristine beaches and crystal-clear waters, it's no wonder it's often referred to as the Jewel of the Andaman Sea. 5 Must See Places in Thailand: Make sure you set aside plenty of time to wander around the island take a half-day to scuba dive, and be sure to check out Maya Bay by speed boat—the location made famous by the movie The Beach. It's one of the most beautiful places on Koh Phi Phi and a must see.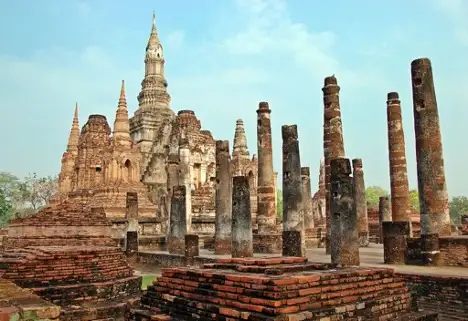 You cannot go to Thailand without visiting Sukhothai Old City. This ancient city is a UNESCO World Heritage Site, and it's easy to see why. With its intricate temples and lovely gardens, Sukhothai is a sight to behold. The best way to experience Sukhothai is by bicycle. You can rent a bicycle at the entrance, and then just explore at your leisure. Be sure to visit the Tha Pha Pasak Monument, which is the most famous landmark in the city. Sukhothai is a must-see for anyone visiting Thailand. You won't regret it!
Beaches of Koh Samui
When it comes to beaches, Koh Samui is a contender for paradise. The sand is soft, the water is crystal clear, and the views are stunning. You'll find all sorts of activities to keep you busy, from sunbathing to snorkeling to kayaking. And if that's not enough, there are also some great restaurants and bars located right on the beach. So, you can enjoy a delicious meal or refreshing drink while taking in the incredible view. Koh Samui is definitely a place you don't want to miss.
Take a Jungle Safari Tour by Mr. Ung, and enjoy a mountain trip in a 4AWD vehicle up/down through the mountain, a lunch, swim and see a few things you wouldn't have imagined. 
Stay right on the beach at Kim's House, walk next door, and have a massage every day on the beach by the locals.
When you're in Thailand, you have to visit Doi Suthep. It's one of the most beautiful places in the country, and it's a must-see for any visitor. The views from the temple are incredible, and it's a great place to take pictures. The temple is located on a mountain, so you'll have to hike up to get there. 
Wat Phra That Doi Suthep
This is the most famous and sacred temple on Doi Suthep. The temple is a significant pilgrimage site for Buddhists and features a golden chedi (stupa) that houses holy relics. The temple is not only a spiritual site but also offers stunning views of Chiang Mai.
Bhubing Palace
Located near the summit of Doi Suthep, Bhubing Palace is the winter residence of the Thai royal family. While the palace grounds are not always open to the public, the gardens are often accessible, providing a peaceful and scenic environment.
Doi Pui Hmong Hill Tribe Village
Experience the culture of the Hmong hill tribe at Doi Pui. The village offers a glimpse into the traditional lifestyle of the Hmong people, and you can explore their handicrafts, clothing, and local cuisine.
Doi Suthep-Pui National Park
The national park surrounding Doi Suthep offers hiking trails, waterfalls, and diverse flora and fauna. Nature enthusiasts can enjoy trekking through the lush forest and discovering the park's biodiversity.
Mon Tha Than Waterfall
A beautiful waterfall is located in Doi Suthep-Pui National Park. It's a great spot for a refreshing dip and is surrounded by the natural beauty of the forest.
King Naresuan's Pagoda
Located near the summit of Doi Suthep, this pagoda offers a quiet place for reflection and provides panoramic views of the landscape.