Koh Samui Travel Guide
I'm adding a bit to this writing about this Koh Samui Travel Guide, but I wrote this a few years back, and the info in it is still true. I thought some of the other places I've been were awesome, but today, I learned that I still had more to learn. I landed in Koh Samui, a little island off the coast of Thailand, after spending a week in Phuket.
One of the best things to do in Koh Samui is to enjoy the view.  As we came in for a landing, the water reflected blues and greens that only the tropics could provide.  As I looked out, other small islands popped up around it, making this look like an absolute paradise. Any day, wherever you look from the beach, the views are spectacular.
Transportation
The small little airport (USM) we landed in reminded me of the one I landed in, in Tahiti; Small, quaint, and open air. That's one of the things I love coming to these places, as they are easy to get through and always welcoming!
Check Out: 7 Awesome Solo Trips to Take for the Adventurous Traveler
From there, my driver (arranged by the homeowner) picked me up at the entrance and took me on a 20-minute journey to my humble abode for $15USD.
Where to Stay: (Kim's Honeymoon Beach house)
Ok, this time around, it wasn't so humble. I did decide to splurge on a place (not quite my Four Seasons vacations, but certainly a lot more than I've been spending on my trip) that was footsteps off the beach. So today, I will tell you, Airbnb did it up right. This place may be $110/night, but compare it to what you can get at home for that and prepare to be in awe.
 Koh Samui Travel Guide:
At this rate, I have the entire house to myself, a bathtub (not common over here unless in a commercialized hotel), and I can walk out my back door directly onto the beach. The views are stunning, and there are only a couple handfuls of people that wander their way past.  
The house is set off from the main road and is close to a 7-11, an outdoor market, and a variety of restaurants, and is located in one of the quietest areas in Koh Samui.  Koh Samui Travel Guide:
At this location, you will hear a bit of road noise while sitting outside on the beach, but it's still pretty tolerable when considering all of the creature comforts that are nearby.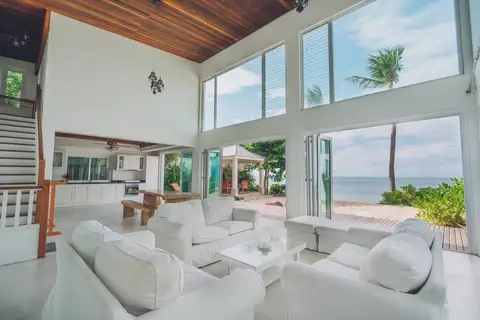 Things to do here at Koh Samui Travel Guide
Additionally, you will be situated near enough massage parlors to keep you relaxed and several steps away from the beach. A Thai massage (one where they literally stick a foot in it) will run about 250 baht here, and an oil massage around 350 baht. This is equivalent to $8 to $10.50 USD for an hour massage.
Local dishes, prepared for you fresh, will run around 180 baht, which will increase if you desire other than traditional Thai food. There are several night Walking Streets located within a 10-20 minute drive where you can shop for souvenirs, grab a bite to eat, or just people watch.
Other Notable dishes to Try and Where to buy
1. Pad Thai: Pad Thai is a quintessential Thai dish loved by locals and tourists alike. It's a stir-fried noodle dish that typically includes shrimp or chicken, tofu, bean sprouts, peanuts, and a flavorful tamarind sauce. Many restaurants in Koh Samui serve excellent Pad Thai, and it's a great dish to start your culinary journey.
2. Tom Yum Goong: Tom Yum is a classic Thai soup known for its bold and spicy flavors. Tom Yum Goong is a variation that includes succulent shrimp. The soup is made with lemongrass, lime leaves, galangal, and chili, creating a delightful balance of sweet, sour, and spicy.
3. Green Curry (Gaeng Keow Wan): Green Curry is a creamy and aromatic Thai curry made with green chilies, coconut milk, and a variety of herbs and spices. It's often prepared with chicken or shrimp and served with fragrant jasmine rice.
4. Som Tum (Green Papaya Salad): Som Tum is a refreshing and spicy Thai salad made with shredded green papaya, chilies, garlic, lime juice, fish sauce, and peanuts. It's a flavorful and healthy choice for a light meal.
5. Massaman Curry: Massaman Curry is a mild and rich Thai curry influenced by Indian cuisine. It typically includes tender pieces of beef or chicken, potatoes, peanuts, and a fragrant blend of spices like cinnamon, cardamom, and cloves.
6. Mango Sticky Rice: For dessert, don't miss out on Mango Sticky Rice. This delightful treat features ripe mango slices served on a bed of sweet glutinous rice, drizzled with coconut cream. It's a perfect combination of textures and flavors.
Popular Restaurants in Koh Samui:
a. Barracuda at Fisherman's Village: This beachfront restaurant is known for its seafood and romantic atmosphere. Try their catch of the day or indulge in their excellent Thai dishes.
b. The Jungle Club Restaurant: Located high in the hills, this restaurant offers breathtaking panoramic views of Koh Samui. It's a great place for sunset dining and serves a variety of Thai and international dishes.
c. Zazen Restaurant: Zazen is famous for its fine dining experience. It's an ideal spot for a romantic dinner by the beach. The menu includes a fusion of Thai and French cuisine.
d. Street Food Markets: Don't forget to explore local street food markets like the Fisherman's Village Walking Street and Lamai Night Plaza. You can find a wide array of Thai street food specialties, from grilled skewers to crispy spring rolls.
e. Local Food Stalls: Some of the best Thai food can be found at humble local food stalls scattered across the island. Don't hesitate to try dishes prepared by street vendors; they often offer authentic flavors at affordable prices.
Relaxing on Chaweng Beach
Dive into the crystal-clear, azure waters of Chaweng and discover a whole new world beneath the surface. Yes, my fearless snorkelers, it's time to explore the underwater wonders teeming with vibrant marine life and captivating coral reefs. Just imagine yourself as a majestic mermaid gliding through the water, a snorkel mask blocking out all your land-based worries.
Water Sports: Chaweng has got you covered. Strap on your water adventure pants and get ready to embrace the wild side with a plethora of water sports. From jet skiing to paddleboarding and kayaking, the options are endless. You'll feel like an aquatic warrior conquering the waves as you leave a trail of adrenaline in your wake. Don't miss the rental facilities conveniently located on the beach.
Sun Loungers and Umbrellas: Now, if you're in dire need of some serious lazing around, fear not, my beach-loving warriors. Chaweng has got your back. Numerous beachfront establishments provide sun loungers and umbrellas for your lounging pleasure. So, sit back, relax, and let the tropical sun and sea breeze work their magic on your skin.
Beachside Spas: The waves crashing in the background, the scent of coconut oil in the air, and the skilled hands of a masseuse kneading away your stress. It's like a massage paradise, where worries are banished, and bliss takes over. So grab a sarong, lie down, and let the sound of the waves serenade you into pure relaxation.
Chaweng's vibrant nightlife hub comes alive like a neon butterfly spreading its wings. Beach clubs and bars radiate with music, entertainment, and an electrifying atmosphere that'll make your heart dance to its own rhythm. Ark Bar, a well-known beach club, is the epitome of beachfront parties, electronic music, and fire shows that will leave you mesmerized and wondering if you accidentally stepped into a music festival.
Chaweng's Nightlife Hub: As the sun sets, Chaweng transforms into a lively nightlife hub. Beach clubs and bars come to life with music, entertainment, and a vibrant atmosphere.
If you're more in the mood for a laid-back, reggae-infused vibe, Reggae Pub is your sanctuary. Picture yourself swaying to live music, sipping on cocktails, and immersing yourself in a relaxed atmosphere that perfectly captures the essence of island life. It's like a musical journey that transports you to a place where worries are left at the door and good vibes are always on the menu.
And for those looking to unleash their inner party animal, fear not. Solo Bar is here to kickstart your evening adventure with affordable drinks, friendly staff, and a vibrant atmosphere that screams "Let's dance till dawn!" It's like a launching pad for a night filled with unforgettable memories and questionable dance moves.
Shopping and Entertainment: And let's not forget about the shopping and entertainment extravaganza that is Chaweng's Walking Street. From bustling shops to market stalls and vibrant nightlife venues, this street has it all. It's like a shopaholic's dream come true, where you can snag souvenirs, immerse yourself in the local culture, and bring home a piece of the tropical paradise you've fallen in love with.
Tips for Visitors:
Sunset Viewing: Chaweng Beach offers stunning sunset views. Find a comfortable spot along the beach or at a beachfront establishment to witness the picturesque sunset over the Gulf of Thailand.

Water Safety: While enjoying the water activities, be mindful of the flags indicating sea conditions. If red flags are up, it's advisable to avoid swimming due to strong currents.

Exploring Nearby Areas: Chaweng is centrally located, making it easy to explore other parts of the island during the day and return to the lively atmosphere in the evening.
Budget Friendly Adventures in Koh Samui
Beach Hopping: Koh Samui boasts numerous beautiful beaches, and the best part is that enjoying them is free! Spend your days exploring different beaches like Chaweng, Lamai, and Maenam. Swim, sunbathe, or take long walks along the shoreline.
Night Markets: Visit the local night markets to experience the island's vibrant culture and sample affordable street food. Fisherman's Village Walking Street and Lamai Night Plaza are two popular options. You can also shop for souvenirs and local crafts.
Hiking: Koh Samui offers opportunities for hiking and exploring its lush interior. Take a hike to the Namuang Waterfall or trek up to the Khao Pom viewpoint for stunning panoramic views of the island.
Snorkeling
: While scuba diving can be expensive, snorkeling is a more budget-friendly way to
explore the underwater world
around Koh Samui. Many beaches offer snorkeling opportunities, and you can bring your equipment or rent it locally.
Visit Temples: Koh Samui has several beautiful temples, and visiting them is usually free or requires a small donation. Explore the Big Buddha Temple (Wat Phra Yai) and Wat Plai Laem for a cultural experience.
Cooking Classes: Learn to cook traditional Thai dishes by joining a budget-friendly cooking class. You'll not only enjoy a delicious meal but also gain valuable culinary skills to take back home.
Rent a Scooter: Renting a scooter is an affordable way to explore the island at your own pace. Just remember to wear a helmet and drive safely.
Yoga and Wellness: Koh Samui is known for its wellness and yoga retreats. While some can be pricey, you can find budget-friendly options that offer yoga classes, meditation sessions, and holistic treatments.
Koh Samui Travel Guide:
Koh Samui, located in the Gulf of Thailand, is a beautiful and popular vacation spot for couples seeking a romantic getaway. With its picturesque beaches, crystal clear waters, and stunning sunsets, it's easy to see why. However, finding affordable accommodations that still offer luxury and comfort can be a challenge. That's where Kim's Honeymoon Beachhouse comes in.
Whether you're planning your honeymoon, a romantic weekend away, or just a much-needed break with your significant other, Koh Samui Travel Guide is definitely worth checking out. So pack your bags, grab your loved one, and get ready for a truly unforgettable vacation on the beautiful island of Koh Samui, and always remember to Travel Till You Drop!