Introduction:
Argentina is a captivating tourist destination known for its diverse landscapes, vibrant culture, and rich history to add to your bucket list. To make the most of your Argentina travel, it's essential to visit during the best time when the weather is favorable, and attractions are at their peak. This guide will provide insights into Argentina's seasons, the advantages and disadvantages of each, and the best time to travel to Argentina based on your seasonal preferences.
Seasons in Argentina:
Argentina experiences four distinct seasons: summer, autumn, winter, and spring. Understanding the weather conditions during each season will help you plan your visit accordingly. Knowing if you are packing flip-flops or a heavy jacket might be important (let's say, been there done that-forgot to check the country and its weather and well–adjustments were made very quickly upon arrival).  That's one of the technicalities about solo traveling for so many months/year; I have a tendency to pick a spot and go without much forethought.  Some days, it works out well, other days, my decision may have been questionable, but in the end, it all works out!
Summer (December to February):
Weather: Summer in Argentina is characterized by warm temperatures, ranging from 77°F (25°C) to 95°F (35°C), with occasional heatwaves.
Advantages: This season is ideal for exploring the Andean region, Patagonia, and the beaches along the Atlantic coast. You can enjoy outdoor activities like hiking, relaxation, and water sports as they were meant to be enjoyed! 
Disadvantages: Popular Argentina tour destinations can be crowded, especially in January, as many locals take vacations. Prices for accommodations, flights, and excursions might be higher.
Autumn (March to May):
Weather: Autumn brings mild temperatures, ranging from 59°F (15°C) to 77°F (25°C), making it a comfortable time to explore the country.
Advantages: The autumn foliage creates a picturesque backdrop for sightseeing and outdoor activities. Wine lovers can enjoy the grape harvest season in Mendoza and attend wine festivals.
Disadvantages: While it's a pleasant season, weather conditions vary, and rain showers are more frequent, so you might want to bring your galoshes. 
Winter (June to August):
Weather: Winter in Argentina varies depending on the region. In the north, temperatures range from 50°F (10°C) to 68°F (20°C), while in the south, Patagonia experiences colder temperatures, with lows reaching below freezing. Show up only with your shorts and flip-flops, and you might freeze your tootsies.
Advantages: Winter is the ideal time for skiing and snowboarding in the Andes, mainly in Bariloche and Las Leñas. Tango enthusiasts can enjoy the Buenos Aires Tango Festival in August.
Disadvantages: Travelling to remote areas in Patagonia can be challenging due to snow and limited accessibility. Popular ski resorts might be crowded, and winter sports gear and accommodation prices can be higher.
Spring (September to November):
Weather: Spring offers mild temperatures, ranging from 59°F (15°C) to 77°F (25°C), with blossoming flowers and green landscapes.
Advantages: Spring is a great time to visit Buenos Aires, explore the Iguazu Falls, and enjoy outdoor activities before the summer crowds arrive. The city of Cordoba hosts its famous Flower Festival in October.
Disadvantages: The weather can be unpredictable, with occasional rain showers.
Best Time to Visit Argentina:
Now that we know what various months/seasons may bring, it would be good to know where to go and what else can see/do throughout the country.
November to February: Ideal for beach lovers and outdoor activities in the northern regions, such as Buenos Aires, Iguazu Falls, and the Atlantic coast.
March to May: Perfect for wine enthusiasts visiting Mendoza and those who enjoy milder temperatures for sightseeing and outdoor activities across the country.
June to August: Recommended for winter sports enthusiasts and those interested in attending the Buenos Aires Tango Festival.
September to October: Suitable for exploring Buenos Aires, the Iguazu Falls, and other attractions before the peak summer season.
Additionally, Argentina hosts numerous festivals and events throughout the year. A few notable ones include the Buenos Aires International Film Festival in April, Carnival celebrations in February, and Gauchos' Day celebrations in November.
What to Pack for a Trip to Argentina:
Packing essentials for Argentina will vary based on the season and activities you plan to engage in. Here are some general recommendations to make your time in Argentina a bit more pleasant.
Clothing: Pack layers, including lightweight clothes for summer, a mix of warm and light layers for spring and autumn, and warm clothing for winter. Don't forget comfortable walking shoes, a waterproof jacket, and a hat for sun protection.
Accessories and Gear: Depending on your interests, consider packing sunscreen, insect repellent, swimwear, hiking boots, a daypack, and any necessary sports equipment (e.g., skiing gear, trekking poles, or snorkeling gear).
Packing Light: To avoid excess baggage fees and make travel more convenient, pack versatile clothing pieces that can be mixed and matched, and consider doing laundry during your trip.
Related Post: You can check my packing tips.
Top Tourist Destinations in Argentina:
Argentina boasts several remarkable cities and regions, each offering unique attractions and experiences. Here's an overview of some popular Argentina tours destination:
Buenos Aires
The vibrant capital city is known for its European architecture, tango, and rich cultural heritage. Explore neighborhoods like La Boca, enjoy a tango show, visit the Recoleta Cemetery, and indulge in the city's renowned culinary scene.
Mendoza
Famous for its wine production, Mendoza offers vineyard Argentina tours, wine tastings, and breathtaking mountain views. Engage in outdoor activities like hiking and horseback riding in the Andean foothills.
Bariloche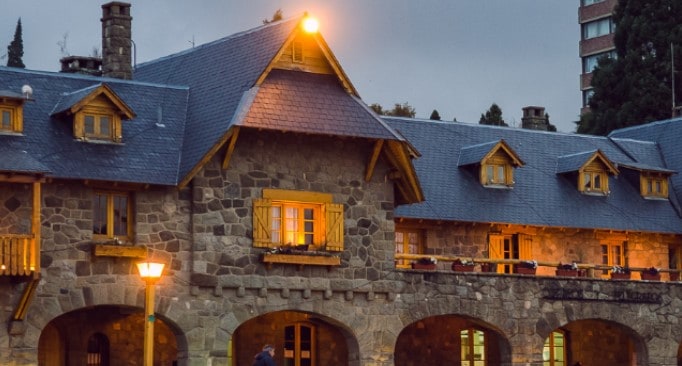 Located in the Patagonian region, Bariloche is a paradise for outdoor enthusiasts. Enjoy skiing, snowboarding, hiking, and kayaking amidst stunning lakes and mountains.
Iguazu Falls
Discover the awe-inspiring Iguazu Falls, a UNESCO World Heritage site. Take a boat ride, explore the surrounding national park, and experience the sheer power and beauty of the waterfalls. 
So, if you have a plan for Argentina tours, definitely take the time to visit these places.
Cultural Experiences in Argentina:
Argentina's cultural heritage is a fusion of indigenous traditions, European influences, and passionate art forms. Some cultural highlights include:
Tango: The dance of lovers! Attend a tango show or take a dance lesson to immerse yourself in Argentina's most iconic dance form and get in on the action!
Indigenous Culture: Learn about the indigenous communities' traditions, art, and cuisine, especially in the northwest region of Argentina.
Music and Dance: Experience live performances of traditional music genres like folk and classical and modern Argentine rock and pop.
Literature: Argentina has produced world-renowned writers such as Jorge Luis Borges and Julio Cortázar, to name a few. Explore local bookstores and literary cafes to delve into Argentina's literary heritage.
Food and Wine in Argentina
Argentine cuisine is known for its delicious meat dishes, empanadas, and unique flavors. At this moment, I could go for all of them!
Here are some culinary highlights:
Asado: Indulge in the traditional Argentine barbecue featuring tender cuts of beef, sausages, and other grilled meats. I'll take 2, please!
Mate: Experience the social ritual of drinking mate, a traditional herbal tea.
Dulce de Leche: Savor this sweet caramel in various desserts, including alfajores (cookie sandwiches). Did someone say, cookies???
Wine: Argentina produces excellent wines, with Malbec being the most famous variety. Visit vineyards in regions like Mendoza and Cafayate for wine Argentina tours and tastings.
Practical Tips for Planning Your Argentina Tours
Tour options: Consider guided tours for convenient transportation and local insights. Alternatively, plan your itinerary using public transportation or rental cars.
Transportation: Domestic flights are efficient for covering long distances, while buses offer a cost-effective way to explore the country. Both could be excellent options depending on your timeline and how much of the country you want to see.
Tourist traps: Be cautious of overpriced tourist traps and research reputable operators for activities and tours. I book through GetYourGuide or Viator for most of my Argentina tours. Read the reviews thoroughly and take your time before committing to one.
Budgeting and Currency Exchange: Argentina's economy is subject to fluctuations, so keep track of the exchange rate. Inform your bank about your travel plans to avoid issues with your credit cards.
Safety Precautions in Argentina:
General safety tips:
Stay alert (not heavily intoxicated–it may have happened once or twice), especially in crowded areas, and keep your belongings secure. Use reliable transportation services and avoid walking alone late at night.
Specific risks:
Be cautious of petty theft, particularly in touristy areas. Use official taxis or rideshare services, and avoid displaying valuable items.
Scams and pickpocketing:
Beware of common scams such as counterfeit money, overcharging, and distraction techniques. Protect your belongings and use anti-theft measures like money belts or secure backpacks. For me, I try to take as little as possible with me whenever I go out. Keep your phone securely in your hand or well out of sight, and place your funds in a few different places in case something does get stolen, you'll still be able to make your cabfare back to your hotel.
Accommodations in Argentina:
Accommodation options in Argentina tours, range from luxury hotels to budget-friendly hostels and Airbnb rentals. Choose accommodations based on your preferences, location, and budget. It's advisable to book in advance if you are planning to visit popular tourist areas, especially during peak seasons. 
Traveling to Argentina with Family:
If you choose to forgo the solo traveling on this trip and take the family with you, Argentina tours offers various family-friendly activities and attractions. Consider the following:
Outdoor adventures:
Explore nature reserves, visit zoos, or engage in horseback riding, cycling, or hiking activities that may be suitable for children.
Cultural experiences:
Take part in interactive museum exhibits, watch traditional performances, or explore the history and architecture of cities.
Safety:
Ensure your family's safety by staying together, following safety guidelines, and researching child-friendly facilities.
Conclusion:
Overall, Argentina is a beautiful destination with diverse attractions and experiences. Plan your visit based on the best season for the type of experience you want to enjoy.  This will allow you to explore the country's vibrant cities, natural wonders, cultural heritage, delicious cuisine, and renowned wines. With proper planning and precautions, your Argentina travel will surely be an unforgettable adventure.
FAQs
[sp_easyaccordion id="6867″]