Written By: Neve Wilkinson
Blogs have rapidly evolved from simple, informal online entries to popular journals for readers to find general or data-driven information, recipes, travel tips and stories, how-to guides, and more.
Travel Blog
As of 2023, there are over 600 million blogs worldwide, with an average of six million posts going live daily. We can thank the increasing popularity of smartphones for these numbers, as mobile blogging has made it easier for bloggers to engage with their viewers while on the go.
Mobile blogging is a method of running a blog from a mobile phone, whilst travel blogging is where you write travel-related posts in your blog. You can make money from travel blogging through affiliate marketing, ad revenue, and sponsored posts.
A written travel blog is a simple, popular, and traditional way to communicate with your readers. However, visuals or audio can garner up to 94% more views, so here are some other blog formats to consider:
A photo blog focuses on photography and photo sharing rather than text. Photoblogging gained momentum with the introduction of camera phones in the early 2000s.
A podcast is an audio blog where the blogger speaks about their topic in a series of digital audio files. In 2023, there are over 3 million podcasts, thanks to a massive spike in 2020 – during the Covid-19 pandemic.
Video blogging, or vlogging, relies on uploaded videos combined with supporting text, images, and other metadata. Vloggers create and share video content online – predominantly through YouTube – to connect with followers.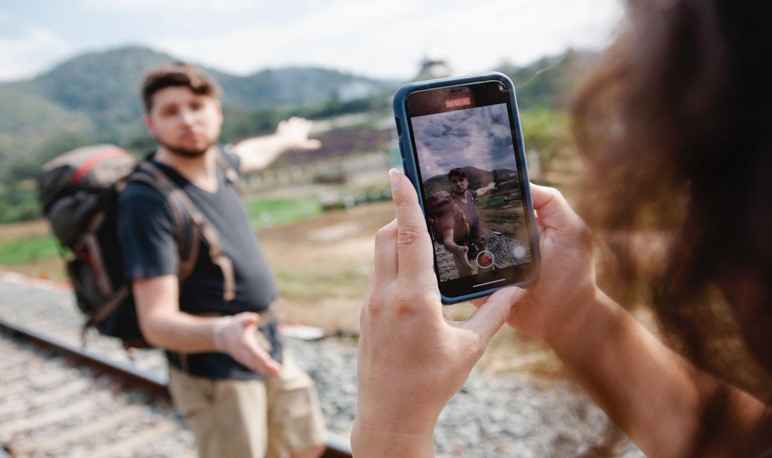 (Image Source: Pexels)
No matter what format you choose to run, there are heaps of benefits in choosing to run your travel blog from your smartphone, including:
Smartphones are more portable than tablets and laptops, so you can take your blog anywhere and write, publish, and edit content whilst on the go.

Smartphones store all your blogging notes, apps, images, and videos in one place. This is much easier than having to carry around different devices and notebooks whilst on your travels.

Smartphones offer you the best and easiest access to purpose-built blogging apps rather than using web browsers.

You always have your smartphone close by. So, you can write down ideas or improve your content immediately without rushing to a computer.
So now, let's take a look at some apps and tips that will help you run a travel blog from your smartphone:
Smartphone Apps for Travel Blogging
The easiest way to kickstart your travel blogging career is by taking advantage of the host of mobile apps available that can help you with note-taking, photo or video editing, and uploading your blog. Here are six of them:
WordPress – Website Builder
WordPress is the most well-known blogging platform and customer management system (CMS), hosting 60 million blogs. In the 'WordPress – Website Builder' app, you can create a blog, upload and edit content and visuals, view audience statistics and reply to comments from your smartphone.
Evernote
Evernote is a note-taking and task-management app for creating notes with embedded photos, audio, and saved web content. Notes can be tagged, annotated, edited, searched, and exported from your smartphone. This is great for travel bloggers as you don't need to carry around notepads and pens.
Tumblr
Tumblr – which hosts the vast majority of blogs, with 518 million – is a mix of a microblogging platform, a blog editing tool, and a social media platform.
Using the mobile app, users can set up a blog and publish anything from articles to GIFs. You can also use the mini photo editing tool to ensure your images are shareworthy.
Canva
Canva is an easy-to-use graphic design app that gives you access to more than 60,000 free templates created by professionals.
Travel bloggers can use the Canva app to edit images, create logos and social media posts, and design infographics and YouTube video thumbnails. You can share your creations and designs directly to social media or save them to your smartphone.
(Image Source: Pexels)
Google Docs
Google Docs is a free app that travel bloggers can use to create, edit, and share text documents with others through emails. It is also ideal to write in Google Docs and then upload your content onto the WordPress dashboard as it is easy to share and corrects grammatical errors.
Blog
Blog gives you access to Google's Blogger platform from your smartphone. You can create, edit, and schedule posts, upload pictures and videos, view comments, and host multiple blogs on the go.
10 Tips for Blogging from Your Smartphone
Establish a tone of voice and remain consistent throughout all blog posts. Do you want to sound conversational and friendly or professional? Are you writing in first- or third-person?
Also, be consistent with how often you post. I know this is hard when traveling the world, but massive time gaps between publishing posts will make your readers lose interest.
Connect with your followers or readers by responding to comments left on your blog. As mentioned above, you can do this in the WordPress app.
Use visuals like images and videos, regardless of your chosen blog format. This breaks up the text and keeps your readers engaged.
Utilize your smartphone's voice-to-text feature, as it makes it easier and faster to create content or make notes whilst on the go.
Proofread every post, or use the Google Docs app, which corrects your spelling and grammar as you write. Readers will not trust blogs or content with errors.
Ensure you have access to a strong connection. If you are constantly on the go, consider using a smartphone with 5G or buying an unlimited data plan, as connection interruptions may cause you to lose your work or miss a publishing schedule.
In addition to this, keep your phone charged at all times. Consider buying a portable charger and taking it wherever you go. This will make it possible to make notes, edit pictures, and create content whilst on long train or bus journeys.
Prioritize your readers' experience on your blog. Don't combine too many font styles or colors in one post, as this could overwhelm the reader's experience.
Create a social media account to accompany your blog so you can communicate with your audience and keep them updated about upcoming blog posts and places you are traveling to.
Conclusion
Whether your travel blog is just for fun or it's your full-time job; whether you want to blog through the medium of text, video, photography, podcasting, or a combination of these; or whether you are new to blogging or an expert, these apps and tips will guide you as you run your travel blog from your smartphone, engage readers and grow your following whilst traveling the world.
And as always, Travel Till You Drop!
Author's Bio: Neve Wilkinson: I'm a content creator at Solvid Digital with a passion for writing long-form content.  I'm proud to have work published in The Sun, Yorkshire Evening Post, Edinburgh News, Future of Commerce, and more.  Please check out my Gravatar and Twitter!